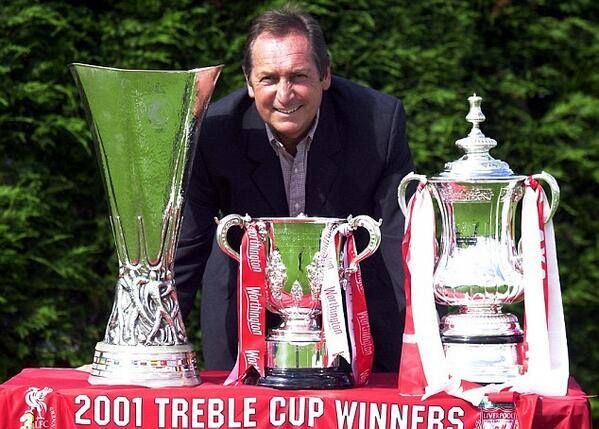 #2 – 2000/01
A note from Paul Tomkins: Ranking the Reds' Premier League Seasons, Worst to Best, should really mean Ranking the Reds' Premier League teams, Worst to Best. We all know their achievements in the seasons in question, but how good were they overall? It's more a gauge of how often the team won football matches, and how rarely it lost football matches. The more important competitions are weighted more heavily, but ultimately the assessment is about winning football matches as often as possible, with more weight given to the league and the Champions League. This essentially means that it's not the season per se that is being judged, nor the best XI from that season; but the consistency of the team in terms of winning games across as many competitions as possible. So while something like Istanbul remains one of the seminal highlights of the club's entire history, the actual team that won it was not that special (half the side/squad were average or not very good; making it an even better achievement, but still not such a great team). Liverpool had better teams the seasons that followed, and that is more about what this series is trying to reflect (whilst admitting that flaws still exist in any ranking system, and that we didn't necessarily explain it as clearly as possible at the outset).
Season summary
Andrew Beasley: While not as impressive a treble as one containing the league and/or the European Cup, winning any three major trophies in one season is still a serious achievement. Liverpool won an incredible 38 matches in 2000/01, matching the total mustered in the top season in our countdown.
Some of the cup games were against weaker opposition, but some were against Chelsea, Leeds (ask your dad, kids), Italian champions elect Roma and Barcelona. Even if you don't rate some of the teams – and you really should – the sheer volume of fixtures makes winning all three cups, plus finishing third in the league, an epic feat. The Reds played 63 matches at a rate of one game every four days, and that's including international breaks so in reality they were playing even more often. How did they win the treble?
Gerard Houllier had tightened up the defence in his first full season in sole control, but now they added goals. Michael Owen was his usual reliable self, but Emile Heskey only scored two goals fewer in a stunning (full) debut season. Looking back, it feels as if Fowler was underused in 2000/01, but he still scored 17 goals while both Gerrard and Murphy hit double figures from midfield.
On a personal level, this was my favourite season prior to the most recent one. It was a difficult year, as it was my final one at university, so it was brilliant to meet up with fellow student Kopites once or twice a week as it felt like every match was on TV in the second half of the season, and Liverpool usually won. Cheers, Reds, you got me through a very tough time with this one.
Chris Rowland. A season of 63 games, in which we scored 127 goals, inevitably became a bit of a slog towards the end as one important game followed another. At least the Worthington Cup was already parked by then, having clinched that in February – our first of many visits to the impressive Millennium Stadium in Cardiff.  Another was to follow later that same season.
It really felt like Liverpool were clambering back on their perch, especially when we qualified for the Champions League for the first time by finishing third – just the top 3 back then – and added another European trophy to our already impressive haul. As we know, it turned out to be yet another false dawn. Progression isn't inevitable, and instead we fell backwards from those intoxicating days at the end of the 2000/2001. season. But it gave us some great memories as well as lots of excitement and silverware to add to the club's honours board.
Alex Tate: The best place to start is at the end. The image of Gerard Houllier hugging the UEFA Cup on an open top bus will live long in my memory.
It's no mean feat to win a treble, no matter how Mickey Mouse others think it. From the 25th February until the final whistle against Alaves on 16 May, Liverpool won three trophies and finished third in the Premier League, only a point behind Arsenal in second and 11 behind some team who can't agree on who takes their penalties.
A gargantuan effort from what on paper seems a very Hodgsoneque side. It's very British, hardworking and almost completely without frills.
Sporadic defeats supplemented by draws against our rivals kept us from the summit. We lost to Ipswich, who finished 5th only three points behind us, then beat Man Who and Arsenal back to back. Two defeats to Leeds, who were only a point adrift in fourth, explains the tightness of the season. They went on a 16 game run until the end of the season with only one defeat and four draws. It kept us on our toes, and one which probably helped us collect the silverware. We were very focused.
But the genuine highlight was the cup runs. In the FA Cup we scored 17 goals to 6, taking care of Leeds and the soon to be relegated Man City. Owen's star turn in the final with seven minutes of normal time left was an unexpected flourish.
The League Cup was a little harder as three from five rounds went to extra time. But again we scored well, 20 and conceded three. OK, Stoke got walloped 8–0 but still a Fowler hat-trick and five other scorers reads very nicely.
Brum put up a fight in the Final. Fowler's fantastic goal gave us the lead on 30 mins, until Henchoz fouled O'Connor and Purse coolly slotted. He did so in the shoot out too, but to no avail. Westerveld saved from Johnson giving Houllier his first trophy as LFC boss.
Our UEFA trail read like a who's who of eighties Eastern European teams and perennial powerhouses. Most rounds were decided by the odd goal which lead us to the Non Camp. It seems like another home ground to us.
Barca's attacking richness was stalled by a disciplined defence as the first leg ended 0-0. Back at Anfield, 18 year old future penalty hero Pepe Reina, kept out Heskey and Owen. But during his Indian Summer, Gary McAllister rifled into the roof of the net. 1-0 and off to Dortmund we went.
The final was an exhilarating game with more goals and nerve shredding than is strictly necessary, but now is part of Liverpool life. An own goal golden goal made the trilogy complete.
I'm not one to place bets, but I had a few quid on us to beat Birmingham in the League Cup final. As April neared we looked good for the FA Cup and even the UEFA. So with those winnings at 33/1 I backed Red Marauder in the Grand National in an accumulator with Liverpool to pick up the silverware. I haven't been in a bookies since!
Jonathan Naylor: What a glorious season, especially the closing months. In my first 15 years supporting Liverpool, I had seen us win 3 European Cups, 8 league titles, 3 FA Cups and 5 League Cups. From 1992/93 to 1999/00, it was much thinner gruel – one League Cup (against 2nd tier opposition), no Champions League qualification and plenty of seasons of promise that turned to dust.
So in the last couple of months – when almost every game could see us exit a competition – the way we kept going was magnificent. The season ended with two new kittens in the household – Owen and McAllister – the result of a complicated bet with the rest of the family who had been campaigning for pets for years (footnote – Owen the cat later got transferred out fairly sharpish when Owen the player turned up at Old Trafford).
Paul Tomkins: While I've explained that, to my mind at least, the ranking system for this series probably better reflects the quality of the team in any given 12 months than any specific achievements (i.e. the team from 2005 was nowhere near the Reds' best of the Premier League era but it was a miraculous achievement), I would argue that the 2008/09 team is the 2nd-best of the Premier League era, and that this should rank 3rd.
However, one won nothing, and the other achieved something remarkable – progressing to the final and winning every possible cup competition, whilst qualifying the Champions League for the first time.
Part of the issue I have with this achievement from 2001 is that the cups were all relatively minor trophies, although at the time the club had won just two cups in 11 years, so we couldn't be picky. The League Cup was never that important, and the FA Cup had already been somewhat diminished by Man United not even entering in the previous season, as part of its steady decline. And the UEFA Cup was obviously Europe's B-competition. Winning 20 league games and finishing 3rd with just 69 points was not so amazing, but as part of the overall picture it makes for a season that still hasn't been replicated in terms of cup domination.
Liverpool played some strong teams in the 25 additional games, too: Barcelona, Arsenal, Chelsea, Roma and Leeds United, but also, a lot of easier games, including Birmingham in the League Cup final and Crystal Palace in the semis. I was at the 8-0 drubbing of lowly Stoke, and it remains the biggest victory I've seen in the flesh. Wycombe Wanderers were also faced in the FA Cup semis, and again I was there – weirdly, to watch the skinny winger I'd grown up playing alongside around the age of 11 or 12, Jason Cousins, now playing as a hugely chunky centre-back.
TTT Season Rating Score*: 2.68 (League 1.42, Cups 0.82, Finance 0.44).
Manager: Gerard Houllier.
Premier League: 69 points, finished 3rd.
£XI rank: 5th.
Europe: UEFA Cup winners.
FA Cup: Winners.
League Cup: Winners.
Top scorer: Michael Owen, 24.
Final League Table:
Transfers In:
| | | |
| --- | --- | --- |
| Player | Current Money Purchase Price | Age @ transfer |
| Barmby N | £41,945,843 | 26 |
| Biscan I | £38,450,356 | 22 |
| Ziege C | £38,450,356 | 28 |
| Riise J | £26,355,971 | 20 |
| Diomede B | £20,972,921 | 26 |
| Vignal G | £3,495,487 | 19 |
| Arphexad P | £0 | 27 |
| Babbel M | £0 | 27 |
| Litmanen J | £0 | 29 |
| McAllister G | £0 | 35 |
Transfers Out:
| | |
| --- | --- |
| Player | Sales CTPP |
| Thompson D (I) | £20,972,921 |
| Song R | £17,477,435 |
| Friedel B | £13,981,948 |
| Camara T | £10,486,461 |
| Bjornebye S | £2,097,292 |
| Babb P | £0 |
| Staunton S | £0 |
| Meijer E | £0 |
| Newby J | £0 |
| Matteo D | N/A |
Player stats for the season:
| | | | | |
| --- | --- | --- | --- | --- |
| # | Player | Starts | Sub Apps | Goals |
| 1 | Sander Westerveld | 61 | 0 | |
| 6 | Markus Babbel | 60 | 0 | 6 |
| 12 | Sami Hyypia | 58 | 0 | 4 |
| 23 | Jamie Carragher | 54 | 4 | |
| 2 | Stephane Henchoz | 53 | 0 | |
| 8 | Emile Heskey | 48 | 8 | 22 |
| 16 | Dietmar Hamann | 46 | 7 | 3 |
| 17 | Steven Gerrard | 44 | 6 | 10 |
| 10 | Michael Owen | 35 | 11 | 24 |
| 21 | Gary McAllister | 31 | 18 | 7 |
| 7 | Vladimir Smicer | 31 | 18 | 7 |
| 20 | Nick Barmby | 31 | 15 | 8 |
| 9 | Robbie Fowler | 29 | 19 | 17 |
| 13 | Danny Murphy | 28 | 19 | 10 |
| 3 | Christian Ziege | 20 | 12 | 2 |
| 15 | Patrik Berger | 15 | 6 | 2 |
| 25 | Igor Biscan | 15 | 6 | 1 |
| 30 | Djimi Traore | 11 | 1 | |
| 37 | Jari Litmanen | 6 | 5 | 2 |
| 27 | Gregory Vignal | 4 | 3 | |
| 4 | Rigobert Song | 4 | 0 | |
| 24 | Bernard Diomede | 3 | 1 | |
| 14 | Vegard Heggem | 2 | 2 | |
| 19 | Pegguy Arphexad | 2 | 0 | |
| 29 | Stephen Wright | 1 | 3 | |
| 28 | Richie Partridge | 1 | 0 | |
| 18 | Erik Meijer | 0 | 3 | |
| 5 | Steve Staunton | 0 | 2 | |
Best moment
Andrew Beasley: Robbie Fowler had been the hero of my teenage years throughout the 1990s. I could see why he wasn't used as much by this point, as the Heskey-Owen partnership was proving very fruitful, but he was still my favourite.
Another common theme of the 1990s was Liverpool throwing away matches they should've won. It looked like the same was going to happen in the UEFA Cup final against Alaves. My hero had other ideas and scored a brilliant goal. Cue the legendary commentator, Barry Davies:
"Fowler coming in from the left, Owen is in space. Fowler hangs on… AND SCORES! WOULD YOU BELIEVE IT?!"
I just watched the clip again, 18 years later, and still punched the air with delight. An incredible moment.
Chris Rowland: In a season where we won three cups, it's a league game that my favourite moment comes from. Yes it's that last minute Gary Mac free kick at Goodison. Late winners against the Bitters are always delicious, but that one swirls around still, somewhere in my subliminal cortex!
Alex Tate: Dortmund. Having taken the lead in the fourth minute the game ended 113 minutes later. Gary Mac, again with a dead ball, was decisive. His free kick swung over the Alaves defence and Geli headed into his own net. Game over. Literally. As it was golden goal, pandemonium broke out immediately. Better than a penalty shoot out. Behind the unbridled joy, it was a third trophy. We were starting to gather a collection of trophies and Houllier's team looked good. Great, even.
Jonathan Naylor: McAllister's long range free kick winner against Everton in the dying moments. An absolutely crucial goal that kickstarted the strong finish to the season (we won 5 and drew 1 of our remaining 6 league games to clinch Champions League football). It looked like Everton had snatched an undeserved draw before some marvellous quick thinking from the veteran Scot. The cheek of the Trent/Origi 4thversus Barcelona and the drama of the Origi/Pickford winner (both last season) rolled into one.
There were some other moments that would qualify for best moment in almost any other season – Owen's quickfire double to win the FA Cup (cue reports of North London pensioners being mugged by a group of youths on their day trip to Cardiff). The golden goal in the UEFA Cup final. Fowler's opener on the final day against Charlton to help us to seal Champions League qualification (weirdly, the last league match was after all the cup finals – I was convinced it was all too good to be true, and we would slip up on the last hurdle).
Paul Tomkins: So many highs that season that it's hard to pick one moment, but beating Charlton 4-0 on the final day was vital in not undermining all the cup success, and finally getting the Reds back into Europe's premier competition, after 16 years away. But the Golden Goal in the UEFA Cup final was the biggest explosion of joy.
Worst moment
Andrew Beasley: Probably the first 82 minutes of the FA Cup final. Mark Viduka scoring all four goals in a Leeds win was annoying, but I think Birmingham City scoring a last minute penalty in the League Cup final was the moment which caused me the most anguish at the time. Looking back now it seems fairly trivial, but Liverpool hadn't won anything for a while and it felt like they might not that day either when the pendulum swung in Birmingham's favour.
Chris Rowland: Birmingham's late penalty equaliser at Cardiff. Blimey we were making hard work of beating this second division shower!
Alex Tate: Nothing in particular sticks out as worst. Losing to Leeds twice in the league was disgruntling.They were close challengers, and whilst tight games, giving them six points was a sign we still needed a bit of work to be title challengers.
Jonathan Naylor: Not strictly a moment but 5 defeats in 9 league games in November and December threatened to derail our season. But even in this period, we won at Old Trafford and beat Arsenal 4-0 at Anfield.
Paul Tomkins: Being 2-0 up at increasingly-arch rivals Leeds in the league, then conceding four goals to Mark Viduka. Plus, the injury to Vegard Heggem at Derby that ended his Liverpool career, and indeed, he never played football again. The next time I saw him was in the early hours of the morning at the airport in Istanbul in 2005!
Best player
Andrew Beasley: Gary McAllister deserves a mention for all he achieved in the final weeks of the season, but I don't see how you can't say Owen here. Nine goals in the final six games, including both in the FA Cup final, as well as a brace as the Reds won at Roma, for probably their biggest European win for 15 years.
Chris Rowland: Gary Mac became the emblem of the season's  thrilling multi-fronted denouement. Henchoz, he of the lunging block and the goal line clearances, was Hyypia's more understated rock at the heart of the defence. But I had a soft spot for Markus Babbel at right-back, I thought he was a terrific player. He was brilliant in the League Cup final.
Alex Tate: Almost all of them were worthy throughout a very busy season. Westerveld kept goal 61 times, Henchoz, Babbel, Hyypia, Hamann, Heskey, Gerrard and Carragher all over 50 games. To deliver  three trophies and finish third in a tight race shows just how well so many of these players did for so long. Most young and yet to be the stars they would become. Even Owen and Fowler made 46 and 48 appearances, both prone to niggling injuries too.
But Gary Mac made 49 appearances, with countless pivotal moments. At Goodison, the 45 yard free kick four minutes into injury time sealing a 3-2 win, then with derby applause still ringing in his ears, scored the penalty to see off Barcelona and the assist for the winning UEFA Cup goal. All at the age of 64!
We signed you free (we signed you free)
We won all three (we won all three)
Your Dortmund Pen (your Dortmund Pen)
Your Bradford goal (your Bradford goal)
Your Coventry goal (your Coventry goal)
Your Spurs Peno (your Spurs Peno)
Your Barca Pen (your Barca Pen)
Your Derby goal (your Derby goal)
Your baldy head (your baldy head)
Your Gary Mac (your Gary Mac).
Jonathan Naylor: Owen, Fowler and Gerrard were excellent as per usual. Heskey had the season of his life. Markus Babbel was a superb addition to the team (such a shame he was never the same again after illness). Hyppia and Henchoz were formidable at centre back (Henchoz using all parts of the body to repel Arsenal in the cup final). In terms of impact per games played, perhaps I'll go for Gary Mac.
Paul Tomkins: While he wouldn't be the obvious choice, given the more eye-catching types in the side at the time, it's worth giving Markus Babbel a mention, as he was exceptional from right-back for the entire season, before falling seriously ill for a year and never really playing properly again in England. He played 60 times for the club that season, the most for any outfield player.
Gary McAllister was sublime in the run-in but only really played regularly in the final two months of the season, from what I recall. And I think his six goals in that time were three free-kicks and three penalties. But they were vital, as was his composure.
Worst player
Andrew Beasley: I was still in my stupid 'what does Hamann offer?' phase (which I mentioned in a previous article) but I never warmed to Christian Ziege. Igor Biscan hadn't earned cult hero status at this point either, and never really looked at the races in 2000/01.
Chris Rowland: I never really got Igor Biscan, except in an ironic way. Very limited in talent in my view, though always whole-hearted.
Alex Tate: Christian Ziege. I wasn't impressed by him at Boro, which I do have an eternal loathing of close to the Bitters and Man United. Then the fuss over signing him, where apparently we met the buy out clause but Boro got upset, appealed and it cost us an extra 20 grand. While he did have a couple of knee injuries and Carragher was improving, it was a load of fuss for very little in return. Selling him a year later shows this.
Paul Tomkins: I was bitterly disappointed with Igor Biscan, after a great debut, which I was lucky enough to witness. I thought he looked the complete midfielder upon arrival, but totally lost his way.
Best game
Andrew Beasley: Plenty of choice, but the derby win thanks to McAllister's amazing free-kick takes it. And that wasn't even the goal of the day in my opinion, as the Liverpool counter attack to create Markus Babbel's goal was superb, sublime football.
It perhaps gets forgotten now, but Liverpool had lost to Leeds United at Anfield three days earlier. They had to win here to stay within six points of a Champions League spot, with games in hand. They may still have won the remaining two cups, who knows, but there's no doubt that McAllister's winner gave the club an incredible boost at a perfect time.
Chris Rowland: Nine goals and a Golden Own Goal decider – it has to be the UEFA Cup final, doesn't it? Crazy crazy game. We've probably been involved in the best ever finals in the Champions League and UEFA Cup, and one of the best in the FA Cup, against West Ham.
Alex Tate: The UEFA Cup final was full of everything we need in the beautiful game. But due to the domestic stakes and being overrun for 83 minutes, beating Arsenal can be classified as the best game. Well, the best seven minutes. Plus the huge accumulator I was on. Get In!
I watched in my local pub, just a few of us and none were Liverpool fans. My then girlfriend was with me and kept saying it would be OK. She was half German half Italian so she knew her footy, but she wasn't helping. Nor was the extra grief I was getting from my mates for her being there!
Three goal line clearances from Hyypia, a Henchoz handball ignored and a slew of chances I endured.
When Freddie Ljungberg, and his underwear adverts, scored I felt we'd left it too late to bring on Lady Luck as an impact sub. But Houllier brought on God instead.
But then Owen shatters Gooner hearts. Firstly an equaliser, but then from Berger's lofted pass his pace left Tony Adams and Lee Dixon behind and with ice cold precision brilliantly beats Dave the Save. A forward somersault and his arms outspread, he was the taking the applause.
Jonathan Naylor: Of the games I attended (unfortunately none of the cup finals), the 2-0 win at home to Manchester United was the best – a very comfortable win despite Danny Murphy getting sent off. It felt like a changing of the guard at the time.
Paul Tomkins: The 5-4 win over Alaves, which I sampled in a Spanish bar on my honeymoon. Alas, my marriage was over by the summer of 2002, much like Houllier's team.
This was my last season of making it to a lot of games, and my favourite away trip was to Rome that February, where I left early on Valentine's night – after rushing through a meal in a restaurant – to get to Heathrow the next morning. Priorities, right?! Rome was absolutely beautiful – 70ºF in February, coffees outside cafes, and a great time with Matt and Adie, on our first overseas trip together. Winning 2-0 against Fabio Capello's side felt a huge achievement at the time.
Goal of the season
Andrew Beasley: My previous answers for this article have mentioned goals I'd happily include here. However, to avoid repetition, I'll opt for another classic which had me celebrating like I rarely had before. Owen's FA Cup final winner was a thing of beauty, and I shall doff my cap here to the assist from Paddy Berger which helped make it.
Chris Rowland: Owen in Cardiff, Fowler in Dortmund and McAllister at Goodison all get a mention here, and deservedly so. But for me, it was Fowler's volley in Cardiff in the Worthington Cup final against Birmingham. Just wonderful.
Alex Tate: This was a good season for goals; Barmby's bullet header v Everton, Gerrard's fierce drive v Man United and Gary Mac's renaissance. But it was God who scored many great goals. He thrived from the competition alongside Owen. His goal against Alaves, his instant control and emphatic finish past Barthez and a cheeky, almost comical, bicycle kick in the final league game at Charlton all showing his sniffer dog sense for top drawer goals.
But it was the League Cup Final strike is my best goal. From Henchoz's long clearance, Heskey knocked it down for Fowler, who was flanked by two Blues defenders, to finish instantly from 25 yards over the despairing Ian Bennett.
Whether it's the adoration I have for Robbie Fowler makes all his goals seem like this, I don't know. I'm sure there were some agricultural ones along the way. But these goals, and on these occasions, make him our idol.
Jonathan Naylor: Gerrard's 40 yard screamer at home to Manchester United. An unbelievable goal and the moment that confirmed we had an extremely special player.
Paul Tomkins: Gary McAllister's 50-yard free-kick has to be up there, and it really seemed to inject life into the manic run-in – without it, top three would have been unlikely. While momentum is an iffy concept, I think you can get boosts of energy and enthusiasm from a win, as long as you don't get overconfident. There were so many important goals, but I particularly liked Robbie Fowler's gentle, looping, inch-perfect overhead kick in the final league game, against Charlton.
What I found incredible when looking back over the fixture list is that this 4-0 win was the final game of the season, just three days after extra time in the UEFA Cup final, which itself was just four days after a hot Wembley FA Cup final against Arsenal; and that followed four league games in around ten days. McAllister's goal kickstarted nine wins and a draw from the final 10 matches, and Fowler's overhead kick put the seal on the season.
Notable features
Andrew Beasley: Three trophies won and Champions League qualification secured for the first time. You can't get much more notable than that, though the top season in our list may beg to differ.
Chris Rowland: This season accounted for one of my best ever weeks in football as a supporter. First, the weekend in Cardiff for the FA Cup Final. After they stole the league from us in 1989, it was nice to steal the FA Cup from them! And I was right behind Owen's winning goal, I knew it was going in from the moment it left his foot.
Back home on the Sunday after the FA Cup, a day at work on Monday then packed and off again on Tuesday, flying to Dusseldorf and a train to Dortmund for the UEFA cup final against Alaves.  Back home on Thursday, another day's work on Friday then off to London for the weekend and the last PL game at Charlton, with our first ever Champions League qualification up for grabs. We won 4-0 – two trophies and CL qualification in one week!
I think I've paid it all off now 😉
It was also a season where I saw us win a game 8-0, at Stoke in the Worthington Cup 4th round. We did the double over both Everton and Man Utd, and won three trophies.
Incidentally, Manchester City finished 18th and got relegated!
That's not a bad season is it, despite Utd being champions?!
Seasons covered so far
| | | | | | | | | | | |
| --- | --- | --- | --- | --- | --- | --- | --- | --- | --- | --- |
| Rank | Season | TTT Season Rating Score | League Points | League Position | £XI Rank | Champions League | UEFA Cup/ Europa League/ Cup Winners Cup | FA Cup | League Cup | Link to article |
| 27 | 1993–94 | 0.82 | 60 | 8 | 2 | — | — | R3 | R4 | Link |
| 26 | 1992–93 | 0.94 | 59 | 6 | 2 | — | R2 | R3 | R4 | Link |
| 25 | 2012–13 | 1.06 | 61 | 7 | 4 | — | R32 | R4 | R4 | Link |
| 24 | 2010–11 | 1.12 | 58 | 6 | 4 | — | R16 | R3 | R3 | Link |
| 23 | 2011–12 | 1.19 | 52 | 8 | 4 | — | — | RU | W | Link |
| 22 | 2009–10 | 1.27 | 63 | 7 | 4 | Group Stage | SF | R3 | R4 | Link |
| 21 | 1998–99 | 1.31 | 54 | 7 | 10 | — | R3 | R4 | R4 | Link |
| 20 | 2015–16 | 1.36 | 60 | 8 | 5 | — | RU | R4 | RU | Link |
| 19 | 2014–15 | 1.40 | 62 | 6 | 5 | Group Stage | R32 | SF | SF | Link |
| 18 | 2003–04 | 1.59 | 60 | 4 | 5 | — | R4 | R5 | R4 | Link |
| 17 | 1996–97 | 1.65 | 68 | 4 | 2 | — | SF | R4 | R5 | Link |
| 16 | 1999-00 | 1.70 | 67 | 4 | 5 | — | — | R4 | R3 | Link |
| 15 | 2002–03 | 1.70 | 64 | 5 | 5 | Group Stage | QF | R4 | W | Link |
| 14 | 1994–95 | 1.73 | 74 | 4 | 3 | — | — | R6 | W | Link |
| 13 | 1995–96 | 1.80 | 71 | 3 | 1 | — | R2 | RU | R4 | Link |
| 12 | 2016–17 | 1.81 | 76 | 4 | 4 | — | — | R4 | SF | Link |
| 11 | 2004–05 | 1.88 | 58 | 5 | 4 | W | — | R3 | RU | Link |
| 10 | 1997–98 | 1.91 | 65 | 3 | 10 | — | R2 | R3 | SF | Link |
| 9 | 2007–08 | 2.03 | 76 | 4 | 3 | SF | — | R5 | R5 | Link |
| 8 | 2013–14 | 2.15 | 84 | 2 | 3 | — | — | R5 | R3 | Link |
| 7 | 2006–07 | 2.18 | 68 | 3 | 3 | RU | — | R3 | R5 | Link |
| 6 | 2017–18 | 2.19 | 75 | 4 | 4 | RU | — | R4 | R3 | Link |
| 5 | 2005–06 | 2.22 | 82 | 3 | 3 | R16 | — | W | R3 | Link |
| 4 | 2001–02 | 2.43 | 80 | 2 | 6 | QF | — | R4 | R3 | Link |
| 3 | 2008–09 | 2.45 | 86 | 2 | 3 | QF | — | R4 | R4 | Link |
| 2 | 2000–01 | 2.68 | 69 | 3 | 5 | — | W | W | W | |
*TTT Season Rating Score explanation:
League – Liverpool average 67.8 points per 38 games in the Premier League. Season points tallies are calculated as a percentage of that average to generate a rating score. Seasons are also awarded a proportion of up to half a point, depending on where between 2nd and 8th the Reds finished.

Cups – Points are awarded for progress in the latter stages in Europe and the domestic cups, with descending importance through Champions League, Europa League, FA Cup and League Cup. The maximum possible points score is 55 (by winning the Champions League and both domestic cups) so the total for a season is calculated as a percentage of that.
Finance – Liverpool's final league position is compared to their £XI Rank for that season. The seasons are then ranked from biggest over-achievement to worst under-achievement, and awarded a proportion of half a point depending on where they sit.