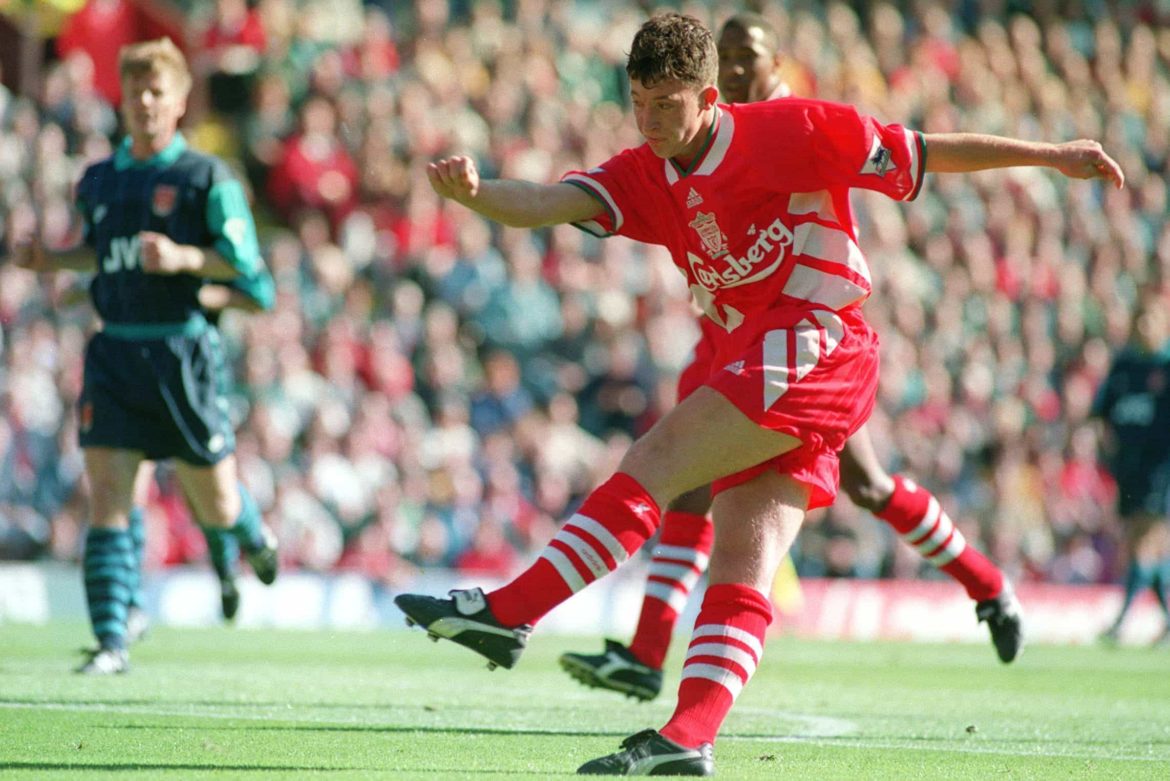 #14 – 1994/95
Season summary
Chris Rowland:  It was Roy Evans' first full season in charge, after taking over from Souness part-way through the previous season. Fourth in the days when only the top three qualified for the Champions League meant we were best of the rest. Again. A League Cup win, against Bolton in the final when McManaman excelled, at least kept the honours board rolling.
Gary Fulcher: This is one of my favourite seasons for multiple reasons but primarily because we'd sunk so low under Souness. Roy Evans made supporting the Reds fun again as Liverpool went "Back to the Bootroom" (who else bought all of those VHS tapes back in the day???).
Liverpool played some great, attacking football that season and we picked up a major honour in the shape of the Coca-Cola (League) Cup (which at the time felt like the World Cup to me) and to top it all off King Kenny won the title with Blackburn AT Anfield on the final day of the season at the expense of Man Utd by a single point. Ha!
Taskin Ismet: It's maybe not the best season on record, but one which I remember we had the clear feeling that we were on the up. Souness' tenure had come to a pitiful end and Roy – the last of the Boot Room boys – was now in charge, with this being his first full season at the helm. 
While he may not have the gravitas of Kenny, Roy's appointment midway through the previous season was also unifying in the same way that Kenny rejuvenated the club when he followed Hodgson. OK, perhaps post-Hodgson was more pronounced. Nevertheless, it gave us the feeling of returning to a certain way of playing football and of conducting ourselves in general. I simply remember that there was a lot less anger. A return of players and fans enjoying themselves again. Evans  was/is someone steeped in Liverpool history, obviously knowledgeable about the game and the 'right' way to play it – and was also considered by all to be a good guy. The latter trait perhaps leading to his downfall as certain players would later take advantage. 
It looked a positive pre-season:
In a clear break with the past, out went Grobbelaar, Nicol and Whelan from the halcyon days (showing perhaps that Roy was happy to take cold-hearted decisions) and they were followed by Dicks and Hutchinson (no room for a lack of professionalism) and Torben Piechnick (footballers only please).
Notable signings were Phil Babb (a real coup at the time after an excellent World Cup if my memory serves me correctly), signed only 24 hours after we had brought in John Scales, whose fees at the time were the second highest and highest fees respectively paid for a defender. It was a big statement, but also a 'defensive' statement for what would become to be known as a very attacking side. There was also the capture of hot prospect Mark Kennedy, a speedy winger from Millwall, who was the most expensive teenage transfer at the time. He unfortunately failed to make any impact. Incidentally he now lives a few doors away from one of my friends, who despite being a Red himself had no idea that his friendly neighbour, Mark, had actually played for Liverpool.  
The season it was about finding some stability whilst showing glimpses of the attacking force we would become. Whilst we never challenged for the league title, a fourth placed finish was an improvement on the previous season's dismal 8th and was our best in four years. I can't speak enough for the change in the general mood though. Anfield was a far happier place to visit at this time. We weren't looking Championship material, but at least we were headed in the right direction again. And of course to seemingly prove that fact we won a Cup, albeit 'only' the League Cup. It was McManaman's final, with two goals and a general commanding display.
Alexander Tate: Evans having a pop at the title and bring us back the glory days. One of the Boot Room ready to have us eating at the top of the table. Defenders and old timers out, new young defenders in. John Barnes, Ian Rush and Jan Molby still around enough to pass on their wisdom, while Steve McManaman, Robbie Fowler and Rob Jones represented the future. Could the glory days be back?
A good first third of a season was peppered with odd defeats, but losing to Everton was followed by four draws in the run up to Christmas. We were sadly off the pace.
The great run through Christmas and New Year gave us hope but soon we reverted to our habit of drawing games. Even our FA Cup games were drawn. Three replays in consecutive rounds, until Spurs put us out of our misery in the sixth. A late Klinsmann winner meant avoiding another replay.
Our League Cup journey was much more successful. No replays and mostly straight forward. God's late goal in the semi first leg gave us an edge when visiting Selhurst Park for the second, where he scored again. In the final McManaman excelled to give us a 2-1 victory and made my 21st birthday even more celebratory. Although post match, my girlfriend told me to stop drinking wine from a pint glass.
Soon I was on a ferry for the art school trip to Amsterdam. Yeah, baby! And in the ship's bar were two televisions, one showing Man Utd v West Ham and the other Liverpool v Blackburn. More celebrations then too as both sets of fans were happy. We got a trophy, European football and Kenny got the title.
It's almost a nothing season in the league, but perhaps this is why it's in the middle of our countdown.
Jonathan Naylor: Strange how expectation levels and style of football can contribute massively to enjoyment levels in a season. I have really fond memories of this season despite it being decidedly mixed in terms of results. After several desperately poor seasons and an unpromising preseason, we exploded into life beating Palace 6-1 away on the opening day. Sure, we were inconsistent, but our exciting attacking play was a joy to watch.
TTT Season Rating Score*: 1.73 (League 1.29, Cups 0.20, Finance 0.24).
Manager: Roy Evans.
Premier League: 74 points, finished 4th.
The rest of this article is for Subscribers only. Details on how to sign up are at the bottom of the page.
[ttt-subscribe-article]