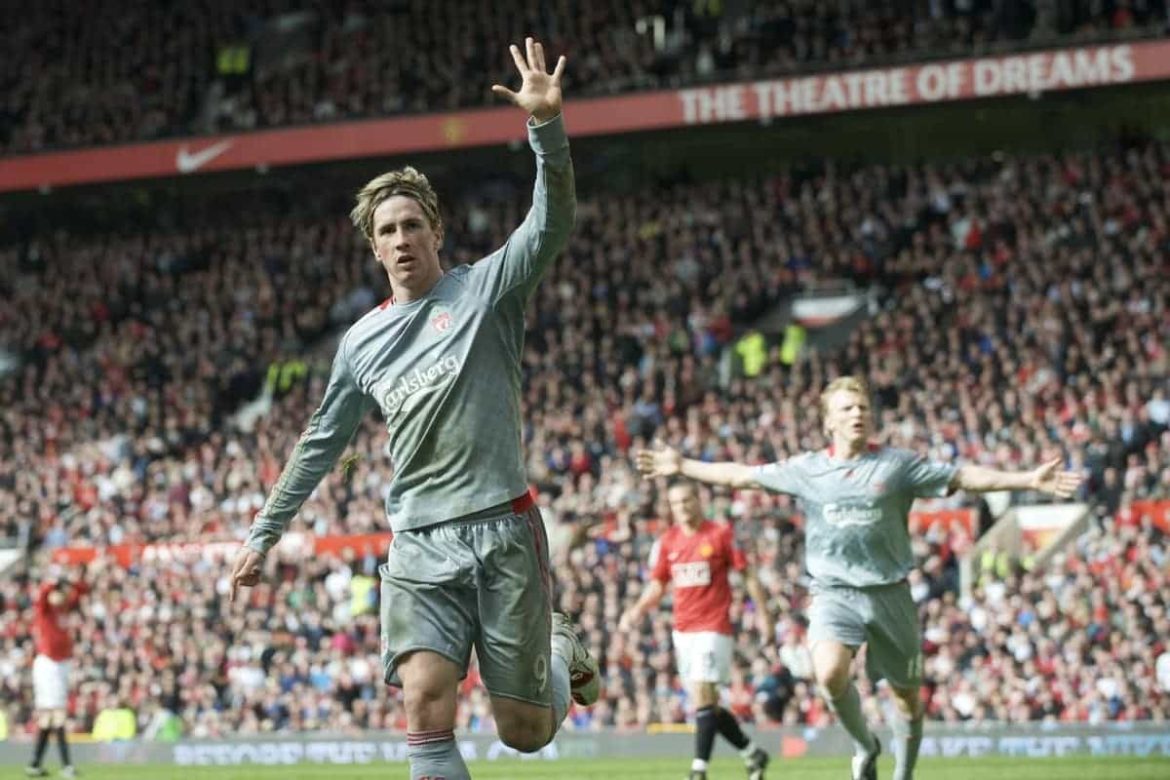 #3 – 2008/09
A note from Paul Tomkins: Ranking the Reds' Premier League Seasons, Worst to Best, should really mean Ranking the Reds' Premier League teams, Worst to Best. We all know their achievements in the seasons in question, but how good were they overall? It's more a gauge of how often the team won football matches, and how rarely it lost football matches. The more important competitions are weighted more heavily, but ultimately the assessment is about winning football matches as often as possible, with more weight given to the league and the Champions League. This essentially means that it's not the season per se that is being judged, nor the best XI from that season; but the consistency of the team in terms of winning games across as many competitions as possible. So while something like Istanbul remains one of the seminal highlights of the club's entire history, the actual team that won it was not that special (half the side/squad were average or not very good; making it an even better achievement, but still not such a great team). Liverpool had better teams the seasons that followed, and that is more about what this series is trying to reflect (whilst admitting that flaws still exist in any ranking system, and that we didn't necessarily explain it as clearly as possible at the outset).
Season summary
Andrew Beasley: 2008/09 was a brilliant but slightly odd season. Imagine going top of the league and getting booed off, it seems absurd, doesn't it? But it happened. The Hicks and Gillett era was unfortunately in full swing and fans were getting restless, and Benitez's tactics were being viewed as too negative and cautious.
There was also 'Rafa's Rant' ((c) alliterative tabloids) which supposedly derailed the Reds' title challenge, even though they won more points and scored more goals after it occurred.
Most importantly of all, though, there was also some fantastic football, and the Reds' highest Premier League points tally prior to 2018/19. With some more fortune it might have been better though; do you know what these 14 league matches have in common?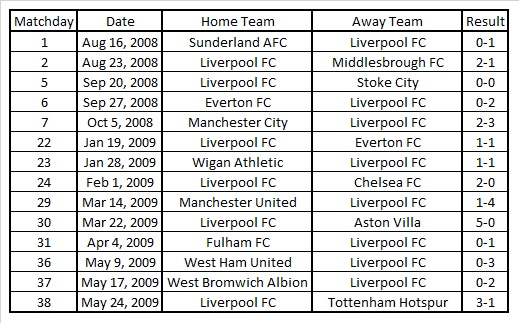 These are the matches which featured both of Steven Gerrard and Fernando Torres in Liverpool's starting XI. Won 11, drew 3. Extrapolating the points-per-game average from these games across a full season equates to 97 points, but of course no team ever gets that many 😉 .
But linking up their two hot shot attackers more often might have enabled the Reds to pip Manchester United to the title. What might have been…
Paul Tomkins: While we've discussed the ranking system, and the ways in which it may be flawed, I think this should rank 2nd; or at least, this is the second-best Liverpool team of the Premier League era. But it's therefore only one place away from where I'd rank it. 

Looking at squad depth, it was pretty lightweight after about 16 players. But those 16 players were superb. It just lacked a bit of brilliance and consistency from the quick players on the flanks. Put Mo Salah and Sadio Mané at their current levels on the flanks and this team would have won the league. Maybe even just one of them would have been enough.
It's a shame that we couldn't go one better with Rafa's best team and nail the title, but I'll always rate that side as one of the best Liverpool sides I've seen.
Anthony Stanley: If I can be allowed a small indulgence, this season will always be special in that it got me through a horrible, prolonged break up. It was the peak of Rafa's monolithic Reds, the evolution of an expertly and surgically crafted squad that had begun four years previously.I can remember thinking at the start of the campaign, we have a chance here; if the wind blows our way and if we're lucky with injuries, then we could actually do something here. The thing is, though we didn't suffer many injuries, and Reina, Carragher and Kuyt were all ever-presents in the league, it was the comparatively sporadic appearances of our icon, our golden haired Achilles that possibly led to us just failing to take the top spot. How different it could have been if Torres had started more than the 24 league games he managed? But then I looked into the campaign a bit more and noted that early disappointing goalless draws (Villa away, Stoke at home) in September had the Spaniard starting up front. So it's maybe not quite as straightforward as our goal scoring talisman missing a third of the league season; more likely, it was the nascent stirrings of trouble behind the scenes, strife which probably left Benitez hamstrung in trying to compete with the Corporation. Perhaps the signing of Robbie Keane, who I personally had huge hopes for, was the death knell of our true title hopes as the Irishman never seemed to have Rafa's faith and would return to Spurs mere months later. In the interim, Crouch had gone and we ended up relying on N'Gog. Compare this with the four attacking superstars that United could call upon: Ronaldo, Rooney, Berbatov and Tevez.
But what a campaign. My pride in Liverpool was restored to a huge degree and we looked like we were striking the fear of God into clubs up and down the continent. That it all went pear shaped shortly after, well, that just makes the near misses in two huge tournaments all the sweeter when looking back.
Jonathan Naylor: At the time, the best Liverpool team since we had last won the league. We had a really strong spine, with key players at the peak of their powers – Gerrard, Torres, Alonso, Mascherano, Carragher and Reina – and notable supporting contributions from Kuyt, Auerlio, Benayoun, Arbeloa, Riera, Agger and a veteran Hyppia.
The title was ultimately lost during a spell of seven wins out of 17 league matches from the start of November to end of February. A strong finish and a brief Manchester United wobble provided genuine hope but we ended up 2nd despite 86 points. A season which started with a strong defence but a slight shortage of creativity featured two 4-4 draws in the space of a week in April – the latter game at Stamford Bridge seeing us exit the Champions league. Despite the anti-climatic ending, it was nevertheless a very enjoyable season.
Alex Tate: We gathered in the beer garden for the first match and felt a title push would be a good season, but we were split on Robbie Keane. I was firmly of the belief he was not good enough, which was pretty much the case of all transfers in that summer; Degen, Dossena and Riera all typical of the lack of quality.
The season started well with eight wins from 10, where we dispatched Man Who?, Everton, Man City and Chelsea before our defeat to Spurs. 15 more games without loss followed, but nine were draws. A 5-1 demolition of the Toon just after Boxing Day did see us top. I recall this with pleasure as my first born arrived two days earlier and the boozer was filled with Christmas spirit and rammed with fans. The patrons included Robbie Slater, Foxtel presenter and title winner with Blackburn, who kindly bought a round in celebration of Ava's birth.
Our defeat was to Boro, who won for the first time in 15 games as we had not tasted defeat 15, left us third.
Then came some of the very best football seen under Rafa. 11 unbeaten in the league, 10 of which were wins. It didn't stop there. Being relived of domestic cup duties it was the CL where our knockout skills were on show. We beat Real Madrid at their gaff, 1-0. Spanked them 4-0 at Anfield before a magnificent league humbling of Man Who?, at Old Toilet, where they took the lead and we answered with four. Villa were caned 5-0. Brilliant!
But it was our west London nemesis back to have another go at tearing us open in the CL quarters. After losing 3-1 at home to Chelsea in the first leg an almighty effort was needed at the Bridge to reach the semis. We were two up inside 30 mins but a second half flurry from Chelsea saw them lead the tie 5-3, then Lampard made it six. A quick fire pair from Lucas and Kuyt left it poised at 6-5 to Chelsea with eight minutes on the clock. A furious finish ensued but Lampard struck home their seventh overall and it was they who met Barcelona in the semi final.
Back in the bread and butter we drew with Arsenal 4-4, Arshavin with all four with Benayoun getting our late equaliser in the fifth minute of stoppage time. Wins followed but Man Who? were not dropping points and took the title with 90 points to our 86, with Chelsea in third on 83. We lost two games to United's four but our 11 draws to their six is where the title got away.
TTT Season Rating Score*: 2.45 (League 1.77, Cups 0.27, Finance 0.41).
Manager: Rafael Benitez.
Premier League: 86 points, finished 2nd.
£XI rank: 3rd.
Europe: Champions League quarter-finals.
FA Cup: 4th round.
League Cup: 4th round.
Top scorer: Steven Gerrard, 24.
Final League Table:
Transfers In:
| | | |
| --- | --- | --- |
| Player | Current Money Purchase Price | Age @ transfer |
| Keane R (II) | £61,965,170 | 28 |
| Riera A | £26,090,598 | 26 |
| Dossena A | £22,829,273 | 26 |
| Ngog D | £4,891,987 | 19 |
| Degen P | £0 | 25 |
Transfers Out:
| | |
| --- | --- |
| Player | Sales CTPP |
| Pennant J | – |
| Keane R (II) | £39,135,897 |
| Crouch P | £35,874,572 |
| Riise J | £13,045,299 |
| Carson S | £10,599,305 |
| Guthrie D | £8,153,312 |
| Le Tallec A | £4,239,722 |
| Hyypia S | £0 |
| Finnan S | £0 |
| Kewell H | £0 |
| Hobbs J | £0 |
Player stats for the season:
| | | | | |
| --- | --- | --- | --- | --- |
| # | Player | Starts | Sub Apps | Goals |
| 23 | Jamie Carragher | 53 | 1 | |
| 25 | Pepe Reina | 51 | 0 | |
| 18 | Dirk Kuyt | 48 | 3 | 15 |
| 17 | Álvaro Arbeloa | 43 | 0 | 1 |
| 8 | Steven Gerrard | 41 | 3 | 24 |
| 14 | Xabi Alonso | 40 | 7 | 4 |
| 20 | Javier Mascherano | 37 | 1 | |
| 11 | Albert Riera | 33 | 7 | 5 |
| 9 | Fernando Torres | 32 | 6 | 17 |
| 37 | Martin Škrtel | 29 | 1 | |
| 12 | Fabio Aurelio | 27 | 6 | 3 |
| 15 | Yossi Benayoun | 26 | 16 | 9 |
| 7 | Robbie Keane | 23 | 5 | 7 |
| 5 | Daniel Agger | 23 | 3 | 2 |
| 21 | Lucas Leiva | 20 | 19 | 3 |
| 2 | Andrea Dossena | 19 | 7 | 2 |
| 4 | Sami Hyypia | 15 | 4 | 2 |
| 19 | Ryan Babel | 13 | 29 | 4 |
| 22 | Emiliano Insua | 11 | 2 | |
| 24 | David N'Gog | 5 | 14 | 3 |
| 28 | Damien Plessis | 4 | 1 | 1 |
| 1 | Diego Cavalieri | 4 | 0 | |
| 31 | Nabil El Zhar | 3 | 16 | |
| 16 | Jermaine Pennant | 3 | 1 | |
| 27 | Philipp Degen | 2 | 0 | |
| 32 | Stephen Darby | 0 | 2 | |
| 26 | Jay Spearing | 0 | 2 | |
| 34 | Martin Kelly | 0 | 1 | |
Best moment
Paul Tomkins: It can only be the 4-1 win at Old Trafford, albeit in the same week Real Madrid were thrashed 4-0. But the victory at Old Trafford felt far more surreal. I couldn't even face watching – I'd taken my son, then aged seven, to a science fun day, and I can remember many of the things we did (and indeed, what I learnt) as it was fused into my memory banks due to the thrill of getting texts saying "we've equalised", "2-1, Gerrard!" and "3-1, Aurelio!". 

At that point "science" was swiftly deemed sufficiently covered and I rushed us back to catch the last ten minutes, and the Reds' 4th goal.
Andrew Beasley: There were too many to list here. Some of the more famous ones may get covered by others, so I'll mention one which I certainly remember enjoying at the time: Fernando Torres' last minute winner at Fratton Park. Liverpool had gone behind twice before winning 3-2, and it sent them top of the league.
Chris Rowland: I'm claiming a Best Week. 4-0 v Real Madrid at Anfield, then that 4-1 at Old Trafford, then 5-0 at Anfield against Villa. Sublime football, the Gerrard and Torres axis at full throttle.
Anthony Stanley: The 90th minute of a game that is probably still my favourite domestic match that I've ever watched. Reina launches the ball, United's previously formidable defence now looks bedraggled and shell shocked following the dismissal of Vidic and time seems to slow to a trickle as Andrea Dossena – a full-back, much maligned since his arrival at the club – somehow finds himself on the end of the hopeful punt and improbably, gloriously and majestically sends the ball high over van der Sar. The ball doesn't bounce in its trajectory until after it is settling in a billowing net. Manchester United 1, Liverpool 4 and we can sniff a possible title in March for the first time in years.
Jonathan Naylor: Andrea Dossena lobbing Van der Sar to put a lid on a come from behind 4-1 victory at Old Trafford, to the tune of "Rafa's cracking up" from the Liverpool fans. The bigger picture was the result reignited our title challenge, but the win was immensely joyful in its own right.
We then beat Villa 5-0 in the next game, while Manchester United lost at Fulham. The following weekend, an injury time winner from Benayoun moved us top by 2 points, having played two matches more. The day after, there was 10 minutes left at Old Trafford with Villa leading 2-1….
Alex Tate: A slightly throwaway moment but Torres showing five fingers after equalising against United. He dumped Vidic on his backside, which makes a change from Vidic being in his pocket, entered the box, coolly slots past the irritating van Der Sar and runs off with arm raised showing the United faithful how many times we'd won the European Cup. Top. With a shout out to Yossi Benayoun's winner at Fulham in injury time taking us top of the table.
Worst moment
Paul Tomkins: For me, it didn't involve the Reds directly: the decision at Old Trafford to award Man United a penalty when Spurs were leading 2-0, with what was a great bit of goalkeeping. It basically turned the title race completely in United's favour, when it was running Liverpool's way.

As The Guardian's Manchester correspondent noted in his match report: "Manchester United failed to keep a clean sheet for the seventh time in eight Premier League matches, showed specific vulnerability in the full-back areas and needed the aid of Howard Webb's mistaken award of a penalty to spark the comeback … Tottenham Hotspur led 2-0 at the interval against a torpid United."

The Andrey Arshavin game was also sickening. Four times Liverpool led; four times Arshavin equalised.
Andrew Beasley: Despite being Liverpool's third best Premier League season, according to my unimpeachable algorithm, there were still plenty of gut wrenching moments. Andrey Arshavin scoring 17.4% of his total Premier League goals in 0.95% of his appearances certainly hurt.
Chris Rowland: In the league,Howard Webb's farcical penalty decision at Man Utd v Spurs. It was when the title finally seemed out of reach.
In Europe, the 3-1 home defeat by Chelsea in the CL quarter-final 1st leg after taking the lead within six minutes. The 4-4 2nd leg at Chelsea was followed by the 4-4 against Arsenal.
Anthony Stanley: Either one of Lampard's late strikes in the epic Champion's League tussle at Stamford Bridge. Both felt like a blow to the stomach, gut wrenching in their finality as we tried to turn around an Anfield train wreck in the first leg. But we'll always have the memory of Aurelio's Gary Mac impression when we believed.
Jonathan Naylor: Rooney's equaliser followed by Macheda's injury time winner for Man United versus Villa. From heading to a third successive defeat and only just retaining their destiny in their own hands, Manchester United steadied themselves and won the next six on the bounce. A draw with Arsenal confirmed that lot as champions and moved their title count to within one of Liverpool.
Alex Tate: There was no worst moment. The Chelsea defeat at Anfield in the CL was poor but we still had another 90 minutes to put things right, even if it would be a task. But the last 10 minuets at Fulham were excruciating. As the title race was coming to climax we needed to extend our run of wins to put pressure on United. I can't recall being that jittery before, I couldn't concentrate. And Craven Cottage looked so dark that evening. Fulham offered nothing and we had all the game, three times the woodwork has hit. The shredding of my nerves peaked as the clock reached 90 minutes.
Best player
Paul Tomkins: This was probably Xabi Alonso's best season in a red shirt, after a couple of less influential campaigns that had seen him almost sold to Arsenal or Juventus before this one got underway. But Alonso, perhaps angrily, had a sensational season.

Fernando Torres and Steven Gerrard were great too, but I think they only played 14 times together.

I'd also give a shout out to Fabio Aurelio, who was excellent when he was fit. If he'd been able to play 30-38 league games a season then the Reds may have done even better, but his injury record wasn't the greatest.
Andrew Beasley: Xabi Alonso had one of the finest individual campaigns any Liverpool player has had in the last 30 years. He was so good that season, Jamie Redknapp later praised his performance in the 4-1 win at Old Trafford even though he didn't play. It takes supreme skill to dictate a team's tempo when you're not even there, but Alonso seemingly had that ability.
Chris Rowland: Xabi Alonso, the metronome who I always loved watching play, or Gerrard, 24 goals and a partnership with Torres that was frequently irresistible.
Anthony Stanley: The answer is probably Steven Gerrard but I'll go for Torres, simply because of the amount of sheer wow moments he gave me over the course of the campaign. From the precise long range rocket to win the first game of the season against Sunderland in the dying minutes, to the wonderful brace in the Goodison derby to the stunning Blackburn Rovers turn and volley. Possibly the best striker in world football during this campaign. And wasn't it glorious to see his continued effect on Vidic?
Jonathan Naylor: A lot of players had their best ever seasons for the Reds. Both Torres and Gerrard were immense, albeit missing games with injuries. However, I'll go for Xabi Alonso – he had always been a lovely player to watch but added a real cutting edge to his game this season. We missed him enormously the next season.
Alex Tate: There were many great performers throughout the season. Hyypia and Agger tight at the back. Benayoun with eight goals from midfield, Kuyt 12, Torres 14 from 24 games. But Steven Gerrard shone brightest. 16 goals from 31 league games, 24 in 44 over all competitions. His captaincy was on show, a sixth minute injury time winner against Boro, a cool penalty at Old Trafford, a hat-trick in thrashing Villa, seven in 10 CL games including a brace v Real Madrid. But a few times it was his solitary goals which lead us through the group stage.
While he was ably supported, his determination in Torres' absence pulled us through. When Torres returned the pair were unplayable. His play helped Torres become Liverpool's number nine. In March he won the Premier League Player of the Month and took home the Football Writers Player of the Year and PFA Fans Player of the Year, made the PFA Team of the year was on the Ballon D'Or and FIFA World Player of the Year shortlist.
Worst player
Paul Tomkins: Philipp Degen was at the club this season, yet didn't feature in the league. I can't remember why he had just two cup games and nothing in the league, but his few performances the season after probably explained why.

There were cheap young players like David N'gog and Nabil El Zhar, who no one seemed to rate, but I think they offered honest, limited cover. But Degen seemed a waste of space.
Andrew Beasley: I guess relative to expectations it has to be Robbie Keane, though he wasn't horrendous, he just didn't seem to fit. I do recall being absolutely infuriated by a miss of his at Atletico Madrid, though, where he tried to flick the ball in with a fancy back heel rather than, you know, just making sure he scored.
Chris Rowland: Degen. Always Degen. I mean, words fail. Wtf. I know he didn't play much but there was a very good reason for that.
Anthony Stanley: I suspect many might go for Keane because of his price tag and relative failure (and bouts of self-indulgence) but he did score some important goals that season. But I'll go for David N'Gog, perhaps unfairly. It was just that the sheer chasm in quality between the French youngster and our Spanish superstar was so jarring.
Jonathan Naylor: By this stage of the Benitez era, the first 11 was pretty formidable. However, plenty of the squad players were on the underwhelming side – Dossena, El Zhar and N'Gog made 45 league appearances between them. But most underwhelming of the lot (and considerably more expensive) was Robbie Keane, who was shipped back to Spurs after just six months.
Alex Tate: Jermaine Pennant proved once again out of his depth. Poor Philipp Degen spent most of the season injured, including sustaining a pair of broken ribs and a punctured lung when colliding with Hyypia. I felt sorry for him but… really, you clumsy twat. But two metatarsal injuries followed this season, but being a crock isn't necessarily his fault.
Best game
Paul Tomkins: The big games were the 4-0 win over Real Madrid, 4-1 over United, 5-0 over Aston Villa when they were a top six team – one of the best three game-runs in living memory.

Then there were the two 4-4 draws – great games – that knocked Liverpool out of the Champions League at Chelsea and out of the title race at home to Arsenal, again in consecutive fixtures.
Andrew Beasley: Having only won at Manchester United 15 times in over a century of meetings at that point, and having gone behind too, the 4-1 victory stands above the 33 other wins in all competitions in 2008/09. It's always nigh on impossible to pick favourites for anything, but I struggle to think of a better Premier League win which Liverpool have ever had.
Chris Rowland: It has to be that 4-1 at Old Trafford. Take your pick: Torres hunting down Vidic like a cheetah stalking a lumbering beast; Gerrard kissing the camera – I felt then, and still feel now, yeah, that's how it feels Utd fans after Gary Neville and Rio Ferdinand's wild-eyed badge -kissing after late winners; Vidic eventually being sent off against Liverpool again after being driven to distraction by Torres; Aurelio rubbing it in against the 10 men by scoring from the ensuing free-kick; finally, that delicious lob by Dossena of all people. Wonderful day! Not least, it meant the title race was truly alive and we were right in there.
Anthony Stanley: So hard to make a call between two maulings in the space of a week but I have to go with the United game in Old Trafford. This just felt more real, more personal, and more visceral. This was the enemy and we blew them off a sun-dappled pitch and breathed new life into a fading title tilt. The look of absolute shock on some of my United supporting mates as we sat in bar that day will long live with me.
Jonathan Naylor: The 4-0 against Real Madrid was a performance of the ages. Torres played like a man possessed against Atletico's big rivals, and the score could have been even more emphatic but for an inspired performance from Casillas in the Madrid goal. The best Liverpool performance under Benitez?
Alex Tate: Man Who?1 -4 Liverpool. Saturday night and the pub was pumped. The United fans turned up to watch us in their bi-seasonal trip out and we sent them packing. It was a mad night and the experience was heightened by going behind. When Torres got the equaliser there was joy and relief, the tension as Gerrard stood over the ball for the penalty rose and the immediate release saw the electricity snap in the air. Vidic being put out of his misery with a red card gave us something to laugh at, then Aurelio's wonderful free kick (did you not see it coming Edwin?) pretty much put the game to bed and we could see them sneaking out.
For some daft reason I had my phone in my hand having answered a call from a close friend in the UK. When Dossena lobbed a static van Der Sar the celebrations saw my phone spin across the floor of the boozer. There were people on shoulders, some cheering, crying, laughing, eyes wide open and jaws on the floor. It was mayhem.
A few days later I said to a Man Utd fan team mate, even if you win the title, that's gotta hurt. He agreed it was a humbling, but I suppose they got the last laugh. And I did get my blower back in one piece.
The 4-4 with Arsenal gets a mention, particularly as it was only 1-0 to the Arsenal at half time.
Goal of the season
Paul Tomkins: Andrea Dossena's lob at Old Trafford was the most wonderfully surreal goal of the season, given that he never looked that good in a red shirt, but had just scored against Real Madrid.

Liverpool had been 1-0 down, but came back with goals from Torres, Gerrard and Aurelio. But when Dossena lobbed Edwin van der Sar in the last minute it cemented a glorious riposte the "he's cracking up" chants United fans were aiming at Rafa all game.

There were almost certainly better individual goals, but this one made me laugh my nuts off.
Andrew Beasley: I absolutely adore Steven Gerrard's goal against Real Madrid at the Kop end. A lovely build up and a thunderous finish, it was perfect. A shout out too for Albert Riera's goal, assisted by Pepe Reina, against Aston Villa.
Chris Rowland: The Torres goal against Blackburn at Anfield. Bringing the ball down from the air under his control then without breaking stride hitting that sublime dipping volley.
Anthony Stanley: That man Fernando and his ridiculous pirouette, after chesting the ball down, and stunning finish into the far corner. 1-0 to Liverpool against Blackburn Rovers and the sheer majesty of the goal took my breath away. How he imagined he could score from there, the technique to execute it…that was Torres.  For pure aesthetic appeal, it's still my favourite Liverpool goal.
Jonathan Naylor: I'm sure there were better goals but Liverpool's third against Real Madrid is a personal favourite – the ball being moved about at pace before a Ryan Babel pull-back for Gerrard to smash in.
Alex Tate: Torres v Blackburn. After five minutes in the Anfield sun, Torres, with his back to goal, controlled the ball on his chest, swivelled and unleashed an unstoppable volley from the right hand corner of the 18 yard box and the ball flew into the far top left. A real beauty, one of many Torres scored in his prime for Liverpool. It's goals like this that make me realise how much I miss him.
Notable features
Chris Rowland: It was the nearest we'd come to the title since last winning it. That was some team. Peak Gerrard, peak Alonso, Torres, Mascherano, Carragher and Hyypia, Reina and Kuyt. Some twisted sicko called Howard Webb gave Utd a penalty at Old Trafford against Spurs that proved decisive, Macheda – who? – came on as a sub against Villa at OT and clinched a late win after they'd been losing. Around the same time, Arshavin was having his night of nights at Anfield in that 4-4. In that little spell of games, the title was decided.
Anthony Stanley: We only lost twice in the league and still couldn't clinch that elusive title. Just imagine. Oh, wait…
Seasons covered so far
| | | | | | | | | | | |
| --- | --- | --- | --- | --- | --- | --- | --- | --- | --- | --- |
| Rank | Season | TTT Season Rating Score | League Points | League Position | £XI Rank | Champions League | UEFA Cup/ Europa League/ Cup Winners Cup | FA Cup | League Cup | Link to article |
| 27 | 1993–94 | 0.82 | 60 | 8 | 2 | — | — | R3 | R4 | Link |
| 26 | 1992–93 | 0.94 | 59 | 6 | 2 | — | R2 | R3 | R4 | Link |
| 25 | 2012–13 | 1.06 | 61 | 7 | 4 | — | R32 | R4 | R4 | Link |
| 24 | 2010–11 | 1.12 | 58 | 6 | 4 | — | R16 | R3 | R3 | Link |
| 23 | 2011–12 | 1.19 | 52 | 8 | 4 | — | — | RU | W | Link |
| 22 | 2009–10 | 1.27 | 63 | 7 | 4 | Group Stage | SF | R3 | R4 | Link |
| 21 | 1998–99 | 1.31 | 54 | 7 | 10 | — | R3 | R4 | R4 | Link |
| 20 | 2015–16 | 1.36 | 60 | 8 | 5 | — | RU | R4 | RU | Link |
| 19 | 2014–15 | 1.40 | 62 | 6 | 5 | Group Stage | R32 | SF | SF | Link |
| 18 | 2003–04 | 1.59 | 60 | 4 | 5 | — | R4 | R5 | R4 | Link |
| 17 | 1996–97 | 1.65 | 68 | 4 | 2 | — | SF | R4 | R5 | Link |
| 16 | 1999-00 | 1.70 | 67 | 4 | 5 | — | — | R4 | R3 | Link |
| 15 | 2002–03 | 1.70 | 64 | 5 | 5 | Group Stage | QF | R4 | W | Link |
| 14 | 1994–95 | 1.73 | 74 | 4 | 3 | — | — | R6 | W | Link |
| 13 | 1995–96 | 1.80 | 71 | 3 | 1 | — | R2 | RU | R4 | Link |
| 12 | 2016–17 | 1.81 | 76 | 4 | 4 | — | — | R4 | SF | Link |
| 11 | 2004–05 | 1.88 | 58 | 5 | 4 | W | — | R3 | RU | Link |
| 10 | 1997–98 | 1.91 | 65 | 3 | 10 | — | R2 | R3 | SF | Link |
| 9 | 2007–08 | 2.03 | 76 | 4 | 3 | SF | — | R5 | R5 | Link |
| 8 | 2013–14 | 2.15 | 84 | 2 | 3 | — | — | R5 | R3 | Link |
| 7 | 2006–07 | 2.18 | 68 | 3 | 3 | RU | — | R3 | R5 | Link |
| 6 | 2017–18 | 2.19 | 75 | 4 | 4 | RU | — | R4 | R3 | Link |
| 5 | 2005–06 | 2.22 | 82 | 3 | 3 | R16 | — | W | R3 | Link |
| 4 | 2001–02 | 2.43 | 80 | 2 | 6 | QF | — | R4 | R3 | Link |
| 3 | 2008–09 | 2.45 | 86 | 2 | 3 | QF | — | R4 | R4 | |
*TTT Season Rating Score explanation:
League – Liverpool average 67.8 points per 38 games in the Premier League. Season points tallies are calculated as a percentage of that average to generate a rating score. Seasons are also awarded a proportion of up to half a point, depending on where between 2nd and 8th the Reds finished.

Cups – Points are awarded for progress in the latter stages in Europe and the domestic cups, with descending importance through Champions League, Europa League, FA Cup and League Cup. The maximum possible points score is 55 (by winning the Champions League and both domestic cups) so the total for a season is calculated as a percentage of that.
Finance – Liverpool's final league position is compared to their £XI Rank for that season. The seasons are then ranked from biggest over-achievement to worst under-achievement, and awarded a proportion of half a point depending on where they sit.