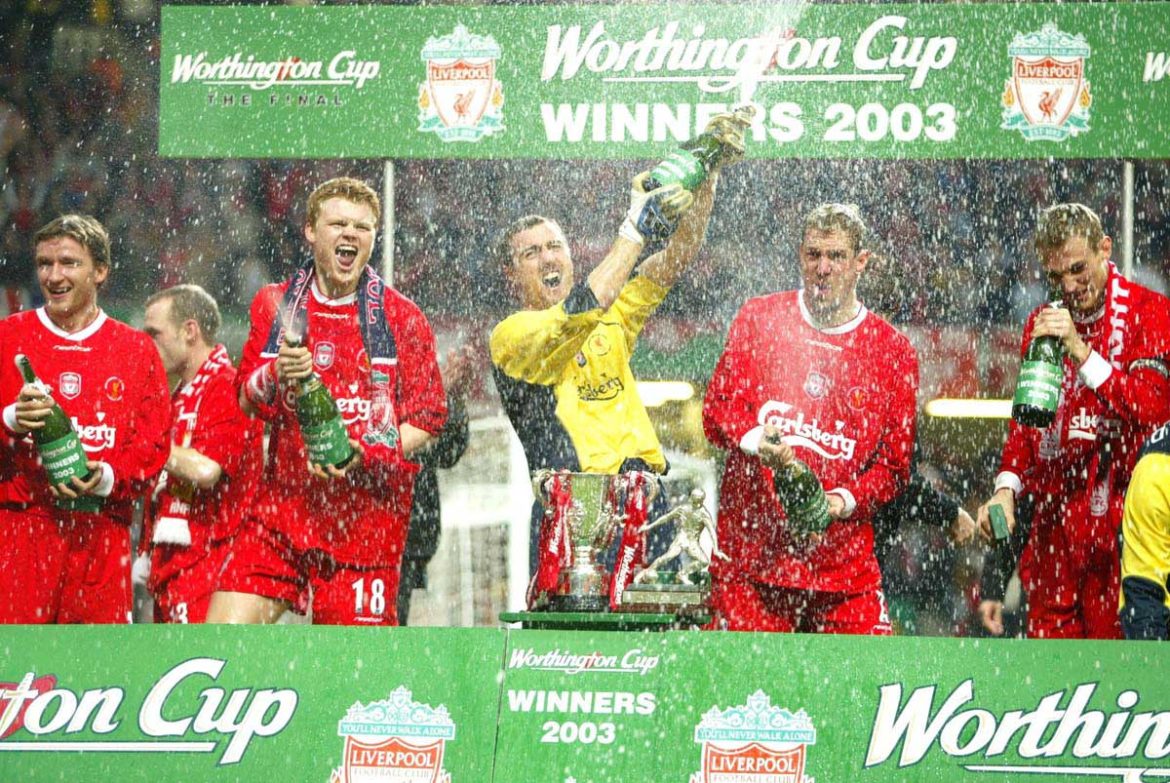 Having finished second the season before, and then securing two World Cup stars plus the next Zidane in the summer, hopes were high around Anfield that Liverpool might end their absurdly long 12 year title drought in 2002/03. And by winning nine and drawing three of their opening 12 league games, to sit four points clear at the top of the table in early November, the Reds made an encouraging start to the campaign.
But then the drought happened. Eleven league games without a win, which dropped Liverpool from top to seventh in the table.
While it was an unusually long winless run, perhaps it should've been expected to some extent. Yes, the Reds didn't lose any of their opening 12 league matches that term, but plenty of the performances in that run left something to be desired. If the stats from those games were available, it would be fascinating to see if they foretold the drop off.
Once they started winning again, Liverpool averaged 1.93 points per game for the rest of the season, but a final day defeat saw them finish fifth. Cup exits to Crystal Palace and Celtic – both at Anfield – were disappointing, though there was at least glory in the League Cup. The 2-0 win over Manchester United in Cardiff was a relative bright spot in an otherwise underwhelming campaign. One which had looked so promising in the opening three months too. (By Andrew Beasley)
#15 – 2002/03
TTT Season Rating Score*: 1.70 (League 1.09, Cups 0.27, Finance 0.33).
Manager: Gerard Houllier.
Premier League: 64 points, finished 5th.
£XI rank: 5th.
Europe: Champions League group stage, UEFA Cup quarter-final.
FA Cup: 4th round.
League Cup: Winners.
Top scorer: Michael Owen, 28.
Final League Table:
Transfers In:
| | | |
| --- | --- | --- |
| Player | Current Money Purchase Price | Age @ transfer |
| Diouf E | £65,976,835 | 21 |
| Diao S | £32,988,418 | 25 |
| Cheyrou B | £26,390,734 | 24 |
| Luzi Bernardi P | £0 | 22 |
Transfers Out:
| | |
| --- | --- |
| Player | Sales CTPP |
| Wright S | £19,793,051 |
| Barmby N | £18,143,630 |
| Litmanen J | £0 |
Player stats for the season:
| | | | | |
| --- | --- | --- | --- | --- |
| # | Player | Starts | Sub Apps | Goals |
| 4 | Sami Hyypia | 56 | 0 | 5 |
| 13 | Danny Murphy | 54 | 1 | 12 |
| 17 | Steven Gerrard | 52 | 2 | 7 |
| 23 | Jamie Carragher | 51 | 3 | |
| 10 | Michael Owen | 49 | 5 | 28 |
| 18 | John Arne Riise | 48 | 8 | 6 |
| 30 | Djimi Traore | 45 | 4 | |
| 1 | Jerzy Dudek | 45 | 1 | |
| 16 | Dietmar Hamann | 39 | 3 | 2 |
| 8 | Emile Heskey | 37 | 15 | 9 |
| 9 | El Hadji Diouf | 35 | 12 | 6 |
| 2 | Stephane Henchoz | 32 | 0 | |
| 5 | Milan Baros | 22 | 20 | 12 |
| 21 | Salif Diao | 22 | 18 | 2 |
| 7 | Vladimir Smicer | 18 | 16 | 1 |
| 22 | Chris Kirkland | 15 | 0 | |
| 28 | Bruno Cheyrou | 14 | 15 | 1 |
| 6 | Markus Babbel | 6 | 1 | |
| 3 | Abel Xavier | 6 | 0 | |
| 25 | Igor Biscan | 5 | 8 | |
| 33 | Neil Mellor | 4 | 2 | 1 |
| 27 | Gregory Vignal | 2 | 2 | |
| 15 | Patrik Berger | 1 | 3 | 1 |
| 36 | Jon Otsemobor | 1 | 0 | |
| 32 | John Welsh | 0 | 1 | |
Season summary (continued):
Jonathan Naylor: Despite the silverware, not too many fond memories of this season. After clear progression in each of Houllier's previous seasons, this was supposed to be the year we gave the title a really good go. However, even after a strong start results wise, we never looked overly convincing. In the early months, there was a lot of talk that the sign of a good side is one that wins games without playing well. It turned out it can also be the sign of a middling side over performing.
Taskin Ismet: Liverpool had just finished second, which itself came hot on the heels of a glorious Treble. If the title was already half in the bag, all that was needed were a few finishing touches… 
Step forward two star signings from one of the recent surprises of the World Cup, Senegal, with their attacking sensation, El Hadji Diouf aka The Serial Killer, and his fellow countryman, midfielder Salif Diao. If that weren't enough to bring the title home then there was Bruno Cheyrou, dubbed by Houllier 'the next Zidane' (no pressure then Bruno) and Alou Diarra, football's equivalent to the Scarlet Pimpernel. We sought him here, we sought him there…, but aside from a few photos of him signing a contract with us we knew not where or even really who he was. 
To say that the summer signings were bad business would be an understatement of the highest order. Not only did they fail to add that little extra to push us to the title, they actually made us worse. Far worse. And if the quality of our football going backwards didn't spell danger enough, then the negative impact on our professionalism – one of the few enduring improvements brought in by Houllier – was perhaps even more concerning. The 'pick' of the bunch was of course, El Hadji Diouf. He not only gave us a pathetic goal return, but he also brought lots of attitude. He gave us six goals and one spit in the face of an opposition fan in this, his first season. He would follow that with no goals at all and an increasing assortment of cards in his second.  And he was apparently as unpopular off the pitch as he was on it. He and Carragher have 'kept in touch'. He was as arrogant as they come, but he lacked both the skill as a footballer and the mental fortitude as a person to carry it all off. His unmitigated failure in a red shirt and the contempt with which he was (and is) held by fans and players alike hurt him more than he'd ever admit to. It is perhaps telling that after his infamous spit he would never score for the club again. The fact that he is still bitter at the club now is further evidence for me that he was hurt by the realisation that he wasn't going to be the best player in the world (as he'd bragged he would be upon arrival) and in fact often wasn't even the best player on the bench. To cap off the absurdity of his time at Anfield he came instead of Nicolas Anelka. Because we were worried by Anelka's professionalism. 
Diouf aside, the season started well enough. Too well really. We were top after 12 games (despite 3 consecutive 2-2 draws). But then reality reared its ugly head and we lost in the League to Middlesborough, went out of the Champions League to Basel and lurched in to a run of 13 matches without victory. Then, just when we'd all accepted total failure and humiliation in what was meant to be 'our year', the players lifted us up with 7 wins in 8 games to haul ourselves back in to the Champions League spots again. We'd redeemed ourselves – momentarily. Having lifted us up, they dropped us face-first back in the dirt, losing our last two games (to Chelsea and City) to end any hopes of a Champions League place. 
Oh, and we also won the League Cup. Against Utd, 2-0. It's telling that it's a footnote. Whilst it's always nice to win a cup and always nice to beat Utd, the truth is that it just didn't really matter.
Chris Rowland: "What will it take to make you lot happy?" a Villa fan asked me around that time. I said we need to be challengers for the title pretty much every season and win it now and again. And be in the Champions League every season. Until then, we won't rest.
So here we were again, not resting! Flashes of quality, fleeting moments of golden promise, ultimately leading to more frustration and disappointment. Always the bridesmaids. Ok we won a trophy, and beating the Mancs in Cardiff was a pleasure.
Alex Tate:
Second place finish on the back of a treble winning season, this was where is was to all come together. Top after 12 games, unbeaten, four points clear, 30 points from 36. Halcyon days!
Then 11 without a win, five consecutive defeats, including lower mid table Fulham, Charlton and soon to finish bottom with only 19 points Sunderland. Visage paume.

Now 12 points behind the leaders, we fell out of the CL group stage too. What went wrong?
Dropping into he UEFA Cup meant scraping past the lesser lights until the quarters and Celtic beat us at Anfield. Lacklustre.
But in the most tin pot of all tin pot trophies, we were also rather poor. Only El Hadji Diouf had an enjoyable time of it, he top scored with three.
This was my first season in Australia and the reporting on the PL was not as widespread as now. Only one match a week on free to air TV and the internet for information. But the overall memory is one of dodgy signings. I think Stevie G had enough of them pretty soon too.
We were a mile away from Man Utd and Arsenal on the final table but close enough in the chasing pack that we needed to remember what made us so good the season before.
Best moment
Andrew Beasley: My first game at Anfield! Liverpool swept aside Southampton 3-0 in the first home match of the campaign, with new signing El-Hadji Diouf bagging a brace. I thought we'd unearthed a super star… But just to be at the ground was incredible. Nearly 17 years later and it's still a thrill whenever I get to go.
Jonathan Davies: I'm not the League Cup's biggest fan but a win against Manchester United is not to be sniffed at. Jerzy Dudek was man of the match which says something about how the game went, but when Owen sealed it with a breakaway goal with a few minutes to go, not many Reds would have minded.
Taskin Ismet: Liverpool v Southampton, 24th August 2002.  Match Day 2. Diouf scores 3 mins in to his Anfield debut and follows it up with another in the 51st. Diouf is on fire. He'd looked lively in the season opener away at Villa, but here he looks the business.
The game is drawing to a close, but Bruno Cheyrou announces himself too with a surging run in to the box ("Zidane-esque!" we all cry) only to be cynically brought down. Murphy duly slots away the penalty. 
Two games. Two wins. New signings on fire. There's no doubt about it. Right now "We're gonna win the league".
Chris Rowland: Has to be beating Utd at Cardiff to win the League Cup. Those flags, bearing in mind it was the time of the Iraq war: "Michael Owen, weapon of Manc destruction" and "Don't bomb Iraq nuke Manchester". A Utd fan asking us on the night before the match who was top of our hate list, as we were always top of theirs, and one of our scouse mates saying it would always only ever be Everton, we have them in our face all day every day but we only ever see you ****s twice a season unless we get you in the cup!
Worst moment
Andrew Beasley: For a trophy winning season, there were a hell of a lot of low points. A final day defeat to Chelsea which saw them reach the Champions League was disappointing, not least as it ensured Roman Abramovich bought the Blues. Going out of that competition with a 3-3 draw at Basel, and then losing to Celtic at Anfield to exit the UEFA Cup were not great nights either.
But the absolute bottom of the barrel? It has to be Jerzy Dudek's error to allow Diego Forlan to score for United in their 2-1 win at Anfield. Sickening.
Jonathan Davies: Before playing Middlesbrough on 9th November, we were unbeaten in the league with 30 points out of a possible 36, and 4 points clear. We lost 1-0, the start of a run of 5 points out of a possible 36. Oh, and we went out the Champions League at Basel three days later.
Taskin Ismet: Going out of the Champions League after a 3-3 draw away at Basel? Going out of the UEFA Cup after losing 2-0 at home to Celtic? Losing 4-0 away to Utd?
Or that unspecified point in the season (not too far in if we're honest) when it dawned on us all that these new signings were actually quite shit?   
Chris Rowland: Our miserable CL campaign. Failing to qualify after the 3-3 in Basel was awful, but the two games against a Valencia side manage by a certain Rafa Benitez revealed how far short we were of the level we aspired to. Our European misery was completed when Celtic won at Anfield to knock us out of the UEFA Cup we'd dropped down into.
Alex Tate: Diouf spitting. I know since we've had Suarez biting, but the spitting was a real low for a club like Liverpool. Houllier was intent on French speaking players and/or the from Ligue 1, but who compiled the dossier on him to suggest he would be a success? I'm not suggesting we forgive El Pistolero because he scored a lot of goals, but Diouf was a major disaster on all plains. He came from a wealthy background, throw in successful footballer and a World Cup, maybe his ego was too big and out of control. I have heard first hand reports of his behaviour off the field too. Despicable character. No one even bought him from us, we had to loan him out first.
Best player
Andrew Beasley: Nobody really sticks in my mind as being great this season. As Michael Owen scored hattricks at Manchester City, Spartak Moscow and got four at The Hawthorns – plus the clinching goal in the cup final – I guess I'll give it to him. Gerrard presumably did pretty well, though all I can recall is his red card at Stamford Bridge.
Jonathan Naylor: Owen and Gerrard again. Shout out to Riise with six Premier League goals.
Taskin Ismet: Probably still Owen.  28 goals in 54 games. 
Chris Rowland: Owen and Gerrard of course. But I think the defensive trio of Hamann, Henchoz and Hyppia were pretty good, with the mighty Finn getting my vote.
Worst player
Andrew Beasley: Gerard Houllier would've thought he was giving Bruno Cheyrou a massive vote of confidence by describing him in public as the next Zidane. Perhaps the former Lille man was emboldened by his new manager's words. It didn't appear to help on the pitch, though, and it didn't help with Kopites who immediately expected Cheyrou to deliver far more than he was capable of.
Jonathan Naylor: All the main signings made in pre-season turned out pretty badly, although they all made promising starts. Jerzy Dudek had some high profile clangers, not least against Manchester United at home.
Taskin Ismet: Pick any of the new signings. Frighteningly, Diouf wasn't the worst in football terms. But he still takes the title on account of his backing up his averageness on the field with an incredible level of unwarranted arrogance off it.
Chris Rowland: Diouf, Diao, Cheyrou, Traore? For sheer frustration at his head-down inability to see the game around him, Milan Baros gave me as many grounds for divorce as any. Heskey's punching considerably below his weight and Smicer's sheer limp ineffectiveness when you knew there was lots more in there that was not being used also used to grind my gears.
Alex Tate: El Hadji Diouf, as outlined above.
Best game
Andrew Beasley: A start delayed by over an hour, a penalty, an own goal, some long range stunners and a last minute winner: Aston Villa 3, Liverpool 4 in the quarter-final of the Worthington Cup had just about everything. Chris Kirkland should've done better with that Hitzlsperger goal, though.
Jonathan Naylor: The 5-0 at home to Spartak Moscow, the only team we managed to beat in the Champions League that season. Also the 6-0 at the Hawthorns. In a season where the football wasn't the most free flowing, these matches were two glorious exceptions.
Taskin Ismet: Versus Utd in the League Cup Final. It didn't mean much in the greater scheme of things (and even less a month later), but we beat Utd 2-0 in a final. That'll do.
Chris Rowland: I enjoyed the 6-0 win at the Hawthorns. I've got a couple of Baggies mates and a Baggie brother-in-law, so that kept the bastards quiet for a while! 😉
Alex Tate: I can only really recall the League Cup Final well. Dudek kept us in the game but as so often Owen came up with a necessary goal, late , but saved a nervy finish. After the treble and a title challenge another piece of silverware, no matter how lightweight, looked good for history. Beating Man Utd is always good but to see them have so many chances and shred my nerves makes for a great spectacle.
Goal of the season
Andrew Beasley: It wasn't the purest strike of Steven Gerrard's career, but his goal in the League Cup final was a brilliant moment. It went off in The City Arms pub opposite the Millenium Stadium when it went in, let me assure you.
Jonathan Naylor: Thunderous free-kick from Didi Hamann away at Fulham.
Chris Rowland: Danny Murphy's 64th minute winner in the Goodison derby. The goal wasn't particularly special, yet of course it was.
Notable features
Chris Rowland: Awful Champions League and Uefa Cup campaigns. Failure to qualify for next year's Champions League. Failure to challenge for the title. Diouf, Diao, Cheyrou, Traore, Biscan (pre-hero Biscan). Instead of gaining ground on the promised land, it seemed we were moving further away from it again, which was starting to feel like a rinse-and-repeat pattern.
Another notable feature – it was the last time City beat us at Anfield, with two goals from Nicolas Anelka!
Seasons covered so far
| | | | | | | | | | | |
| --- | --- | --- | --- | --- | --- | --- | --- | --- | --- | --- |
| Rank | Season | TTT Season Rating Score | League Points | League Position | £XI Rank | Champions League | UEFA Cup/ Europa League/ Cup Winners Cup | FA Cup | League Cup | Link to article |
| 27 | 1993–94 | 0.82 | 60 | 8 | 2 | — | — | R3 | R4 | Link |
| 26 | 1992–93 | 0.94 | 59 | 6 | 2 | — | R2 | R3 | R4 | Link |
| 25 | 2012–13 | 1.06 | 61 | 7 | 4 | — | R32 | R4 | R4 | Link |
| 24 | 2010–11 | 1.12 | 58 | 6 | 4 | — | R16 | R3 | R3 | Link |
| 23 | 2011–12 | 1.19 | 52 | 8 | 4 | — | — | RU | W | Link |
| 22 | 2009–10 | 1.27 | 63 | 7 | 4 | Group Stage | SF | R3 | R4 | Link |
| 21 | 1998–99 | 1.31 | 54 | 7 | 10 | — | R3 | R4 | R4 |  Link |
| 20 | 2015–16 | 1.36 | 60 | 8 | 5 | — | RU | R4 | RU | Link |
| 19 | 2014–15 | 1.40 | 62 | 6 | 5 | Group Stage | R32 | SF | SF | Link |
| 18 | 2003–04 | 1.59 | 60 | 4 | 5 | — | R4 | R5 | R4 | Link |
| 17 | 1996–97 | 1.65 | 68 | 4 | 2 | — | SF | R4 | R5 | Link |
| 16 | 1999-00 | 1.70 | 67 | 4 | 5 | — | — | R4 | R3 | Link |
| 15 | 2002–03 | 1.70 | 64 | 5 | 5 | Group Stage | QF | R4 | W | |
*TTT Season Rating Score explanation:
League – Liverpool average 67.8 points per 38 games in the Premier League. Season points tallies are calculated as a percentage of that average to generate a rating score. Seasons are also awarded a proportion of up to half a point, depending on where between 2nd and 8th the Reds finished.

Cups – Points are awarded for progress in the latter stages in Europe and the domestic cups, with descending importance through Champions League, Europa League, FA Cup and League Cup. The maximum possible points score is 55 (by winning the Champions League and both domestic cups) so the total for a season is calculated as a percentage of that.
Finance – Liverpool's final league position is compared to their £XI Rank for that season. The seasons are then ranked from biggest over-achievement to worst under-achievement, and awarded a proportion of half a point depending on where they sit.