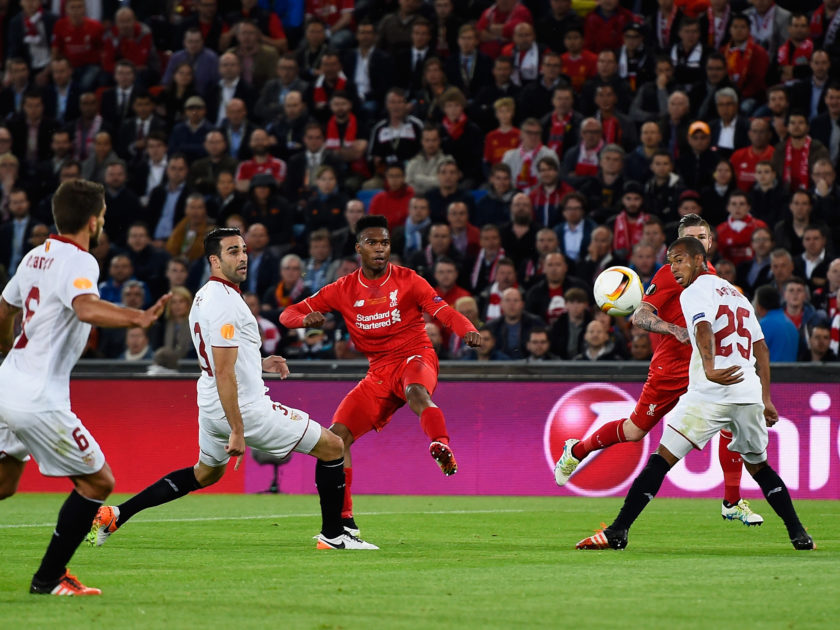 #20 – 2015/16
TTT Season Rating Score*: 1.36 (League 0.88, Cups 0.36, Finance 0.11).
Manager: Brendan Rodgers (to 4th October 2015); Jürgen Klopp.
Premier League: 60 points, finished 8th.
£XI rank: 5th.
Europe: Europa League runners-up.
FA Cup: 4th round.
League Cup: Runners-up.
Top scorer: Daniel Sturridge, 13.
Final League Table:
Transfers In:
| | | |
| --- | --- | --- |
| Player | Current Money Purchase Price | Age @ transfer |
| Benteke C | £70,885,703 | 24 |
| Firmino | £63,251,858 | 23 |
| Clyne N | £27,263,732 | 24 |
| Ings D | £17,448,788 | 23 |
| Grujic M | £11,123,603 | 19 |
| Gomez J (II) | £7,633,845 | 18 |
| Bogdan A | £0 | 27 |
| Caulker S | £0 | 24 |
| Milner J | £0 | 29 |
Transfers Out:
| | |
| --- | --- |
| Jones B | – |
| Coates S | – |
| Borini F | – |
| Caulker S | – |
| Sterling R | £106,873,828 |
| Lambert R | £6,543,296 |
| Gerrard S | £0 |
| Johnson G (I) | £0 |
| Iago Aspas | – |
Player stats for the season:
| | | | | |
| --- | --- | --- | --- | --- |
| # | Player | Starts | Sub Apps | Goals |
| 22 | Simon Mignolet | 55 | 0 | |
| 2 | Nathaniel Clyne | 52 | 0 | 2 |
| 23 | Emre Can | 46 | 3 | 2 |
| 18 | Alberto Moreno | 45 | 5 | 1 |
| 7 | James Milner | 43 | 2 | 7 |
| 11 | Roberto Firmino | 40 | 9 | 11 |
| 20 | Adam Lallana | 38 | 11 | 7 |
| 10 | Philippe Coutinho | 38 | 5 | 12 |
| 6 | Dejan Lovren | 37 | 2 | 1 |
| 17 | Mamadou Sakho | 32 | 2 | 2 |
| 21 | Lucas Leiva | 29 | 11 | |
| 37 | Martin Škrtel | 24 | 3 | 1 |
| 14 | Jordan Henderson | 23 | 3 | 2 |
| 9 | Christian Benteke | 20 | 22 | 10 |
| 33 | Jordon Ibe | 20 | 21 | 4 |
| 4 | Kolo Touré | 20 | 6 | 1 |
| 24 | Joe Allen | 19 | 18 | 3 |
| 15 | Daniel Sturridge | 19 | 6 | 13 |
| 27 | Divock Origi | 15 | 18 | 10 |
| 35 | Kevin Stewart | 10 | 1 | |
| 44 | Brad Smith | 8 | 2 | 1 |
| 38 | Jon Flanagan | 7 | 1 | |
| 12 | Joe Gomez | 7 | 0 | |
| 56 | Connor Randall | 6 | 1 | |
| 34 | Ádám Bogdán | 6 | 0 | |
| 54 | Sheyi Ojo | 5 | 6 | 1 |
| 28 | Danny Ings | 5 | 4 | 3 |
| 32 | Cameron Brannagan | 5 | 4 | |
| 53 | João Teixeira | 5 | 2 | 1 |
| 26 | Tiago Ilori | 3 | 0 | |
| 68 | Pedro Chirivella | 2 | 3 | |
| 46 | Jordan Rossiter | 2 | 2 | |
| 3 | Jose Enrique | 2 | 1 | |
| 52 | Danny Ward | 2 | 0 | |
| 19 | Steven Caulker | 1 | 3 | |
| 48 | Jerome Sinclair | 1 | 1 | 1 |
| 40 | Ryan Kent | 1 | 0 | |
| 64 | Sergi Canós | 0 | 1 | |
| 57 | Joe Maguire | 0 | 1 | |
Season summary
Andrew Beasley: 2015/16 is a season which could stake a claim to be higher in our rundown. A mid-season change of manager doesn't usually spell success, but reaching two cup finals with an inherited squad made it a decent effort for the new man in charge, Jürgen Klopp.
Managing the squad through to the Europa League final, with the additional toll that takes, has led to a harsh assessment by our season ranking algorithm. The team with the fifth highest £XI finished eighth, to equal their worst placing since they were last promoted to the top flight, over 50 years ago. Failing to win the cups obviously cost 2015/16 some ranking points too, so it was very much a campaign of 'almost, but not quite'.
But in spite of all of that, if nothing else Klopp brought back the joy and a certain amount of flair into a team which had been driven into a tactical cul-de-sac by Brendan Rodgers. In a nine game spell comprising the Ulsterman's last six matches in charge plus the German's first three, Liverpool drew 1-1 seven times and 0-0 once. They hadn't forgotten how to avoid defeat, but winning had become a real struggle.
It would've been impossible at that point to seriously forecast wins over Chelsea, Manchester City, Manchester United and Dortmund but they all occurred that season. Liverpool also handed out heavy beatings to Aston Villa (6-0) and Everton (4-0), with the latter being a game where the Reds perhaps should've hit double figures, such was their dominance.
There was even a dash of 2013/14-style madness, with a 5-4 win at Norwich where the Reds led, trailed, led, conceded an equaliser in the 92nd minute and scored a winner in the 95th. After a tough year or so, it was enjoyable to be a Liverpool fan again. Some campaigns have been a struggle to write about, but there are plenty of contenders for best moment, player, game and goal here.
Taskin Izmet: I was convinced that the 6-1 humiliation away to Stoke at the end of the previous season should have been the end of Brendan's tenure. That season had gone from bad to worse and I felt that Brendan had lost both the players and fans.
He remained, but the mad magic of 2013-14 was well and truly gone.
When he was finally dismissed I could only ask myself why we'd waited. It was very likely because we had been waiting to secure our prime target.
When Klopp's name first came up as an apparently serious possibility I won't pretend I knew massive amounts about him, but I knew enough to be sure that he was top draw. So much so that I worried that it was paper talk and in reality he was out of our reach. When he finally signed the excitement was palpable. Fans were tracking his flight and fans and press alike were camped outside his hotel. He expressed discomfort with it all and I honestly worried we might frighten him off before he'd even settled in.
As it was we reached and lost two finals in what remained of the season, but whilst we'd have loved to win them both it didn't matter too much. We had a new manager and so this was naturally a time of us finding stability and of Klopp finding his feet and deciding where we go from here. A time of hope if not yet quite unquestioned belief.
Chris Rowland: 63 games in the modern era is a very demanding schedule. Fact is we won less than half of them – 26 – and lost 14 in all competitions. We finished 8th – again, way off the pace. It was easy to be swept along with the Klopp effect, and reaching two cup finals, but it was also easy to get ahead of ourselves. We weren't where we all wanted to be and where we all always thought we should be – yet.
Leicester champions and Chelsea 10th though – weird season!
Gary Fulcher: The previous season ended with one win from six and a humiliating 1-6 defeat at Stoke in Gerrard's last game as a Liverpool player. This season started no better with three wins from the first 11 games (four wins in 17 all up combining the two periods) and Rodgers had to go, of that there was no debate for me.
FSG pulled off a master stroke in bringing Klopp on board. What an appointment! Performances and results picked up (one defeat in the first 11 matches) but the supporters took a while to become 'believers'. A great run in Europe and reaching two cup finals only to lose both could not detract from what Klopp was building.
Alex Tate: Was it really that recent? It seems so long since. I saw the pre-season when they toured Australia and beat Brisbane Roar 2-1, Lallana and Milner on the scoresheet, but it was no indication of anything. Even the sketchy early league wins weren't a suggestion of Rodgers' departure, but maybe the previous season and the sluggish start, giving away 1-0 leads, was too much for FSG. But when Klopp is available and willing…
Some great wins over Man City (a pair), Chelsea and Everton, were highlights. But too many draws and unexpected defeats were an issue as Klopp used mostly what was left from Rodgers' tenure. Yet, eighth seems a low placing, but with Leicester City winning the title, Man City in fourth only six point ahead of us with Southampton and West Ham in between, it was a certain outlier season. Even Chelsea in tenth and ten points behind underlines this.
But the Europa League was where we shone. Our group was negotiable as Klopp found his feet, and tests in the knock out round were dealt with, beating Man Utd was especially sweet. While we lost the final, Sevilla had the European experience we didn't have under Rodgers but put right immediately with Klopp. The future could be bright.
Best moment
Andrew Beasley: I think the 4-1 win at Manchester City was perhaps my favourite result, but it's hard to distil that into a moment. So really, there can only be one man for this section: Dejan Lovren.
Chris Rowland: Knocking Utd out of Europe was pretty good. And the song in Basel, to the tune of 'The Entertainer': "Oh-oh-oh-oh-oh oh-oh. It was Jürgen who told us to go. Now the Reds are in Basel, out on the razzle while the blueshite stay bitter at home" 🙂
The 5-4 at Norwich was some game too.
Taskin Izmet: Reading that we actually had Jürgen Klopp. Fuckin' hell. How did we manage that? Everyone wanted him. And he'd chosen us.
Jonathan Naylor: I suspect I won't be alone in going for Lovren's winner versus Dortmund. Also, Klopp's arrival and first press conference.
Gary Fulcher: The appointment of Klopp. Pretty much anything to do with Klopp.
Paddy Smith: Kind of best moment/worst moment in one – seven has always been my favourite number because of the king, '77 favourite year in football terms and I was born in '67. On minute '76 against Sunderland I still didn't know what to do. On minute '77 I knew exactly what to do. I know there were a lot of mixed feelings at the time, stay and support the team etc and on minute '76 I was really conflicted but then I knew what I had to do. I really believe this game/protest had a big impact on how the owners saw the club, supporters and city and we wouldn't be where we are now without this moment of pain.
Alex Tate: In hindsight it would be the arrival of Bobby. Simply though, Daniel Sturridge's goal in the Europa Final; skilful, cheeky and confident. The final was a great experience for our boys and gave Klopp and the players an idea of how to handle these occasions for next time. And the time after! But it showed the magic sometimes needed to win tense, high reward finals.
Worst moment
Andrew Beasley: As I was at Anfield for a 3-0 defeat by West Ham that season, I could easily nominate that. However, the Reds only scoring once from 47 shots against League Two Carlisle United at Anfield edges it for me. If they had been decent chances then fair enough, to some extent, but Brendan Rodgers said it had been a deliberate tactic to go for long shots. Against League Two Carlisle United. The statto in me shuddered, the Liverpool fan in me vomited.
Chris Rowland: Leicester being champions was disastrous for us – we can have a defence, an explanation, for Utd and City and Chelsea winning it, but there was no defence against 'even Leicester have won it and you haven't' – even if there were a shedload of extenuation circumstances.
Also, finishing below West Ham and Southampton shows how far we still had to travel.
Taskin Izmet: Following our 6-1 humiliation away to Stoke and the end of 2014-15 it didn't get any worse than watching a 1-0 loss away to Stoke in this season's opener. There were worse results and worse games, but it killed me. The season felt like it was already over before it had even begun. I just had that feeling of "Oh, for fuck's sake…"
Jonathan Naylor: Conceding right at the start of the second half of the Europa League final and seeing a game we were dominating turn on its head. Staying to the end of a 3-0 home defeat to a poor West Ham side. Hearing Sakho had failed a drug test.
Gary Fulcher: Started the season with two 1-0 wins but then won just one of the next nine as our form and performances showed no improvement on how we ended the previous season. A 0-3 defeat to West Ham at Anfield as well as needing penalties to defeat Carlisle at Anfield in the League Cup. The supporters leaving early when Palace went 2-1 up at Anfield with at least ten minutes still to play. Showed complete lack of belief in the team stemming from Rodgers' last 18 months.
Paddy Smith: Missing the Dortmund game! See below under 'Best Game'.
Alex Tate: I could say losing the Europa Final, but penalties in the League Cup Final was a soft way to lose. It almost felt like when Rafa lost to Mourinho in 2005. To mark a positive early mark is always a great moment for a manager, it could have been a stepping stone. But again, I'll take a positive to say we were learning.
Best player
Andrew Beasley: On a pound-for-pound basis, it was probably Divock Origi, as the big Belgian scored 10 goals while only starting 15 games. He bagged a hat-trick in a League Cup game at Southampton, and scored home and away against Dortmund. But for Funes Mori kicking him off the pitch on a night where he'd already scored, Origi would probably have got close to 15 goals in his debut campaign.
Chris Rowland: Coutinho was actually pretty good, and his goal at Old Trafford in the Europa League was both sublime and delicious.
Taskin Izmet: Gerrard was gone. Philippe Coutinho finally began to stamp his authority on the team.
Jonathan Naylor: For a spell before his injury, Origi looked like a world beater. Coutinho and Sturridge both scored some great goals during the season.
Gary Fulcher: Not a lot to choose from, probably Coutinho as our most influential player and Sturridge when fit but the fact no player scored more than 13 goals says a lot, although five players did reach double figures with only Bobby Firmino doing so in the league.
Paddy Smith: Daniel Sturridge. Maybe the flame was dying by now but on his day what a player.
Alex Tate: I suspect it's Daniel Sturridge. But again, overall there was nothing too bright from many players. With no Suarez, someone had to take up the slack in the goal scoring so he sticks in my mind. great defending less so, especially when finishing eighth
Worst player
Andrew Beasley: Ramiro Funes Mori. Oh, you mean for Liverpool? Christian Benteke probably wasn't the worst as such, but it was clear that he wasn't a good fit for the Reds, and at almost £71m in current day money, it's not as if he was cheap either.
Chris Rowland: Hard to see past Benteke here. A pussy cat in tiger's clothing. A pussy cat with no natural instincts at that.
Taskin Izmet: Mignolet. Perhaps that's too harsh. Probably not though.
Jonathan Naylor: Benteke was seemingly signed without any thought of how he would fit in. Certainly not our worst player, but nowhere near the striker that regularly gave us nightmares when in a Villa shirt.
Gary Fulcher: Christian Benteke. Not sure why we spent so much money on a player who was not suited to the style of play Rodgers wanted to implement (although I don't even think Rodgers knew himself how he wanted us to play), let alone the fact Rodgers was a dead man walking and would be gone with less than three months of the season gone.
Paddy Smith: Adam Bogdan, no words.
Best game
Andrew Beasley: It has to be Dortmund at Anfield, doesn't it? You could make a case for the 5-4 with Norwich, but that game carried nothing like the importance. At half time against Klopp's former side, the Reds needed to score three, and then conceded another after the break for good measure. But cometh the hour, cometh the Croat.
Taskin Izmet: Without a shadow of doubt, 4-3 versus Dortmund. What a game. You don't need me to describe it to you. Just wow. Would it ever be bettered? Yep, it would.
Chris Rowland: Dortmund at Anfield, all day long. I'm too old for knee slides across pub carpets, but I managed one. Carpet burns at my age! 😉
Jonathan Naylor: Dortmund home. Plus emphatic wins away at Man City and Chelsea, beating Everton 4-0 and scoring 6 at Villa.
Gary Fulcher: Liverpool 4 Borussia Dortmund 3. One of the classic European nights at Anfield and against Klopp's former club no less. Special mentions to eliminating Man Utd in the previous round of the Europa League, the 5-4 win at Norwich and emphatic victories at Stamford Bridge and the Etihad.
Paddy Smith: We were on holiday with the kids on a long planned and hard earned holiday to Barbados, the game kicked of as we were going through security, we were 2-0 down by the time we got through. Tried to find it on a TV in the lounge, no luck, no WiFi to stream, shit 3G so only getting intermittent updates, the game swings one way and then the next, we are the last to leave the lounge as we board the plane, all signal lost going into last few mins, the score is 3-3 and we're about to fly eight hours not knowing the final score! As we take our seats what I think is a crazy lady runs up to me screaming "We won! We won!" It takes me a moment to realise she's not trying to kill me but is a fellow red we'd been talking to in the lounge and she'd just got the final score LFC 4 Dortmund 3. We didn't know whether to laugh or cry, winning but completely missing the game. What makes it so special though is that in September I hosted a meal for the first team and got 15 minutes with Herr Klopp (and my oldest lad) and when he finds out we missed the Dortmund game, he's on his feet shouting "MY GOD YOU MISSED THE DORTMUND GAME!!!! haha!", something we'll both remember for ever and made that game special to both of us even though we never saw it.
Also, an honourable mention to the 4-0 derby.
Alex Tate: Slapping Jose across the face with a 3-1 win at Stamford Bridge; he looked totally miffed. We bossed the game on all fronts and after two draws our first win under Klopp was against a fierce rival, even if they were having a very poor season.
Goal of the season
Andrew Beasley: I think my favourite was perhaps Martin Skrtel's clincher at the Etihad, as it capped a seriously strong team performance and an incredibly good result. Lovren's winner against Dortmund was probably my most celebrated. But I think Daniel Sturridge's goal in the Europa League final should still be being talked about today, but it's sort of forgotten as the match was so badly lost. Irrespective of that, it was one hell of a strike.
Chris Rowland: The last one of the 98 we scored that season – Daniel Sturridge in Basel. Masterpiece. Benteke's overhead kick in the league game at Old Trafford and Coutinho's in the Europa League were close contenders.
Taskin Izmet: Sturridge v Sevilla in the Europa League Final. Beating the keeper from the edge of the box with a beautiful curling shot off the outside of his boot. It should have been the basis for another cup win.
Jonathan Naylor: A tie between Coutinho's goal at Old Trafford in the Europa League knockouts and Sturridge's goal in the final. Honourable mention for Lallana's 5-4 winner at Norwich for the celebratory bundle.
Gary Fulcher: Benteke's acrobatic volley against Utd at Old Trafford and Coutinho's long range strikes get honourable mentions but Lallana's winner in the nine goal insanity at Carrow Road gets my pick.
Paddy Smith: I was stood just behind Sturridge in the Europa final and could not believe how he scored the goal he scored from where he was stood. Shame the 2nd half went to shit and we got piss wet through walking back to town. Great goal though.
Notable features:
The first season without Gerrard, the sacking of Rodgers, bringing to an end the crazy slalom of 2013/14, and the arrival of an elite manager who set about an integral transformation of every aspect of the club, from its structure to its playing staff to its self-perception, and crucially, to the mindset of the fans. The run to two cup finals, most notably the Europa league run involving those games against Man Utd and Dortmund.
Seasons covered so far
| | | | | | | | | | | |
| --- | --- | --- | --- | --- | --- | --- | --- | --- | --- | --- |
| Rank | Season | TTT Season Rating Score | League Points | League Position | £XI Rank | Champions League | UEFA Cup/ Europa League/ Cup Winners Cup | FA Cup | League Cup | Link to article |
| 27 | 1993–94 | 0.82 | 60 | 8 | 2 | — | — | R3 | R4 | Link |
| 26 | 1992–93 | 0.94 | 59 | 6 | 2 | — | R2 | R3 | R4 | Link |
| 25 | 2012–13 | 1.06 | 61 | 7 | 4 | — | R32 | R4 | R4 | Link |
| 24 | 2010–11 | 1.12 | 58 | 6 | 4 | — | R16 | R3 | R3 | Link |
| 23 | 2011–12 | 1.19 | 52 | 8 | 4 | — | — | RU | W | Link |
| 22 | 2009–10 | 1.27 | 63 | 7 | 4 | Group Stage | SF | R3 | R4 | Link |
| 21 | 1998–99 | 1.31 | 54 | 7 | 10 | — | R3 | R4 | R4 | Link |
| 20 | 2015–16 | 1.36 | 60 | 8 | 5 | — | RU | R4 | RU | |
*TTT Season Rating Score explanation:
League – Liverpool average 67.8 points per 38 games in the Premier League. Season points tallies are calculated as a percentage of that average to generate a rating score. Seasons are also awarded a proportion of up to half a point, depending on where between 2nd and 8th the Reds finished.

Cups – Points are awarded for progress in the latter stages in Europe and the domestic cups, with descending importance through Champions League, Europa League, FA Cup and League Cup. The maximum possible points score is 55 (by winning the Champions League and both domestic cups) so the total for a season is calculated as a percentage of that.
Finance – Liverpool's final league position is compared to their £XI Rank for that season. The seasons are then ranked from biggest over-achievement to worst under-achievement, and awarded a proportion of half a point depending on where they sit.