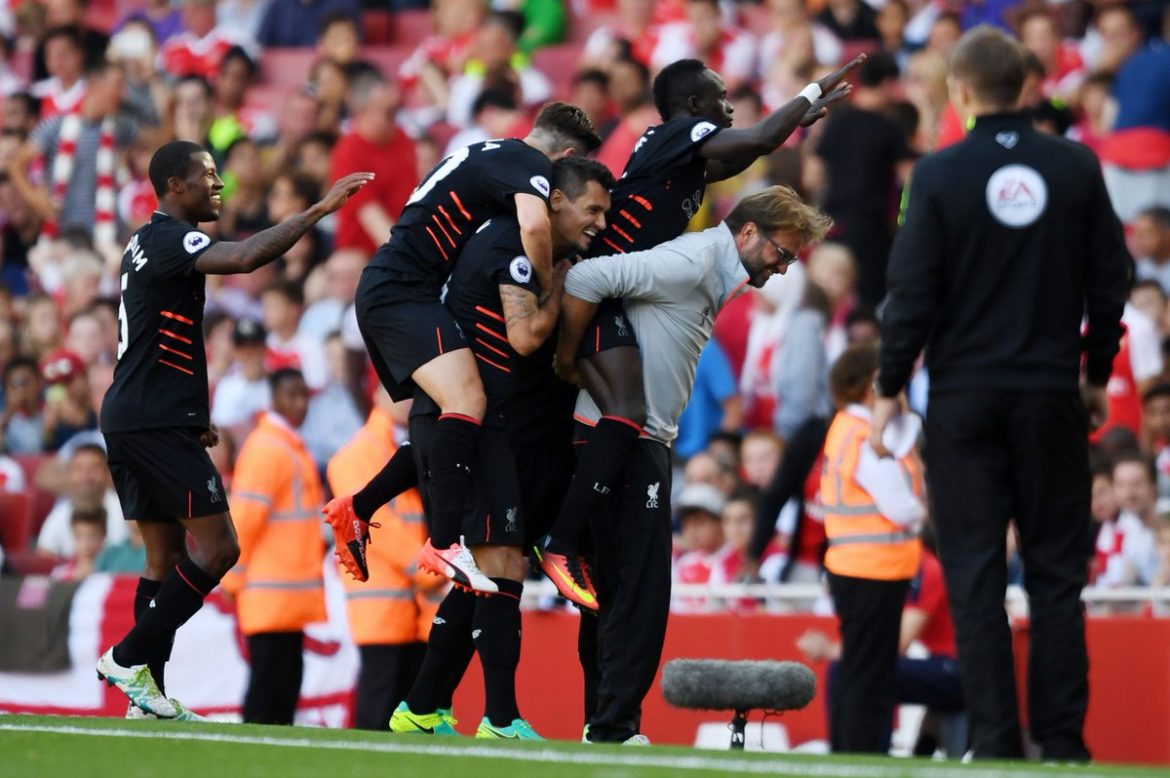 #12 – 2016/17
Season summary
Andrew Beasley: The first full season of Jürgen Klopp's tenure was undoubtedly a success overall. The club flew out of the blocks to record their best opening 19 games of a Premier League season, with 43 points at the half way point.
But then the wheels fell off a little. New signings Sadio Mané and Gini Wijnaldum had done well, but the club was still recovering from some poor years in the transfer market, and the squad was not strong enough to cope with Klopp's demands, even allowing for the lack of European football during this campaign.
As Christmas 2016 turned into 2017, the games piled up to a ridiculous degree. A two legged League Cup semi-final and an FA Cup replay against Plymouth as well as the demanding league programme meant that the Reds played 12 matches in the 39 day period between 27th December and 4th February. As they only played 47 in total that season, a quarter of their total was squashed into little more than a month.
And it cost them. Mané had left town for the Africa Cup of Nations tournament, while Joel Matip was injured and then banned from playing by Cameroon. Nathaniel Clyne was also injured in January, while Coutinho and Henderson returned from absences during this period too. All of a sudden a fair chunk of Klopp's first choice XI wasn't quite at it for one reason or another.
In the end, Liverpool had to battle their way to fourth with gutsy away wins at the likes of Stoke, West Brom and Watford. They got over the line on the final day by beating Middlesbrough, ensuring the club would again be seated at Europe's top table in 2017/18.
Anthony Stanley: By early November, when Watford were obliterated 6-1 and Liverpool sat top of the Premier League, undefeated since the second game of the campaign, optimism reigned supreme around Anfield. It looked like we could have a shot at genuinely competing for the title; Manchester City were labouring in Pep's first season, Chelsea had endured a poor start under Conte and United were the very definition of uninspiring with Mourinho at the helm.
However, a January from hell (no league wins and dumped out of both domestic cups) showed that the manic, all guns blazing style of football that Jürgen cherished would have to be tweaked. The Reds looked dead on their feet and spent the rest of the season limping towards the ultimate goal of Champions League qualification. This was secured despite some dubious displays in the spring; a woeful capitulation against a gleeful Allardyce's Palace as Benteke managed to look like a striker and two tepid Anfield draws against Bournemouth and Southampton.
The overriding memory of those last few months of the campaign was grinding out wins, sometimes thanks to magnificent, improbable goals (Can's away to Watford, Bobby's at Stoke). But we managed to finish with a flourish; just when it started to look like Arsenal would catch Liverpool, we fired seven past West Ham United and Middlesbrough to ensure we'd be dining at Europe's top footballing table in 2017.  
Chris Rowland: Any season since the early 90s that we finished above Utd and Arsenal would have been cause for celebration. But here, one of the other established ruling elite, Chelsea, didn't waver, and the two more recent gatecrashers, City and Spurs, also came through.
This season also revealed the full extent of the 'they shoot horses don't they?' nature of reaching the League Cup semi finals, both legs coming in January just after the frenzied Christmas/New Year period. In the end, it all sort of fizzled out until that last day seizure of a CL spot. The journey that started when we beat Boro was to end in Kiev.
Taskin Ismet: Klopp's first full season was (another) one in which we hoped to see some solid progress – signs that we could begin to dream properly next year – but we didn't expect a great deal aside from that. It brought us exactly that, with a decent if not exhilarating season which showed moments of brilliance marked by lapses if not by outright inconsistency. We ultimately saw 4th place secured at the death, when Gini's strike at the Kop end eased the nerves before we brushed Middlesbrough aside. The Klopp project was on track.  Next year; Champions League…
Paddy Smith: We got seats in the new Main Stand after being in the Kemlyn for years. I'd watched the stand slowly take shape over the last year so this added to the excitement of a new season, Klopp's first proper season and a feeling we were really starting something big!
Those first few games away from home only seemed to increase the excitement. I remember talking footy to a friend and the feeling that year was that it was possible for us to score a goal at any minute, even defending a corner, the ball could be in the opposition's half seconds later.
Even talking into consideration Rodgers almost winning us the league, and winning the Champions League last season, 2016/17 goes down for me as the year I really really fell back in love with football big time. I think that says it all.
Jonathan Naylor: These reviews are definitely getting more enjoyable to write. The quality of football was generally very high, and there was a feeling that something was definitely building (on and off the pitch). We briefly looked like we were in the title race before a poor January recalibrated our aspirations to an ultimately successful quest to get in the top 4. For me personally, this was a memorable season as I got a season ticket for the first time, in the expanded Main Stand. Due to the long journeys to Anfield, I didn't think I would end up going to nearly every game – but the scintillating football had me hooked.
TTT Season Rating Score*: 1.81 (League 1.42, Cups 0.05, Finance 0.33).
Manager: Jürgen Klopp.
Premier League: 76 points, finished 4th.
£XI rank: 4th.
Europe: N/A.
FA Cup: 4th round.
League Cup: Semi-finals.
Top scorer: Philippe Coutinho, 14.
Final League Table:
Transfers In:
| | | |
| --- | --- | --- |
| Player | Current Money Purchase Price | Age @ transfer |
| Mané S | £53,528,234 | 24 |
| Wijnaldum G | £37,172,384 | 25 |
| Karius L | £6,988,408 | 23 |
| Klavan R | £6,244,961 | 30 |
| Matip J | £0 | 24 |
Transfers Out:
| | |
| --- | --- |
| Player | Sales CTPP |
| Enrique J | – |
| Benteke C | £47,580,652 |
| Ibe J | £22,303,431 |
| Allen J | £19,329,640 |
| Smith B | £8,921,372 |
| Skrtel M | £7,434,477 |
| Sinclair J (II) | £5,947,582 |
| Canós S | £3,717,238 |
| Rossiter J | £371,724 |
| Teixeira | £0 |
| Toure K | £0 |
| Luis Alberto | |
| Balotelli M | |
Player stats for the season:
| | | | | |
| --- | --- | --- | --- | --- |
| # | Player | Starts | Sub Apps | Goals |
| 2 | Nathaniel Clyne | 40 | 1 | |
| 11 | Roberto Firmino | 39 | 2 | 12 |
| 7 | James Milner | 39 | 1 | 7 |
| 5 | Georginio Wijnaldum | 37 | 5 | 6 |
| 6 | Dejan Lovren | 32 | 0 | 2 |
| 23 | Emre Can | 31 | 9 | 5 |
| 10 | Philippe Coutinho | 31 | 5 | 14 |
| 22 | Simon Mignolet | 31 | 0 | |
| 20 | Adam Lallana | 30 | 5 | 8 |
| 32 | Joël Matip | 30 | 2 | 1 |
| 19 | Sadio Mané | 28 | 1 | 13 |
| 14 | Jordan Henderson | 27 | 0 | 1 |
| 27 | Divock Origi | 21 | 22 | 11 |
| 17 | Ragnar Klavan | 20 | 5 | 1 |
| 21 | Lucas Leiva | 19 | 12 | 1 |
| 1 | Loris Karius | 16 | 0 | |
| 15 | Daniel Sturridge | 11 | 16 | 7 |
| 18 | Alberto Moreno | 8 | 10 | |
| 66 | Trent Alexander-Arnold | 7 | 5 | |
| 53 | Ovie Ejaria | 5 | 3 | |
| 58 | Ben Woodburn | 4 | 5 | 1 |
| 35 | Kevin Stewart | 4 | 5 | |
| 12 | Joe Gomez | 3 | 0 | |
| 16 | Marko Grujić | 2 | 6 | |
| 54 | Sheyi Ojo | 1 | 1 | |
| 56 | Connor Randall | 1 | 0 | |
| 28 | Danny Ings | 0 | 2 | |
| 59 | Harry Wilson | 0 | 1 | |
Best moment
Andrew Beasley: Oh wouldn't it be nice, to get on with me neighbours? But we don't, do we? And so as much as I could wax lyrical here about Sadio Mané's goal at Arsenal on the opening weekend, or qualifying for the Champions League, I think we can all agree this was the moment which made every Red's Christmas.
Anthony Stanley: Securing Champions League football on the final day of the season. Anfield was on a precipice of nervous tension as the players, in a gorgeous new deep red kit, struggled to break down a resolute (and already relegated) Middlesbrough, who had chances to go ahead. Lovren was perhaps lucky not to concede a penalty (and get his marching orders) before Wijnaldum opportunistically fired the Reds into the lead.
The second half was a bit of a procession and was the first time I'd relaxed watching Liverpool all season. We got over the line but it was a close thing; just imagine how different things could have been if Arsenal had managed to get just one more point. A week after the end of the campaign, the first whisperings of a certain Dutch defensive behemoth started to gather legs; would Van Dijk have signed for a team in the Europa League? Would Salah have arrived?
Chris Rowland: "Mane scoring. All around us, Kopites singing, having fun. It's the season of love and understanding So Merry Christmas, Everton."
Beating Boro in the last game to qualify for the CL was pretty good too. And the opening game win at Arsenal. That suggested something – falsely, as it turned out.
Taskin Ismet: Gini breaking the deadlock against Middlesbrough. It was incredibly nervy up till then and we couldn't afford another year not qualifying for the UCL. 
Paddy Smith: Mane 94 v Everton, are you even a Liverpool fan if you  disagree??!! 😉 Although Bobby vs. Stoke away comes a very close second! Oh and Gini getting the opening goal seconds before half time in the last game, celebrated that one I can tell you!
Jonathon Davies: We love a late winner against the Toffees don't we!!
Jonathan Naylor: Gini's early winner against Manchester City on New Year's Eve. I was convinced our defence couldn't hold out for the remaining 80+ minutes but we did without any major alarms. The result established us (at the time) as Chelsea's main challengers for the league.
Worst moment
Andrew Beasley: I think it's a toss up between the defeat at Burnley or the loss at Bournemouth. Both were painful, though in slightly different ways, and both indicated that Klopp still had a hell of a lot of work to do, even though the green shoots of recovery were there.
I think I'll go for the 4-3 defeat to Bournemouth; Liverpool never got going at Turf Moor, which can happen, but to lose to the Cherries despite being 3-1 up with 14 minutes to go takes some beating in the ineptitude stakes.
Anthony Stanley: The Bournemouth debacle in early December as Karius confirmed what we had started to suspect; he just wasn't the type of keeper a side with league-winning aspirations possessed. What was also confirmed was that, despite a majestic run of form and results, there were still a myriad of issues with the squad; it would arguably take Jürgen another two years to really iron these out. Ryan Fraser came on in the second half and looked like Messi on morphine as he tormented us and the final 4-3 score line was shocking in how meekly the Reds surrendered.
Chris Rowland: Bournemouth away. 2-0 up, back to 2-1. Almost immediately we restore our two-goal lead, 20 minutes left. Job done. Eh, what? The 3-2 home defeat by Swansea, after we'd come back from two down to equalise, from there there was only going to be one winner wasn't there? Wrong. The 2-0 defeat at Hull also irritated the sap out of me – I was there – with a Mignolet howler from a corner right on half-time for the opening goal.
But for me, that frustrating game at Burnley – 108% possession, 273 shots (1 on target and 207 of them from Coutinho from outside the box), Burnley, three shots, two goals – that came straight after the opening day win at Arsenal and wiped out both the points game but more significantly the hope that this time we were for real. We had become so accustomed to one step forward one step back, and here it was again. When would it ever stop? Soon, actually …
Taskin Ismet: It was only a draw, but I remember how we were all full of confidence when Utd came to Anfield in October. They were dire while we were on the up and looking both threatening and exciting. And we were due a win. In the end it was another Mourinho masterclass in killing the atmosphere and the entire game. I was at the game and to say that it was a disappointment having spent so much time and money to get there would be an understatement. Nothing happened. Correction: Mourinho happened.
Paddy Smith: Went to Hull away, nothing more dispiriting than an away defeat against a shit team with shit fans and a shit drive home, and we were bullied out of it as well. Also wife thought it was a home game so she went mad when we got home late!!
Jonathon Davies: Losing to Burnley in the second game of the season was frustrating but nowhere near as frustrating as the loss to Bournemouth.
Jonathan Naylor: Our last home defeat to date in a meaningful match (i.e. Premier or Champions League, ignoring under-strength teams in the domestic cups). Against Palace, with Benteke scoring twice and on loan Mamadou Sakho celebrating. Allardyce is probably still dining out on being the last manager to win at Anfield in the Premier League. The result also meant the top 4 race was getting uncomfortably tight.
Best player
Andrew Beasley: Coutinho definitely warrants a mention, but I think it has to be Mané. He brought verve, pace and invention to a front line which had looked incredibly stodgy and one paced for much of the proceeding two campaigns. He was missed while on international duty, and again when injured for the closing eight games of the season.
Anthony Stanley: Philippe Coutinho. Having long been on the trajectory to bona fide world class level, this was probably the season that our little Brazilian attained this (and pretty much sealed what would be a protracted, record breaking move to Barcelona). The campaign was bookended with two Coutinho trademark free kicks, but what he did in between was so special. He didn't seem to be shooting as much, but when he did, it was usually like a FIFA finesse work of art. The goal against Everton, in particular, was simply stunning in the way he dummied a bemused Pennington before curling an inevitable beauty into the top corner. Thirteen league goals and seven assists, while impressive, don't do justice to the touch of pure fantasia our number 10 often brought to the table.
Chris Rowland: Coutinho was reaching his peak, with some stunning goals but also revealing some of his flaws, shooting too often from range and not providing the pressing and cover that a Klopp team demands.
Taskin Ismet: Philippe Coutinho. Great goals and excellent all round. He was finally fulfilling his full potential, now confident in how good he could be and imposing himself on games. 
An honourable mention to Adam Lallana.
Paddy Smith: Has to be Mane for me, his goal v Arsenal on the opening day – wow! I think more than anything its how much we missed him for the African cup of nations.
Jonathon Davies: Sadio Mane. Who would have thought it when we bought him? What an impact he made from game 1. Although special mention to the God-like Milner, playing a whole season at left back.
Jonathan Naylor: Sadio Mane, who had an electric debut season. There was a noticeable difference when he was absent. In addition, Coutinho and Lallana were both very good, having their best seasons for the club.
Worst player
Andrew Beasley: I think Simon Mignolet and Loris Karius should probably share this award, as neither looked hugely convincing on a consistent basis. As much as I had more faith in the latter, his Belgian rival did at least have a decent end to the season, so I guess this has to go to the former Mainz man.
Anthony Stanley: Loris Karius. It may be confirmation bias, based on hindsight, but I was never convinced by the German and always thought he looked a liability. The aforementioned Bournemouth game was a travesty of goalkeeping, Payet's free kick for West Ham seemed to go through his hands, and the 4-2 away victory over Crystal Palace wasn't exactly inspired. Some may be surprised to note that he only made twelve league appearances as Simon Mignolet was given a reprieve following some inept displays.
Chris Rowland: Clyne's poor delivery and Coutinho's repeated shooting from distance both drove me to distraction, but our two keepers' collective 'season's bloopers' DVD would have needed an X certificate.
Taskin Ismet: No massive mistakes stick out (from memory), but I'll say Mignolet again because I simply never felt comfortable with him in goal.  Aside from the mistakes his distribution with his feet was/is woeful.
Paddy Smith: For the first time in this series I don't want to choose a worst player, I think they all played a part and we weren't carrying anyone which I think is reflected in the turnaround in performance.
Jonathan Naylor: Mamadou Sakho. Not so much for on the field (I don't think he played a minute of football for the first team) but his lack of professionalism. He was probably my favourite player prior to the drugs test the previous season – for his enthusiasm, underrated footballing ability and work in the local community. However, a succession of poor decisions made him the most high-profile victim of Jürgen's "no dickheads" policy, and in the end most were happy to see him leave.
Best game
Andrew Beasley: It was probably the 4-3 win at Arsenal. The only one I attended was pretty entertaining though, as Liverpool drew 1-1 with Chelsea and I got to stand on the Kop for the first time ever. Luiz scored from a free-kick, Gini equalised for the Reds, and Mignolet saved a Diego Costa penalty. A pretty decent match all told.
Anthony Stanley: The opening day of the season's howitzer of a match against Arsenal at the Emirates. Sublime goals, brilliant moves, thrilling skill; all were on display as Wenger – in the sun drenched stadium – looked dazzled and perplexed. The Gunners were probably fortunate that they managed to pull a goal back when they did at 4-1 – if they hadn't, another absolute hiding was on the cards. As it was, a 4-3 win in the home of our direct rivals was a more than satisfying start to another season.
Chris Rowland: That opening game at Arsenal was us encapsulated – now brilliant, now vulnerable, rarely out of a game but never truly safe in it. Even at 4-1 we can't relax. We needed to be able to shut up shop. But that was still two seasons away…
Taskin Ismet: Beating Everton 3-1 at home was a treat. A great performance which saw us take the lead, get pinned back to draw the Toffees out and make them sing and shout a bit, before Coutinho shut them up again a full 4 mins later. I was on the Kop again, this time with my nephew in his first taste of a great Anfield atmosphere. The last 30mins were a party after Origi (Divock Origi!) made it 3-1 on 60mins. 
Paddy Smith: Not the most exciting but I think for the way we won it and where we were in the league and for the sheer pleasure of beating those t***ts from the hills, 2-1 v Burnley at home.
Jonathon Davies: Opening game of the season had it all really, 4-3 away from home, debut goals, solo goals, plus a Phil special. Watched the game on a ferry to Northern Ireland, I don't have great sea legs at the best of times, luckily the drama of the game helped me forget.
Jonathan Naylor: So many to choose from. Home and away wins versus Everton (including the late Mane winner at Goodison), emphatic wins at home to Hull and Watford, scoring four at Arsenal on the season opener etc. However, a personal choice would be the first home game of the season, a 4-1 win versus reigning Champions Leicester. A glorious day in the sunshine, a fantastic atmosphere in the new Main Stand and irresistible football from the Reds.
Goal of the season
Andrew Beasley: Emre Can used to divide opinion during his time at Liverpool. However, Kopites would've universally agreed that he wasn't usually much use in the opposition's penalty box prior to the match with Watford in May 2017.
His goal there would've obviously been a brilliant strike regardless, but it ultimately won three priceless points at a ground where the Reds had arguably delivered their most abject performance under Klopp the year before. Brilliant, therefore, on every level.
Anthony Stanley: Has to be Emre Can's ridiculous effort in the attritional stalemate at Vicarage Road in early May. He had no right to connect with the ball, let alone fire it into the top corner, whilst practically hovering horizontally in the air.
Chris Rowland: You can't really get past Can's goal at Watford. Once you saw that, you knew the competition was over.
Taskin Ismet: Coutinho vs. Everton.
Paddy Smith: Mane 94 vs. Everton, although so many to choose from. Obviously Can vs. Watford was a 'better' goal but it's Mane's we'll all remember!
Jonathon Davies: We scored quite a few special goals that season. Could choose a couple from the opening game, the PC free kick, Mane's solo goal cutting in from the right wing. For me though it's between Phil's goals against Everton, always special given the opposition, or Can's overhead volley again Watford. The technique of that one just shades it.
Jonathan Naylor: Can't decide between i) Mane running through the Arsenal defence before unleashing an unstoppable shot into the corner ii) Coutinho immediately restoring Liverpool's lead versus Everton with a mazy dribble and curling shot iii) Emre Can's acrobatic winner against Watford away.
Notable features
Chris Rowland: A stunning opening day victory at Arsenal, a late winner against Everton, a cup semi-final, undefeated against Utd, City, Everton, Spurs, Chelsea and Arsenal, and on the final day, qualification for the Champions League. Pretty good, and yet …
Seasons covered so far
| | | | | | | | | | | |
| --- | --- | --- | --- | --- | --- | --- | --- | --- | --- | --- |
| Rank | Season | TTT Season Rating Score | League Points | League Position | £XI Rank | Champions League | UEFA Cup/ Europa League/ Cup Winners Cup | FA Cup | League Cup | Link to article |
| 27 | 1993–94 | 0.82 | 60 | 8 | 2 | — | — | R3 | R4 | Link |
| 26 | 1992–93 | 0.94 | 59 | 6 | 2 | — | R2 | R3 | R4 | Link |
| 25 | 2012–13 | 1.06 | 61 | 7 | 4 | — | R32 | R4 | R4 | Link |
| 24 | 2010–11 | 1.12 | 58 | 6 | 4 | — | R16 | R3 | R3 | Link |
| 23 | 2011–12 | 1.19 | 52 | 8 | 4 | — | — | RU | W | Link |
| 22 | 2009–10 | 1.27 | 63 | 7 | 4 | Group Stage | SF | R3 | R4 | Link |
| 21 | 1998–99 | 1.31 | 54 | 7 | 10 | — | R3 | R4 | R4 | Link |
| 20 | 2015–16 | 1.36 | 60 | 8 | 5 | — | RU | R4 | RU | Link |
| 19 | 2014–15 | 1.40 | 62 | 6 | 5 | Group Stage | R32 | SF | SF | Link |
| 18 | 2003–04 | 1.59 | 60 | 4 | 5 | — | R4 | R5 | R4 | Link |
| 17 | 1996–97 | 1.65 | 68 | 4 | 2 | — | SF | R4 | R5 | Link |
| 16 | 1999-00 | 1.70 | 67 | 4 | 5 | — | — | R4 | R3 | Link |
| 15 | 2002–03 | 1.70 | 64 | 5 | 5 | Group Stage | QF | R4 | W | Link |
| 14 | 1994–95 | 1.73 | 74 | 4 | 3 | — | — | R6 | W | Link |
| 13 | 1995–96 | 1.80 | 71 | 3 | 1 | — | R2 | RU | R4 | Link |
| 12 | 2016–17 | 1.81 | 76 | 4 | 4 | — | — | R4 | SF | |
*TTT Season Rating Score explanation:
League – Liverpool average 67.8 points per 38 games in the Premier League. Season points tallies are calculated as a percentage of that average to generate a rating score. Seasons are also awarded a proportion of up to half a point, depending on where between 2nd and 8th the Reds finished.

Cups – Points are awarded for progress in the latter stages in Europe and the domestic cups, with descending importance through Champions League, Europa League, FA Cup and League Cup. The maximum possible points score is 55 (by winning the Champions League and both domestic cups) so the total for a season is calculated as a percentage of that.
Finance – Liverpool's final league position is compared to their £XI Rank for that season. The seasons are then ranked from biggest over-achievement to worst under-achievement, and awarded a proportion of half a point depending on where they sit.