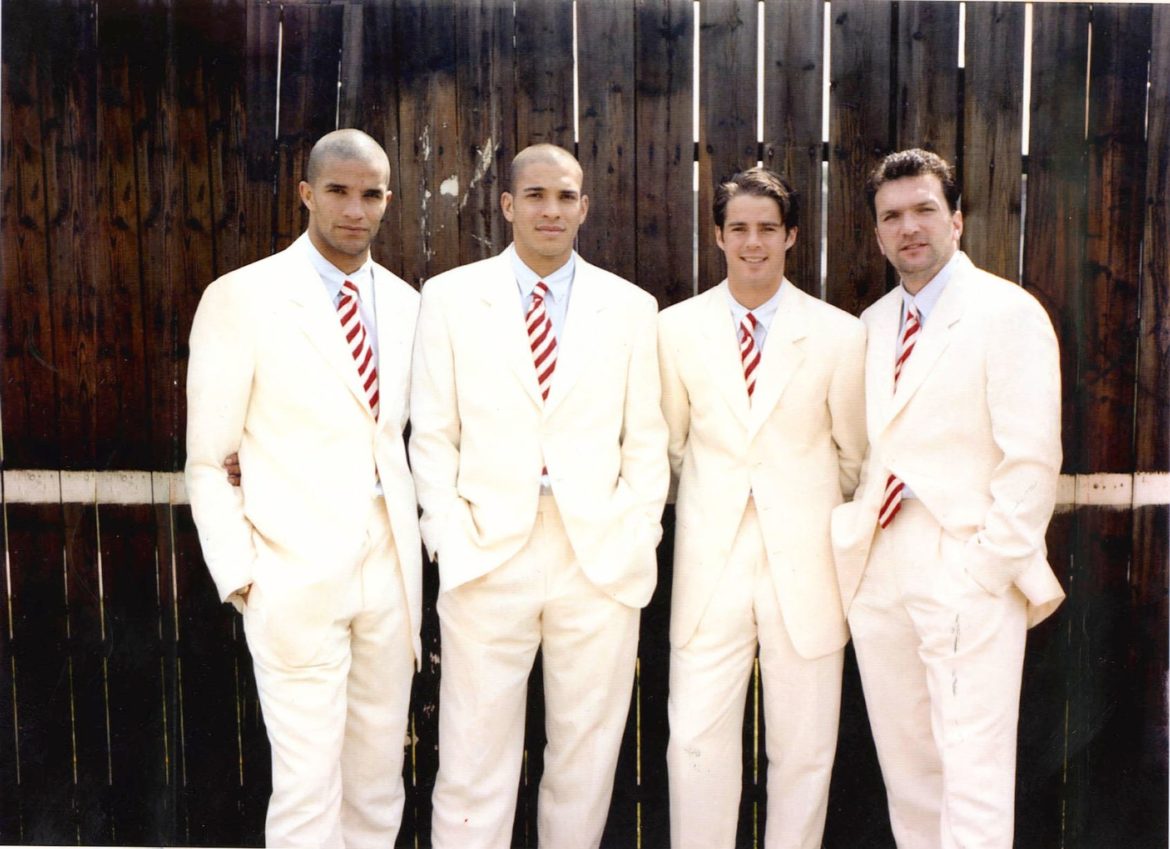 #13 – 1995/96
Season summary
Andrew Beasley: When all is said and done, there are just two words which will spring to most minds when thinking about 1995/96: white suits. Though I suppose 'Robbie Fowler', 'Newcastle United' or 'Three Lions' would be valid answers, depending on who you asked.
The Spice Girls' debut single came out in June 1996, yet Roy Evans' secured their fate of being forever known as the Spice Boys when they stepped out at Wembley one month earlier. Seriously, what were they thinking? They were never going to carry off those suits as well as Alec Guinness had.
Of course, had they won the FA Cup final, they would've taken far less stick for their pre-match outfits. But as with most of the 1990s, this season was a case of 'close, but no cigar'. Shame, as they could've used the cigar to burn holes in the suits.
Stan Collymore was the Reds' big money summer signing, setting the British record at £8.5m (or £90.1m in 2019 TPI money). This lead 1995/96 to be unique in the sense it was the only Premier League season where Liverpool topped the £XI rankings. Considering they were regularly fielding the likes of Fowler, McManaman, Barnes, Jones and Wright who had no value in the TPI system, that's quite some going.
The football was frequently sublime, the consistency frequently ridiculous. There weren't as many humiliating losses as in many of the early Premier League years, but losing at Coventry immediately after the famous 4-3 win over Newcastle summed things up nicely. With early exits in the League Cup and Europe, only the FA Cup offered real hope of a trophy, but we don't like to talk about that around here.
Chris Rowland: Pretty football, lots of 'after you Claude' tippy tappy sideways passing in midfield whilst the likes of Wimbledon sat back yawning waiting for an attack to develop – that's my overriding recollection of those days. That said, a lot of the football was attractive, with Fowler, McManaman and yes Collymore outstanding at times. Just not always together, unfortunately, which was emblematic of our systemic failure to break the ceiling for so many years. Only Fowler of those three was consistent and reliable, as his season-on-season goal tallies show. But the other two, so much talent but not so much application. Maddening. What might have been, yet again …
Jonathan Naylor: Another enjoyable season, with an outside chance of the double as we entered April. At times, we genuinely seemed the best football team in the land. But inconsistency and another limp ending to the season meant we ended up with no trophies. Probably the peak moment of the Roy Evans reign was when Collymore whacked in the winner in the 4-3 against Newcastle. We were still in the title race and had an FA Cup final to look forward to. As seemed to be a habit in this era, we then lost to Coventry to slip out of title contention, the FA Cup final was a damp squib and although we went closer to the title the following season, I don't think we were ever as good again under Evans.
Paddy Smith: Is this only our 13th best season? This one?? The white suits, the spice boys, Stan Collymore, beaten at home by Everton, losing to Coventry. This was my first season living in Moscow so I saw very little football this year, relying on old papers and the BBC world service. In fact I spent a memorable  FA cup final day going in every bar in Moscow trying to find a place that was showing  the game. No joy, and then we heard a rumour that the embassy was showing it but you needed an invite – being chefs we didn't exactly mix in those circles!! Somehow we charmed/tricked our way in, shouldn't have bothered really!! It would off made an epic 'my day at the match' though!! Maybe we could have a retro my day at the match!! Anyway, made two life long friends that day and the memory of the day was way better than the game.
TTT Season Rating Score*: 1.80 (League 1.45, Cups 0.18, Finance 0.17).
Manager: Roy Evans.
Premier League: 71 points, finished 3rd.
£XI rank: 1st.
Europe: UEFA Cup, 2nd round.
FA Cup: Runners up.
League Cup: 4th round.
Top scorer: Robbie Fowler, 36.
The rest of this article is for Subscribers only.
[ttt-subscribe-article]