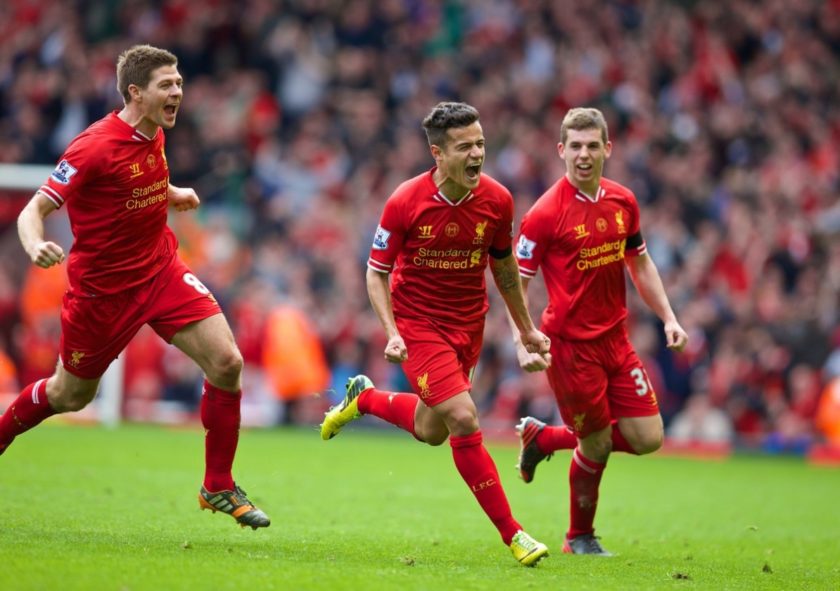 #8 – 2013/14
Season summary
Andrew Beasley: If we were to decide this countdown purely on excitement and enjoyment throughout the campaign, then 2013/14 would make a very strong case to be top of the pile. In the last 19 Premier League seasons, the average total of goals – scored plus conceded – seen by a team is 101. Brendan Rodgers' Reds scored that many alone, while also conceding 50, which puts them at least 12 goals clear of every one of the 379 other team seasons this century for total goals.
That's entertainment, but it didn't seem likely when the first three games were all won 1-0 while the fifth was lost by the same scoreline. But then something significant happened after that: Luis Suárez returned from suspension.
The Uruguayan had enjoyed a breakout season in 2012/13. He had mostly done it alone though, where here he had able support throughout the campaign from Daniel Sturridge and (to a lesser extent) Raheem Sterling. Steven Gerrard was moved to the base of the midfield and enjoyed an Indian Summer as a quarterback of sorts too.
Or at least he did until Chelsea came to Anfield in April 2014. People can talk about throwing away a three goal lead at Selhurst Park, but that happened as Liverpool were trying to score 10. The defeat to the Blues is what ultimately meant the Reds would end the campaign empty handed. But what a season.
With no European football and nothing of note achieved in the cups, 2013/14 doesn't have the legs to go even higher in our countdown. This seems appropriate, as the team didn't quite have the legs to get over the championship line either. But what a journey it was.
Chris Rowland: Oh those giddy last few months of the season! Win after win, glorious, insane, goals all over the place. Brendan Rodgers' tricky Reds gave us a story, and almost glory.  The triple S attack – Sturridge, Sterling and the magician Suarez. When he wasn't suspended, he was an unstoppable force of super-nature. See his season goal-reel and gasp. Then behind them, Gerrard, not yet fully melted, Coutinho and Henderson. And then behind them, almost nothing! 😉 But it didn't matter, we'd score more than them. "We are Liverpool. Poetry in motion."
Then, with the golden finishing tape in sight, those two games against Chelsea and Palace. The double agony. We didn't REALLY believe did we? Too right we did. Well I did anyway. You have to, don't you?
The rest of this article is for Subscribers only.
[ttt-subscribe-article]