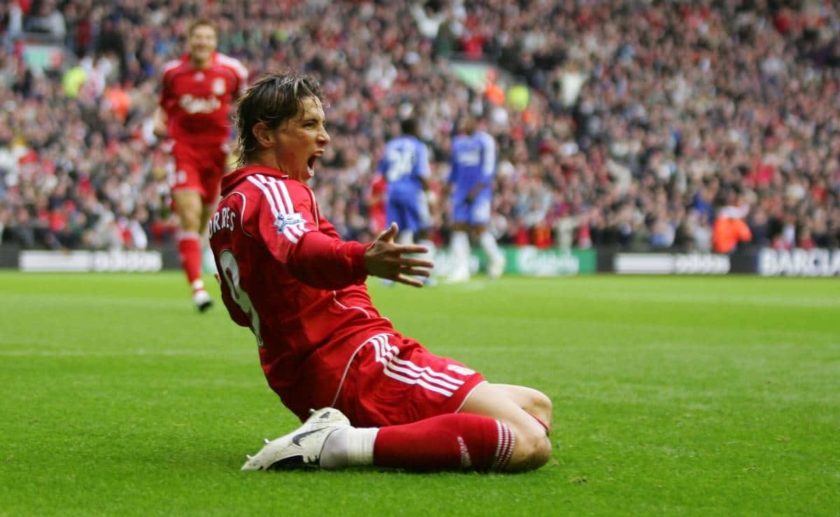 #9 – 2007/08
Season summary
Andrew Beasley: In Rafa Benitez's first three years in charge, Liverpool had got to two Champions League finals, winning one, while picking up 82 points and the FA Cup in the other season. They'd somehow managed to do so without possessing an elite striker. If Rafa was to bring #19 home, he needed a sharp shooter supreme.
Fernando Torres would prove to be the kid he needed.
El Nino was simply electric in his first season for Liverpool. Kopites hadn't been starved of elite strikers in the Premier League era, but Robbie Fowler and Michael Owen were home grown; Torres was the first superstar forward who came from overseas.
As Liverpool fans have since enjoyed the scoring power of Luis Suárez and Mohamed Salah, it's perhaps easy to take Torres somewhat for granted. But to score 33 goals as a fresh import was unheard of; indeed, Torres' 24 league goals was the most by a foreign debutant at that point.
His goals powered the Reds through an excellent season. All six campaigns under Benitez had their moments, but this was the only one where his charges broke the 70 point barrier in the league whilst also reaching the last four in the Champions League. The nature of the competition means that European wins from seasons where the club didn't reach the final aren't as fondly remembered, but the ties with Inter Milan and Arsenal featured excellent performances and fabulous goals.
In the league, the Reds were never really in the title shake up past September. These were still the days of the established top four, and it showed; Liverpool went fourth in the table following their 27th game, and didn't move up or down for the rest of the campaign.
It was arguably the least memorable of any of Rafa's seasons in charge, but it was consistently strong nonetheless. It also laid the foundations for a serious assault on the summit of the league the following year.
Taskin Ismet: Fernando Jose Torres Sanz aka El Niño. He swept in to the club with a tiny bit of hype which, if truth be told, was mostly overshadowed by lots of concern about this Atletico prodigy who, so far, had seemed to have failed to fulfil his massive potential. It seemed closer to a hopeful punt rather than us signing a nailed-on success.
He announced himself by leaving John Terry for dead and scoring against Chelsea at the Anfield Rd end and he carried on delighting us right throughout the season – eclipsing Ruud Van Nistlerooy's record for the most goals scored by a foreign player in their debut season in in the last game v Spurs.
Gerrard was already enjoying himself playing alongside Alonso, but he had now found a player to assist, to be assisted by and so someone with whom to enjoy the attacking side too. He and Torres were phenomenal.
Mascherano and Skrtel would also join in the winter to add some bite to the midfield and defence. There was also Ryan Babel – an incredible prospect who ultimately failed to reach anywhere near his potential –  and a little guy from Brazil by the name of Lucas Leiva. A player who, initially, would be shamefully treated by a large section of the fans on account of him not fitting the fantasy stereotype of Brazilian players. He proved them all wrong and left more loved than many who have played and won more than he ultimately did.
So some incredible signings. However,the above are tempered by the on/off success of Yossi Benayoun, the hilarity of Andriy Voronin's pony-tail and the complete pointlessness of Sebastian Leto and Damien Plessis.
All in all 4th place and a Semi-Final exit in the Champions League was disappointing and felt like something of an underachievement, but it also felt like this team was on the cusp of something big.
Jonathan Naylor: A bit of a rollercoaster season with an anti-climatic ending. With new owners Hicks and Gillett splashing the cash following Rafa's rant after the 2007 European Cup final, there was plenty of optimism at the start of the season. Torres was the headline incoming transfer, accompanied by Babel, Benayoun and Lucas amongst others. A promising start to the season saw us go top after beating Derby 6-0. From the distance of the Kop, I remember thinking that Ryan Babel had more than a passing resemblance to a certain John Barnes. However, a poor run of results saw us slip out of league contention and almost out the Champions League, with a German called Jürgen lined up to replace Benitez (Klinsmann not Klopp). Some vital wins later and the crisis passed. A strong second half of the season led to another Champions League semi-final while comfortably finishing in the top 4. However, Chelsea finally got some European revenge on us and we ended up empty-handed.
TTT Season Rating Score*:  2.03 (League 1.42, Cups 0.36, Finance 0.24).
Manager: Rafael Benitez.
Premier League: 76 points, finished 4th.
£XI rank: 3rd.
Europe: Champions League semi-final.
FA Cup: 5th round.
League Cup: 5th round.
Top scorer: Fernando Torres, 33.
The rest of this article is for Subscribers only.
[ttt-subscribe-article]