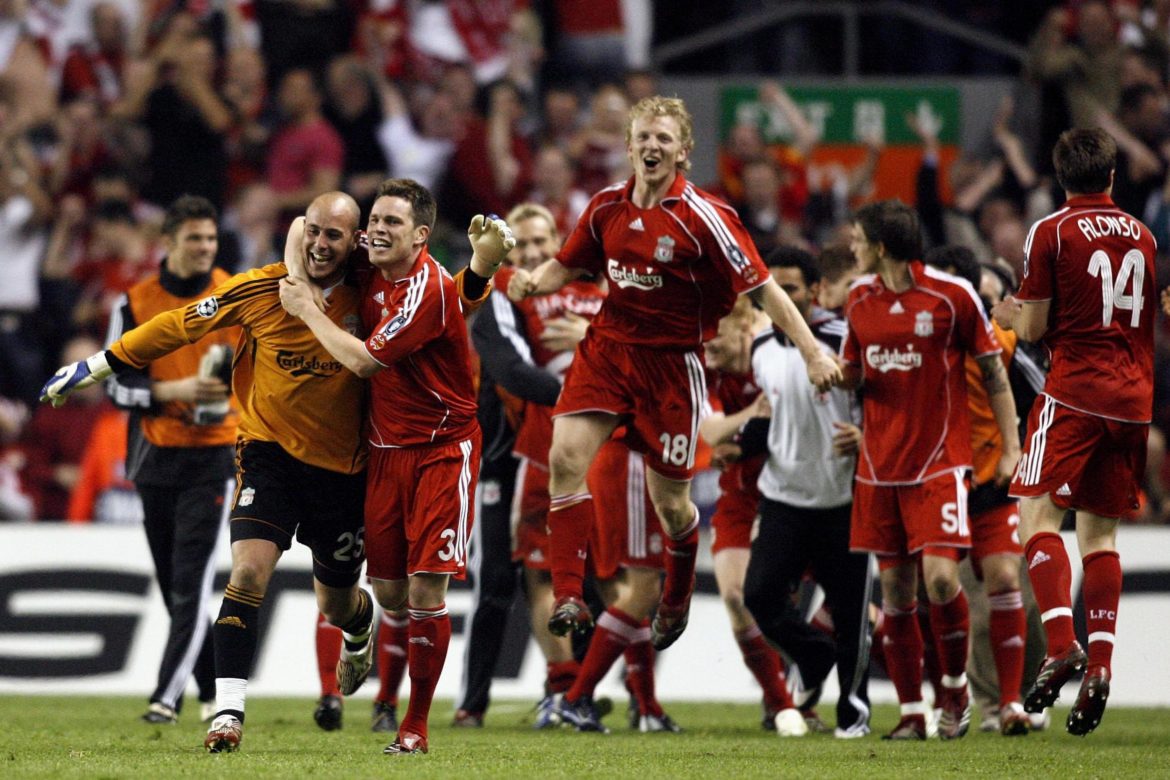 #7 – 2006/07
Season summary
Andrew Beasley: Cup football is strange, isn't it? Liverpool went out of both domestic cups by an aggregate score of 4-10 to Arsenal at Anfield in the space of four days in January 2007, yet beat them 4-1 in the league later in the season. Weirder still was being the better team in the Champions League final than they'd been two years earlier against the same opponent, but losing. Jermaine Pennant was man of the match in Europe's showpiece match too, if you'd like to crank up the oddball factor even higher.
It was business as usual in the league for Rafa's Reds though, with a top four finish secured comfortably enough. After a slow start – Liverpool were 11th in the table after nine games – the 'Pool were in the top four by the penultimate day of 2006, and they then embedded themselves sufficiently to ensure they stayed there for the rest of the campaign.
So it was a decent enough season, particularly on the back of the two trophy winning campaigns with which Benitez began his Liverpool tenure. But dark clouds began to gather off field, as the club was sold to a pair of American businessmen…
Alex Tate: Heroes of yesteryear had left, Hamann, Traore, Pongolle, Diao and, er, Cheyrou. To be replaced with the argumentative Bellamy, the ever energetic Kuyt with 'Kept Messi in his pocket' Arbeloa and the Mighty Mascherano coming in the winter transfer window.
Winning the Community Serving Platter meant we started the year with a trophy, although Crouchie make it look rather small. Riise casually lolled through the Chelsea midfield, the defence parted so he cocked his shooting boots and with a blistering shot tore the netting in Cardiff.
Arsenal dumped us out of both domestic cups, we were especially useless in the League Cup. But European progress was better. Steady in the group stages, but clearly the best in the group.
The Battle of Barcelona was next. Riise v Bellamy, and a stray golf club. But all was left to one side as Liverpool shocked Barca on their own green as Bellamy scored and then teed up Riise for a straight drive past Valdes. Not par for the course. But on to Athens we went, where we did look good but with Kuyt alone up front we lack the end product.
In the league we huffed and puffed in a tight contest littered with the usual WTF dropping of points to scoring 24, conceding two whilst winning 10 from 11. Yet, 21 points behind champions Man Utd (which I've written far too often reviewing these seasons) showed there was still a domestic gulf to span. But we were getting better. Finishing third, level with Arsenal in fourth, and eight ahead of fifth place Spurs and a +27 goal difference on them showed this in hard fact.
Jonathan Naylor: From when we always won penalty shootouts…
Our run to the second Champions League final in three years was the main highlight of the season. We took a step backwards in the league, finishing a distant third (with 14 points fewer than 2005/06), and exited both domestic cups to Arsenal relatively early.
While Rafa was gradually overhauling the squad, we were not really shopping at the top end of the market. Nevertheless, by the end of this season (Rafa's third) we had won a Champions League, FA Cup and reached a further Champions League and League Cup final under his management. The team was stronger in subsequent years without reaching any further finals (though of course went close to winning the league in 2008/09).
Taskin Ismet: The season was a very solid if not spectacular one. We pipped Arsenal to 3rd place in the league (on goal difference), although we remained a big distance from 2nd and 1st.  A tilt at the league would have to wait another two seasons.
In the meantime it was time to prove that 2005 was not entirely a miracle (at least not the getting there) as Rafa Benitez steered the club to yet another European Cup Final. This time it was a more methodical, consistent and solid team that made it. All except for the golf-club incident prior to playing Barça at the Camp Nou. That was unorthodox preparation to say the least. And it was almost inevitable that the two players involved, Bellamy and Riise, would score the goals that won us the game (2-1). Prior to the game I met a budding writer by the name of Tomkins. I wonder what he's up to nowadays…
Again we faced down Chelsea in the Semis – this time beating them on penalties whilst Rafa sat cross-legged channelling his inner Buddha – and again we met Milan in the final, although this time on the opposite shores of the Aegean, in Athens.
In the final Liverpool proved to now be the better side. Jermaine Pennant having a great game. And so, naturally, this meant that it was Milan who walked away with the cup. Revenge for Istanbul? Yes. And its hard to begrudge them that because it's hard to imagine what it must have been like to be them rather than us in Istanbul. But then even with the score settled at 1-1 no-one will be talking about Athens in years to come. They will always talk about Istanbul.
Liverpool were progressing on the pitch and things were stirring off it too. There was an incredible feeling of positivity around the place as the club was finally been sold on by David Moores. In an incredible turn of events the long time suitors, Dubai Investment Capital, were punished for their dithering and questionable commitment and in swept a couple of 'lovable' cowboys (complete with Liver Bird embroidered cowboy boots) ready and willing to fund a new era of Liverpool superiority. They were going to put us back on our perch. The sky was the limit.They talked and talked. And we lapped it all up:
"We want to be regularly competing for the Premiership and the Champions League…"
"If Rafa said he wanted to buy Snoogy Doogy, we'd back him"
And they didn't just seek dominance on the pitch either. They wanted it all;
"We are going to build the finest team for the finest stadium in the Premier League – and that is Liverpool"
And tomorrow wasn't good enough for these fellas.  It was all gonna happen right now…
"The shovel needs to be in the ground in the next 60 days"
Such was their bluster and their scattergun bullshit approach that when looking back and reading some of their quotes I almost expect to stumble across one where they promise us all a lovely new wall. A beautiful wall. The best wall etc etc…
To sum up, it was a season in which Liverpool narrowly and perhaps undeservedly lost a European Cup Final. But that was the least of their worries. They'd also set in motion a chain of events that would very nearly kill the club as we know it.
TTT Season Rating Score*: 2.18 (League 1.40, Cups 0.45, Finance 0.33).
Manager: Rafael Benitez
Premier League: 68 points, finished 3rd.

£XI rank: 3rd.

Europe: Champions League runners up.

FA Cup: 3rd round.

League Cup: 5th round.

Top scorer: Peter Crouch, 18.
The rest of this article is for Subscribers only.
[ttt-subscribe-article]