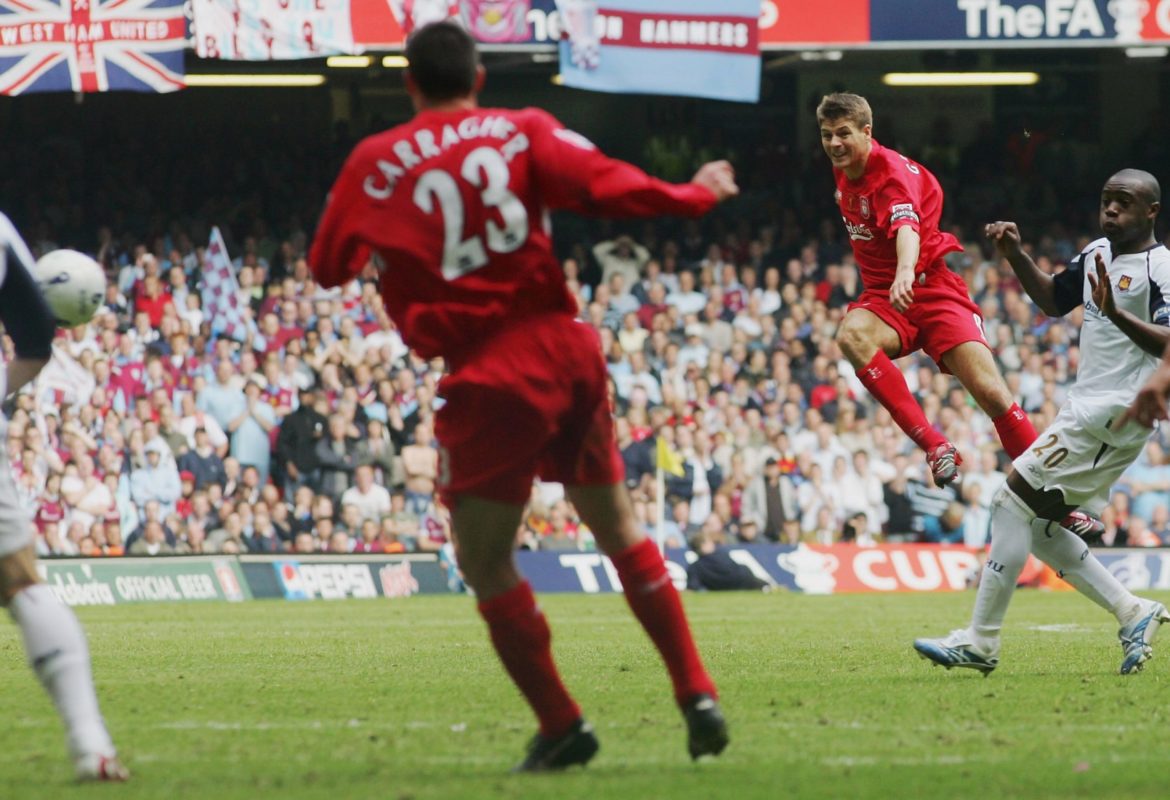 #5 – 2005/06
A note from Paul Tomkins: Ranking the Reds' Premier League Seasons, Worst to Best, should really mean Ranking the Reds' Premier League teams, Worst to Best. We all know their achievements in the seasons in question, but how good were they overall? It's more a gauge of how often the team won football matches, and how rarely it lost football matches. The more important competitions are weighted more heavily, but ultimately the assessment is about winning football matches as often as possible, with more weight given to the league and the Champions League. This essentially means that it's not the season per se that is being judged, nor the best XI from that season; but the consistency of the team in terms of winning games across as many competitions as possible. So while something like Istanbul remains one of the seminal highlights of the club's entire history, the actual team that won it was not that special (half the side/squad were average or not very good; making it an even better achievement, but still not such a great team). Liverpool had better teams the seasons that followed, and that is more about what this series is trying to reflect (whilst admitting that flaws still exist in any ranking system, and that we didn't necessarily explain it as clearly as possible at the outset).
Season summary
Andrew Beasley: 2005/06 was always likely to be a slightly odd season. When you've won the Champions League in your rookie year, where can you go from there? Well, you can go to opposition grounds and bellow 'We are the champions, champions of Europe', which will never go out of style.
The summer's transfer business addressed the Reds' soft underbelly – or perhaps 'weak spine' would be a better description – and they became tougher to beat immediately. But they also drew too many games early on, which left them 12th in the table in early November.
Remarkably, Liverpool would then go on to have separate nine and 10 game winning runs in the league, which carried them to 82 points – their best Premier League total to that point – and a third place finish. It's easy to say, but a stronger start and the Reds would definitely have been in the title mix.
The club's defence of the Champions League never really got going, but they went all the way in the FA Cup. They may have needed penalties to defeat West Ham, but having beaten United and Chelsea en route, the Reds deserved their prize.
Chris Rowland: Ok, we won the FA Cup in Cardiff, but it was all a bit After the Lord Mayor's Show after Istanbul. How could it not be? We had a World Club Championships in December in Japan, we had a CL game in Wales, we achieved our highest PL points total to date but could still only come third, a point behind Utd and nine behind champions Chelsea.
Taskin Ismet (Tash): The current European Champions. In a sense it couldn't get better than that, but we saw massive progress. Where Istanbul surprised us all (both the getting to the final and the manner in which we won it) the previous season's league campaign never really got going and you wondered if Rafa would get to grips with the Premier league in the way he clearly had with La Liga.
The notable signings were Pepe Reina, Mohamed (Momo) Sissoko and Peter Crouch in the summer window, followed by Daniel Agger and, incredibly, Robbie Fowler in the winter. 
Out went Smicer, Diouf, Biscan, Baros and Josemi – among many others. It's evident looking back that Rafa had a clear vision, even if he didn't have the money to implement it quite as quickly as he and we would have liked. 
The result was a season which was far more controlled –  far more Benitez if you like – where we slowly but definitely morphed in to his team. One that could thrill far more than they were given credit for, but had the backbone and resilience to ensure that we wouldn't be easily rolled over when we weren't at our best. It may be my memory playing tricks on me, but I always felt that his tactical nous became clear as the performances in both the league and in Europe felt noticeably better the more time we had since the last game. When Rafa had time to work on a plan, it showed. Or at least that's how I remember it.
Liverpool's new found consistency and confidence was made evident with a comfortable 3rd placed finish, one point behind 2nd placed United and 15 ahead of 4th placed Arsenal. It felt like real progress because it was.
Elsewhere, going out of the Champions League vs. Benfica (3-0 on aggregate) was disappointing as was falling at the first hurdle in the League Cup, albeit to a lesser extent. But then there was the FA Cup which did a pretty decent impression of Istanbul. Gerrard already had a European final named after him. He now had his own FA Cup final too.
Jonathan Naylor: "WE ARE THE CHAMPIONS… CHAMPIONS OF EUROPE". The last time we went into a season as the reigning European Champions. While we couldn't match the European feats of the previous season, the FA Cup was won, and 24 points were added in the league (the latter will be impossible to match in 2019/20 as we only dropped 17 points last year).
The team toughened up with the arrival of Sissoko and Crouch, while Reina proved to be Liverpool's best 'keeper since Clemence. Overall a much more consistent season, albeit after a slow start. In the league, we had a 10-match winning streak and then finished the season with nine consecutive wins. At one stage it felt like we would never concede a goal ever again (eight league clean sheets in a row from late October to Christmas).
Alex Tate: The squad was starting to take shape. Recalling the names of Reina, Hyypia, Finnan, Carra, Riise, Gerrard, Garcia, Alonso, Hamann, Crouch and Fowler, that's a starting XI off the top of my head. My choices may be tactically skewed, but Rafa was building an improving team over successive seasons.
A slow start to the new campaign may have left us sightly off the pace. An opening day draw with Boro, goalless draws away to Spurs and home to Man Utd and a 2-2 with Brum, then after a night on the tiles we pulled Chelsea, took her back to our place where we got rodgered 4-1. A second 1-0 win was again hard work but then another defeat in our eighth game left us with 10 points from 24 and five times was a long distant memory. The UEFA Super Cup win didn't suffice.
Then West Ham, Villa, Pompey, Man City, Sunderland, Wigan, Boro, Toon, The Bitters and WAB all put to the sword as 10 from 10, 21 goals while conceding three put us back in it.
Yet three defeats and a draw from late January to early February could have derailed our whole league season. Having sailed through the CL qualifying and the group, which included our best mates from Stamford Bridge, we slipped up against Benfica in the round of 16. Our spring looked like a car crash.
But another undefeated run of nine games in the league and five in the FA Cup saw us finish third, only nine points behind champions Chelsea and one off Man United, and a date with West Ham in Cardiff.
Recalling this season I must have been on holiday nearly all the time. The Super Cup win I saw down the Gold Coast, by Christmas I was in Tasmania and the beating of Birmingham took place in the freshest air New Zealand has to offer in Franz Josef as I sat outside with a cooked breakfast peering in through our open chalet window at the TV. A few days later in Queenstown I saw us belt the Bitters 3-1, in the Lone Star Bar's pool hall called The Rattlesnake Rooms. Me, four hip hop attired Maoris trying to pot the black and a Spanish barmaid. I finished the season in Melbourne for the FA Cup Final, very hungover.
Matthew Beardmore: A season of real progress, with two excellent runs of wins during the late autumn/early winter and then springtime.
The contrast with the previous season was stark. The team became very adept at finding a way of getting something from games, based on a miserly defence, boosted by the arrival of Pepe Reina.
The highlight was clearly winning the FA Cup, especially as the cup run included notable victories over Man Utd, Chelsea and a 7-0 win at Birmingham City.
TTT Season Rating Score*: 2.22 (League 1.61, Cups 0.27, Finance 0.33).
Manager: Rafael Benitez.
Premier League: 82 points, finished 3rd.
£XI rank: 3rd.
Europe: Champions League, round of 16.
FA Cup: Winners.
League Cup: 3rd round.
Top scorer: Steven Gerrard, 23.
The rest of this article is for Subscribers only.
[ttt-subscribe-article]