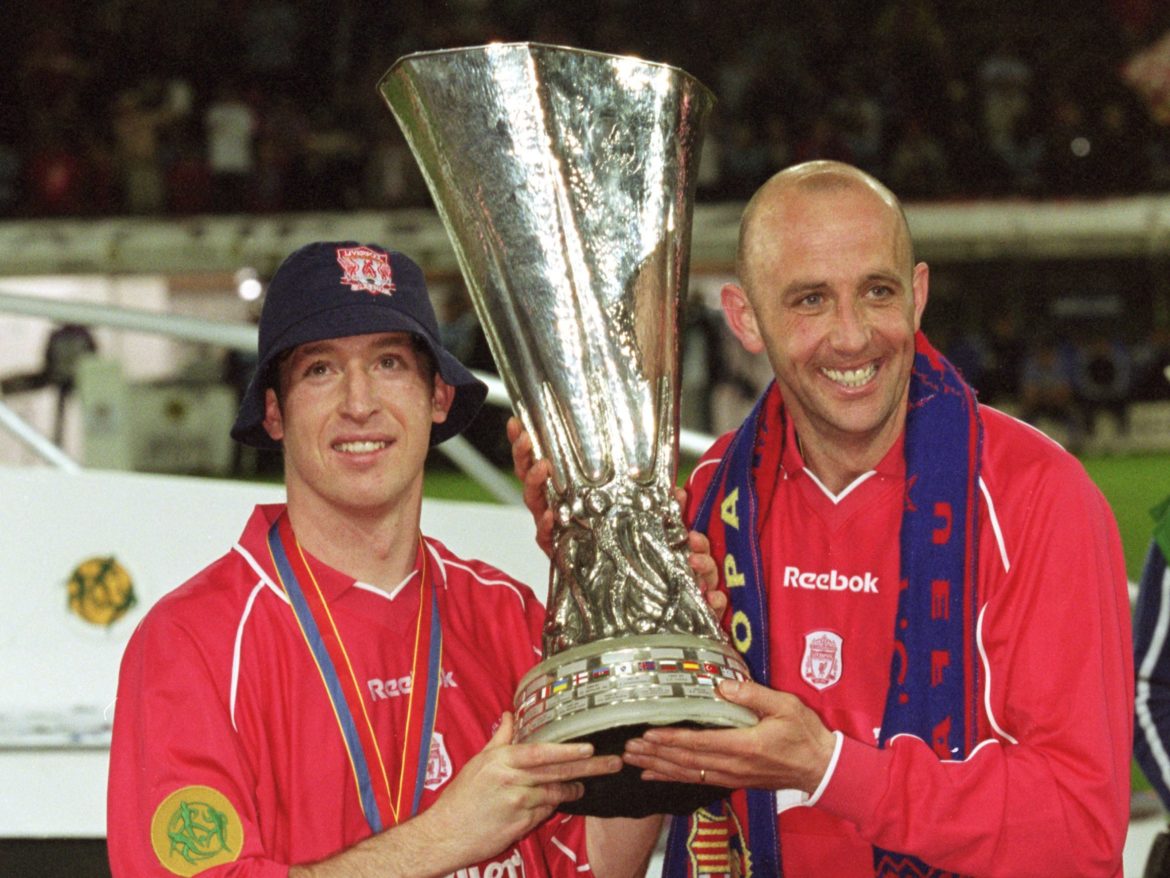 #2 – 2000/01
A note from Paul Tomkins: Ranking the Reds' Premier League Seasons, Worst to Best, should really mean Ranking the Reds' Premier League teams, Worst to Best. We all know their achievements in the seasons in question, but how good were they overall? It's more a gauge of how often the team won football matches, and how rarely it lost football matches. The more important competitions are weighted more heavily, but ultimately the assessment is about winning football matches as often as possible, with more weight given to the league and the Champions League. This essentially means that it's not the season per se that is being judged, nor the best XI from that season; but the consistency of the team in terms of winning games across as many competitions as possible. So while something like Istanbul remains one of the seminal highlights of the club's entire history, the actual team that won it was not that special (half the side/squad were average or not very good; making it an even better achievement, but still not such a great team). Liverpool had better teams the seasons that followed, and that is more about what this series is trying to reflect (whilst admitting that flaws still exist in any ranking system, and that we didn't necessarily explain it as clearly as possible at the outset).
Season summary
Andrew Beasley: While not as impressive a treble as one containing the league and/or the European Cup, winning any three major trophies in one season is still a serious achievement. Liverpool won an incredible 38 matches in 2000/01, matching the total mustered in the top season in our countdown.
Some of the cup games were against weaker opposition, but some were against Chelsea, Leeds (ask your dad, kids), Italian champions elect Roma and Barcelona. Even if you don't rate some of the teams – and you really should – the sheer volume of fixtures makes winning all three cups, plus finishing third in the league, an epic feat. The Reds played 63 matches at a rate of one game every four days, and that's including international breaks so in reality they were playing even more often. How did they win the treble?
Gerard Houllier had tightened up the defence in his first full season in sole control, but now they added goals. Michael Owen was his usual reliable self, but Emile Heskey only scored two goals fewer in a stunning (full) debut season. Looking back, it feels as if Fowler was underused in 2000/01, but he still scored 17 goals while both Gerrard and Murphy hit double figures from midfield.
On a personal level, this was my favourite season prior to the most recent one. It was a difficult year, as it was my final one at university, so it was brilliant to meet up with fellow student Kopites once or twice a week as it felt like every match was on TV in the second half of the season, and Liverpool usually won. Cheers, Reds, you got me through a very tough time with this one.
Chris Rowland. A season of 63 games, in which we scored 127 goals, inevitably became a bit of a slog towards the end as one important game followed another. At least the Worthington Cup was already parked by then, having clinched that in February – our first of many visits to the impressive Millennium Stadium in Cardiff.  Another was to follow later that same season.
It really felt like Liverpool were clambering back on their perch, especially when we qualified for the Champions League for the first time by finishing third – just the top 3 back then – and added another European trophy to our already impressive haul. As we know, it turned out to be yet another false dawn. Progression isn't inevitable, and instead we fell backwards from those intoxicating days at the end of the 2000/2001. season. But it gave us some great memories as well as lots of excitement and silverware to add to the club's honours board.
Alex Tate: The best place to start is at the end. The image of Gerard Houllier hugging the UEFA Cup on an open top bus will live long in my memory.
It's no mean feat to win a treble, no matter how Mickey Mouse others think it. From the 25th February until the final whistle against Alaves on 16 May, Liverpool won three trophies and finished third in the Premier League, only a point behind Arsenal in second and 11 behind some team who can't agree on who takes their penalties.
A gargantuan effort from what on paper seems a very Hodgsoneque side. It's very British, hardworking and almost completely without frills.
Sporadic defeats supplemented by draws against our rivals kept us from the summit. We lost to Ipswich, who finished 5th only three points behind us, then beat Man Who and Arsenal back to back. Two defeats to Leeds, who were only a point adrift in fourth, explains the tightness of the season. They went on a 16 game run until the end of the season with only one defeat and four draws. It kept us on our toes, and one which probably helped us collect the silverware. We were very focused.
But the genuine highlight was the cup runs. In the FA Cup we scored 17 goals to 6, taking care of Leeds and the soon to be relegated Man City. Owen's star turn in the final with seven minutes of normal time left was an unexpected flourish.
The League Cup was a little harder as three from five rounds went to extra time. But again we scored well, 20 and conceded three. OK, Stoke got walloped 8–0 but still a Fowler hat-trick and five other scorers reads very nicely.
Brum put up a fight in the Final. Fowler's fantastic goal gave us the lead on 30 mins, until Henchoz fouled O'Connor and Purse coolly slotted. He did so in the shoot out too, but to no avail. Westerveld saved from Johnson giving Houllier his first trophy as LFC boss.
Our UEFA trail read like a who's who of eighties Eastern European teams and perennial powerhouses. Most rounds were decided by the odd goal which lead us to the Non Camp. It seems like another home ground to us.
Barca's attacking richness was stalled by a disciplined defence as the first leg ended 0-0. Back at Anfield, 18 year old future penalty hero Pepe Reina, kept out Heskey and Owen. But during his Indian Summer, Gary McAllister rifled into the roof of the net. 1-0 and off to Dortmund we went.
The final was an exhilarating game with more goals and nerve shredding than is strictly necessary, but now is part of Liverpool life. An own goal golden goal made the trilogy complete.
I'm not one to place bets, but I had a few quid on us to beat Birmingham in the League Cup final. As April neared we looked good for the FA Cup and even the UEFA. So with those winnings at 33/1 I backed Red Marauder in the Grand National in an accumulator with Liverpool to pick up the silverware. I haven't been in a bookies since!
Jonathan Naylor: What a glorious season, especially the closing months. In my first 15 years supporting Liverpool, I had seen us win 3 European Cups, 8 league titles, 3 FA Cups and 5 League Cups. From 1992/93 to 1999/00, it was much thinner gruel – one League Cup (against 2nd tier opposition), no Champions League qualification and plenty of seasons of promise that turned to dust.
So in the last couple of months – when almost every game could see us exit a competition – the way we kept going was magnificent. The season ended with two new kittens in the household – Owen and McAllister – the result of a complicated bet with the rest of the family who had been campaigning for pets for years (footnote – Owen the cat later got transferred out fairly sharpish when Owen the player turned up at Old Trafford).
Paul Tomkins: While I've explained that, to my mind at least, the ranking system for this series probably better reflects the quality of the team in any given 12 months than any specific achievements (i.e. the team from 2005 was nowhere near the Reds' best of the Premier League era but it was a miraculous achievement), I would argue that the 2008/09 team is the 2nd-best of the Premier League era, and that this should rank 3rd.
However, one won nothing, and the other achieved something remarkable – progressing to the final and winning every possible cup competition, whilst qualifying the Champions League for the first time.
Part of the issue I have with this achievement from 2001 is that the cups were all relatively minor trophies, although at the time the club had won just two cups in 11 years, so we couldn't be picky. The League Cup was never that important, and the FA Cup had already been somewhat diminished by Man United not even entering in the previous season, as part of its steady decline. And the UEFA Cup was obviously Europe's B-competition. Winning 20 league games and finishing 3rd with just 69 points was not so amazing, but as part of the overall picture it makes for a season that still hasn't been replicated in terms of cup domination.
Liverpool played some strong teams in the 25 additional games, too: Barcelona, Arsenal, Chelsea, Roma and Leeds United, but also, a lot of easier games, including Birmingham in the League Cup final and Crystal Palace in the semis. I was at the 8-0 drubbing of lowly Stoke, and it remains the biggest victory I've seen in the flesh. Wycombe Wanderers were also faced in the FA Cup semis, and again I was there – weirdly, to watch the skinny winger I'd grown up playing alongside around the age of 11 or 12, Jason Cousins, now playing as a hugely chunky centre-back.
TTT Season Rating Score*: 2.68 (League 1.42, Cups 0.82, Finance 0.44).
Manager: Gerard Houllier.
Premier League: 69 points, finished 3rd.
£XI rank: 5th.
Europe: UEFA Cup winners.
FA Cup: Winners.
League Cup: Winners.
Top scorer: Michael Owen, 24.
The rest of this article is for Subscribers only.