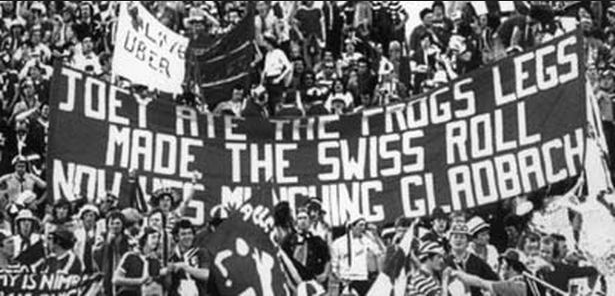 By Chris Rowland and Daniel Rhodes.
Here is our weekly round-up of five extracts from articles or comments that have appeared on the site during the past week.
This is just to provide a flavour of the debates our subscribers get involved in  during the week. If you fancy a bit yourself, there's a Subscribe tab at the top. 
1 – Rafawaqstehbosphorus on progress:
There's no doubt it's a huge achievement. You can only measure progress, and by any measure, we've made progress
8th to 4th is really material progress. 60 points to 76 is amazing progress. Adding capacity to the stadium, followed by £30M for the UCL is long-term progress. Having a proper style of play – a Plan A – is important, sustainable progress that sits in our hands, as is a viable plan B (the recent diamond). Adding players who are – mostly – clearly worth what we paid for them is progress (Mane vs Benteke, for example). Removing players who are not is also progress (Balotelli)
If we get into the UCL for 20 years and make no progress, we can look at Klopp and ask some questions. But for now, there's finally some substance behind the claim 'the Reds are coming up the hill'.
How much will JK have to spend this coming transfer window? One answer is to listen to those close to the club – James Pearce recently said he believed it would be £ 120 mn. – £ 130 mn. (including sales). Another approach is to assume that LFC is a well run business, and see what it is capable of from a financial perspective.
1. What We Know (Annual Financial Statement for Year Ending May 2016)
These are the most recent published accounts. Turnover was £ 302 mn. with a loss for the year of £ 21 mn. – this despite making a profit of £ 42 mn. on disposal of players registrations (Sterling being the most important here). So operations (excluding that profit on player disposals) lost a fairly disastrous £ 63 mn. / 21% Revenue. Why?
Wages and salaries increased significantly to £ 208 mn. (69% Revenue). There was quite some comment in the press about the one time redundancy costs of £ 16 mn., but even excluding this they were up from the prior year by close to 10% Revenue .  The costs of amortizing players contracts  plus wages / salaries were over 90% revenue on a combined  basis – completely unsustainable on an ongoing basis.
2. What Happened Financially This Season?
Now some educated guess work. Firstly, and despite no European income our revenue will increase. The new stadium income  has been reported as £ 20+ mn. Also the new EPL deal kicked in – this year we got £ 148 mn., up by £ 58 mn. from the prior year. However these increases will be offset by the loss of revenue from Europe, which was around £ 35 mn. So we will probably be looking at something around £ 350 mn. when accounts are published early next year.
The gross income from player sales was £ 74 mn. – some £ 6 mn. above purchases. While there are several factors that influenced this net spend, two I think are particularly relevant. Firstly we had far fewer games, and so needed fewer players (not the case next year); but also we had to correct that unsustainable cost structure of wages / salaries / amortization. Without all the details of individual contracts it is not possible to estimate whether we have been successful – but I am optimistic that we have, and there will be no further need to economize for this.
To be clear I am arguing our spending was limited because we could not afford more; not because we did not have the cash (FSG have shown they can raise this), but because we could not afford the impact on the P&L.
3. And Finally What Does It Mean For the Upcoming Summer Window?
The impact of qualifying for Europe will increase our Revenue, with recent estimates indicating this will be £ 40 mn. – £ 50 mn. for the group stages (one article indicated Arsenal would lose £ 50 mn. by missing out). So LFC are likely planning on a Revenue around £ 400 mn. for next season – as long as we get past the qualifying round.
When a player is bought the value of that contract purchase goes on the Balance Sheet and is then amortized. So the amortization as a % Revenue is a useful guide to what the club can afford. Amortization % of Revenue has gone up in recent years – from around 13% to the recent high of 20+ %. If you apply that to the projected revenue above then you get a range of roughly £ 50 mn. – £ 80 mn., and that is before sales are taken into account. So say £ 65mn.
Can we increase this by the 'net underspend' of this current year? I do not think so – my argument is that we needed to restrict transfer spending to rectify our cost structure, hopefully that has now been achieved.
Can we increase it by all the extra Champions League money? Absolutely not! There will be some limited increase over what we would have without CL, but the largest impact will be on the wages we are able to pay – wages / salaries are around 3 × the size of contract amortization. But I do believe we will, be able to add what is raised from player sales (since many will save on wages / salaries and / or amortization).
4. Gross Spend & How Many Players Are Needed?
Just looking at outfield players, we managed this year with a core of 15 (excluding cameos / limited appearances) for our league and semi final games (other fixtures were very much youth teams). Next year this will increase by at least 6 competitive fixtures hopefully more. So the first team squad  needs 3 extra players to give the same average minutes as this year. And then we need to replace any of the core members leaving (Lucas and possibly Sturridge being the most likely). Others are  also expected to  leave (including Moreno, Stewart, Sakho, Wisdom, Markovic) but have not really figured for the competitive first team fixtures this year, so were not in my core players.  While transfer fees continue to escalate, I would expect those 5 would raise around £ 60 mn – £ 70 mn.
That would give a gross spend of around £ 130 mn. So you could just have stopped with the estimate from James Pearce.
A few final comments on positions. We have been linked with a number of GK's, but actually have a fairly strong group – particularly with Migs recent performance, the return of Ward,  the development of Grabara, and hopefully a better second year for Karius. Just do not see this as a focus area. The 4 positions where I do see us going to the market (rather than just relying on a youth prospect coming through) are CB, LB, AM, WM, and we can afford an average of £ 30 mn. on each position (or a VVD / Sessegnon combination).
Whether Sturridge stays or not is the move that I am most curious about. Oh well will know in a month or so.
WARNING: long post alert.
(Apologies if anyone has already done this analysis on here (I have such confidence in the comprehensive coverage of TTTers that I assume that's the case!). All transfer numbers from transfermarkt.com)
Like everyone on here, I've been consuming the vast amount of (mostly) hollow transfer rumours churning about the internet. VVD is confirmed if we make UCL! We've made a €75m bid for Mbappe! Messi and JW Henry were in the same city on May 21 at 11:46pm so clear out Sadio, we've got a new right winger! (possibly just my imagination on that last one, but who can tell these days?)
The thing is, the rumours that seem the most solid surround players that either are solid without being exceptional (Andrew Robertson) or require some time before they are regular first-teamers (Ryan Sessegnon). Certainly not 'marquee' signings. And one other thing they both have in common is that the sums they are likely to attract will get no where near the club's record transfer fee (nor the season ticket price, for that matter). Sure you could argue that VVD is a decent bet, and that likely would break the transfer record, but the rest (Keita, Ox, Douglas Costa, etc.) seem very rumourish to me.
I had read quite a few articles stating that Klopp has always been a shrewd player in the transfer market, always looking for value first. So I took a look at the amount Klopp had spent on transfers in the past. And it made for some pretty interesting reading.
Klopp managed Dortmund from the start of the 08-09 season until the end of 14-15. During the last four or five of those years, Dortmund had one of the most talented squads in Europe. In 13-14, for example, their squad contained Gundogan, Lewandwoski, Mkhitaryan, Reus, Hummels, and Aubameyang, and Goetze had just left for Bayern. That's one elite group. So surely they spent a boat load on transfers to assemble this smorgasbord of footballing wizardry??? Nope. Klopp spent basically nothing on his uber-talented squad. And not just at this point in their history, but at any point during his reign at Signal Iduna.
In the seven years he was at the helm there, the most Klopp spent on a player was £23.38m for Mkhitaryan. And this transfer was at the start of 13-14, the summer after they had made the UCL final and sold Goetze, bringing in more than a pretty penny (the Goetze sale alone brought in £31.45m). Next most expensive? Ciro Immobile for £15.73m. So how the hell did he have all of that talent at his disposal??? The answer is that he brought in pretty much all of these superstars for a paltry sum before they were household names. Some examples (season, player, bought for):
09-10 Hummels £3.57m
10-11 Lewandowski £4.04m
11-12 Gundogan £4.68m
12-13 Reus £14.54m
13-14 Aubameyang £11.05m
And this is to say nothing of Blaszczykowski (£2.59m), Kagawa (free the first time, then £6.80m), Weigl, Sokratis (£8.42m), Piszczek (free!) and a host of others.
It's incredible.
Now, you may say that this is down to necessity rather than design, with Dortmund having a much smaller transfer budget than the traditional football superpowers. Now that he's at Liverpool with a war chest of funds he'll surely be happy to splash the cash on a VVD, a few Mbappes, and a sneaky Messi here or there.
However, this thrifty spending includes the windows immediately before and after their UCL final appearance (i.e. when they were at their absolute best and most cashed up). So Klopp actually chose not to spend. To reinforce this point, the season after Klopp left, Thomas Tuchel spent £102.94m, which is £57m more than Klopp ever spent in a season (£55.42m). The money was available, but Klopp chose value over heft.
There's no doubt that these numbers need to be adjusted for inflation to be perfectly relevant in this discussion, but the fact that all but Mkhitaryan's fees are so low means there is little room for even inflation to explain this incredible phenomenon.
At Dortmund, Klopp clearly made his value first approach work. And perhaps it could only work because, when he took over and for his first few years there, the club was small enough for the fans and owners to accept the limited spending and relatively obscure players he was bringing in. Perhaps at Liverpool, our expectations are too high, and we don't have the time and patience to bring in players at a similar point in their development.
But, maybe we do. Maybe Klopp spends £100m on several £15-30m players and we trust him that in two or three years they'll be the next Aubameyang or Hummels. And that thought fills me with such joy, because, no matter what, I'm going to be excited with the business Klopp does in this window. If it's the above, I trust his judgement based on experience. And if he changes his methods and drops £200m on Aubameyang, Isco and VVD, I'll be pretty chuffed with that too. Whatever happens, in Klopp I trust.
4. Chris Rowland, underneath Beez's post-match analysis of the 1977 European Cup Final, went back down memory lane:
Of all the great games I've seen – Molineux '76, St Etienne, Chelsea '05, Dortmund, the first Merseyside FA Cup Final in '86, the last week of Houllier's treble season in '01, even Istanbul (also May 25th!) – also had a great time in Athens despite the result – but Rome '77 is probably still the greatest of them all. I can still see it now, the sun-dappled Stadio Olimpico, the Emperors of Rome T shirts, the mass of red and white chequered flags, the Joey Jones banner, the special trains going the long way round through Belgium and Germany due to a French railway strike, the fighting cocks masterpiece of a match ticket, the complete opposite to the little train ticket stub that just said 'Rome and back'.
And that song we'd been singing for weeks, to the tune of 'In my Liverpool Home':
'We're all goin' to Rome
We're all goin' to Rome
If it's tickets you want then we've got none to spare
We've even stopped drinkin' to save up the fare
But you can tell Moenchengladbach the Kop will be there
We're all goin' to Rome'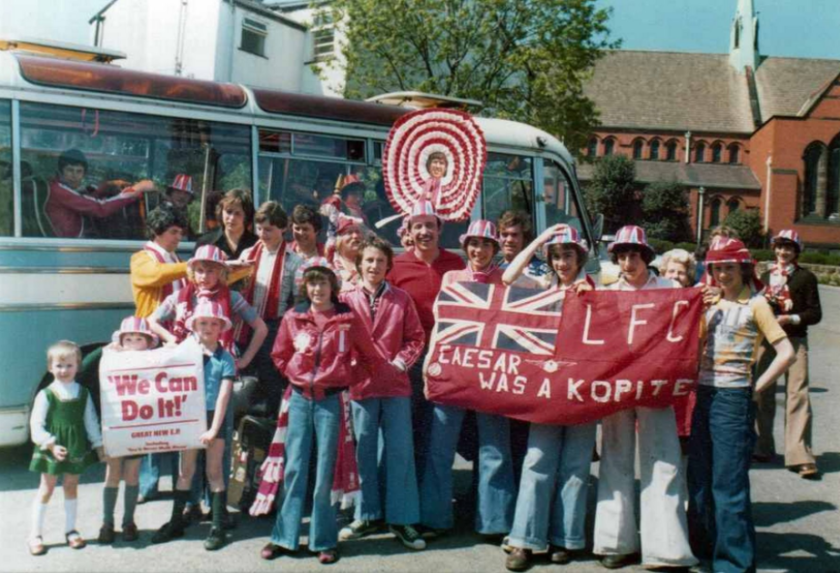 (Some Reds in Liverpool before the game… Goin' to Rome!)
Above all, at last, we had climbed the mountain. As Emlyn raised Ol Big Ears, I thought I might explode with pride.
Fuck it, was that really 40 years ago?
Pizza and Peroni tonight! 😉
Now that the dust has settled on the season (bar the FA Cup) and CL qualification has been confirmed, I thought I would take a look at the top six and try to gauge what may lie ahead next season.
It looks very much as though all of the top six will retain their manager, so the stage is set for a real battle of the heavyweights.
Let's begin at the top with Chelsea. In attempting to assess how teams may fare next season, first I will look at the likelihood of any key players leaving, and the potential disruption this could cause. This could have quite an impact on Chelsea.
Firstly, Courtois continues to be linked with Real Madrid, but this transfer does not seem particularly likely at this point. More heavily linked with Real Madrid, is star attacker Eden Hazard. There certainly seems to be some weight behind this one, with Hazard apparently earmarked as the heir to Ronaldo's throne; the latter becoming more of a poacher as he ages.
Another star linked with Madrid is Kante, although I would be surprised to see him move clubs again this summer. Finally, Costa seems very likely to leave during the transfer window, so there could well be some upheaval in crucial areas for Chelsea.
Obviously, being Chelsea, they will have virtually unlimited funds to replace any of the above who do leave, but, as we are aware, Tomkins Law then comes into play.
When you then take into account the addition of Champions League football, it is clear that Conte will have some work to do in the transfer market if Chelsea are to be competitive on multiple fronts.
Ten Chelsea players started 29 or more league games this season. That will surely be virtually impossible to replicate next season, especially if the same players are required for the CL.
In conclusion, I think it is fair to assume that Chelsea will struggle to match this season's points tally in the league, and should regress somewhat into the pack.
Next up are runners-up Tottenham. Pocchetino has developed a close-knit unit at White Hart Lane, and in terms of style, Spurs are the closest match to Klopp's Reds.
The issue that seems to be causing unrest at Spurs is their wage structure, which has apparently seen a few of their players have their heads turned by the 'Mega Clubs'. According to reports, both Walker and Rose could be on their way out, which could well impact their favoured style of play, particularly considering how impressive both full backs have been when spurs were at their best earlier in the season.
Other players who have been heavily linked with moves away include Lloris, Dier and Eriksen. Spurs do find it more difficult to attract top talent, even with CL football and the lights of London on offer. They have the aforementioned wage structure to contend with, and they also don't have the pull of history that Liverpool can offer.
The crucial question for Spurs to answer is how they will cope with playing their home games at Wembley Stadium. Going by the evidence on offer, I find it hard to believe they will be able to replicate last season's home form (only four points dropped) on the Wembley turf. Since 2007 they have played ten games at Wembley, with a record of W2 D1 L7. Even taking into account for the fact that by their very nature, games played at Wembley will be a lot tougher than the average league fixture, it is still another hurdle to overcome.
Tottenham will also be looking to improve upon their poor recent European record, so overall I would suggest that they too may struggle to match this season's points tally.
Now we come to the enigma that is Guardiola's Manchester City. On the plus side, they do have a plethora of young attackers such as De Bruyne, Sterling, Sané and Jesus. On the negative side, they still have a contingent of ageing players who need to be replaced. On top of this, their goalkeeping situation, and subsequently defence as a whole is lacking stability.
Guardiola clearly has work to do in the transfer market, but having had a season to adjust to the rigours of the league, I would feel it foolhardy to expect City to be as vulnerable as they have appeared at times this season.
City are always hard to predict, but I would expect them to at least match, and probably exceed this season's points tally, although, I could certainly envisage Guardiola prioritising the CL if they were to make the latter stages.
And so to the Mighty Reds. The only key player who has continually been linked with a move away is our little magician, Coutinho. I can certainly see him ending up at Barcelona, but I would be surprised if it is this summer, particularly now that we have achieved CL qualification.
As with Chelsea, we will need to bolster our squad ahead of the European campaign to come. Klopp has seemingly identified targets and hopefully they can be persuaded to come to Anfield.
If we can keep our key players fit, and acquire our targets, I would be disappointed if we could not improve upon this season's points tally, in particular by converting some of the Anfield draws into victories.
Next up is Arsenal. It looks as though Wenger is staying, so how will he deal with his first season out of the CL since we were all knee-high to grasshoppers?
Firstly it looks very much as though Sanchez will be on his way out, and Ozil is likely to join him. Bellerin is another first-teamer strongly linked with a move away, so there is also much to do in the transfer market for notorious spendthrift Wenger!
It feels as though Arsenal have come upon their period for rebuilding and transition. If their marquee players do indeed move on, and without the lure of CL football, Arsenal will likely struggle to bring in names from the top of the market.
Depending on how seriously they take the Europa League, Arsenal may well be able to put more focus on the league, but I still think that there is so much uncertainty around the Emirates, that Arsenal will struggle to match this season's points tally.
All of which brings us to our chums from the other end of the East Lancs Road. We know now that they will also take their place in the CL next season. Recruitment never seems to be an issue to them, regardless of CL football, and money is seemingly virtually no object.
First of all, any key departees? De Gea has long been linked with a return to his homeland with Real Madrid, and this could be the summer that he finally moves. There's no doubting that he has been the best 'keeper in the league over the past few season, so he would surely be a big loss.
There must be question marks over whether Ibrahimovic can recover from injury and return to form at his age, although I wouldn't rule anything out where the iconic Swede is concerned. Rooney will likely move on, but he is far from a key player these days. Herrera has today been linked with Barcelona, but it seems unlikely that Utd will love too many key players.
The big question for Mourinho to answer is whether his brand of football is still effective in the modern era. Too often this season, their style of football has been a relic of a bygone era. It remains to be seen whether Mourinho can keep pace with his younger, more modern counterparts.
All that said, I would still expect Utd to top this season's points tally, even if they have a lot of ground to make up to enter into the conversation at the top of the table.
In summary, I foresee a tight battle at the top amongst the five CL-qualified teams, with no perceived fixture advantage. The success or otherwise of the summer dealings will likely have a huge say in who comes out on top.
I think the title race will be a lot closer next season, and once again, it should be very close for the top four spots.
Again it looks like we will have to view top four as a successful season, although we all desperately hope that a title challenge will blossom.
Wow, this post got a lot longer than I expected, so apologies for that if you have stuck with me all the way!
Articles Published this week:
Sunday 21st:
Liverpool Reaching Champions League is a Big Achievement – Just Ask Barca, by Paul Tomkins.
Post-Match Analysis: Middlesbrough (H) by Daniel Rhodes.
Monday 22nd:
My Day at the Match – Middlesbrough (H) May 21st 2017. Job Done by Chris Rowland.
Tuesday 23rd:
How Was Their Season? No.1: Dejan Lovren by Simon Keating.
How Was Their Season? No.2: Adam Lallana by David Perkins.
Wednesday 24th:
From Doubters to Believers (Part 2): Liverpool FC in the Premier League Era Part 23 by Anthony Stanley.
How Was Their Season? No.3: James Milner by Chris Rowland.
Thursday 25th:
How Was Their Season? No.4: Ragnar Klavan by Matthew Robb
Post-Match Analysis: 1977 European Cup Final – How Liverpool Won by Andrew Beasley
Friday 26th:
How Was Their Season? No.5: Simon Mignolet by Paul Tomkins