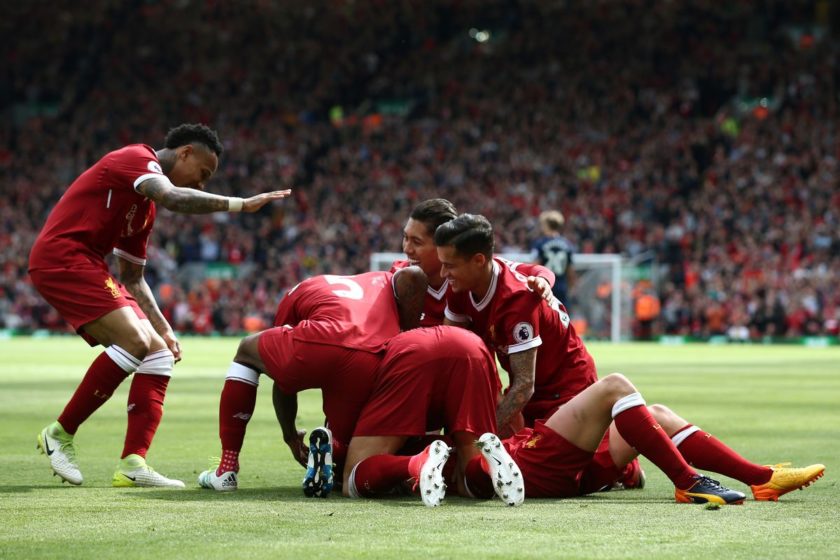 By Chris Rowland.
One more dance, my friends, one more dance ….
Question is, will we be waltzing towards that pesky top 4 place?
I don't even like wanting to. There's a part of me which feels it's almost dirty to pretend top 4 is a trophy, as if it's something worth celebrating. Just a sigh of relief seems a more appropriate response than an open top bus tour round the city.
However, another part of me says you should try and finish the highest and best you can. If you're ninth, you should try to be eighth. And that small matter of CL qualification is of inestimable value in terms of finance, kudos, player attraction and retention, and maybe most of all, a sense of self-worth about the place.
Besides, fourth isn't actually the highest we can be. Third is still possible if City lose at Watford, or, contrary to what BBC Sport Salford reported last Wednesday, if they draw and we win by three clear goals or more. BBC claimed City would secure third with a point. They won't, automatically.
There is still the scenario of potential play-offs to decide final league positions. It was still mathematically possible that a City v Arsenal, Arsenal v Liverpool or Liverpool v City play-off would be needed to settle the issue.
I also make a point to watch Boro's central defender Steve Gibson, with whom we've been linked. I find myself hoping he has a shocker.
There is also the vexed issue of potentially very tricky CL play offs to consider, with heavyweights like Dortmund, Napoli, Sevilla and Zenit St Petersburg potentially to overcome due to our sadly neglected UEFA coefficient. But let's qualify first and worry about that later.
On top of this, there are always train issues to think about, if a match is on a Sunday. OK, it's a 3pm kick off, and we've had few enough of those (in fact five Saturday 3pms all season, out of 38 – only two at home), but this being a Sunday, there are no trains to Manchester Victoria to Liverpool (which wouldn't matter if that wasn't where the train from my home town insists on stopping, but there it is!)
I decide to book to Lime Street via Deansgate. That 25 minute walk there and back from Victoria is compromised somewhat by Utd being at home and kicking off at the same time as us. This Sunday more than ever, Manchester will be bandit country!
I could have been at a wedding do in Whitby if I'd wanted, but I didn't (nothing wrong with Whitby. Plenty wrong with wedding dos. Baby Love, Jimmy Mac and chicken legs. Ugh!).
The day before the game, the text from Bob the organiser arrives – 'End of season party starts at 12 bells in the Victoria Cross. Cmon you Redmen, almost there, ready for Big Ears No 6!"
I get that old tingle of excitement about a game where an issue will be resolved – not might be, will be.
The rest of this article is for Subscribers only.
[wcm_nonmember][ttt-subscribe-article][/wcm_nonmember][wcm_restrict]
I catch the 09.09 to Victoria, and take a stroll past Cheethams Music Library and Manchester Cathedral – impressive in the Sunday morning sunshine – and grab a quick cappuccino on my way down Deansgate towards Deansgate station. Once again I'm unnerved by the level of homelessness, and the nauseating irony of a shop selling beds with a sign in the window saying 'How did you sleep last night? Try our new feather mattress …'.
I get the 1047 from Deansgate, which is on time, and due in at Lime Street by 11.48. I hang on by Ken Dodd to meet my mates off the London train at 1210, then we head off to meet the local contingent at the Victoria Cross.
With a 3pm kick off, today there's plenty of time for a leisurely pub crawl and discussion of the issues of the day, including Phil's (from by book about Heysel 'From Where I Was Standing') 60th birthday weekend in Dusseldorf next weekend, which a few of us will be on.
There seems to be a fair amount of anxiety about the game, which I have to say I am not sharing. I reassure everybody to stop panicking, we're win this easily, three r four clear goals, let's put some pressure on City at Watford (other way around, as it turned out!). I say that win at West Ham was the big one, it will made the team confident and determined to complete the job. We move to the Excelsior, Vernon Arms and Ship and Mitre before taxis up to Anfield. The driver completely ignores Bob's request to go up Mere Lane and not Scotty, which costs him his tip. 'Obviously a blueshite' says Bob. 'He's just cost himself a bevvy – probably Bitter!'
I take up my Kop seat for the last time this season, and notice the crowd is definitely more energised than of late, and the Main Stand has joined in again. Meanwhile the guy to my right has morphed more into a Clyne hater than Can, or Henderson, or Origi, this week. The guy to my left says and shouts nothing all match and doesn't even react when Liverpool score, other than a slight thin smile. I don't know what he is, but he's there every match. Weird.
I and many others miss that all-important opening goal, but even the roar that surges into the gents toilet is not enough to convince some – 'is that a  penalty or have we scored' asks someone. How edgy do you have to be that you can't tell from that explosion of noise that we've just scored?
Coutinho and Lallana's quickfire goals after half-time dissipate all remaining tension, and the Kop slips into nostalgia mode – you can hear Mancs sniping away saying 'you don't say ..' – singing about Xabi Alonso and Luis Garcia and Jon Arne Riise and Jamie Carragher. Not sure that's appropriate, surely it should be the achievements of the boys on the pitch now that we are acknowledging?
Which players have we just seen the last of? Moreno, Sturridge, Lucas – Coutinho? I hope not.
In the club afterwards Bob buys 2 bottles of champagne and asks for lots of glasses – 12 of us toast the Reds being back in business. Everybody agrees that with the extra demands in terms of quality and fixture quantity of the CL, we need our squad to be both bigger and better. This summer's transfer activity is going to be crucial.
While we're looking for a taxi into town we see the team bus pass by, all redded-out windows but we know they can out, and it brings outbreaks of chanting and clapping and cheering and singing from hundreds of Reds on the streets.
We go to Ma Egerton's and I grab a last pint before nipping over the road into Lime Street for the 19.26 back to Deansgate. It's on time. I admire Irlam station again – its cutesy clapper-boardy antiquity oddly at odds with the nondescript area that surrounds it.
Another walk up Deansgate back to Victoria and I've got 20 minutes before my train back. I bump into a guy in his 60s with a Utd shirt on, and pretty drunk.
'Have you been to the match today' he asks. 'Yes, but not yours' I reply. 'Anfield'. 'Oh bloody 'ell it gets worse' he says. 'No, it just got better for you' I reply. 'A chance to mix with the top 4!'
We get talking. Turns out he's a Yorkshireman from near Bradford and he's on the same train as me.
"We hate Liverpool but you're alright' he slurs.
I cannot just let pass a comment like that. Utd fans seem to feel they've failed in their duties if they haven't publicly proclaimed their animosity towards Liverpool. As though it mattered to establish where Liverpool stand in the United canon, as though it needed saying, as though it might not be considered an impediment to a civilised exchange.
"We aren't exactly keen on your bunch of cunts either, and obviously will be hoping Ajax stuff you on Wednesday' I respond, but shun the almost-expected addition that 'but you're alright'.
He mutters 'suppose not' and where there was once conversation there is now silence. They just cannot be allowed to think rudeness and bluntness and just sheer visceral anti-Liverpoolness is a one way street.
But I do say cheerio to him when I get off.
There it is, another season done, we've improved by four places and 16 points, we've overtaken Arsenal, Man Utd, Leicester, Southampton and West Ham, and been overtaken by Chelsea.
Most of all, we're back in the CL and there's a good feeling about the club.
I think that counts as improvement.
[/wcm_restrict]