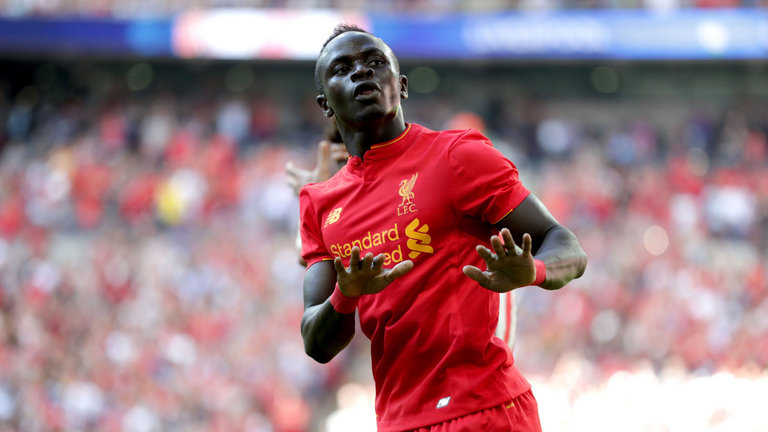 The other day I switched on the TV, and the channel was already set to Sky Sports – right at the end of one of its La Liga Gold shows. A Barcelona game had just finished, and fans poured onto the pitch, clustering around the great Brazilian Rivaldo – he of legs even bandier than Dirk Kuyt (and in fairness, just a bit more finesse) – and hugged him tightly. It was sheer delirium.
The year was 2001 (weeks earlier I'd seen this very same Barcelona team beaten 1-0 at Anfield), and all these years later, with my memory a little hazy, I assumed what I was seeing was the Catalans being crowned champions, such were the celebrations. They'd beaten Valencia 3-2 (within weeks a certain Rafael Benítez would become their boss).
What actually happened? Well, Rivaldo had scored a hat-trick, with his last-minute overhead-kick winner in a 3-2 victory meaning that the Catalans finished 4th and not 5th, swapping places with the visitors to the Nou Camp.
Now, back then Barcelona didn't quite have the cachet of more recent times, with 2008-2015 likely to go down as the club's golden age. But they had won the title in 1997/98 and 1998–99, and the Copa Del Rey in 1997/98; while just four years earlier they had won the UEFA Cup, and it was still less than a decade since they won their first European Cup.
When Rivaldo scored that hat-trick they already had 16 Spanish league titles, and a squad containing, in addition to the Brazilian, Pep Guardiola, Frank de Boer, Jari Litmanen, Carles Puyol, Patrick Kluivert, Marc Overmars, Phillip Cocu, Iván de la Peña, Simao, Xavi, Luis Enrique, Emmanuel Petit, and a young Pepe Reina. Going into that season they'd spent at least £200m in today's money on new signings.
[not_mobile]
(Before the article continues, have a quick look at the game yourselves in the highlights below)
[/not_mobile]
Liverpool's recent history is not even close to a match for Barcelona's at that time – remember, two league titles within the previous five years and the European Cup nine years earlier – and the Reds hadn't spent anywhere near the amount of money to try and get there. Liverpool are in their first full season under a new manager, and such building blocks are almost certainly essential for the longer-term; especially when currently only the 5th-richest club in England, and with just one visit to Europe's premier competition in the last seven seasons.
Man United will still be able to outspend Liverpool this summer because their turnover is so monstrous, but this closes the gap a little, and adds a touch more cachet to 'The Klopp Project'; it gives Liverpool's name a bit of extra gloss again, and suddenly, along with the manager's fame and the history of the club, it will be a slightly easier sell.
So it seems a little sniffy to me to mock Liverpool fans for celebrating reaching the top four; if a Barcelona team full of world-class stars can get excited, then we certainly can. And this is no ordinary season. I saw a stat from Ian Doyle recently that said no team has finished outside the top four with 73 points since three points for a win (on a 38-game season) was introduced in 1981. Arsenal just finished 5th with 75 points, a point behind the Reds.
Indeed, the Gunners got four more points than last season but have finished three places lower; and as such, it will be seen as a big regression. When, in truth, all that happened is everyone else got better too, with several clubs doing so by a considerably larger distance.
Everyone said last August that two big-name managers could not make the Champions League, and right now, Arsene Wenger is finally out of it, and Jose Mourinho has seen his team limp boringly into 6th place despite some obscene spending. (That said, reaching two cup finals does take points off a league campaign, as I noted last season; but even so, think back to the notion of United finishing 6th when they were favourites in the summer. It seemed impossible.)
United now have to win the Europa League to qualify, having faced a far easier route to the final than Liverpool last year, and with less-experienced opposition awaiting in the final too. Think back to the world-class stars they added, and how everyone was scared of the proposition of those players and Jose Mourinho. Maybe United will get better next season, and both clubs had a fair few injuries, but for the Reds to rack up 10% more points on less than half the budget speaks volumes about the work Jürgen Klopp has done.
So yes, I'd take finishing in the top four over winning the League Cup, although trophies are, of course, always nice. But whenever you win the League Cup it's suddenly the "Mickey Mouse" cup to everyone else. It offers little in terms of quality (most teams field reserve or youth sides until the final) and the rewards do not help you buy better players. And while finishing 4th used to count for nothing, the truth is that these days it counts for something.
And anyway, if you're going to be sniffy, why do teams celebrate promotion? They haven't actually won anything, have they? And no one denies the joy of a play-off final victory, when all it means is that you were – at best – the third-best team in the division (if we are to ignore the final league positions, where they could have actually finished as low as 6th).
This, for Liverpool, is about promotion to the premier European "league". It's for just one season; or half a season, if you get no further than the group stage; or just one week, if it all goes wrong in the qualifiers. But the fact is, by being in it you have a chance. It may not represent a lot compared with the incredible achievements of yore, but that's not where Liverpool have been; indeed, a club that felt on the brink of collapse and insanity back in 2010.
Perhaps being in the Champions League seems devalued by Arsenal getting to the knockout stage and crashing out every season, but that's Arsenal. What about Liverpool scraping in back in 2004 – 4th with just 60 points – and winning it 12 months later?
Perhaps it seems devalued by Man City's fans seeming indifferent to the whole thing, but that's City. Liverpool have a special relationship with the competition, dating back five decades; plus a manager who took his team to the final just four years ago. European nights at Anfield remain special.
Liverpool probably won't win it, but Brighton almost certainly won't win the Premier League title, yet they're excited to be there, and rightly so. Whoever wins out of Huddersfield and Reading will go bonkers, even though they could be relegated in twelve months' time. Football has never just been about winning things, it's about moments, memories, exciting journeys. (And yes, it's about money these days too, but money allows you more freedom in the transfer market, and therefore promises a brighter future, if spent wisely.)
For Kopites it means the chance to have teams like Barcelona, Real Madrid and Bayern Munich come to Anfield, and to get to go to the magical stadia of those clubs; which, when you're Liverpool, is always going to be infinitely more exciting than having West Brom turn up and put ten Big Fucking Giants behind the ball and kicking it as high as is humanly possible, or going to either Huddersfield or Reading.
Snotty journalists moan at English clubs doing poorly in the Champions League, then get uppity about Liverpool fans caring about their team being in it. How would they feel if England qualified for the World Cup out of a (distinctly fictional) group of six containing Italy, Germany, France, Spain and Portugal?
And Liverpool deserve to be in the Champions League; the most exciting team in England in the first half of the season before injuries struck, and then somehow managing to win four away games on the spin in the run-in, and then ending the season with four clean sheets in a row, despite every opposition digging out it's 6'6" striker and lumping it in the mixer. There were a couple of major decisions that went the Reds' way in the final two games, and at critical moments too, but overall it hasn't felt like a lucky season. On the balance of play, and on the balance of decisions, this is not a fluke.
It was fitting that a new signing effectively sealed qualification, with Gini Wijnaldum popping up with yet another vital goal (and according to Andrew Beasley, leads the team with his 11th assist in all competitions), and that the much-improved Adam Lallana put the icing on the cake. The reinvented midfield was the great development of this season.
In between, the new King of Anfield, Philippe Coutinho, showed how much he's progressed as a player with his best goal tally to date, despite injuries. (Like a lot of brilliant attacking players in their early twenties, as they head towards their mid-twenties, the goals have gone from five, to eight, to 13. He now looks capable of getting 20 in a season.)
And just when we all needed him, Simon Mignolet finally appeared to grow into the role of "big club goalkeeper".
Jürgen Klopp and co. have added goals to the midfield, and another new arrival – Sadio Mané – was the club's player of the season. (While for me, Joel Matip was the Reds' defender of the season – maybe not saying a lot, but he's added quality at the back.)
The full-back positions need revisiting, a new forward (or just a fit Daniel Sturridge) is necessary, and more pace in the team is required – with a bit of height in there, too – but even though I'm yet to 100% trust them, Mignolet and Dejan Lovren have ended the season well and perhaps obviated thoughts of locking them in the Melwood changing rooms for 12 months (although Lovren looked nervy in the first-half today; he still has that rashness to his game).
Meanwhile, several young players will be that bit more mature come the start of next season, and as I've noted a few times, no important players look set to leave or are growing too old. (Lucas is no longer vital, but I'd still like to see him stay, given the extra games.) Being in the Champions League makes it a little easier to keep Coutinho, too. I think Liverpool can afford to resist anything but the craziest offer this summer, and I don't see that coming in. He seems happy at the club, and one more year, at least, would go a long way to lifting him up towards some of the legends and icons.
Whatever happens next season – and who knows, it could all turn to crap? – now is the time to enjoy the achievement of 76 points and 4th place. It's time to appreciate the players the club has, and for some fans to acknowledge that players like Emre Can and Divock Origi need to be cut more slack; we're all in this together. Also, it turned out that the club bought brilliantly last summer, despite many doubters and no "world-class" players being sought, and as a fanbase we need to learn to enjoy the ride a little more, even if it gets bumpy at times. We need to trust Klopp and those assisting him.
But for now, just get out an obscenely fat cigar and smoke the holy living shit out of it.
This a free article. If you like our work, please subscribe to TTT for £5 a month, to help pay our bills/wages, and keep the site running. If you can't afford to, or don't wish to pay, then sharing our free pieces helps spread the word. Thanks!