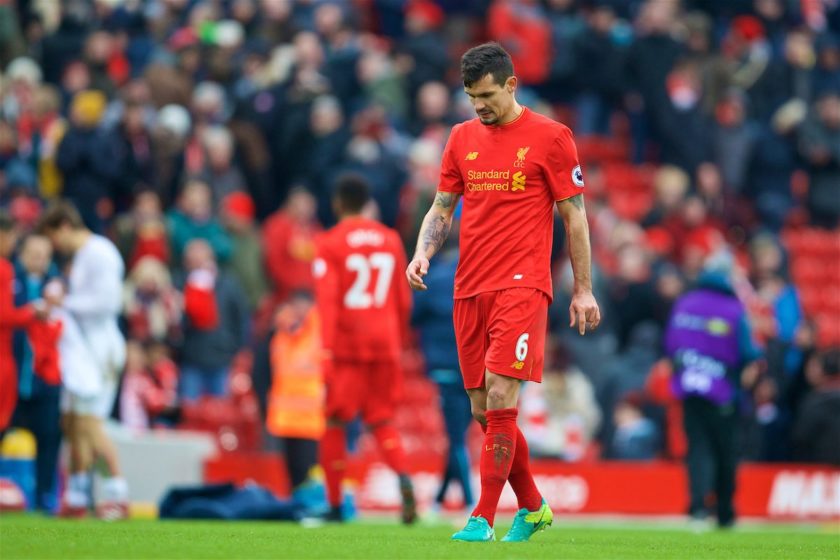 By Simon Keating (TTT Subscriber SimonKlopp aka 1Hanmdd).
When I got the email from Chris asking me to write a piece for TTT about End of Season Player Reviews, I was absolutely chuffed and very surprised. Especially given the quality and standard of the contributors.
Then Chris told me the player whose season I was going to review was Dejan Lovren…
Now I am not as prolific or as articulate as some of the posters on TTT but I am sure those of you who can be bothered to read what I do post will know that Dejan Lovren is not exactly my favourite player. By some distance.
Before I get going, in doing some research for the piece (I can't believe I wrote that, but I did… I did do some research! I feel like a proper writer and everything!), with Dejan in the side we have a 50% win rate.
This article is for Subscribers only.
[wcm_nonmember][ttt-subscribe-article][/wcm_nonmember][wcm_restrict]
Just as a comparison Hyppia, Agger and Henchoz they are all up at 55%. Perhaps a bit unfair as they were all in probably better teams.
As we all know Dejan very recently signed a 4 year contract extension worth a reported £100k per week. That is, for those of you who can't do simple sums… a total of £21,000,000. Which is pretty standard wages at the likes of Chelsea, Man City and Man Utd. At Liverpool, I believe Sturridge, Phil and Bobby are on more…or similar. I think Lallana may now be on something similar too.
We all want LFC to compete and players will only come to LFC if we offer 'big money'. So we can't complain about LFC wanting to pay the going rate for top quality players.
That I suppose is my problem with the Lovren contract. I just don't believe he is top quality. I think he is at best mediocre (that's me trying to be as generous as possible). He has improved significantly since Klopp has joined, I do accept that.
I know Chris stressed that my assessment of Dejan was to be for this season (2016/17), but I believe we do need some context. When he first joined LFC he was truly awful. I remember seeing him at home v West Brom in 2014. We won 2-1 but their goal was a penalty due to a reckless challenge from Lovren. To be fair to him, whilst it was a foul, if memory serves the foul took place just outside the box. He made several errors, poor positioning, poor tackles, poor passing, giving the ball away in and around our own box etc…
Also, we can all see (at least I can) that defensively we have been pretty average (again I am being kind). In 2014/15 we conceded 48, in 2015/16 we conceded 50, and this season we have conceded 42. An improvement so far, and our best defensive record in the league since Kenny's last season of 2011/12 when we conceded 40.
Again for context, this season Chelsea have conceded 32, Spurs have conceded an astonishing 25, Man City who have spent millions and millions have conceded 39. (Man Utd have conceded only 29 but I am only interested in the top 5 clubs… miaoow…).
Obviously, defensively Lovren doesn't do it all himself. He has to rely on his goalkeeper, his defensive partner and his full-backs… of course not forgetting the rest of the team. Cliché alert: Rush was always seen as our first line of defence. So it isn't entirely Dejan's fault. And I am not suggesting for a moment it is.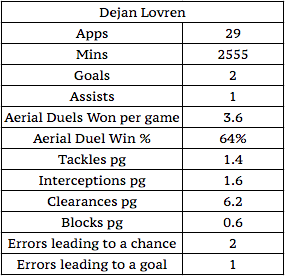 If we look at our defensive performances recently, we have seen something of an improvement. It should be noted the quality of the opposition hasn't been the best, but we have not conceded a goal in May and in our last 7 games we conceded only 3, 1 at Stoke and 2 at home to Palace. Our scoring/chance creation seems to have (West Ham aside) diminished in that period too. Could this be the defence actually improving? Perhaps so. Certainly it is the most consistent and commanding I have seen Mignolet playing since he joined the club. However, I believe the opposition has been quite poor (Even Palace were quite poor and their goals, as per usual, were absolute gifts).
Lovren in the Palace game was very, very poor (as were most of the defence that day). In that game we were 1 up, not playing well… but comfortable, I am sure Palace hadn't had a shot up until their goal (around the 40th minute) then Lovren finds himself out of position, wrong side etc… AGAIN.
I wrote after his contract extension he makes a 'catastrophic error' in every game. Now that was probably harsh. However, the Palace game was an error. I can think of one at Stoke recently, he sliced a clearance and Stoke nearly scored (it hit the side netting). So not every error is punished by goal. Against West Ham last week, we nearly concede from a corner that would have made it 1-1 just on half time… where the ball comes to back post and hits Lovren on the hip and it falls to the West Ham player. (As an aside Sturridge's reaction to Dejan is hilarious… he is really remonstrating with him!).
I remember at Bournemouth (the most annoying result of the season), Dejan and Milner make a complete hash of some pretty basic passing which leads to a penalty (their first goal when 2 up and cruising). Losing possession carelessly and needlessly. Totally avoidable.
After checking the Premier League website, in terms of errors leading directly to goals (more research!) he is joint 3rd at the club… the same as Klavan, Mignolet and Matip!!! Also, out of 109 appearances Lovren has in the Premier league (including Southampton) he has had 36 clean sheets.
My assessment of Lovren's season is about 5.5/10. He can play quite well. He obviously cares about the club. He's big and strong. You can see it matters to him and he gives everything he has. But I just don't believe he is good enough for a club who have the ambitions we have – Champions League and competing for trophies. As for our defence, he certainly isn't on his own in that respect. Milner, Klavan, Karius (who having hardly played has made most errors that have led directly to a goal!) and even Matip, I would argue, still need to improve somewhat.
Something I did notice whilst doing my research (I love it!)… Lovren is a bit of a sick note. He missed 12 games in his first season (probably dropped for some of them!,) 14 in his second season and nine for this season.
If it was down to me, I would have sold Lovren but obviously with his new contract that won't happen. But I think he should be at best, a 3rd choice centre half (a sort of upgrade on Klavan), but that means we have to buy another centre half… possibly another from Southampton?
[poll id="381″]
[/wcm_restrict]