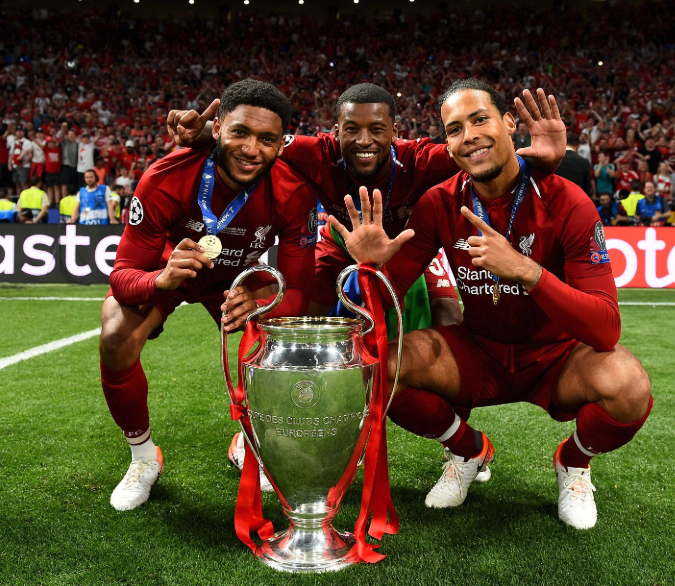 Posts selected by Chris Rowland and Daniel Rhodes.
This week's round-up brings you some of the best comments on the site, together with some samples of the articles we've published.
If you'd like to join our troll-free community and enjoy some intelligent debate about Liverpool FC and the wider world of football, and indeed the wider world generally, see the 'Subscribe' tab at the bottom of the page for details of how to sign up.
1 – 5537will, June 5th.
What's been really interesting in the Klopp era has been the evolution of the team and the way that the manager has identified and adopted different styles to keep opponents guessing.
His first full season, was basically about work rate, high press, 'heavy metal' football that we heard so much about. The second, was essentially a refined version of that with better personnel and more moving parts, but still super dynamic. By midway through '17/18 teams were combating this with a low block and he had to find another solution.
'18/'19, Klopp added layers to the team. The two fullbacks, dynamism in midfield in Keita, a dark arts holding mid in Fabinho and the system changed again, not only were we solid at the back but we had too many options for teams to handle, but we could always revert to the blitz if necessary. It was amazing to see pundits and  opposing managers in mid-season pre-match interviews saying: "Well when you play Liverpool you know that they're going to come at you really hard in the opening 20 minutes", despite the fact that we hadn't played like that for 8 months. People weren't playing attention.
In the spirit of an ever-evolving team with options both in personnel and styles of playing, I think Klopp will want to add a lock-picker. Personally I'd like to see a forward-oriented passer of the ball, in a dream scenario, someone in the Xabi Alonso mould. (I did say 'dream'). I think that would give us a set of solutions to most of the problems we're likely to face.
I also think we were very fortunate with injuries this season, despite the defensive "crisis" we had for a second.  We have striking cover for Mane and Mo but a long term injury to Bobby would leave us thin in that 10/False 9 position and using Shaq/Divock there long term is limiting.
I think whoever comes in will give us some interesting clues about how Klopp is looking to adapt our style to keep ahead of the pack next season.
2 – ccm, one of the lucky ones who had a ticket for the final – on June 5th:
Probably the hottest stadium I've ever been in, in my life!
I must admit, I didn't really enjoy the game. The elation of scoring so early was great, and the outpouring of relief and unbridled joy at the end was obviously beyond fantastic, but the 90 odd minutes in between were just sweaty, nervy checks of the clock, between biting of nails. I was willing it over, almost as soon as it began, and it felt like most of our end felt the same.
But the end… oh the glorious end! I'm not embarrassed to admit I cried my eyes out, and still come close to a tear when I see any picture of anything related to the day. Not for myself, even though Id lost my five previous Finals, but for Jurgen and Jordan, and Trent and Robbo, and Big Div and Millie and all the rest of those fantastic players who deserved it so much.
My highlight of the day was the fanpark…. It was just bouncing. The songs and the camaraderie were absolutely amazing. We encountered loads of Spurs fans on the day, and to a man, they were brilliant. They've really gone up in my estimations as a club and I will be hoping they do well going forward (obviously not at our expense!). Id like to think they also changed their opinions of us. Three or four said that they thought 'the Scouse' were going to be dickheads but they were pleasantly surprised by everyone they met. There were several stories of reds consoling them at FT. I suppose the torture of last year was so fresh in our minds that we could empathise more than most. Having been disappointed we faced them in the Final, I feel like it couldn't have turned out any better.
Had we lost, my opinion of this Manager and this brilliant side wouldn't have been any different. But its so bloody nice to shut up the knockers. The bellends who let their rivalries lead their brain cells.
European Royalty. That's us! And a whole seasons of singing 'We are the Champions… Champions of Europe!'
3 – NickM on June 6th after reports of England fans causing trouble in Portugal:
So thousands of Liverpool and Spurs fans behave in an exemplary fashion in Madrid yet the Inglanders accompanying the national team are causing trouble in Portugal. What a bunch of ****s.
4 – MobyKidz reacts to the victory in Madrid:
SIX TIMES. SIX TIMES. YES PEP SIX TIMES.
What a fu*king team. Last night seeing Jordan "Our European Cup winning Captain" Henderson sway his dodgy rumba-like hips towards the central pinnacle of that blue podium and lift that polished trophy into the Madrid sky was a wonderful and cathartic moment for the players, fans and club all round.
Everybody seemed to be on that podium from owners who walked along the hard shoulder to get to the match, to the modern day boot room that is now a far bigger collection of experts to the wonderful family of players now forged together in triumph. This game really felt like being on the hard shoulder all match long.
I know it was a lacklustre final. Spurs dominated possession. Two weeks without a match is less desirable than playing twice in a week. But Jurgen Klopp's tactics were typical of how we play against Spurs. In the end it was another clean sheet. Even if Moura did play from the start I honestly think it would have made little difference. His performance comes from being given space and overloading the box, which Spurs did only once. And he fluffed his chance. But we're better than Ajax.
Allison looked every inch a man mountain yesterday whose motto for the final seemed to be "handle with care". I hope our on loan German keeper took some Turkish delight from our triumph. Karius's post-match tweet like so many "ex-players" just goes to show how big this family is and will continue to be.
Yesterday's game seemed to belong to everybody without the fervour or favour of our two wonderful goal scorers. No one will remember much of those 90 minutes of play bar the goals and saves. Instead it will be lifting the Champions League trophy that will book end the catalogue of stories this season and start another set for next August. But I want to be crystal clear – this isn't the start of a new era. That begun at the start of this season with a magnificent 97 points. No this is another giant leap for a truly magnificent team.
Afterwards my 11-year old son felt deflated. He was ecstatic we'd won but then felt the anti-climax of the "well we have won, what next?" moment. Sometimes children can cut through the hype can't they? And with his child-like grin I know Klopp and his team will be sitting in his office soon asking that very question (again) from a personnel and tactical point of view. However much we guess we know what Klopp wants I guarantee you in equal spades we do not. There are some certainties on who we know will leave but do not be surprised if that list might be a little longer to make space for a step up in quality. Yesterday's game was a ruthless one. I expect that ruthlessness to carry on into the transfer market and tweaking this squad.
I want to say thanks to FSG. John Henry's pre-match comments of winning the Premier League over the Champions League is how I feel. It's a marginal difference waking up this morning but it is significant because it sets us apart from those Gulf-based and Russian owners. He has made clear the club's priority (again) for next season. And that sort of quiet and authoritative leadership backed up by funds that will inevitably follow will see 2019-20 become a very significant milestone both on and off the pitch. I expect a bigger and better squad particularly on the attacking front. And plans for a bigger Anfield as we continue to expand our trophy room.
I cannot wait till today's parade. In contrast to the plastic fantastic Citeh this one will be full of a fan base forged on Liverpool folklore, its stories and songs handed down by its custodians. This online community is part of that and I am very grateful to Paul, Chris, Andrew and all the others who support us as we try and support them and each other. I'm happy that we got a "hollywood" ending we deserved and that I can repeat my earlier quote to "Shawshank Redemption" our glorious season below:
I find I'm so excited that I can barely sit still or hold a thought in my head. I think it's the excitement only a Liverpool fan can feel. A Liverpool fan at the end of a long journey whose conclusion is uncertain. I hope we can make it across the finishing line. I hope to see my German friend and shake his hand. I hope that KyivMadrid is as red as it has been in my dreams. I hope and so it was. NUMBER SIX.
I can't wait for next season. From Paris down to Spain…Allez, Allez Allez.
Enjoy the summer. It has been one very long but incredibly rewarding season.
The Big Red Machine is coming for #19. YNWA.
5 – cvt123 on Super Divock:
I do hope we keep Divock.
He has a knack of getting em when we need them. Both the Everton goal and the second Barcelona goal shows how he is always working and always trying, even if he Looks like a space cadet. And by the way – that's Moneyball for you. A play who is judged by his mannerisms rather than his stats is always going to be valuable.
I suspect that he will be (or could be) our Oli Gs. No. Not the shit manager but the ultimate super sub. If he can accept that role then sign him for the next four years. In the champions league he got us 3 goals in 222 mins played. In the premier league, he got 3 goals in 371 mins. The ratios are not bad (Aguero has one goal every 118 mins in the premier league, the best in the league…)
So while all the players need to be recognised for their stellar work, I think we should acknowledge Origo's (who heard that btw???) contribution this season. An unsung hero.
6 – Bob Pearce recalls an unsung hero:
Just stopping to think about where Liverpool FC were back in October 2010 when John Henry was persuaded to take the club on. It was heading for a Hicks and Gillett inflicted wreck. Henry knew nothing about football. Since that day it's been 5 steps forward and 1 step back. And boy have they learned from each of those backward steps. Here we are now champions of Europe again, the team no club wants to play against, and every player want to play for. Proving that it can be done within the limits of financial fair play. Take a moment to stop and think about how Liverpool FC fan Joe Januszewski must have felt last night when Jordan Henderson lifted the cup. Joe was the one that persuaded John Henry to save the club from that wreck. Without Joe's words of persuasion, Liverpool FC would have become another Nottingham Forest.
Article published on the site since last Friday, with excerpts:
Saturday June 1st:
New Book On Liverpool FC's Rise Under Klopp 2015-2019 By Paul Tomkins, by Paul Tomkins.
For the past several months I've been working on a new book about the staggering progress made my Liverpool football club, on and off the pitch, since 2015. Even if Liverpool end up empty-handed this season, the transformation from mid-table Europa League also-rans to Champions League and Premier League title contenders is astonishing.
In the book I cover a whole range of issues behind this resurgence. Like a reputable massage parlour I can't guarantee the happiest of endings, but I can assure an interesting and well-researched read on the developments the club has made at all levels since the final six months of Brendan Rodgers' tenure, when Liverpool won just five of their 17 league games and racked up a -11 goal difference in that time – with Klopp inherited a team lacking goals at one and and shipping like crazy at the other. The club is utterly transformed. If nothing else it will be a celebration of good football and undoubted progression seen in the past three and a half years.
Liverpool Champions of Europe Again – And It's Totally Deserved For An Amazing Season, by Paul Tomkins.
Searing heat, three weeks without a game, nerves and pressure everywhere – but the Reds now have now got it over the line. City edged the title, but Liverpool are European Champions with a higher points tally than any other English European champion. That's how fucking awesome this achievement is. Especially following the heartbreak last year and the heartbreak in the league (although I was still so proud, regardless).
It was almost anticlimactic as it felt like it was going to go to the wire for the nerviest of finishes, but there was time for the super-sub to score yet again. Last season a Wolfsburg reject on loan, this season the key man (along with Alisson in goal) in killing off Spurs' hopes.
Sunday June 2nd:
Post-Match Analysis: Liverpool 2 – 0 Tottenham, by Daniel Rhodes.
Based purely on the stats, it was a close affair with both teams having one big chance each. Liverpool's penalty early on, followed by Lucas Moura's chance on the 84th minute. In fairness, it was a game of few clear chances with plenty of pot shots from outside the area.
The non-penalty xG, something we've used all season, does not make for positive reading; but this is the flaw with removing penalties, because when you get one inside the first minute it alters the whole game. Without the penalty, Spurs had twice our xG. With the penalty, and a sprinkling of Divock, we had twice Spurs' goals. Winning the xG does not win European finals, ask Spurs.
Monday June 3rd:
Be Warned – Liverpool Will Be Even Better Next Season. This Team Ain't Going Away, by Paul Tomkins.
Most of Liverpool's key players are only in their mid-20s.
If Joe Gomez can stay fit next season then he should be even better still, as he's shown throughout his short career, with big steps forward. The main two injuries were issues of bad-luck: a cruciate ligament and a broken leg. I don't see him as injury-prone.
Steve Nicol, in another piece of stupidity from one of those ex-Reds who seem to talk a lot of horse-shit, said that: "The thing is though, Gomez before he got injured was doing an excellent job but I'm not sure that he is going to get any better than he already is to be honest with you."
First, Gomez doesn't need to get much better, as he was indeed, as noted, doing an excellent job. Second, why wouldn't a 22-year-old centre-back (who only turned 22 this week) get any better? How can you tell that about any player at 22? He's twenty-fucking-two!
Liverpool – Champions League Winners 2019 – The Best Media Reports, by Daniel Rhodes.
Klopp had, for some reason, picked up a reputation as a nearly man: a manager who could take a team so far, but was destined to fail at the last hurdle. The fact he had won two German championships, and a German Cup, did not seem to count. He lost a Europa League final with Liverpool. He lost a League Cup final with Liverpool. He lost a Champions League final with Liverpool. He was unlucky; it had been decreed.
That would have been the story had Liverpool lost, of course, as it might well have done: for all the drama of this Champions League season, this was an anti-climactic final. Salah's penalty — after a harsh handball decision against Moussa Sissoko in the match's first minute — seemed to set the nerves on edge, and sap the noise from the crowd. Liverpool was careless, disjointed; Spurs, slowly and surely, started to assert themselves.
As the clock ticked, Liverpool's lead looked fragile. Alisson Becker, the club's goalkeeper, had to make a string of saves, a one-man resistance against a white tide. Klopp's curse seemed to be coming back, yet further proof that he lacked some crucial ingredient that would make him a winner. And then the goal came: for all the Spurs pressure, Liverpool scored it. Klopp would have his trophy. He would break the curse that had never been a curse.
Wednesday June 5th:
"In Sunny Spain We Won it Six Times" – Our Days in Madrid, by Paddy Smith and Jonathan Naylor.
I  must say the Spurs fans and our lot were all fantastic, no trouble but also everyone we spoke to had respect for each other, after the game we got talking to a few of their lads, we knew exactly how they felt after last year, best story I heard was a Spurs fan walking towards some Reds after the game singing ' we pay your benefits, we pay your benefits' a rather large scouse lad slowly walks over and says ' hey lad, don't be a dickhead'. Enough said!
So for me this campaign really started on the 18th November in Paris, my lad's 18th birthday watching us get beaten in the rain, we also did Porto and Barca so it really feels like we've been on an epic ride that ended up in glorious technicolour sunshine in Madrid, bringing home number 6.
….
Getting on the plane at Hamburg on the Friday, it soon became apparent plenty of Reds were taking the same circuitous route to Madrid. There must have been at least 20% of the aircraft in Liverpool regalia plus presumably some (like us) incognito.
This was an early indication of what would turn out to be a Red takeover of Madrid. Over the weekend, we met LFC fans who had flown from California, New York, Japan and Australia – all without tickets.
Pretty much throughout our time out and about in Madrid, we were never more than 5-10 minutes away from seeing a fellow supporter. There was the occasional Spurs fan also – but they were heavily outnumbered. What appeared to be a Spurs fan in the distance often turned out to be someone in our old away strip.
It was great chatting to Liverpool fans from around the world, hearing their stories and sharing experiences. We also spoke to a few Atletico fans, who were generally supporting Liverpool due to the Torres connection. Even Real Madrid fans were complimentary about our team.
Camper Van to Madrid, Part 1, by Chris Rowland.
So Wednesday May 29th finally arrives. I get the local train to Leeds, arriving in time for a pint at the station before taking the Kings Cross train to Stevenage, where the van is duly waiting, one side covered in a home made flag – "Los Delincuentes. No somos Ingles, somos scouse". It may contain grammatical errors!
Jon greets me at the station, I clamber into the back with my suitcase – no baggage restrictions here – and we're off to Dover. The van's fridge is full of beer, water, sausage rolls, pork pies and Jon's homemade banana bread! Well that's a first. Multi packs of assorted crisps lurk around too. It feels like a party, but we know we've got many hard yards ahead.
At Dover our booking allows a choice of three ferries, and the earlier the better. Despite the dense fog as we approach Dover, we get there for the earliest, the 23.00. Except P&O have cancelled it. We'll have to get the 01,00, which is already showing a 20 minute delay. Normally we'd take refuge in a bar, but the three drivers cannot, so make do with coffee. There are several Reds there, and one blue, along for the crack with his mates – we resist the temptation to say it's his only chance of seeing Europe! We see one Spurs family too, already they're outnumbered about 25 to 4!
Thursday June 6th:
Camper Van to Madrid, Part 2, by Chris Rowland.
Then the thought suddenly struck me: soon those with tickets were going to stand up and head towards the match, and for the first final ever, I wasn't going with them.  There was a conversation about whether any of the ticketless were going to go and give it a try. That would mean a trek out to the very edge of Madrid, near the airport, and a trek back if it ended as I expected. By which time the match would have begun. I and most of the ticketless decided to remain, but Pablo with his fake and Ryan with his reconnaissance decided to give it a go.
At about 18:00 they all stood up to head for the stadium early. I became quite tearful, and so did many of those with tickets as we took our parting. There were lots of hugs, lots of 'let's do this' and 'c'mon Redmen'. Then one of them handed me a roll of euros and explained the ones with tickets had had a whip-round for drinks for the ones staying behind. I filled up a second time. The Reds are a family, and we look out for each other. Brilliant gesture. Eight with tickets and two triers without them departed, leaving another eight behind. We took up our places on our reserved table, ordered another round from the kitty and settled down to watch.