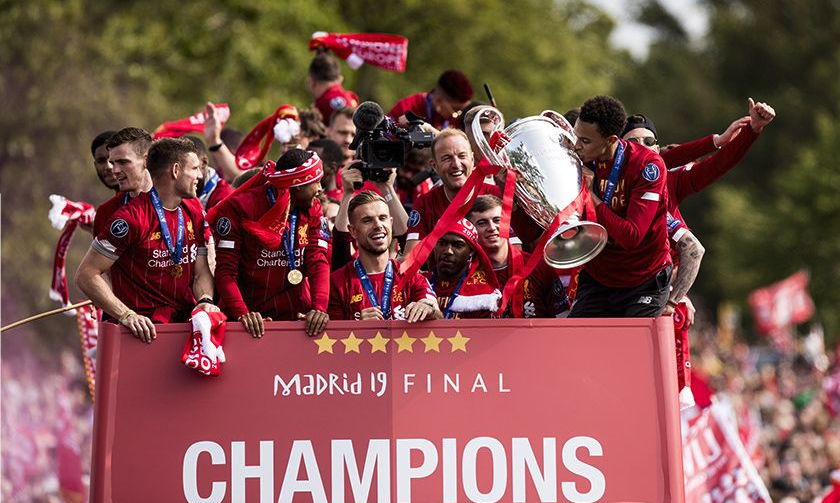 Of course since the final whistle we've all been lapping up the best reactions and analysis across many different media outlets, here is a round-up and by all means suggest others in the comments section underneath, starting with Klopp post-game thoughts:
On what made the difference in this final…
The result, obviously. We all spoke about it a lot, I played many more finals than I won, we always played better football. Tonight it was a big challenge for both teams to deal with the three-week [break] because you never have a period with three weeks and no game. So keep the rhythm or get the rhythm back actually. Then obviously it was different circumstances for two English teams, it was pretty warm. You saw it was a fight. A final is about the result and we need to make this experience a little bit longer or more often than others. Tonight the boys showed it, the resilience and everything you need to block the decisive balls.
Ali had to make a few saves, he of course played a sensational game, absolutely, he looked completely unbeatable pretty much. That helped us. [We] scored goals in the right moment. Usually I always sit here a bit earlier and have to explain how you can lose this game. This time, I don't want to explain why we won it, I only want to enjoy that we won it. All the rest is not important. It's for all the people around the world, in the stadium, they are with us and now celebrating like crazy. Whoever is in Liverpool tomorrow we will celebrate together and we will have a sensational night.
I feel mostly relief, to be honest, relief for my family actually because they are pretty close to me and the last six times we always flew on holiday with a silver medal, that doesn't feel too cool. This is completely different this year. It's for them as well, that's great. It's for the supporters of course, but for our owners as well because they never put real pressure on us, they appreciate the development, they see the steps we make. It's for them as well. For the players, we were all pretty much crying on the pitch because it was so emotional, it was so big, it means so much to us.
On the other hand and I should have probably said this first of all, I know how Tottenham feel in this moment better than anybody else in the world. They played a sensational season as well and they would have deserved it as well, but tonight we scored the goals in the right moment. I told Poch already after the game that he should be really proud of what they did this year as well.
On next year's final being in Istanbul…
I told UEFA already: we will be there! Give me a few minutes! We know that sometimes we carry the burden of history and making Istanbul happen again will be a target I would say, but it will be difficult. By the way, a second ago I had Pep Guardiola on the phone because we had a physio who worked for Man City at the beginning of the season. We promised each other already that we will kick [each other's] butts again next year. We will go for everything and we'll see if we get something, that's it.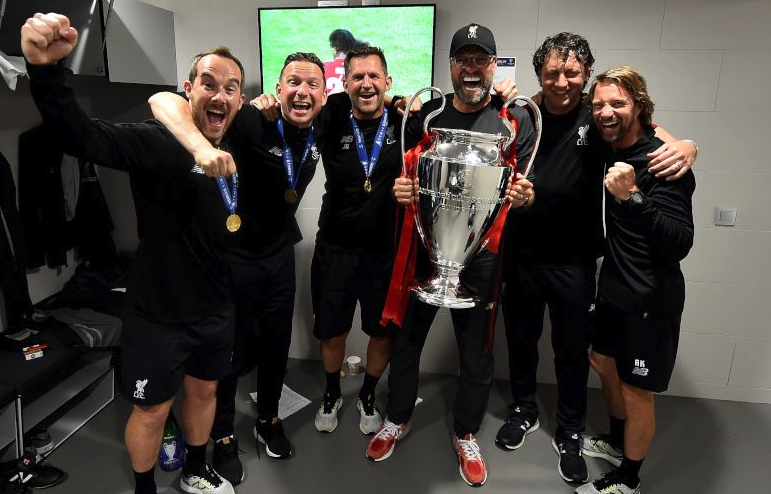 Pep Ljinders:
"I'm so proud we've won the cup with those big, big ears. Bringing it home to Liverpool, you dream about this when you are young. I want to dedicate this cup to 'team spirit', the most important ingredient of this season for us. We came here together and it's not always easy, but standing around these players, these coaches in front of these fans, I can't believe.
I would say, 'Please everyone, keep this feeling of desire, passion and ambition into the next season.' We shall not be moved. We said before the game it's about energy, identity and passion. Finals are to attack with full confidence, conviction and a 100 per cent winning attitude, nothing else, they are to win… and we did it!
As I've said before, you have to deserve the right to be ambitious and, wow, these boys deserved everything. I have just one message from us to the world of football: 'We conquered all of Europe and we're never gonna stop…
Thank you all for this historical season. We are all together Liverpool Football Club."
Jordan Henderson:
Without this manager this is impossible," he told BT Sport. "You go through tough times in a season, but what he has done since coming in is unbelievable.
"There's such a togetherness, he has created a special dressing room – all the praise goes to the manager. I'm so proud to be a part of this football club and to cap it with this is so special to me."
"I just try to give my best every time I play football and to help my team no matter what, I've had tough times but I've kept going – just as this club has. It's the best moment of my life. This is what I dreamed of since I was a kid. It's not about me, it's not about me being captain or lifting the trophy, it's about this club, these players, this manager. Now we must keep going and kick on."
Trent Alexander-Arnold:
"I am just a normal lad from Liverpool whose dream has just come true. It is hard to put into words. The season we have had, we deserved it more than any other team. We have done something special, we dominated the game. We will not look back and think it was a sluggish game, we will see we are European champions.
First up for the media, is a journalist who regularly gets mentioned on the quality media thread, and it's Ken Early in The Irish Times:
It is often said that you can tell more about someone's character in defeat than you can in victory. Watch a few football managers take a postmatch press conference after they've just won or lost a Champions League final, and you might think otherwise.
The rest of this article is for subscribers only. 
[ttt-subscribe-article]