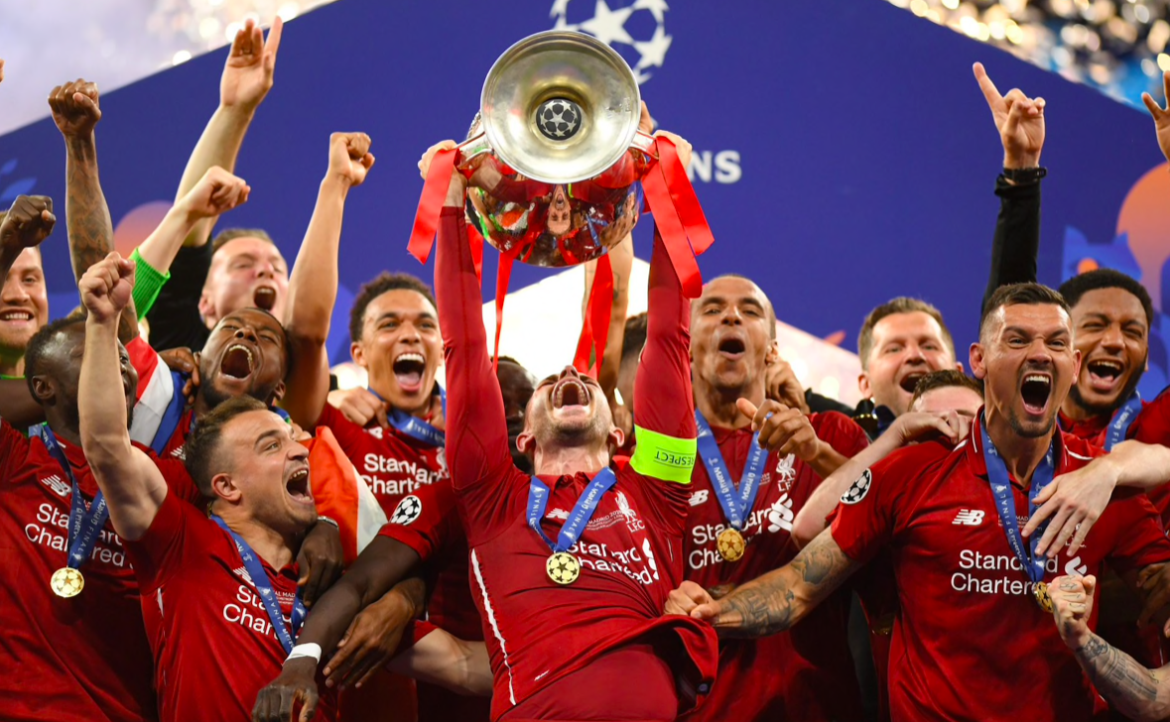 GET IN!
Never has a team that didn't have its best game (certainly in terms of possession and midfield control) deserved to win a game so much.
Obviously I'm outrageously biased, but the body of work across the season as a whole made this an incredibly deserved win, although Spurs have had a great season too; just, not quite as great. And to be honest, they only looked like hurting Liverpool in the last ten minutes, when they threw everything at it.
Going 1-0 up early isn't always a good thing, especially in a season of amazing comebacks. Man City versus Newcastle and Liverpool versus Leicester on the same match-week earlier this year saw the early lead lost to nerves. City were then nervous at 0-0 away at Brighton on the final day but sprang out of their anxiety once 1-0 down; Liverpool were not nervous against Wolves until they went 1-0 up. It's human nature, when the stakes are enormous. Sometimes going ahead so early kills your own game plan. I've never felt so nervous before a final so I can only imagine how the players felt.
Liverpool were in an odd situation as clear favourites – given a 72% probability of winning by some analysts – but without having that kind of "get this over the line" nous that reduces pressure. There's the history of European Cups at the club, but this actual side has none of that. This is not a Bayern or Real Madrid used to dogging out trophies.
This may be three and a half years into Jürgen Klopp's "project" but it's only 1-2 seasons together for almost all of this team – far less time than at City or even Spurs. The Reds played much better last season in Kiev when losing, and when, as a team, they were a clearly inferior side to now – as more and more players come to the fore. That's the way football goes.
And there's the fact that Klopp had lost his last six finals, two of which were in the Champions League. Of those six finals, his teams probably deserved to win half; but got nothing from them. Nada, zip, zilch. This may have been one of his sides' most disjointed displays in a final, but now it's irrelevant with a 2-0 scoreline. The real achievement was in the teams beaten along the way.
Liverpool beat PSG, Napoli, Bayern Munich, Porto, Barcelona (from 3-0 down having been the better team in that first leg) and now an excellent Spurs side, who continue to punch above their weight – and are a team I was dreading Liverpool facing, as they make for such dangerous underdogs.
Full credit to them, although I was thanking Mauricio Pochettino for picking Harry Kane and leaving out the more terrifying Lucas Moura, who was the man in form, and the man with almost unmatchable pace. Of course, Son is quick too, but for the first time this season it looked like someone had successfully dribbled past Virgil van Dijk until the big man turned on the afterburners. It was one of the best moments of the night.
This has been done the hardest of ways. Last season, Man City aside, Liverpool had an easier route to the final than this season, and then bossed the first half against Real Madrid, and were essentially cheated out of it by one lunatic centre-back. So, swings and roundabouts.
Searing heat, three weeks without a game, nerves and pressure everywhere – but the Reds now have now got it over the line. City edged the title, but Liverpool are European Champions with a higher points tally than any other English European champion. That's how fucking awesome this achievement is. Especially following the heartbreak last year and the heartbreak in the league (although I was still so proud, regardless).
It was almost anticlimactic as it felt like it was going to go to the wire for the nerviest of finishes, but there was time for the super-sub to score yet again. Last season a Wolfsburg reject on loan, this season the key man (along with Alisson in goal) in killing off Spurs' hopes.
The second half of this article is for subscribers only.
[ttt-subscribe-article]