A third of the Premier League season, and not even a third of games won. That's how bad it's been.
As noted here, Liverpool won just three of the first 10 league matches, and in the next three, it's been only one win. There's a pattern present. Roy Hodgson sees the Stoke result as a 'blip', but when you've failed to win nine of 13 games, the blip appears to be the victories.
Maybe he's spent too long as a big fish in a small pond. His own words tend to prove the theory.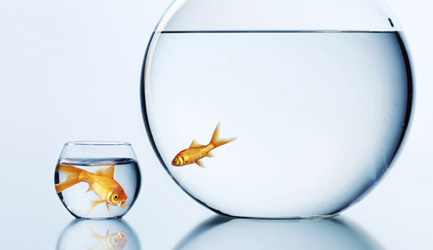 After the Chelsea game, I promised to tone down my criticisms of Roy – unless there was a dramatic downturn in results.
Well, the two performances following what should have been the biggest morale-boosting win the manager was likely to get have been simply unacceptable. The Reds then took the lead early at Wigan, and from that moment on, it's been unbearable to watch.
Yes, it's just two games on, but so appalling have they been – as were so many before the Chelsea game – that the victory over the champions looks more the exception than the rule.
My 'fear' – outlined in that same piece – was the Napoli and Chelsea results were based on the NESV 'bounce': a buzzing Anfield, welcoming our new owners.
We didn't get the usual new manager upturn that statistics prove happens in the first 8-10 games, when results pick up due to the desire to impress the new boss; but we appeared to get something resembling it during the week that John W Henry and his wife Linda Pizzuti were gracing games.
But as soon as their backs were turned, so did the results and performances: turning back to the early-season 'norm'.
After Chelsea, I felt six wins from nine games would get us to 'acceptable' – 10 wins from 20; a fraction ahead of Benítez's worst full-season figure of 45% of games won (2004/05, although with the Champions League won at the same time) and 47% (2009/10), but nowhere near his best of 66% (2005/06 and 2008/09), or his overall average of 55%.
But now, it would need six wins from seven just to reach 50%. Currently, the Reds have won just 31% of league matches; less than a third, and even slightly worse than Hodgson's record at Fulham.
Last season, the Cottagers averaged a fraction above a uninspiring goal a game in the league (39 in 38 games; not a good total even for a club like Fulham). Right now, Liverpool's average is even worse: exactly one goal per game.
He's been given Torres, Gerrard, Kuyt and Aquilani (oops) and brought in Cole and Meireles, only to score 13 in 13. Bolton have 22; Newcastle 21; Blackpool 19. West Brom have 16. Even Stoke have 15. Only two teams have scored fewer goals than Liverpool in the league.
Possession has been far worse this season. Subscribers can read about exactly how poor compared with last season here.
Defenders are sitting deeper, and despite two incredibly narrow midfielders, the full-backs aren't even compensating by overlapping as much. Subscribers can read about exactly how poor compared with last season here.
It's cowardly football; 'underdog football', which is more likely to work against Chelsea – against whom fans will just about tolerate the side conceding possession at Anfield – than weaker teams.
Let's take a closer look at where it's going wrong:
13-Game Premier League Analysis by TTT regular and professional data analyst Dan Kennett
With one third of the season gone, LFC are performing as badly as they've ever done in the Premier League era:
·       16 points is the joint-lowest total along with Souness in 1992/93
·       13 goals scored is the fewest
·       Four games won is the joint-fewest along with 1992/93 and the ill-fated Houllier/Evans joint tenure in 1998/99
·       -4 is the worst goal difference we've had at this stage of the season
·       12th position in the league is the second worst, after 1992/93
·       Five defeats is the joint-highest along with seven other seasons (including last season)
·       We've got only HALF the number of points we had at this stage in 2008/09
If we compare against the median of Liverpool's Premier League record after 13 games then Hodgson is behind on every single measure, apart from number of clean sheets:

Even against last season's dismal campaign, this season is worse almost across the board.
Last season's points total of 20 was below the median and acknowledged as a poor start. However at least the fans had the solace of seeing some entertaining games and, of course, there was an injury crisis to contend with.
LFC had banged in 29 goals already (compared to 13 this season) and the 20 goals against meant an average of 3.8 goals per game.

At the moment we've got the worst of both worlds: shocking results and shocking entertainment.
All Hodgson had to do was recreate a typical LFC start and we'd be sitting pretty in 4th. Even maintaining the "disastrous" performance of last season would've seen us in 5th. That Liverpool sit in 11th place after 13 games in this of all seasons is the most damning indictment of all.
Further Analysis
Adding to Dan's work above, I'd like to point out a few more things.
In the exact same 13 fixtures (replacing promoted sides with those promoted last season), the Reds were five points better off in 2009/10: 21 to 16. So what was gained against Chelsea has been more than lost elsewhere. And again, last season was deemed unacceptable.
One bonus Roy has is that he doesn't have to play a strong team in the Europa League; last season – and indeed, every season under Benítez – there was the far trickier balancing act of keeping players fresh; no-one would accept a total 'B' team in the Champions League or Premier League (unless it was late in the season and there was little left to play for.)
In the summer I noted that Roy's lack of rotation would be problematic. On one of the few occasions where he's been under pressure to win weekend-midweek-weekend, results went from a win to a draw to a defeat.
He noted that the midweek result – 1-1 at Wigan – was affected by tiredness (he didn't change the team that ran hard against Chelsea), and then made only one change against Stoke – replacing the young, fit Kelly to move the far less mobile Carragher to full-back where, presumably, he was not going to find getting up and down the pitch at all easy.
You've just admitted your team is tired, yet you do nothing to freshen it up. The art of rotation is to keep altering two or three players, and being flexible enough in your approach to see that.
Creative Abyss
Hodgson also bemoaned the lack of creativity against Stoke, and said that the forwards needed to work harder to help make that possible.
Well, Fernando Torres had just scored three goals in his previous two appearances, but in each – as at Stoke – he was expected to chase high punts, long balls and lost causes. No wonder he looked jaded and disinterested. You don't take possession of a thoroughbred and use him as a carthorse.
Look at the team: two full-backs not known for getting forward, and two honest centre-backs who are purely stoppers. Creativity? Zero. Agger was frozen out before his injury, Johnson not trusted even before he was publicly criticised. Insua, who was leading the league table in full-back assists last season up until the spring (six, from open play), is now in Turkey. How are you going to create from the back?
In midfield, the talented Meireles is playing so narrow and so deep he might as well be back in his erstwhile defensive midfield role, alongside Lucas. Gone is the more creative Aquilani, who was the league's top assist-maker in the second half of last season and is arguably the best midfielder in Italy this season (Juventus fans seem to think so).
There just isn't any width or any pace. If you're going to play with unadventurous full-backs who won't overlap, and yet won't use the pace and trickery of Jovanovic or Babel, then it's going to get very stodgy.
Add that the clever little Dani Pacheco appears to have been sent to Coventry (not even on loan, mind), and that the regular goalscorer and creator Benayoun (who wanted out) was replaced by the fading light of Joe Cole, and it's no wonder that Liverpool have become unbearable to watch.
To lose to Stoke is one thing; to be outplayed by them quite another.
So blaming Torres is just one more way to shift blame and alienate top-class players who can see through a limited, dull system that works well for underdogs like Fulham, but is patently unsuited to a team expected to win more than 30% of games.
Here's further statistical analysis (by Andrew Beasley, TTT's 'Beezdog') of one aspect of the problems we've been suffering under Roy.
So far, Liverpool have played 13 league games. If you exclude the 0-0 with Birmingham, that leaves 12 games where Liverpool have either scored first or conceded first.
Scored First
P7 W4 D3 L0 F10 A5 GD +5 Pts 15 Pts per game 2.14
Conceded First
P5 W0 D0 L5 F3 A12 GD -9 Pts 0 Pts per game 0
This appears to be a fairly damning indictment of Roy's 'Plan A only' approach. The only one of the five games we conceded first in and made any vague comeback was Man Utd away where we got level at 2-2 before conceding again. So if Plan A works we get at least a draw from the match, and if it doesn't, we get nothing.
(Note: in Europe the Reds have twice managed to come from behind to win games. But Hodgson was brought in to improve league form; the Reds made the semi-final of the Europa League last season and no-one saw it as compensation.)
Conclusion
So, with help from Dan and Andrew, it's possible to see where things have been going wrong.
Yet again, all the stats are reminiscent of the problem under Houllier, when the Reds never came from behind to win in his final five seasons (in the league). When Benítez took over, it was achieved in his very first league home game, and then again a couple of months later, away at Fulham (2-0 down, won 4-2, despite being down to 10 men). By this stage last season the Reds had come from behind to beat Bolton.
Liverpool's home record was at its worst in the Premier League era under Houllier, but so far, Hodgson has won only half of his Anfield league matches.
There has to be a serious argument for replacing the manager as soon as possible, to bring in a younger, more modern and adventurous man, in order to give him the rest of the season to bed in and plan ahead.
The benefits of waiting include possibly improving the chances of other managers becoming available (though Liverpool can 'make' them available) and, of course, taking time to get the decision right.
But right now, with so many players unhappy with the manager – and most of the talented players, at that – and almost all of the fans sick of the horrible football that's been served up, holding on could do more damage.
Postscript

Why Hodgson was almost certainly the wrong man for Liverpool FC from the start is clearly outlined in my new book:
"Pay As You Play: The True Price of Success in the Premier League Era".
More on the book, and the whole research project, can be found here.