Below is a full record of Roy Hodgson's managerial career at club level, based on league results only.
What's noticeable is that it took him 12 years to manage a club for more than 26 league games; mostly due to smaller Scandinavian leagues, and also due to only lasting 21 games at Bristol City.
In England he has managed for 181 games, winning just 57 – at 31.5%. Liverpool should be aiming for 50-60%, with 60% necessary for the top four and 66%+ for the title.
In Italy, he managed for 79 league games, winning 34, at 43%.
In England and Italy, at clubs who were big and/or rich (therefore excluding Bristol City, Udinese and Fulham), his record is well below average. Winning just 51 out of 131 games with these clubs gives him a worse win% than Graeme Souness had at Liverpool; yes, that bad.
Even including all his successes in small Nordic leagues, Hodgson's entire career win rate of 43.3% suggests a manager who just isn't ambitious enough in his approach. He'll make smaller teams hard to beat, but he won't make bigger teams become winners. Hodgson was the right man for Fulham, but based on his record and performance to date, the wrong one for Liverpool.
Key: Red shade = England an green shade = Italy.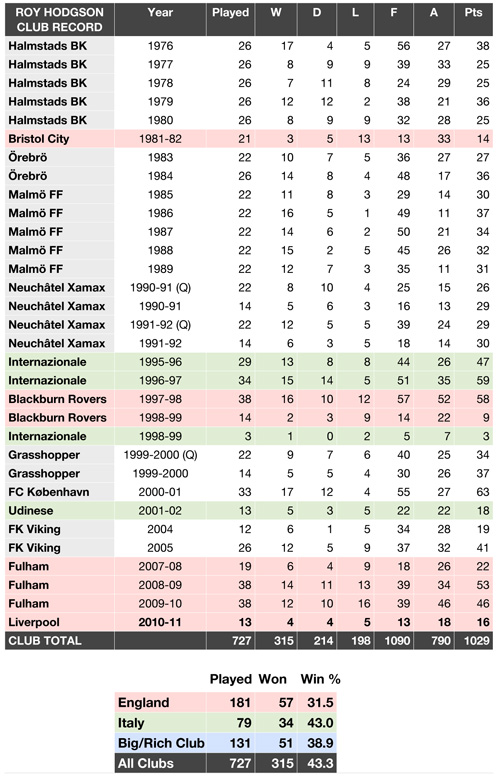 Statistics provided by Graeme Riley, who provides further assessment below for Subscribers only.
[ttt-subscribe-article]