It's never a good time of year in England, is it? British Summer Time is at an end and with it goes daylight beyond 5pm at night. Seasonal Adjustment Disorder (SAD, aka Seasonal Affective Disorder) is very real: sunlight makes us feel more optimistic.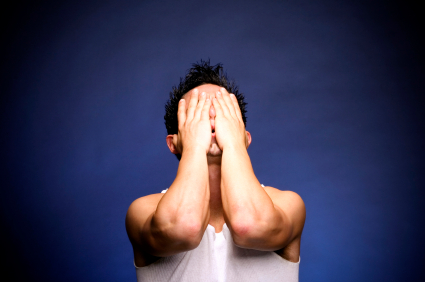 Right now I – like a lot of others – am suffering with HAD: Hodgson Adjustment Disorder. We're not adjusting at all well to him and his methods, and he's not adjusting at all well to Liverpool and its demands and expectations.
I feel depressed on a number of levels. Perhaps it's part exhaustion from a hectic year and the comedown after an exciting few weeks with the book launch (always a draining time) and meeting John W. Henry. But it's been compounded by a brand of football I just cannot countenance.
I don't want to spend my time being critical of a Liverpool manager, and getting abuse for my troubles. This is a much better occupation when things are going well. I accept that criticism comes with the territory (as it does for managers), but it's a far nicer world for us all when your team is winning.
However, even if you're losing, at least do so with some heart and some style. I see a team that has no belief in its manager's ideas, and fans who don't either.
Whatever I say right now I'll be damned by a minority, and that's only to be expected.
If I criticise Roy, then a few angry people say "why weren't you like this with Rafa?". When I point out that we were never this bad under Rafa (objectively and subjectively, we simply weren't, either in terms of results or performances, over this length of time), or Rafa's far superior record in a major league before the job that suggested he was suitable, it seems to have no effect.
When I make such replies, people then tell me to stop talking about Rafa. (Maybe one day I'll work out how to answer a question relating to him without actually referencing him.)
For the record, I've stated many times that if Rafa lost the support of his players and the boardroom, then as much as I liked him as a person and as a manager, I couldn't claim that he should definitely have kept his job with things the way they were. With all that in mind, I said it was perhaps time to move on. I foresaw only lingering resentment all round. (There is, of course, a difference between changing the manager for someone suitable and someone who is not.)
Equally, I've never once suggested bringing him back. I want someone with his type of modern thinking and/or, if possible, his track record of success (titles in major leagues and a European Cup), not necessarily the man himself.
(If he did come back, of course I'd welcome it, but equally, I don't see it as a realistic option; personally speaking, I'd only ever like to see him return after further success elsewhere – although Inter was perhaps the wrong choice for him and the Milan club, just as Roy was the wrong choice for this club. Of course, Inter have suffered some terrible injuries to their key players, and, as Chelsea are currently showing, that can hurt you.)
Yes, I continually compare the current situation with how it was under Rafa, but I'm not going to compare it to life under Tom Watson or Phil Taylor, am I? – or, indeed, to the recent managerial standards at Scunthorpe.
If you replace someone or something with someone or something else, then there will never be a more appropriate occasion for comparison. If I buy a new TV, I compare it with the old one, not with the toaster.
My whole theory on managers – based on heaps of research – revolves around the concept of him 'being right for the club'. Most managers are talented, but in very different ways. It's not a one-size-fits-all approach. Some just don't suit certain clubs. It really is that simple. It has to be a meeting of philosophies.
As outlined in my new book, the results Sam Allardyce achieved with Bolton between 2003 and 2005 were exceptional. But when Arsenal were a bout of Spurs' food poisoning away from missing the Champions League, would it have made sense to replace Wenger with Allardyce? Not in a million years! Totally different philosophies and not a good match of styles.
Football clubs have identities, souls. They have histories that dictate the way they play. You can improve the way a club approaches the game (Arsenal's caterpillar-to-butterfly transformation under Wenger), but if you make the style less attractive and less enjoyable to watch, you cause hurt.
Allardyce found this out at Newcastle. He didn't warm to the fans and they didn't warm to him or his brand of football. (More on my thoughts on this here.)
Newcastle fans are frequently painted as stupid, but they know they won't win lots of trophies (or hell, maybe any trophies). But as one pointed out to me, they simply want to be able to enjoy watching their team play and feel a sense of pride. Allardyce's Bolton approach was not welcome, nor successful.
Managers need to connect with the club and with us, the fans; and vice versa. This is undeniably crucial. It's not about kissing the badge or talking in platitudes, just a question of trust.
Trust, that the man in charge understands us and what we want. Trust, that he wants this job above all others and isn't just passing through. Trust, that he has sufficient ability and that he will do what is right for the club, not just what is right for himself.
I don't feel that at all about Hodgson, and I don't think he feels it about us. He wanted the England job before this one, and he doesn't understand what our club is all about.
Right now, I'm thoroughly miserable. And yet, my ongoing illness issues aside, I have little to complain about, in my personal or professional life.
But I didn't want this. I didn't want to be the miserable bastard harping on about things not being good enough and expressing a total lack of faith in a manager's approach.
I hate myself for it, yet a sense of duty permits me to give my honest opinion. I don't want to be part of an angry mob, but I am angry, and if a very, very large number of people have to be classified as a 'mob', then I guess I am part of an angry mob.
But I come armed with stats and history, not pitchforks and burning torches.
I don't want to be part of some mass hysteria, but right now it's hard to see anything in the approach to be optimistic about. I am being bombarded with Tweets and emails imploring that I tell John W. Henry to sack Hodgson, while others accuse me of 'nastily' trying to get the manager sacked with what everyone else sees as valid criticism.
When defending Rafa, I relied upon research that suggested to me minimum requirements based on Liverpool's history, realistic targets for investment in the team and the wealth of rivals. I didn't just make the stuff up. Read 'Dynasty', and read 'Pay As You Play', and tell me that I haven't thought this through; I challenge you.
I looked at the relative costs of teams. I looked at the number of games managers won, be it Paisley, Shankly, Souness or Dalglish. I looked at league points gained.
Vitally, I looked at things like this: is the manager an improvement on the one before?
Benítez took over a team with fewer points (60 to 63) and fewer league wins than the one Hodgson inherited. I'd still take the squad of last season over the one from 2003/04, any day of the week.
Rafa won 55% of league games, to Houllier's 50%. Crucially, despite teething problems, we could see from the start that it was an improvement; overall, with cups included, his first season was a massive improvement on Houllier's last.
He won 72 points on average, to Houllier's 65. He won fewer League Cups, admittedly, but exceeded Houllier's best showing in the Champions League on three occasions, twice reaching the final, and winning one of them. Benítez had the best stats, and won the best trophies, since the halcyon days of the '80s. We could sense something positive at the start, even if we couldn't foresee Istanbul. (Although I did write an article before the quarter-final explaining how we could win the Champions League.)
The same basic standards of acceptable performance are currently not being met. So far, Hodgson is performing worse than Benítez at his worst, let alone at his best. Hodgson is not even matching Graeme Souness, the last Liverpool manager to be anywhere near this unpopular. Hell, Hodgson isn't even matching his own Fulham record (33% of league games won, to 30% with Liverpool.)
Perhaps worse than anything is that I just don't enjoy watching Liverpool anymore. And I know loads of people who feel the same. It was a bit of a chore at times last season, admittedly; now it's damn hard work.
As fans – and I speak for those who share my outlook – we want to be proud of the way our team plays. Right now I'm ashamed. Some of that is the players' fault, but most of it relates to the way the team is set up – its approach, its outlook. Liverpool should not be so unbearably negative every single week.
This week I've had messages on Twitter from Stoke fans who have never seen their team have so much possession against a big club, and a Wigan fan who told me that Liverpool were the most tactically inept visitors to the JJB in their time in the top two divisions. This is not something I'm used to hearing from fans of clubs with little Premier League history.
There has also been the Kop and the travelling fans actively singing the name of someone they'd prefer as manager, in protest to the current incumbent. That has never happened before.
Part of me accepts that patience until the summer might be necessary.
Aside from making Kenny Dalglish caretaker until then – which has some real benefits but also some understandable drawbacks – it's hard, as fans, to wait that long with the fare currently on offer. We might have to do it. But it doesn't mean dangers don't exist in the interim.
A lot of fans share my concern that if, as Damien Comolli (correctly) asserts, there's no point buying players the manager doesn't want, we end up with 'Roy' signings this winter, and then, next summer, a new man comes in and doesn't want that type of player.
Of course, the biggest fear is that, by then, the best or most skillful players have been frozen out or become disillusioned, and then an entire team needs rebuilding.
Right now, Liverpool have the best (or joint-best) goalkeeper, striker and attacking midfielder in the league, and going forward under a manager who trusts him, the best right-back.
Daniel Agger is also the best 'footballing' centre-back in the Premier League, but wasn't to Roy's tastes, even before his latest injury. (And of course, out went Aquilani, who is lighting up Serie A, and – through no fault of Roy – Mascherano, who was the best defensive midfielder in the Premier League. But paying £5m for an aging has-been to replace him is Roy's fault.)
Alongside these are a number of good and very good players, but of course the squad needs work. But if the manager won't utilise several of the flair players, it's hard to have sympathy.
We've been in limbo for so long that this feels like yet more purgatory.
Nothing endures like the temporary, someone once told me. And maybe that's what's driving us all mad. I appreciate that it's not seen as wise to change manager during the season, but it worked wonders for Chelsea and Spurs when Scolari and Ramos – who had good CVs – just weren't suited to those two clubs respectively. The players weren't happy, and it showed. New manager, instant rewards.
Having spoken at length to John W. Henry, I very much believe in NESV's long-term strategy – clever signings, investment in youth, etc – but I don't believe in Roy Hodgson as the manager of Liverpool FC. It's bloody hard to see beyond it right now, when we're playing like a mid-table side with mid-table tactics. Liverpool shouldn't be approaching games like plucky underdogs (i.e. Fulham, who excelled with such an approach).
Managers I find interesting include André Villas Boas, Unai Emery, Quique Sanchez Flores, Ståle Solbakken, Ralf Rangnick, Bert van Marwijk, Didier Deschamps and Roberto Di Matteo, either for their success, adaptability or their forward-thinking approach.
Some may be too young or inexperienced at this juncture, and an ability to adapt to life abroad would need to be researched, but at least they'd bring a bit of gusto.
But forget Kenny Dalglish, whose name the fans are chanting; right now I'd take Kenny G as boss, if he promised to not treat playing out from the back as some fancy foreign concept. I'd even let him play his bloody saxophone.
"Pay As You Play: The True Price of Success in the Premier League Era".
More on the book, and the whole research project, can be found here.