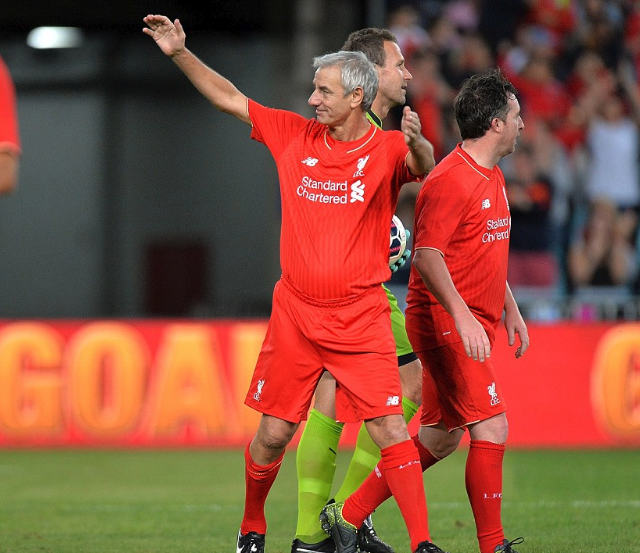 Posts selected by Chris Rowland and Daniel Rhodes.
This week's round-up brings you some of the best comments on the site, together with some samples of the articles we've published.
If you'd like to join our troll-free community and enjoy some intelligent debate about Liverpool FC and the wider world of football, and indeed the wider world generally, see the 'Subscribe' tab at the bottom of the page for details of how to sign up.
1 – NickM on the costs of defences after the first round of games, Aug 11th:
Not unsurprisingly Man City still have the most expensive defence especially if goalkeepers are added.
Walker – £47.5m
Laporte – £57m
Stones – £45m
Mendy – £52m
Total £201.5m
That doesn't include their new signing Joao Cancelo who was bought for £64m if we taken into account how much City sold Danilo to Juve for because it was a player plus cash deal.
He can play either right or left back so they could field a defence worth £213.5m if he replaces Mendy or £218m if he replaces Walker.
If we take into account Ederson then the whole defence cost could rise to £253m.
Man Utd's defence today cost:
Wan Bissaka – £50m
Maguire – £80m
Lindelöf – £35.10m
Shaw – £30m
Total £195.1m
I don't think they can field a more expensive defence than that unless they put out 5 at the back with Bailly in it but City would always beat that fielding either Otamendi £28.5m or Mangala who is still on their books but been out on loan and might be injured right now. His fee was £31.8 but later reported as £42m.
With de Gea in goal Utd's most expensive defensive side with a back four would be £214m.
(Liverpool's Alisson/Alexander-Arnold/Van Dijk/Gomez/Robertson combination cost around £155m).
2 – Jeff on speaking the truth, Aug 13th:
the world has changed and for reasons that escape me no one wants to acknowledge it. Tomorrow I will question the mayor of the city where I live why two years on the roof of the public library has not been fixed. Now at least to me when you have a roof that leaks you fix it and you do not wait and wait and wait as the leak become larger and larger. When I ask the major again about the roof leading, I will get the usual moans from those present at the mayor forum for senior citizens. My point is today reality is an illusionary concept to most of the people I encounter. More to the point, it is hard to find honest evaluations of Liverpool FC and it has been this way since Bill Shankly built his first great team.
Second, the whole object of Liverpool in every football match is to win the match. To me every time Liverpool win a football match it is a good day. Was Liverpool perfect in the European Championship win or the win at Norwich? NO but the goal of Liverpool was to win the match and they did. To me the only people whose job it should be to dissect a match to find areas that need improvement are the coaching staff of Liverpool FC and they are in a far superior position to do this than pundits who often just voice downright stupid comments.
My problem with Brendan Rodgers came in his early days in Liverpool when he said that Liverpool would play the same way Barcelona played and have the same success that Barcelona would have by playing this way. Now, Barcelona could play the way they player because they had Xavi and Iniesta at their best and anyone who thought that Liverpool had midfielders in the mode of Xavi and Iniesta was delusional in my opinion.
Paul after reading you article I have been thinking of the quote widely attributed to George Orwell " Speaking the truth in times of universal deceit is a revolutionary act." (I am aware that there are other versions of this quote.) To me this is what is at the heart of your article.
3 – Daniel Rhodes is not remotely bothered about the Super Cup, August 14th:
(Note from author… until it kicked-off! Then Tiddlywinks Cup Syndrome kicked in!)
In reply to Chris' question about the importance of this game: it doesn't matter one little bit, not compared to the league game that follows it.
Would you prefer to win the Community Shield and Super Cup or get six points from the first two league games? That's what matters. I hope we play the 'weakest' possible team we have available, and still beat Chelsea. Because I would support us beating Chelsea, or any other team, at The Tiddlywinks Cup. But if we lose, it is totally meaningless. And I've heard "but winning is a habit" and all that intangible rubbish, it isn't. Losing or winning this game has zero influence over the Southampton match, except for the travelling and potential injuries we might suffer. We won the European Cup, we don't need a UEFA sanctioned friendly to make it feel any better in the second week of what could be our busiest season ever.
But if we win, lose or draw (will there be a Super Over in the Super Cup?) the reaction will be the same from me. I'll just be looking forward to Saturday. 🙂
Edit: please don't reply by saying "but can't we just win every game". We can, of course, but if the question is about the importance of this cup, then we have to compare it to the football matches that actually matter. This one does not matter. In fact, if my memory serves me correctly, weren't we mocking Man Utd when they played in it against Real Madrid in 2017?
4 – Mädchenkliop considering the fear and hatred, Aug 14th:
A most welcome article as I've been thinking a lot about fear and hatred recently. Fear trumps pretty much every other emotion as far as I can see. It's the prime motivator.
I've been experimenting with the idea that every social demographic's political leaning has an underlying fear that characterises their voting choice. The poor vote for sharing of resources because they are afraid of hunger and homelessness. Or they give up on the political system and decide to fight by resorting to criminality to acquire security, but it's still a response to the same fears. Middle class people are afraid of losing the security they have gained. They are afraid of losing their things and slipping back into poverty. Nearer the top, things like private schools and expensive holidays are needed in order to relieve stress and it is incredibly rare for a person to vote for a system that may deny them the right to use their wealth to make use of these security blanket type things. Why? Because fear trumps all. The main fear of the rich is a loss of status. Everyone is afraid of not being allowed to play; rejection. loneliness and anonymity.
The fact is LFC are now in the rich category. We're at the summit. It's arguable that City, Barca and Real type wealth puts them in a different category, but we can and did compete with them. Financially too! The best players didn't want to go there instead.
We're rich! Über rich even. Yay! I find this a fascinating position to be in because the way we're feeling right now is what it must be like to be rich.  (Something I will never feel in mine or probably my family's lifetime ever!) It seems to me that a lot of the feelings and hatreds Paul is describing in his article are things I feel sympathetic with, but are 'minor differences' in the grand scheme of things. Social media and the zeitgeist may amplify these things to some degree, but essentially these kind of gripes are the same as they ever were. The type and style of the feelings are probably typical of how most rich people feel. And the same fears are still there, zinging away, making it oh so hard to enjoy our wealth. If we were to lose status, would we begin to slide back down the greasy pole?
I'm just asking myself (and hopefully anyone else who wants to discuss it!) is our primary motivation to win the league and be top dogs or are we motivated by fear – of  loss of status? Of course, football is nothing if you're not prepared to compete and desire to win, but why does the prospect of losing – or even playing badly – make us so grumpy? What is grumpiness anyway? It just seems to me that so much of all this is about trying to suppress our fears.
I think I can feel better about things if I acknowledge my fear. As ever, Jürgen is such a great leader and example setter on this kind of thing, because he doesn't suppress his or anyone else's feelings. I'm going to copy him!
5 – Paul, after hearing Adrian was injured by a fan, and the suggestion of how we cope with the issue, Aug 17th:
Its' fine. Let's just play rush goalie.
He's 57 now, but it's not a bad idea 😉
6 – Mark Cohen on the correct approach to early season matches, Aug 15th:
For me these early seasons games are quite simple to assess in that, one shouldn't assess them too much!
It's all about results these first weeks, and to take a trophy home tonight, absolutely cool.
Of course the issue is one of fatigue for Saturday now, which is not great, particularly with the extra time, and we will have to dig very deep to get 3 points at the weekend. Really not fussed that much with how we play on Saturday, just find a way to win.
Our form will follow as the season clicks into gear over the next few weeks, couple of months even.
It should not be forgotten that it took us months last season to play with fluidity and I suspect something similar this season…
Articles published since last Friday, with excerpts:
Saturday August 10th:
Post-Match Analysis: Liverpool 4 – 1 Norwich City, by Daniel Rhodes.
Maybe the scoreline is slightly flattering, but at no point can anyone reasonably suggest we didn't deserve the victory. Norwich are a very attacking team, often leaving four or five men forward which makes it incredibly difficult to defend but does leave us with plenty of space to exploit going forward when we get the chance.
The expected goal models also have it as a much closer game: Understat gave us double (1.68 – 0.83), which feels about right. Similar with Infogol and FiveThirtyEight; however Opta had it slightly closer on (1.45 – 0.9), a 'score' that is very close to the draw threshold!
Monday August 12th:
Ranking the Reds' Premier League Seasons, Worst to Best: #5 – 2005/06, by various.
Best Moment
Alex Tate: The dubious goals panel, still being hassled by Mourinho, at first credited the Wigan keeper with an own goal, depriving the 18 match dry spell Peter Crouch of his first Liverpool goal. Later in the match when he superbly lifted the ball over Pollitt in Wigan's goal, the Kop rejoiced. But it was the standing ovation he got when subbed off that is my moment.
My Day at the Match – Norwich City (H), August 9th 2019, by David Perkins.
I thought Firmino was the pick of the players and particularly when we were fannying about a bit in the second half he gave an object lesson in how to play the game. With our West Lancs League team we had an old standing joke as our last minute mantra before heading onto the pitch: "head it with your head, kick it with your feet and play the way you're facing". That's Bobby Firmino. He just does the simple things so well he makes the whole game look simple. He has the ability to stand over the ball, seemingly not moving and defenders head off in the wrong direction. His link up play with the midfield and the wide men is second to none and he was one excellent save away from a brilliant self-made goal. No wonder he got a standing ovation when he went off late on. He looks in very good nick to me.
Tuesday August 13th:
The Premier League's Summer 2019 Transfer Window in Facts and Figures, by Krishen Bhautoo.
The gross spend of the Top 6 combined was just shy of £635m, which is OVER HALF of the total spending in the league (52.9%) and that includes our inactivity, Chelsea's 'ban' (though these figures include the fee for Pulisic too) and Villa's spending in an effort to maintain Premier League status.
Liverpool alone contributed to just 0.12% of the league's gross spend (with Harvey Elliott's fee yet to be determined).
2019 UEFA Super Cup Preview | Chelsea | Stadium: Beşiktaş Park, Turkey, by Gary Fulcher.
The Reds will be making their 6th Super Cup appearance and it's the 5th time they've entered the competition as European Champions. Chelsea will make their 4th appearance and the third time they've entered as Europa League winners.
Liverpool's last appearance came in 2005 when we faced off against CSKA Moscow in Monaco. Djibril Cisse's 82′ goal cancelled out Carvalho's first-half opener before Cisse and Garcia scored in extra-time to seal the victory.
Liverpool FC Entering the Twilight Zone, by Paul Tomkins.
Sometimes it feels like the fans are being given The Beatles, and yet complain that Dave Dee, Dozy, Beaky, Mick & Tich would make better albums. (Apologies to all Dave Dee, Dozy, Beaky, Mick, Dick, Rich, Rick, Stitch & Tich fans out there.)
So when the Reds won there was more relief than the kind of euphoria that greeted the semi-final success, or the win in Istanbul (where there was the knife-edge of a penalty shootout, where you could lose, but then quickly win).
Wednesday August 14th:
Analysing Adrian, by Andrew Beasley.
By looking at two other statistics, I've come to the conclusion that he's a 'safety first, steady Eddie' sort of goalkeeper. The first was the frequency with which he attempted aerial duels. Where Alisson was challenging players for the ball every 285 minutes last season, and Mignolet every 324 between 2013/14 and 2017/18, Adrián was only doing so every 660 minutes across that five year period.
And that was for West Ham, don't forget, who will have had to do far more defending than Liverpool do. This suggests to me he'll usually be found rooted to his line on set pieces, leaving van Dijk to sort things out (and who could blame him for relying upon the Dutch colossus).
The other thing which suggests a steady nature is his relative lack of defensive errors. For the above mentioned timeframes, the frequency rates were one mistake leading to a shot and/or goal every 570 minutes for Alisson, 663 for Mignolet and 1122 for Adrián.
Ranking the Reds' Premier League Seasons, Worst to Best: #4 – 2001/02, by various.
Paul Tomkins: In this case, the Reds were top for a month from November to December, then a few games later, 5th. Unlike 2002/03, the Reds recovered, and were top going into April, after 31 games, but Arsenal had games in hand. As this was also the season when Houllier almost died early in the season, the Reds actually went from 6th to top within a few games of that near-tragedy, as the players presumably reacted "for the boss" before they ran out of gas.
Overall it was an excellent campaign, but the huge troughs before winning 11 of the final 14 games exposed some limitations. The end of this season was the end of an era, and the next two seasons were largely dull and mediocre.