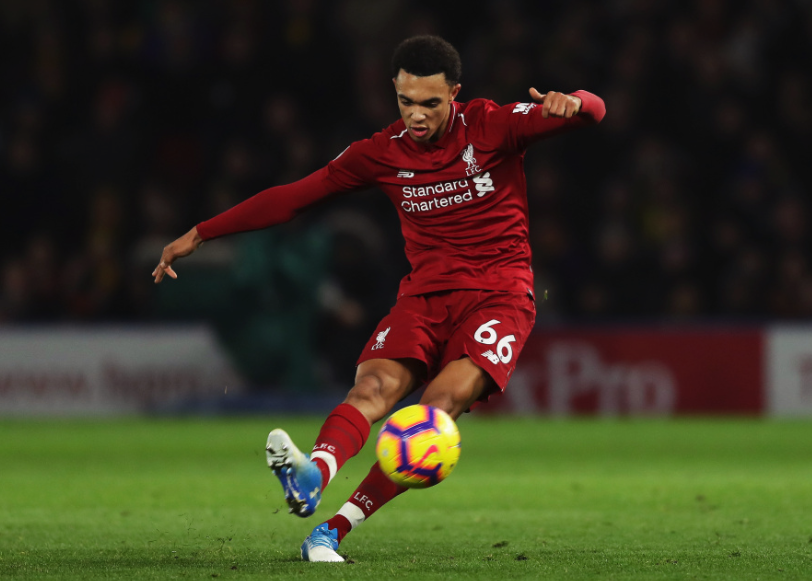 Posts selected by Chris Rowland and Daniel Rhodes.
The idea of this weekly round-up is to give you all some idea of the range of debate on the site and the articles we publish. If you'd like to be part of our troll-free community, there's a 'Subscribe' tab at the very bottom of the page.
1 – Michelle on teams setting out not to lose:
Milner had a horrible day for him, with his delivery well off his standard performance. Across the team, the switch of play from one side of the pitch to the other was amateur hour. But I say that, comparing them to what we usually see from the team.
Our boys did seem inhibited–I would suspect not by "title pressure" but by the desire not to lose at Old Trafford, which is a somewhat different concern. It is easy to concede to Utd, and regardless of their injuries today, it would have been easy to concede there today. We didn't do it, but with no Firmino, we had to pay a high price for a clean sheet; namely, we sacrificed creativity for control.
But before we beat up on Klopp or the squad, does no one remember how Bayern Munich set up to play away from home at Anfield? They set up very conservatively, hopeful of keeping the home team out and nicking a goal. All they managed to do was keep the home team out and get a 0-0, which they were happy about! This is Bayern Munich we're talking about.
Do you remember how Man City set up to come to Anfield this season? The almighty Pep Guardiola set up with the sole purpose of not getting beaten by Liverpool. City achieved a 0-0 draw away from home and were happy about it!
I don't want to hear about how "title-winning teams don't play conservatively or for a draw away from home, ever." It's just not true. We would have taken a win today gladly, but instead, we are in the same position that Guardiola's City and Bayern Munich were when they came to Anfield! Some perspective.
2 – Serpico with a reminder of how far Liverpool have progressed:
"Man United's Gunnar Solskjaer 'very pleased' with 0-0 Liverpool draw" – a headline in the Daily Mail.
I know we need to sort some of our attacking patterns out, but let that headline sink in. It's simple. United, leading the form charts, count themselves happy to avoid defeat in a game at Old Trafford against us. Klopp, by contrast, cursing as he leaves the field. If we can't appreciate how far we've come – now being miles ahead of Arsenal, United, and Chelsea, top of the league, with a decent chance at winning it this year, then we already lost.
I also think it's important we accept that we might find ourselves without the title at the end of an incredibly impressive season. To count that as failure, when dealing with the financial Behemoth of City and the genius of the ensemble at their disposal, would be ridiculous.
Enjoy the title race! These don't come around very often.
3 – El Indio finding rational debate amongst the heat:
Very interesting perspective, and if history has told us anything, we have a great chance to clinch the league title.
For United to get the crowd in for their own shit football, have Alex Ferguson deliver a rallying cry, and have ex-players like Vidic, who couldn't finish matches against us, to drum up ill feeling seems a bit surreal.
BBC/Mirror along with the morons in the press/commentary box et al joined in with the donkey chorus.
We need a lot of perspective, and take a step back. We are on top of the league on merit despite City spending a billion dollars. The media's anti-Liverpool drumming isn't working either with every game passing.
A lot of players are making a return, and we are bound to have shit days – but if we manage collect points on shit days, isn't that really great?
This evening I was ably supported by my girlfriend, who has recently started watching Liverpool matches because of me. Half way through I wanted to puke, felt feverish, and at final whistle I felt jaded. It was quite reassuring that she said that it's a football match, and I needed to breathe.
I had spent the evening explaining how Liverpool were doing statistically, had her view some of Klopp's press conferences, and even Firmino's celebration.
In her world it seemed simple. Liverpool are top of the league. United played for their lives, and it was a tough match.
All of us are so emotionally absorbed with the media narration or even the biased junta that we must maintain some sort of rationale. I found peace with the result after dropping her home. It was a calm, soothing drive, and both of us enjoying a conversation about our recent trip to Kerala for my birthday.
I haven't posted earlier but my wish on Saturday was for us to win the league title. I've come to terms that it will happen, and I need to be excited about the journey rather than dread about imaginary future failures because of our disappointing past.
It's okay to talk about revenge, anger, holding grudges, and trying to put other people down. But where does that get all of us? Nowhere. There's a lot of positivity concerning Liverpool Football Club, unlike the circus down the M62.
We are still 90 minutes away from knocking out a European powerhouse, we are top of the league. We must enjoy the ride.
Thank you for the historical perspective, Paul. This site is a place of wise, humorous, and rationale debate – it's special, and I wouldn't like it if it shut down.
4 – Bathoz on the comparisons between Beckham and Alexander-Arnold:
The Beckham comparisons are coming. Trent's crossing today was extraordinary though it still felt down on the playboy's pomp. Then again, I can barely remember what baby Beckham was like outside of the lionisation he's had since then. Needless to say: damn fucking good.
More importantly, he had a noticeable effect on their defensive tactics. Watford doubled up on Salah most of the game – much as every team we've played during our fullback drought. And where Henderson or Milner weren't able to punish with the space Salah earned them, TAA really really did. Which then drew their left winger further away from Salah, who then had more space to attack their full back, earning freekicks (and small chances) and more Trent crosses.
It's really was a virtuous circle.
Going back to the Beckham nonsense. You've got to feel that if he had come through today he would never have made a career as a winger. Too slow, not tricksy enough and almost wasted as high up the pitch as most wingers play in these days of 4-3-3 or 4-2-3-1. Trying to work out whether Beckham would have developed into a central midfielder or a being pushed back to fullback is education when looking at Trent. I try to imagine CM Beckham, and I just can't see him having the same influence he had from the flank. There's much more ball recycling, safe passing and low percentage options. Sure there may be more options, but they're not as good.
And I worry that the same urge to push TAA inside might blunt what he can do from the flanks. Ah well, it's a good problem to have.
5 – Stevenson expands on the above point:
At a similar age to TAA, Beckham was on loan with Preston. He was 19 when he made his debut for them and stayed for a season before returning to OT in 1995. By this stage he had not played nearly 50 games in the PL, he had not played in a CL final and he had not played at a World Cup. We should perhaps be saying that Beckham's early career showed promise and that if he continued to work hard, he might one day be mentioned in the same breath as Trent Alexander Arnold.
Articles published on the site since last Friday, with samples:
Sunday February 24th:
Make No Mistakes – An Excellent Point For Liverpool, by Paul Tomkins.
Remember, the league didn't have to be won today, although Liverpool should have had a penalty to seal the three points – but Michael Oliver has given the Reds enough already this season (he's basically the only referee who gives Liverpool big decisions; just maybe not at Old Trafford).
A point to go a point clear of Man City – who still have to go to United – is always a good point. Even a defeat would have left Liverpool and Man City level after 27 games, but with City then having the harder fixture list and the more crammed fixture schedule. So to be one point ahead is good. I said before the game that I'd have taken it, if offered, especially with our recent record at Old Trafford.
For all the injuries, United still had record-breaking buys Paul Pogba and Romelu Lukaku, and the highest paid player in English football, Alexis Sanchez; and picked up no new injuries to take them down to ten men. In goal they still had David de Gea, even if he was not tested enough today – as their back four were excellent, helped by the Reds' lumpen delivery. At home, they looked to play on the break (despite a really good run of results). That shows the respect this Liverpool team now commands, and the Reds were rarely troubled by United's counterattacks; Alisson making a great stop the one time they got in behind.
The Stunning Improvement of Liverpool FC Under Jürgen Klopp, by Paul Tomkins.
What's the point of football if, as soon as you get better, everyone is just as miserable as when you were shit? What fun have Leicester fans had for three years now (all I've ever seen Leicester fans do since winning the league is moan), wanting more than they're given? They're trying to build a young side, but the older players are unahppy, and another manager gets sacked. This is the hedonic treadmill – no one is happy for long because as soon as you go up a level in life, you acclimatise, and little problems make you as unhappy as the big problems used to.
Why should we both trying to win the league, and getting into such an amazing position, if fans will just be so pissed off and angry because we could "only" draw away at Man United? This, despite only having the 4th biggest budget in English football, miles behind those of the Manchester clubs. Since when has going to Old Trafford been easy for Liverpool?
Monday February 25th:
Note to Sky News: Over the Last 5 Seasons, Liverpool Rank Mid-Table For Penalties Won, by Paul Tomkins.
But in the social media and Twitter outrage era, giving Liverpool a penalty at Anfield is a big deal, and giving one at the Kop end is now a biennial occurrence.
But what do I know? I just looked at the data, from almost 500 penalties awarded in the league in the past five seasons. Liverpool rank well below where they should given the attacking they do, and a ton of mediocre teams win far more penalties.
Ergo, Liverpool still don't get the penalties they deserve. They did for a while, in December 2018 – before the outrage boiled over. What a gloriously odd month that was!
18/19 Premier League Preview | Matchweek 28 | Watford (H), by Gary Fulcher.
Looking at Liverpool's and City's remaining league games the Reds have an advantage based on home to away ratio, with six at home and five away and all are evenly spread out. City on the other hand play five at home and six away with four of their final six games played away from the Etihad. Their match against Cardiff would have to be moved if City progress to the FA Cup semi-finals as expected, causing further disruption, especially if they progress deep into the Champions League.
It's also worth noting that – on paper at least – City's fixtures increase in difficulty after the Champions League quarter-final 1st leg, so I wouldn't be too disheartened if we trail City as we enter the middle of April, given that Guardiola's side are at Crystal Palace before the CL Quarter Final 2nd leg and at home to Spurs directly after it, followed by trips to Old Trafford and Turf Moor before the end of the month, with the trip to Burnley directly before the Champions League semi-final 1st leg if City make it that far.
If City pick up maximum points from those four Premier League games then credit where it's due but given the opposition, it is the most dangerous group of fixtures for Man City between now and the end of the season.
Wednesday February 27th:
Making More Of Possession: How Liverpool's Passing Game Has Evolved Under Jürgen Klopp, by Andrew Beasley.
A new metric I've devised while researching this article is xG per possession percentage (or xG/Pos for short). The average expected goal tally by a Premier League team over the last four full seasons has been 49.04, which isn't far from the possession average which is obviously 50%. So while they're on different scales – xG ran from 26.5 to 91.4, while possession covered 40.7 to 66.4% – you can still combine the figures to get an idea of which teams made most effective use of their time on the ball.
It correlates with success, which you would assume, as the better teams create the best and the most chances. The top ten sides for xG/Pos for the last four years finished 2.5th on average, with just one team finishing outside the top four. It won't surprise you to learn that Leicester's title winners are way out in front with a xG/Pos figure of 1.53, followed by Manchester City's 100 point side, on 1.38.
Friday March 1st: 
Liverpool Enter the 5th Dimension – A View From The King Kenny Stand by Paul Tomkins
For a supposedly one-dimensional side, Liverpool have done pretty well to have the third-best goal difference in the 27-year Premier League era (after 28 games), six behind this season's Man City side – who have played more of their games at home – and 13 behind their all-conquering "centurions" of last year. Arsenal's "invincibles" were just a point better off than the Reds at the same stage of 2003/04, having also won 21 games.
This, after all, is a Liverpool team that can defend and attack. It doesn't excel at just one or the other, but both; and that's damn rare for any football team. I was lucky enough to be at Anfield to witness the demolition of a Watford side who arrived in 7th place, with their tails up after their own 5-0 win last Friday; and who left with those tails dangling limply between their legs. (But more on that in a bit.)
It is a Liverpool team with an excellent home record and an excellent away record; whereas this season, at least, City – the big home kings – rank only 3rd on away form (definitely some shakiness shown on visits to Wolves, Chelsea, Leicester and Newcastle), and have six of their remaining ten matches away from the Etihad.
Their home league win percentage this season is an incredible 93%, and they've also humped teams 7-0 and 9-0 in the cups at the Etihad, to the amazement of lots of empty blue seats; however, their away win percentage is a far more human 62%.
(And they have also failed to win cup games away from home against Lyon, Leicester, and Chelsea at Wembley; the latter two draws needing the penalty shootouts that a league game doesn't allow for. None of this is to disparage City, just to remind those who think they'll win all ten games that, even though they might, this is still an unlikely feat. And that's before factoring in the schedule logjam and how Premier League teams' win percentages tend to drop significantly in games after Champions League quarter-finals and dramatically after Champions League semi-finals.)
This season's City side would be seen as incredible, were it not for their 100 points last season; and the fact that they sit only 2nd in the table this time around. Indeed, they are pretty incredible. They're just no longer in a league of their own.
This is a Liverpool side that is so one-dimensional it just got five assists in a single game from full-backs, one of whom is still essentially a kid; two goals from a centre-back; two goals from a wide attacker in an unusual start at centre-forward; and another from a (rarely seen) centre-forward playing out wide. It's so one-dimensional that even one of the holding midfielders, Fabinho, has more strings to his bow than London has black cabs (plus, another holding midfielder has over 100 club goals and 11 international goals), and where the goalkeeper is a better footballer than the creative hubs in some Premier League teams, and one of the centre-backs could play in just about any position on the field for any club in Europe.