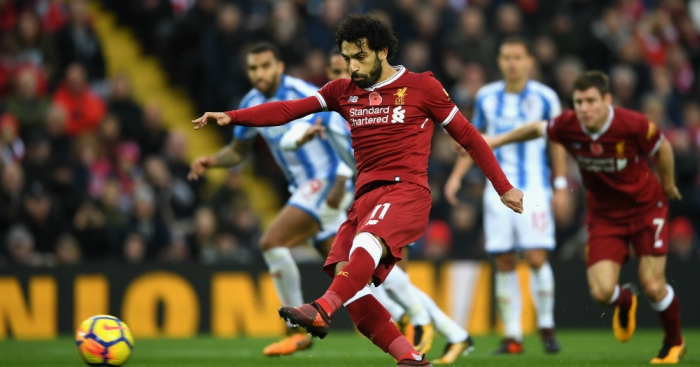 Ahead of Liverpool facing Watford, Sky News have published an article by a journalist and Watford fan about how smaller clubs don't get penalties, and cited an example of Watford versus Liverpool as proof – conveniently, just days before Watford play Liverpool. (Great timing, Sky!)
It's a classic case of confirmation bias, picking out one example to suit your argument. Why not use facts instead?
Indeed, I always see fans of smaller clubs moaning about the big clubs getting all the penalties. The facts point to the complete opposite; and while no one may want to weep for the big clubs, it's still a fact.
In the last five seasons, Watford have won exactly the same number of Premier League penalties per season as Liverpool; an average of 4.3. Liverpool and Watford rank joint 11th in that five-year period.
"Deny Watford a goal wrongly, and it's awkward," the author says. "Deny Liverpool a goal, and you could change the whole course of the Premier League title."
Which is odd, seeing as Crystal Palace, Leicester and Bournemouth have all won more penalties than Liverpool this season.
Some of the teams who average more penalties per season than Liverpool since 2014? Stoke City, Leicester City, Crystal Palace, Brighton & Hove Albion, Bournemouth, Everton and Southampton.
And Liverpool would need to win another eight penalties just to equal the number Leicester (a small club) received when winning the title in 2015/16.
Indeed, if you look at the data – the pesky data! – you will find that teams at the foot of the table – the bottom six – win the fewest penalties, which is logical; they're not very good. From 14th down to 20th there is a logical decrease in the number of penalties won.
They average three penalties per season (incidentally, the same number Liverpool won last season).
Therefore, the top seven must win the most penalties? Er, no. Actually, it's mid-table teams who lead the way on penalty wins. Not by much, but they win almost twice as many as the bottom six clubs, and a few percent more than the top seven. Which is the opposite of what you should logically expect.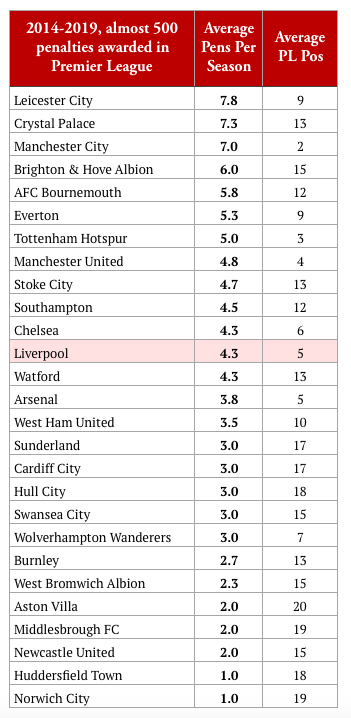 Because, actually, it seems far easier to give penalties to mid-table teams. Because to give a penalty to a team chasing the title or a team fighting relegation is too costly when it goes wrong.
Award Liverpool and Mo Salah a penalty and you'll live to regret it, given the outrage that has followed all the penalties where he was chopped to the ground (plus one where he went to ground easily under an arm to his shoulder against Newcastle, but where he was still fouled). After all, Liverpool have had just one Kop-end league penalty in nearly two years, and thousands of minutes of football; Spurs got two last season in 45 minutes. But hey, I bet you think that Liverpool always get penalties in front of the Kop?
Have three fast foreign strikers and you won't win as many penalties as having three fast English attackers, or even some slow ones, like Glen Murray.
Indeed, as I've shown in the past, the greater the number of English players in the Liverpool side the greater the number of penalties won. Equally, Liverpool have averaged more penalties won under British managers, too – but maybe because they were more likely to buy British players. The players who win the most penalties tend to be British born or British raised.
But in the social media and Twitter outrage era, giving Liverpool a penalty at Anfield is a big deal, and giving one at the Kop end is now a biennial occurrence.
But what do I know? I just looked at the data, from almost 500 penalties awarded in the league in the past five seasons. Liverpool rank well below where they should given the attacking they do, and a ton of mediocre teams win far more penalties.
Ergo, Liverpool still don't get the penalties they deserve. They did for a while, in December 2018 – before the outrage boiled over. What a gloriously odd month that was!