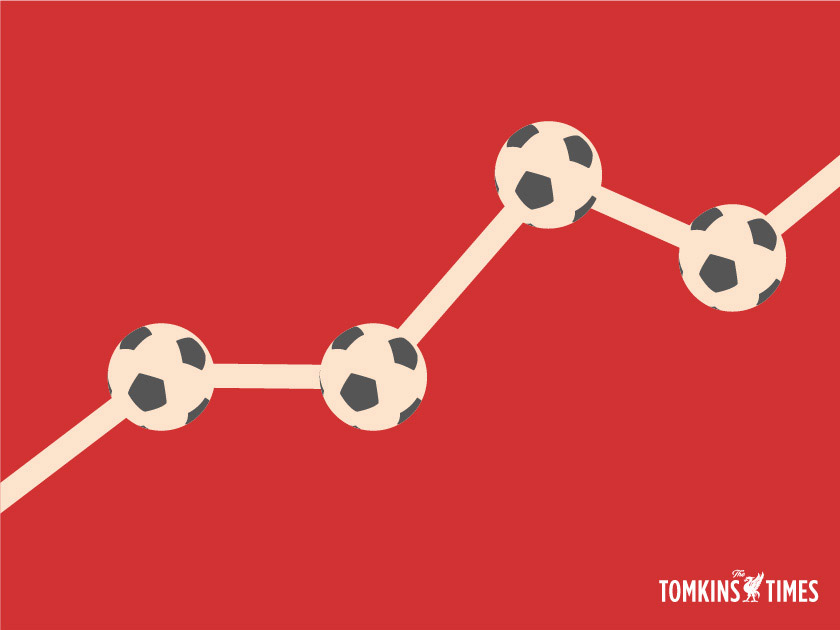 First published in February 2019
Rather than an article, this is just a small companion to the piece from earlier today (in which, amongst other things, I discuss a whole host of examples where Liverpool beat United but United won the league and, before that, all the times United beat Liverpool but Liverpool won the league.)
Below is a graphic – by Terry Dolan – of Jürgen Klopp's Premier League performance (rolling 38 game totals, up to earlier this week) versus that of his predecessor, Brendan Rodgers – which clearly shows the funk the team was in (a steep, steep decline over a period of 50 league games), and also, the dramatic rise under Klopp, to post more than 90 points in a rolling 38-game period; all achieved with little downs, and bigger ups, along the way. Plus, all achieved with the massive demands of far more European football, reaching two European finals along the way, and being in the knockout stage of the Champions League again, after not reaching the knockout stages since 2009. This is a club now fighting on the two biggest fronts, and was arguably one out-of-control headbutting, Judo-throwing Spanish lunatic away from being champions of Europe last season.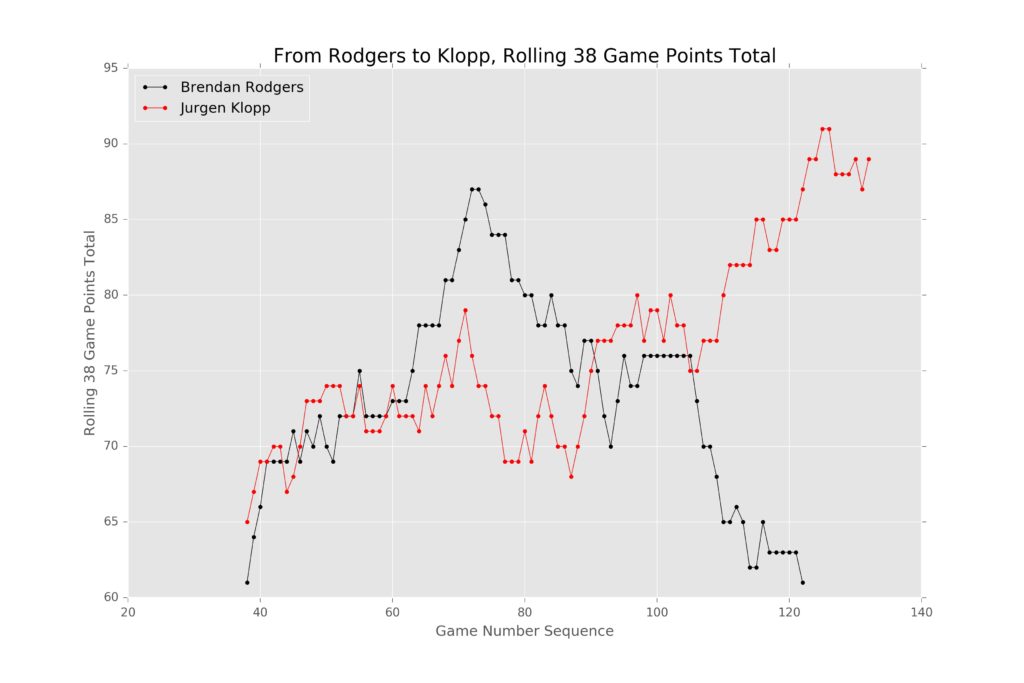 Managers make judgement calls all the time. But they cannot control what happens after they make those calls. Sometimes the players will do the good things they intend them to, and sometimes they won't. Sometimes the luck will break a manager's way, sometimes it won't. Tactics may work, or they may not, depending on the application of the players, the run of the ball, the decisions of the ref, the performance of the opposition, and so on. To think you know more than the manager, and could have made better decisions (without knowing even 10% of the full context) is Dunning-Kruger at its finest.
Maurizio Sarri took Napoli to more than 90 points last season, but Chelsea fans – along with everyone else – have started mocking him; and eventually, his authority was undermined to the point where his goalkeeper refused to be taken off. The insanity around football is nauseating. When Sarri went to walk out of Wembley I thought – Go! Make a stand against the modern bullshit of everyone else knowing better, and player power reaching obscene levels. Even Pep Guardiola had it in his first season at tyty – all his ideas were wrong, apparently. They'll never work in England, apparently. Don't play out from the back!
So you can only judge a manager on the big picture. It's dumb to say a substitution was great if a player comes on and scores 30 seconds later, when another day he might come on and hit his shot for a throw-in. That's football. The big picture is all that counts. And every big-picture graph in football has downs as well as ups. Even for title winners. Hell, Man City lost to Man United last season, just like Liverpool did.
Look at that graphic and tell me this club isn't fucking flying right now. Suddenly, draws to Bayern Munich and away at Man United are a bad thing. Remember losing 6-1 at Stoke, anyone? And no club escapes a season without points you think they shouldn't have dropped. Again, even record-breaking City drop points you don't expect them to.
What's the point of football if, as soon as you get better, everyone is just as miserable as when you were shit? What fun have Leicester fans had for three years now (all I've ever seen Leicester fans do since winning the league is moan), wanting more than they're given? They're trying to build a young side, but the older players are unahppy, and another manager gets sacked. This is the hedonic treadmill – no one is happy for long because as soon as you go up a level in life, you acclimatise, and little problems make you as unhappy as the big problems used to.
Why should we both trying to win the league, and getting into such an amazing position, if fans will just be so pissed off and angry because we could "only" draw away at Man United? This, despite only having the 4th biggest budget in English football, miles behind those of the Manchester clubs. Since when has going to Old Trafford been easy for Liverpool?
Look at the big picture. Just look at it. I had all this shit for years when Rafa Benítez was in charge. Liverpool were a great side back then, but people wanted more, and instead ended up with far less, for pretty much every season until Klopp showed up. We ended up with Roy Fucking Hodgson, a man who wins just over a point per league match whether it's with Fulham, West Brom, Liverpool, Blackburn or Crystal Palace. As soon as Liverpool started the season poorly just months after winning the Champions League I had tons of emails complaining about Rafa.
Failing a look at the big-picture, just look at the league table. Man City – an awesome side – are below Liverpool, despite them having a much costlier squad and bigger wage bill, the "manager of a generation" and a ton of title-winning experience (and they still have to go to Old Trafford). Whoever wins the title, this has been a race of the highest quality; and yes, some tension, too. It's a title race, not a cakewalk.
Over, and out.
(Okay, this turned into an article in its own right.)