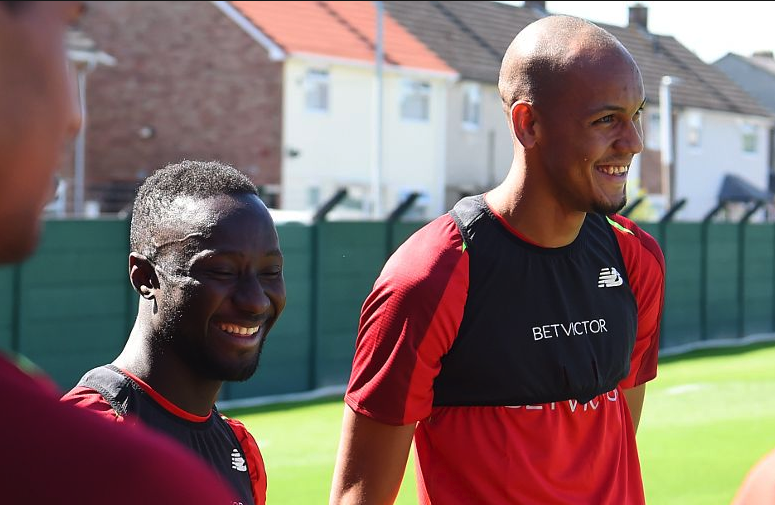 Posts selected by Chris Rowland and Daniel Rhodes.
The idea of this round-up is to give you all some idea of the range of debate on the site. If you'd like to be part of our troll-free community, there's a 'Subscribe' tab at the very bottom of the page.
1 – Jeff on the need for football's governing bodies to want to improve officiating:
If you want VAR or real oversight of officials or honest evaluation of officials or any reform in officiating, you need football authorities whether we are talking about the FA or the Premier League to acknowledge that there is a problem. To date officials say they get 99 percent of the calls right and from those dim days of the past if I got a 99 on every test or paper I did at school I would have been a very happy camper. If officials wanted to impose VAR and do so in a proper way, they could look at the experience in North America for more than 30 years or the recent experiences in say Germany. Did we get them to act in this manner? No They want more time to study and to me this means put off and put off. I think there is a problem with officiating in the Premier League and anyone who actually watches broadcasts of matches can see in match after match mistakes that impact the match.
We can all talk about the need to reform officiating but to date the powers that be do not want any change? Why is a good question for which I have no answer. To me it could be done easily and for in today's world a modest amount of money and would make the game better but I doubt this is going to happen any time soon.
2 – Graeme Riley with some figures to show what an outlier season this is turning out to be:
It is certainly an outlier of a season so far. If we look at the complete history of top flight football after 11 games for each side, on only 9 occasions (out of 119 previous seasons) would Man City not have been top with 29 points. Only once would Chelsea not have been second with 27, Liverpool would never have been as low as third with 27 etc. From 13th onwards, it is the complete reversal, with teams rarely having been so weak. The full table is below (although it will alter slightly after this evening's game).
The left column is the position in the table and the middle column is the number of times the current points total would have been bettered in that position, with the final column showing how many seasons have had that many teams:
1 9 119
2 1 119
3 0 119
4 1 119
5 0 119
6 2 119
7 0 119
8 2 119
9 4 119
10 20 119
11 29 119
12 40 119
13 106 116
14 114 116
15 113 115
16 111 115
17 109 111
18 108 109
19 99 102
20 98 102
For example, the team in 14th place would have had more points than the current 14th placed team in 114 of the previous 116 seasons in which there were 14 or more teams.
The top 9 are having wonderfully positive seasons in comparison to history, the bottom half of the table is having a historically bad time of it with even the middle three places (10-12) having better than average points totals.
We can only hope that Man City follow their neighbour's example from 1985-86 – and we know how that season ended…..
Wonderful article Paul, really enjoyed that. I haven't posted in a good while but have, of course, been reading the majority of your pieces. This was just the tonic I needed.
Not that I was too down, of course.  As others have noted, shit happens and a reverse in a hotbed is no cause for huge alarm. But I nodded along with some of your points because I have detected that troubling 'disease of the me' since from maybe mid-March last season. It bothered me hugely then and it's really starting to irk now – especially with Mo who looks to be constantly trying to engineer angles onto his left foot. There's more than a hint of confirmation bias about this, I'm sure, and there's also mitigating circumstances for Salah; it's like in FIFA when an opponent does everything to stop a finesse shot from a Messi or, indeed, Mo. It's just looks more laboured for our Egyptian and the joyful spontaneity seems to have dried up. But of course, that 'difficult second album' was also almost a guarantee. Maybe I'm being slightly harsh on Salah as its human nature, I suppose. We're all victims of our egos, we all have a streak of solipsism running through us; probably a by-product of natural evolution.
I'm sure this has been noted before, and apologies if this is indeed the case, but one thing that's irking more than the minor loss of selflessness apparent in at least two of our vaunted front three is the phrase that's probably come tumbling from all of our mouths.
'Clicked.'
We haven't clicked yet, wait until we do.
But what if we don't, in fact, 'click'? What if we never actually really clicked? What if we have created some kind of self-perpetrating mythology based on flashes, on gushes, of breathtaking football from last season and beyond?
I'm sure most of our most treasured memories of the last campaign include Roma and City, or maybe Maribor being dismantled or Brighton being destroyed a few days before Spartak Moscow were obliterated. I'd argue that these were in fact built on spells – sometimes only fifteen minutes – that changed the entire course of the game. Or maybe a diminutive Brazilian donned his sorcerer's cape and took the match away from an opponent. And that's sound; few teams – not even City – can sustain exhilarating football for even an hour, let alone ninety minutes.
But my worry and fear is that we have been spoiled; that casting our minds back to last season conjures vivid images of impossible Salah curlers or no look Bobby or any of a host of things. There was also, lest we forget, 0-0 at home to WBA and a 1-0 loss to Swansea City – two teams who got relegated. There was turgidity and woeful football on occasions, a dull contrast to the brilliantly rendered joy of some our exhilarating play. That's called a football season.
We're obviously a mad bunch, as supporters go. Ok, most fans of top six sides are probably slightly unhinged as desperation and a sense of entitlement tends to produce corrosive and caustic engagements among people who, in every other walk of life, probably know better and show infinitely better judgment. But, honestly, Liverpool fans are surely beyond the pale and this has been exacerbated by two things I feel, at least this season: City's apparently all conquering Blitzers (at least in our minds as we try to deal with the aforementioned desperation) and, almost paradoxically, a strange and troubling species of hubris that has, to me, started to manifest itself amongst us.
I include myself in that but I tend to call myself a prisoner of hope rather that a victim of over-arching pride. I'm simultaneously an awful pessimist and a breathless optimist. But this weird hubris rankles with me, or maybe it doesn't; to be more accurate there's a constant battle in me, one between getting on board and saying we're fucking brilliant and should be devastated with a draw away to Arsenal and the more prosaic point of view that says that it's more than acceptable to tie with a side that have qualified for Europe's elite competition far more times than we have. My wife, by a sort of benign osmosis, has become obsessive over Liverpool since we met but hasn't had the corresponding near three decades of hurt that I have. When City put six past Southampton she turned to me and said 'that's it' – a sentiment that was right then being echoed through the echo chamber of Twitter. I told her that's nonsense but part of me completely agreed, that inner fucking monkey capered that IT WAS IT, that we're fucked. Then a fired up Red Star beat a no doubt mildly, if subconsciously complacent Liverpool, side and it's apocalyptic. At least if you allow it to be.
But I don't think we can do that. The reality is that we're an extremely good side, maybe even an excellent one. We're not the Harlem Globetrotters but neither are we insipid or woeful or a team destined to disappoint. We could easily end this campaign as the second best team in the country and if we finish on 90 points and City manage to rack up another century then I'll doff a metaphorical hat to them and get on with enjoying my summer. Because it will have been a campaign of winning north of 28 league games, and that's always good craic.
I've rambled, I do that. Those who know me from when I was a regular poster know that's what I do. I also do optimism with my football. But the reality is we're in a mad season which could actually be about to become the norm for future campaigns. Right now, there's probably as much chance as us finishing sixth as there is of us finishing top. I've made my peace with that. It's just how the Premier League is going as the top six inexorably move away from the rest. But the fact that we're challenging does me; I refuse to bow to excessive pride in my football team when there is so much that can go wrong. I'll take the hope.  I'll applaud a brilliantly effective and borderline poetic City team and I'll go with the flow and embrace the optimism that those surges that we all remember so fondly (and which we've actually witnessed in the past few weeks) will be a thrilling partial narrative to this campaign.
4 – Paul on allowing imports time to settle:
Both basically say the same thing – Fabinho and Keita need to step up. The "Ox/Robertson took months" excuse not good enough anymore. Liverpool need c£96m of midfield talent to start performing.
You always have to allow time to imports. Neither Ox nor Robbo were imports to the PL. Wenger always said give imports a season – and look at Lacazette and Morata now? The same goes all the way back to Bergkamp, Henry, Pires.
Yes, we need them to contribute. But they have, in some games.
And Keita has been injured for several games. He's a shy lad, by all accounts, and needs to come out of his shell a bit. That's a natural process in a new environment, and as noted below, these guys have to learn a new language as well. The injuries to Henderson (lately) and Oxlade-Chamberlain puts a bit more pressure on the new midfielders to hit the ground running, but you can't skip the bedding in process. And Keita can't do much when he's barely trained lately, while Adam Lallana is also not match fit. A lot is being asked of Milner and Wijnaldum, but they can't be rested for Keita if Keita is injured, or only in the match-day squad because of other absentees. Aside from Shaqiri, Keita and Ox are the two players in the squad who can drive at the opposition with the ball from deeper areas.
But why Fab and Keita don't at least deserve the five months Ox and Robbo got is odd. Ox and Robbo never had to get up to speed with the PL, just adjust to a new club and new methods. Keita and Fabinho have to totally adjust to a new speed of football. Sometimes players can pick it up right away (eg Alonso and Torres), but even Luis Suarez wasn't half as effective or consistent until he'd been here a while, while pretty much all of Arsenal's best imports over the years took time.
You can't just buy from the PL as there are so many amazing players out there (and often better value), but you have to allow for a longer period of transition if you do buy from overseas. PL players don't guarantee better signings, but they have an advantage in terms of time to settle (and even then, it can still take longer than expected).
So, unless they aren't even trying their hardest and someone inside the club is worried about their attitude, I think we need to relax. New players will always settle at different speeds, and even with the best scouting, some won't settle at all, for one reason or another.
Articles published this week:
Sunday November 4th:
Liverpool Battling Fixture List and Incompetent Officials in Fight For Title (FREE READ),by Paul Tomkins.
Monday November 5th:
18/19 Champions League Preview | Matchday 4 | Red Star Belgrade (A),by Gary Fulcher.
Tuesday November 6th:
My Day at the Match – Borussia Dortmund v Union Berlin, by Graeme Riley.
Overloads and Isolation – Tactical Analysis: Arsenal 1 Liverpool 1,by Benjamin Magnusson.
Liverpool's Attackers Need To Park Their Egos and Play For the Team,by Paul Tomkins.
Wednesday November 7th:
My Day at the Matches – Red Star Belgrade (A), Seniors and U19s, Nov. 6th 2018, by Wally Gowing.