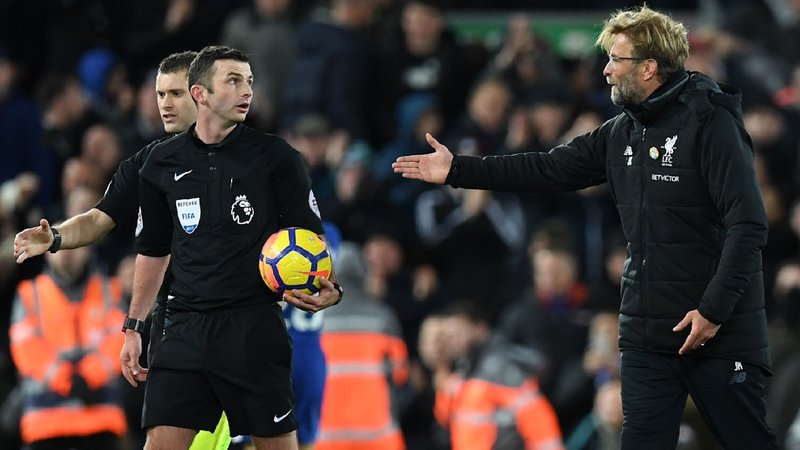 Still unbeaten, with no fewer than four Big Six clubs played in just eleven games, three of them away (Spurs, Chelsea and Arsenal) – this Liverpool team are a serious title proposition, even if the "flow" of Jürgen Klopp's men at their best hasn't been as consistently obvious yet, and City are rewriting the rulebook on what's possible.
And talking of rulebooks, the whole concept of offside continues to be a joke, as the Reds were robbed of a legitimate goal that even the referee's union said should have stood under new interpretations of the laws. For the PGMOL – with their 99% success-rate mantra – to say it's a mistake is like the Pope admitting he's actually a Hindu. It just doesn't happen.
It's getting beyond a joke, the decisions that have gone against the Reds pretty much ever since 2013/14, when a title-challenge was built with the aid of a staggering 12 penalties (and the whole 'Penaltypool' thing kicked in; even Jon Flanagan was winning them). Even back in 2008/09, a title charge was built in some part on opposition players being sent off, albeit a title tilt essentially ended by an incredible penalty for Man United when 2-0 down at home to Spurs and the visitors then crumbled.  
Meanwhile, English referees refuse to give Mo Salah free-kicks when he's held, pushed, buffeted, strangled and kicked – someone really has to put together a compilation of his treatment by the ref in the Cardiff game (when he conceded four free kicks and won none, despite being manhandled all game) – and continue to refuse to give Liverpool penalties.
Again, one league penalty at Anfield in 18 months is just not right, and one in the league in total this season when other teams already have four, five and six is just nonsensical – especially as Liverpool attack a lot with quick, skilful players, before even mentioning all the handballs that some refs sometimes give, unless at Anfield. 
Like the offside law, the handball ruling is utterly inconsistent in its application. Late last season Stoke and Brighton players were pushing out their arms into unnatural positions to block crosses that had come from 20-30-yards away at the Kop end, and the refs just ignored them. Aside from actually punching the ball, it was about as blatant as you get. Then another week some other club will blast a shot at an opponent from five yards and it'll be a penalty. 
Liverpool will struggle to win the league with City being so good, but also, if referees continue to give mid-table sides 4-5 times as many penalties in a season, and when City get the penalties their great attacking play merits (or at least last season they did) – but Liverpool do not. 
The notion that quick, direct players win you more penalties does not stack up as consistent on closer analysis, especially when Brighton and Everton win so many. Some players can go over at minimal contact and get them, but Salah and Mané average less than a single penalty won between them since the start of last season – and plenty of neutrals think Liverpool have one of the fastest, trickiest front-lines in world football. 
Before moving onto the weekend's game, I wanted to just go over a little of the penalty data again, updating it from last season to show what is starting to look like a quite incredible bias against Liverpool's foreign managers.
The introduction of VAR has to come quickly, just because too many major incidents are being messed up, and the mountain of confirmation bias refs have about the Kop or foreign attackers (as British-born-or-raised players win more penalties, presumably because "foreign ones all cheat"?) can be ironed out with cold, hard video analysis, not a man too scared, or too biased (culturally), to give what he sees. (Although even then, VAR messed up the offside goal Chelsea scored at Anfield in the cup this season, with Ross Barkley's foot ahead of all of the Liverpool defenders – albeit needing to be detected from a confusing image.)
How do Bournemouth, Brighton, Leicester, Everton and Crystal Palace continue to win so many more penalties than their league position suggests they should, for the 2nd season in a row? And aren't Bournemouth supposed to play in a similar way to Liverpool? How does that mean they are worth six times as many penalties so far this season, despite being several places lower in the table, as Liverpool-Lite? How have United won four already when they've only attacked for a few minutes in games? (And why were 40% of the handball penalties awarded in the Premier League last season to United at Old Trafford? I think they've already had one or two this season there, too.)
And the phenomena of Liverpool winning more penalties with British managers in charge, and also with a higher proportion of British players in the team, continues; Rafa Benítez and Jürgen Klopp presiding over all of the club's worst penalty-to-team-quality ratios (comparing where the Reds finished in the league with where they rank in terms of winning penalties.) As brilliant at Steven Gerrard was as a player, refs weren't afraid to give him a penalty, even when he exaggerated contact. Mo Salah could be karate-kicked and still he'd be penalised for callously impacting his ribs on another player's studs. 
But what's weird is that, as mentioned, when Liverpool have a British boss they tend to win far more penalties, irrespective of the quality of the team. The pattern is so marked that it's really striking.
Not all penalties can be related to the quality of football – some are against the run of play, for example, or totally random. I get that. But the patterns against Liverpool are alarming in three ways: against their foreign managers, against their foreign players, and against the home-bias (where 66% of all Premier League penalties are awarded to the home side, season after season since 1992, except for Liverpool, where it's dipped to below 40% of all the Reds' spot-kicks – in the Premier League – in the past 5.3 seasons. And under Klopp this is a low proportion of a low number of penalties. In Europe Liverpool have a normal penalty return, winning spot kicks about four times as frequently as the team does in the league.)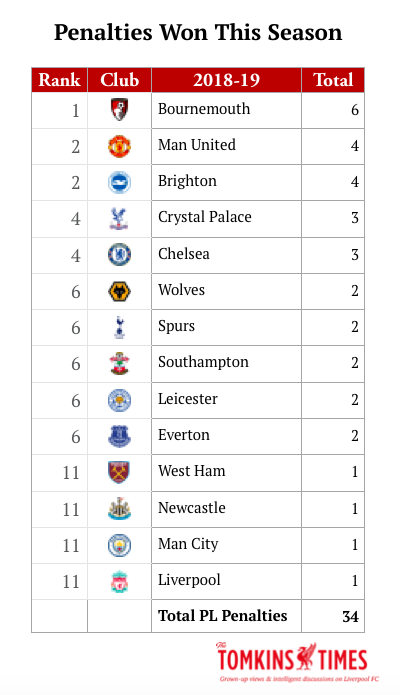 Above is a list of the penalties won so far this season in the Premier League, and you can see that Liverpool rank joint-11th, with just one. This is 10 places below their current league table position of 1st, although City and Chelsea still have winnable games to play after this article goes live. At the worst, Liverpool (and Klopp) will be -8 in terms of league position against penalty rank.
The table below shows just how Klopp and Benítez appear to have been treated totally differently to Brendan Rodgers, Kenny Dalglish and even Roy Fucking Hodgson. As I've said before, it's not necessarily a bias about Liverpool in general that I'm complaining about (aside from Kop-related decisions), but about how some Liverpool managers appear to be treated fairer than others by officials.
I don't know if someone else can work out the true statistical significance of the variations, but the swing from -5.3 to +1.4 is immense.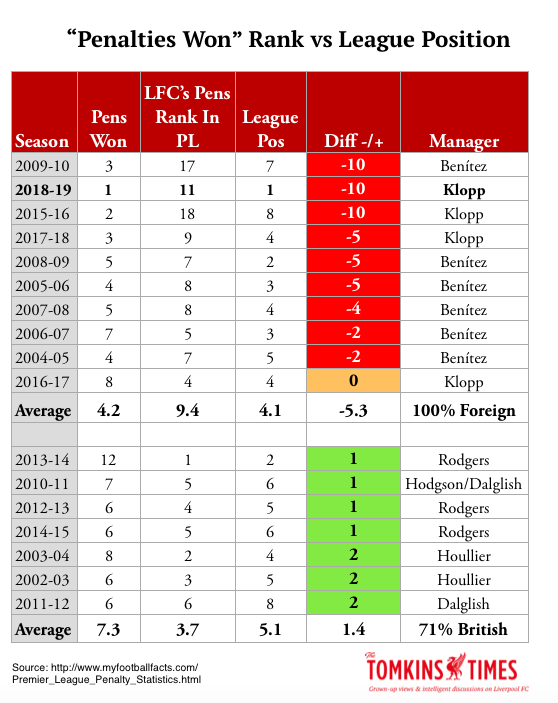 A Good Result For Liverpool
Like Liverpool, City have also played three of the Big Six away, although their other games have been easier – they haven't had that fourth Big Six clash yet, for starters, with theirs coming against United in a couple of weeks. City also got to play Arsenal before they'd settled into their system, and the Gunners are belatedly showing that hoovering up elite attacking talent – as they did under Arsene Wenger – can start to mean something when allied to good organisation, proper modern-day fitness work and tactical discipline. 
All of the top teams have been buying fairly outstanding attackers for years, but when plonked into clubs with outdated managers and no attacking structure (or elite fitness work) they can look mediocre. Then, a change of manager can reveal the player the clubs thought they had bought.
And so Unai Emery – whose hand signals are not that interesting, BT Sport – has joined Klopp, Pep Guardiola, Maurizio Sarri and Mauricio Pochettino in turning "failing" or undervalued attacking players into world-beaters with fast, fit football. (And even Jose Mourinho may be belatedly getting the message that a muscle-bound, non-sprinting bully-type striker might be better replaced with pace and movement, although United continue to ride their luck at the back to an almost outrageous level. Their underlying numbers remain mediocre.)
I don't think Liverpool's legitimate goal being allowed to stand would necessarily have changed the result at the Emirates, as Liverpool were 1-0 up later in the game anyway, and it still ended 1-1; had it come when already 1-0 up, and made it 2-0, then that's a totally different game. 
Being ahead earlier may have made Arsenal push even more on the front-foot with what is a frightening front four when they are on their game (admittedly, usually at home, where the Gunners' record last season was superb), and coming from behind is what they seem to do, a bit like Man United – whereas Liverpool simply don't really go behind in games anymore. Comebacks are great, but they usually mean you did a lot wrong to start with.
But that earlier disallowed goal may have allowed Liverpool – who were a little stodgy in midfield – to break on Arsenal a bit more easily. And of course, Liverpool also hit the woodwork twice, albeit one of those resulting in the disallowed goal, so we can't claim that twice if decrying the bad offside call. The disallowed goal also doesn't count in the xG results that had Arsenal narrowly ahead, but if it did, the Reds would have won the xG battle too (although the whole course of the game would have changed, which is the one flaw of xG: cause and effect).
All in all a draw seemed a fair result at the Emirates, and not a bad one at all for Klopp's men; the notion that Liverpool had to win there because City did is not really fair, given the different circumstances. 
And if Liverpool have to win 100 points to be champions, then funnily enough that probably won't happen. Yes, they have to try to keep pace with City, but the Reds have had a slightly trickier fixture list to date, as shown by the Ratings Performance Index table which we've talked on TTT about for a couple of years. The table on Terry Dolan's site will update after today's games, but the Reds were narrowly ahead of City due to tougher fixtures; and again this weekend, the Reds had a tougher fixture.
(Liverpool may still be top of the RPI table, depending on how it values the results this weekend. A draw away at in-form Arsenal may count as worth more than a home win against off-form Southampton. This is not my system, but it was very handy at this time last season in predicting that Liverpool would still finish in the top four and that West Brom were favourites for relegation, despite being mid-table.)
The Gunners now look a top attacking side, with a first-choice front four that cost, after TPI inflation (explained here from back in 2010), £258m, compared to Liverpool's £166m – if including Xherdan Shaqiri as the fourth attacker (albeit the Reds used just three attackers at Arsenal; and, of course, are without Alex Oxlade-Chamberlain, bought from the Gunners for £40m, and who has been missed since his injury in April, and attacking midfielder Naby Keita).
Liverpool's defence and goalkeeper cost £158m in 2018 money, while Arsenal's cost £76m, and you can start to see part of the reason why Liverpool are better in defence than then Gunners – but also, just how much more Arsenal have invested at the top end of the pitch. (Which has also been backed up with mega-wages, let's not forget; Ozil cost £120m after inflation as he was an elite purchase, and is now on £300,000-a-week.)
Liverpool also had £159m (in 2018 money) of central midfielders missing from this game due to injury (Oxlade-Chamberlain, Jordan Henderson and Naby Keita), and while it's an area that is now nicely stocked, the controlled aggression of Henderson and the attacking pace and dribbling abilities of Ox and Keita would have given Klopp much more to work with, and/or more to introduce from the bench; especially on the break. Right now, the midfield is not necessarily linking with the forwards as well as it should when everyone is fit. 
Essentially, Klopp had to just pick the only three fit senior central midfielders. (After recent displays, Adam Lallana, on the bench, could still be classed as a midfielder, but clearly isn't fit.)
Fabinho had impressed in recent weeks but this was not an easy game for him, but all part of the adaptation process. He did some good things and some not-so-good things. You learn most when pushed beyond your limits, and in terms of the pace of the game, he will have learnt a lot more than when playing Red Star Belgrade at home. 
While it's early days for Emery, it's still worth emphasising once more just how much his attacking players cost, and even his two holding midfielders cost nearly £80m (Xhaka cost £52m with inflation – because, yes, he was by all accounts an excellent player in Germany, but pretty awful under the once-great-but-then-mediocre Wenger.) 
Arsenal are a strange club right now in that they'd built up a Champions League squad due to regular participation, and still managed to hang on to a lot of it whilst now in the Europa League (where they can rest players, to impress more in games like this). 
Some 21st century fitness work was always likely to bring their talents into sharper focus, after Wenger's methods were lost in the past. (Someone I met at a 2015 football data conference from the fitness side of the sport was scathing about Wenger's fitness work.) Their next step, you'd think, would be to invest in better centre-backs – but their forward play this weekend was enough to keep Liverpool at arm's length for long periods, albeit punctuated by the Reds having good chances to score.
And as noted on here in previous weeks, Liverpool are trying to do something very tricky – compete in the Champions League and the Premier League with the 4th-highest budget in the country, with an £XI around half of the Manchester clubs. Liverpool can't ignore Europe, because if City rack up 100 points again then they'll retain their title, and then what? You can't throw the Champions League away. But stats show it usually makes life harder domestically unless you have a mega-squad costing much more than the Reds' currently does.
In the past 15 years, Champions League runs have tended to take a lot more out of Spurs, Arsenal and Liverpool than they did out of Man United, Man City and Chelsea.
So, given the relative budget – even with a couple of big signings in 2018 – and given the officiating, along with the sapping dual-challenges of the league and the Champions League, it's all stacked against Klopp. The pressure to end 28-years of agony is also likely to take its toll. 
Finally, having so many tough games at the start of the season may make it easier in the latter stages, but it's hard to rack up a ton of points – and build in some breathing space – with away games at Spurs, Arsenal and Chelsea built in so early on (but not right at the start of the season when two of those clubs were still organising themselves).
But what we have is a Liverpool side that has quality from back to front, an excellent spirit and organisation, and a pretty good level of depth to the squad; which obviously looks deepest when everyone is fit. I don't think we can ask for a lot more than that – and to see how far it takes us – when fighting the petrodollar crews and biases from the referees who think Liverpool get too many penalties (when the opposite is objectively true). 
To have 27 points out of 33 and two wins out of three in the Champions League is about as close to perfect as it's got in my adult lifetime. We can only hope that it gets better still, whilst keeping one foot in reality.
NOTE: most of our content now is for subscribers only, and that is what funds us as a niche website with a small staff. This is a free piece, but it is only by signing up for £5 a month that you help us to continue to bring what we hope is high-quality content, along with the respectful and intelligent community behind the paywall.