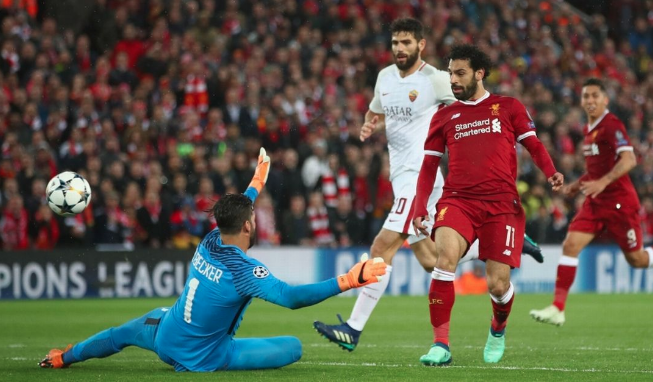 This week's posts selected by Chris Rowland and Daniel Rhodes.
The idea of this round-up is to give you some idea of the range of debate on the site and the type of articles published. If you'd like to be part of our troll-free community, there's a 'Subscribe' tab at the very bottom of the page. 
1 – Tony Mckenna (Macattack) is enraged by Graham Poll's comments that the punch to Danny Ings by Hegazi was 'petulant' rather than violent:
This just incenses me. What a crass, unintelligent interpretation of the events that occurred. It is so fucking wrong that you would have to consider that Poll has made this comments, purely on biased grounds, because he dislikes Liverpool. Otherwise, how can it be considered to be rational?
Basically, Poll is saying that if someone punched him in the stomach, in similar fashion, then he would gladly accept it in the context of 'petulance'.  Somehow, I don't think he would. And, here, he manifests a gross deficit in terms of emotional intelligence. If you can not apportion the same respect to a fellow human being, as you would want for yourself, then you are an emotional hypocrite.
His comments are also topically relevant in a wider societal sense.  The current debate surrounding violence on our streets, regarding young people in particular, has reached crisis proportion. We must adopt a zero tolerance attitude towards violence. If it is seen to prosper and go unpunished then it festers. So, if the F.A. do not take any action then the game is fucked. It also creates an unfathomable disturbing balance of justice considering we already know, for example, that a player was red carded for the accidental brandish of a high boot; because it was judged to be dangerously violent.
In yesterday's game we witnessed a thug who was intentionally violent.  It was also fucking cowardly because Ings was prostrate on the pitch and rendered more vulnerable because of it. More to the point, there was no provocation from the Liverpool player.
Poll also makes another grave error: the notion of blaming the victim, and not the aggressor. What a warped fucking application of thought. Millions of children, young people, and adults, are bullied but suffer in silence; purely because the system offers neither protection nor justice. Conversely, their plight worsens if they do blow a whistle. Moreover,  Ings actually exercised remarkable restraint in the heat of the moment; and should be congratulated for doing so.
Ideally, an almighty protest should be made about Poll's inept comments. He should be made to account for what he has said; and be asked to apologise and retract his poisonous sentiment. What a fucking poor excuse for a human being!
2 – Allen Baynes, with a revealing tale to tell about being the match at the Hawthorns:
I was at the game in the West Brom end, always an interesting to hear their views. Apparently, that was there best game of the season, which kind of explains why they are going down. They certainly had a good last 20 minutes and well done to their fans for mostly staying to watch. If it had been OT I would have been sat on my own!
There fans also thought the referee was shite and that he favoured us, well I thought he wasn't as bad as we normally get, only one glaring one with the penalty shout. I think I just expect referees and linesmen to be poor. The linesman in the first half got numerous calls wrong, I think being close to the play hinders rather than helps, sat back in row M, I never missed a correct call 🙂
I have to say I witnessed something I had never seen at a game before, (ie in 57 years), at half time a women in front of me got out a full picnic, a picnic with coleslaw, tomatoes, salad and sandwiches. I have to say it did look better than the game, but a picnic is this what the game has come to? And no, she never offered me anything, I was scared to ask because she had spent the first half alerting stewards to undercover LFC fans in front of her.  Horrible person, the kind who brings a fucking picnic to a game!!!
3 – Pushka made this fascinating post on why Liverpool may be getting such a bad deal from officials:
A few thoughts on LFC and the FA
Liverpool Football Club are not the only team denied numerous penalty shouts this campaign, but a montage of those penalties not given us in the last year or so would make for embarrassing viewing to those claiming they get 98% of all decisions right in a game.  The number of refereeing decisions (and non-calls) against the Reds in the recent past has got me wondering what are the deeper causes and conditions for this misbehavior on the part of officials of the game.
It is tempting to say that there is a conspiracy on the pitch against our team, and it appears to me there may actually be one of sorts, but in a form so natural, sublime, and unconscious, that it can only be perceived by the aggrieved.  The situation resembles a dynamic wherein a dominant majority commits any number of outrages and then ignores, rationalizes or otherwise waves off the claims of the minority (including blaming the victim) and nothing changes.  We understand this dynamic only too well and the general shape of this kind of imbalance is played out in majority/minority cultures with tragic results the world over.  But what happens in a situation more nuanced?
At one time Liverpool Football Club were indisputably at the pinnacle of English Football, so how are the Reds now  "outsiders" and who or what is the majority culture in this hypothetical – and how do West Brom and Stoke represent the "insider" majority culture here?  The answer may have to do with globalization, megamoney and foreign influence.  Is it possible that the likes of LFC and MCFC are seen as emblems (for different reasons) of  'foreignness' to the entrenched and aggrieved English sense of self?  In Liverpool's case, has there not been a culture war of sorts for some time?  On the Liverpool side as evidenced by the sentiment "We are not English we are Scouse" and on the other side by the parody "You'll never work again, sign on sign on…"?   If the Championship more resembles Gary Neville's white bread and butter with your dinner, the Premier League is increasingly its oil and balsamic vinegar.  Foreign players have saturated English Footy at the top tier, and yet there is a perception of difference in some teams, and a seeming desire to draw the line on foreign influence to protect Britannia, even if it is only a misbegotten notion of what that means.
Somehow Klopp and Guardiola epitomize this foreign influence, with their slick passing, their continental tactics, their expressed desire to keep the ball on the ground.  They lack the blood and thunder of real football.  Added to this is the influx of foreign capital and the realization that with their unlimited wealth foreign owners now suck up the best talent and field teams that can outplay any team that doesn't have billions to spend.  Is there an internal revulsion on the part of officials and referees to this inherent unfairness, and a desire (if largely unconscious) to even up the perceived uneven playing field?  Is there a sense at all levels that this English invention is slipping away, and that the game is being subsumed under  a style more European and South American, and no longer English at all?
Why are English referees so poor?  Are they in the impossible situation of  adjudicating not just foul or no foul, but complicit in some kind of bizarre cultural project of redressing grievances that emanate from off the pitch?  Have they gotten so muddled by the inherent conflict of this state of affairs that they haven't had a single referee chosen to officiate in the World Cup?  Even the linesmen in our games no longer decide "on or off" but are calling penalty or no penalty in our matches (but apparently for no-one else).  To this mess you can add the clarity of video playback that serves only to emphasize how wrong officials are in so many instances.
As with any conflict resolution, there must first be acknowledgement that a problem exists.  As of yet, that hasn't happened.  Some have suggested legal action against the FA, but I don't know how that is even possible in terms of the by-laws in place.  I have to say I was amazed that of all of the media reports on our game against WBA yesterday, almost universally they focused on Klopp's lament about the dry pitch, saying nothing (the Guardian excepted) about the stonewall penalty waved off, the red card stomach punch missed, the persistent fouls not called etc…
4 – Mark Cohen reflecting on the Roma match and looking at the 2nd leg in Roma:
I usually never comment straight after or during a game for fears that my emotions shall dictate the nature of my words instead of my brain.
I am breaking from this usual tradition as, in reading the excellent comments from the game here, I note a dash of nervousness, a hint of bittersweet concern and a touch of disappointment.
Let me say this:
That was one of the greatest European displays ever. Not by Liverpool. By anyone.
That Roma woke up and scored twice (one incredibly dubious, sigh) should not detract from the performance Liverpool have just produced.
Think about this:
It's a Champions League Semi Final, the first for every player on our side. We already have a young team so you can imagine the nerves. As we, more than most, have suffered from the 'fallen giants' tag, the return to this stage is particularly fear inducing, as the spectre of failure and missed chances waits at the door for all of our players, fans, owners, everyone. This could be a cataclysmic game for us, and we know it.
It is also, vitally, a generationally huge match for Roma. This is important because, following their utterly brilliant and miraculous victory over Barcelona in a tie they dominated from start to finish, they must have felt a sense of destiny. There is no doubt in my mind that this was the clubs biggest match in 34 years.
Against this backdrop of extraordinary focus and desire from both teams prior to this game, for one of them to be 5-0 up on 70 minutes beggars belief. Truly.
Just how brilliant were we? Just how brilliant were we!
Well, I suppose the best way to think it about it, is that, at 5-0, the score seemed slightly flattering for Roma.
It is impossible to fully explain just how superb you have to be to demoralize a team playing their own generational match at the same time you are. It doesn't happen.
If it was a boxing fight, they'd have stopped at the end of the first round, just after Salah's goal as it was clear then, Roma were on the ropes, punch drunk.
Others, the media most keenly, have quickly snapped up the obvious click bait  narrative – Liverpool have given Roma hope because the Italians have done it to Barcelona already in the previous round but this comparison is skin deep only.
Having watched the two quarter final legs in full, Barca were atrocious in both. The 4-1 scoreline in the first a horrible trick of the Gods, two own goals, some Roma misses and a late Suarez goal giving Barca a lead they didn't deserve.
Having failed to heed the warning call, Barca arrived in Rome for the second leg believing the 4-1 first leg result reflected their superiority and failed to offer a single bit of bite until about the 85th minute when already 3-0 down and out on away goals.
Their complacency was so large throughout the tie that they opened the old Istanbul possibility, where a team is so much better than its opponents that it cannot maintain a focus against such an outclassed counterpart so it drops off and falls below professional standards and allows its middling, but still capable adversaries the opportunity to show its skills – they are professionals too remember.
Liverpool will not, and have not, suffered from such complacency. There is no doubt in my mind that the two late goals Roma scored will likely leave them beaten more heavily over the tie than if the game had ended 5-0. This is because had it done so, Liverpool would have pitched up and done a good job on killing the game in Rome, with their hosts offering similar solidity to avoid embarrassment on their own patch – a bit similar to Porto's pointless draw at Anfield when already knocked out.
Next week is now different. Roma's fans will push for them to perform another miracle like Barca, but this time the issue is this:
With Barca they deserved the result and believed in their ability to cause the Catalans drama. They knew the 4–1 was not a fair reflection and felt an early goal might get them a lifeline.
Tonight at Anfield,  when both teams were playing at full tilt in this generational game, Liverpool led 3-0, and it should have been more. When Roma were demoralized, Liverpool added a 4th and 5th. Only when we took our foot off the gas, removing Salah and changing the nature of our outball from one of speed and precision to a more clumsy one, did Roma hit back.
In other words, the final shot of Dzeko lying prostrate on the ground at the full time whistle is instructive: it tells me that regardless of what fans and media might want, the Roma players know that Liverpool are unstoppable when they play at full tilt and that the gig is up.
The two goals were nice for their fans in that they gave the scoreline a respectability it didn't warrant but there is more blood to come next week, and Dzeko knows it. The players know it, and  the belief to turn it around just won't be there because as I said at he beginning, this was one of the greatest European performances of all time.
Roma are outclassed by Jurgen Klopps Liverpool and they now need to turn it around and win by three clear goals in seven days against a team vastly superior to them in almost every way?
Far from next week being nervy, we are going to smack them.
5 – AndrewMSpencer on the late goals conceded, and the reaction in the media:
Great article Paul.  It was such a shame to concede those late goals, not because I think that it puts the tie in jeopardy but because it took the gloss off what was an outstanding performance. There is a caveat among the media this morning (especially given Roma's comeback from a similar situation in the last round), when they should all be marvelling at how bloody brilliant we were and are. Still, if it means people continue to underestimate us, then perhaps that's no bad thing.
The lazy reaching for the precedent of Barcelona misses a significant point, I think.  De Francesco deliberately employed the system he used to such great effect against Barca in the second leg last night – 3 at the back, high defensive line, high press.  For 20 minutes it worked, with us being pinned back and Roma controlling midfield. Once we figured it out, though, that game plan was ripped to shreds for 55 minutes. The arguments between the players and the bench suggests a lot of unhappiness at the failure of this tactic from among the Roma players and I imagine that the coach has a lot of work to do to get buy in from the players for whatever he comes up with.
De Rossi's comments, which are being described as accusing Liverpool of 'playing long ball' (as if that were universally a bad thing), actually reveal his unhappiness with the tactics Roma employed and he doesn't sound terribly confident about turning it around despite the lip service paid to it – "it's difficult to cover that space when there are players who arre always faster than you. We got the feeling they were going over the midfield completely, so we couldn't intercept the ball…The only difference [between the Liverpool and Barca ties] is that against Barcalona I saw a game that was unlucky…here, we had a total blackout." Those of not the words of a confident player.
I like the idea of TAA in midfield as an emergency, I think I'd rather see that than Woodburn, who has had no game time, with Clyne moving in the RB slot. TAA is in some ways similar to Oxlade-Chamberlain – pacy, direct, likes to run with the ball and with a decent shot and final ball on him. Obviously it would be a shame to lose his quality from the flanks but I'd rather he was our fourth midfielder if we get another injury or, if is pretty likely, Henderson gets himself booked in the second leg and misses the final.
Articles published on The Tomkins Times this week:
Sunday April 22nd:
17/18 Champions League Semi-Final Preview | 1st Leg | Roma (H), by Gary Fulcher.
Monday April 23rd:
Scouting The Opposition: Roma, by Andrew Beasley.
My Day at the Match – WBA (A), April 21st 2018, by Jonathan Davies.
Wednesday April 25th:
Blitzkrieg With Beauty – Liverpool Made A Good Roma Team Look Bad by Paul Tomkins.
My Day at the Match – Roma (H), April 24th 2018 by Torbjorn Eriksen.
Thursday April 26th:
My Day At The Match – Woodchip Wallpaper, Warrington & Wonderful Football by Nari Singh
"The Wonderful Package" – What Oxlade-Chamberlain Was Giving Liverpool by By TTT Subscriber John Cheung.