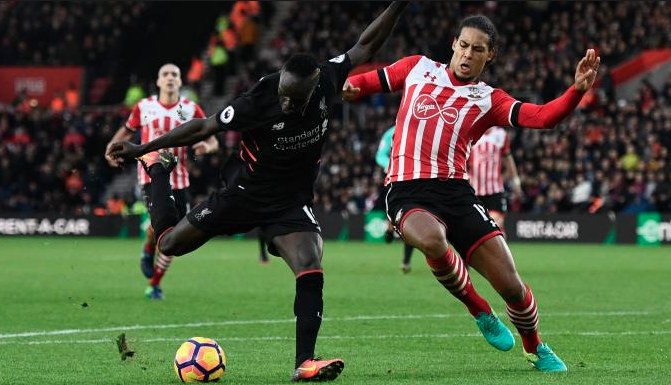 This week's posts selected by Chris Rowland and Daniel Rhodes.
This gives you some idea of the range of debate on the site and the type of articles published. If you fancy being part of it, there's a 'Subscribe' tab at the top of the page. 
1 – Hesbighesred on players' duty of care to each other:
A few things about Dele Alli, which goes back to some stuff I said after the Everton penalty stuff.
1) Tottenham are now being rewarded for cheating, and other opponents punished for it. Fuck what the pundits say, Dele Alli was very obviously diving before contact was made, and the contact was fractional, at best. Pundits keep going on about football being a contact sport – which it is- yet they then make excuses for shit refereeing decisions and obvious dives by referring to 'contact'. Bollocks. Contact or not contact is actually not the main point in the rules – it's the intent of the challenge, the likelihood of causing harm etc etc. If Alli hadn't dived, it doesn't look like Long's foot would have impeded him much, if at all. It's not like he was hurdling one of his own leg-breakers.
So that should have been a yellow for diving. Again, you can excuse these being missed in a match, but retrospectively? Not in this day and age. Therefore that's a one match ban in addition to the other yellow, with Burnley remaining extremely unlucky that this player was allowed on the pitch.
But then Burnley were doubly unlucky  weren't they? Because neither the penalty winner nor the penalty scorer should have been playing in the first place after their challenges against City which, again, if not seen in the match should have been dealt with after and given a three match ban.
Which also, of course, gives Spurs an unfair advantage over other teams whose flair players aren't English. Theirs can cause more damage, expect less punishment and stay on the pitch when others would have been banned.
2) What makes this worse is that it puts players careers in danger. Alli is the new Scholes, a player who is allowed to get away with malevolent, very dangerous and completely unnecessary challenges because 'ooh he can't tackle' or whatever the fuck the excuse is. That gives him and his manager no reason whatsoever to change his behaviour, which also means the whole rest of the league is at risk from a broken ankle just because Alli is having an off day. That's not acceptable is it?
We're past the days of allowing 'reducers'. But if you're English and perceived as a 'flair' player? Then go ahead, tackle like Vinny Jones and both refs and the media will protect you, even though that protection is literally risking the careers of players who have done nothing to deserve sharing a pitch with a shithouse liability like Dele Alli.
There's a duty of care issue here as well – it's not about 'protecting a young player' or whatever, it's about these people actually being professionals – Alli has a professional duty not to deliberately endanger people, and his opponents have a right to expect the wider game – referees, managers, the media, to actually take that duty of care seriously and protect them from those sorts of challenges in the first place.
I mean, that's why we outlawed them isn't it? To protect players? Is anyone seriously arguing that those changes shouldn't have been made?
No.
Which leads me to a final point.
If I were a player who ended up missing months because of a Dele Alli challenge I would sue. Seriously. There is a duty of care, there is a lot of evidence of Alli being unpunished for dangerous challenges. I think it would make a very interesting case and a very interesting precedent if someone tried to hold Alli, the FA and the PMGOL (or whatever it's called) to account for their lack of action in just letting a player play on who is clearly a danger to other professionals who, just like any other professionals, have a goddamn right not to be exposed to unreasonable and unnecessary risk.
2 – Ding with this extract from the Men in Blazers show on NBCSN:
I dunno whether anyone watches the Men in Blazers show on NBCSN, but this week's guest is John Oliver, and the episode had this funny nugget:
[On the Everton penalty] John Oliver: …If that was a penalty, then they'll give a yellow card for shaking hands at kick-off…

Roger Bennett: Sometimes, Dominic Calvert-Lewin, he just feels gravity more than other human beings…
John supports Liverpool and Roger is an Everton fan.
3 – Merry Krish-mas illustrating how some won't let the facts spoil a fixed preset narrative:
From bet365 of all places:
️ "Liverpool need an out-and-out number nine."
Roberto Firmino – 16 goals + 7 assists
Sergio Agüero – 15 goals + 4 assists
Romelu Lukaku – 14 goals + 4 assists
Alvaro Morata – 12 goals + 4 assists
Gabriel Jesus – 10 goals + 2 assists
Alexandre Lacazette – 8 goals + 2 assists
4 – MikeH in the immediate aftermath of the Van Dijk deal being announced:
The headline number of £75m is big but we don't yet know if it's cash up front, scheduled payments, bonus related instalments etc.
In the context of our spending though, it means we spent circa £120m net this year( Keita falls into next years spending).
When the TV money was £100m pa we were averaging £30m net spend a season. Klopp turns up and we basically spend nothing in the first two years on a net basis. With the TV money at £150m+ CL football+ new main stand, you'd  expect our net spend to be up at say £70-80 m pa. VVD is easily manageable within our finances. We brought in five players for that net £120m- VVD, Salah, OX, Robertson, Solanke for an average of £24m a player. When looked at like that, it puts a completely different complexion on our dealings.
Klopp and FSG mean business. They are both here to win things. It's not about what we spend but getting the players we want. We are a rich and powerful club with a charismatic manager. For the type of player who wants a challenge (like Klopp) this is THE project in European football. If you want to just collect medals the easy way then you have other options but you won't be for us.
5 – Graeme Riley's outline of the Reds' impressive recent form
Since 1-4 v Spurs, #LFC EPL goal diff is +25. Over 11 successive games, only 11th season since 1904 and only 3rd since 1988. (May 2009, April 2014). First time since 1980 with +23 or more in successive seasons after 20 matches.
Last 7 games (since Stoke) #LFC average 3.5 goals per game – first time since 1986-87 this has been achieved over 7 game run and only 6th season since 1900.
Also, last 6 away games have seen #LFC score 22 goals for an average of 3.66 per game. Only time in club history higher was 6 games ending with 5-1 at Brighton this season. Only twice before achieved 3.5 over 6 away games – 1895-96 and 1960-61.
Finally, Mignolet kept his 50th league clean sheet (per Ged Rea, he is the 9th, but actually he is 10th to achieve this). However, since the Second World War, only Tommy Lawrence took longer to achieve this. Full list with year achieved:
Hardy 185 games (1910-1911), Scott 135 games (1922-1923), Riley 263 games (1937-1938), Lawrence 171 games (1966-1967), Clemence 95 games (1971-1972), Grobbelaar 109 games (1983-1984), James 137 games (1996-1997), Dudek 122 games (2005-2006), Reina 92 games (2007-2008), Mignolet 153 games (2017-2018)
Articles published on The Tomkins Times this week:
Sunday December 24th:
17/18 Premier League Preview | Matchweek 20 | Swansea City (H) by Chris Rowland and Daniel Rhodes.
Tuesday December 26th:
Post-Match Analysis: Swansea City (H), by Daniel Rhodes.
Liverpool Demolish Swansea While Coasting In 2nd-Gear, by Paul Tomkins.
Wednesday December 27th:
Expected Goals and Real Goals – Telling the True Story, by Andrew Beasley.
Jose Mourinho's Moaning About Money Is Laughable (FESTIVE FREEBIE), by Paul Tomkins.
Rejoice! Liverpool Finally Get Van Dijk, The Ideal Signing, by Paul Tomkins.
Thursday Decemeber 28th:
The Secret Pundit Takes on the Commentators, Part 12: 'A Messi or a Xavi', by our Mystery Correspondent Per Dantic!
17/18 Premier League Preview | Matchweek 21 | Leicester (H), by Gary Fulcher.