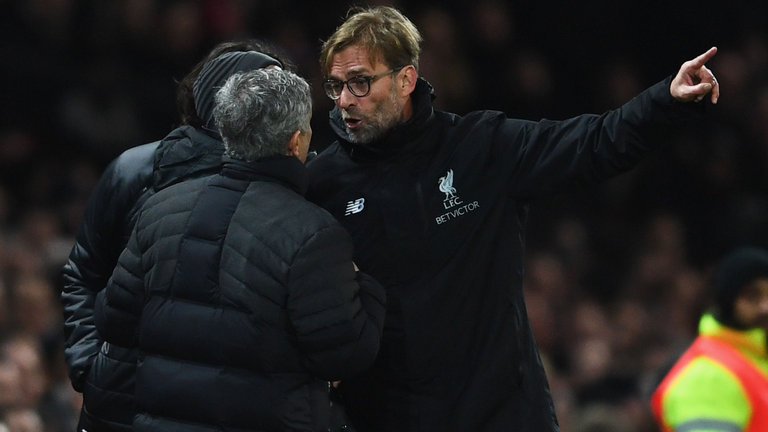 I don't like to talk too much about Manchester United, especially as this site relates to Liverpool FC, but I have also been writing about football spending and its links to success for almost a decade now. It's eight years since I joined forces with Graeme Riley to create the Transfer Price Index©, which calculates "football inflation" (which runs over 20x as fast retail inflation) and converts all transfers in the Premier League era to "modern day money". And it's the latest figures from that work that I'll be quoting here.
Earlier this year I co-authored an academic study on the links between spending and success, so my radar goes off when I hear a manager with an almost unprecedented budget moaning that he doesn't have enough money; especially when Liverpool are working on literally less than half that budget. You don't see Jürgen Klopp trying to park a £500m bus.
As this isn't really a Liverpool piece I'm making it free for all to read, at a time when I have said I'm looking to make all articles subscriber-only for the rest of the season, and possibly beyond that. But this seemed worth sharing, to help the general football debate about the money spent. (I could have put this piece on the Transfer Price Index blog, had I not forgotten to renew it.) Also, it can go down as a festive freebie.
A key to assessing the weight a club can punch is its overall squad cost, with all players converted to current day money; and then, an even more accurate assessor, is its £XI – the average cost, after inflation, of the players who start the league games.
It was laughable that Mourinho moaned about what Pep Guardiola has spent on full-backs when he has spent even more than City's three signings on a single player, in Paul Pogba – who, when 2017/18's inflation is added (which has not yet been calculated, as the season's transfers have not been concluded) is likely to be £130m in today's money.
This is based on estimates of the rise in inflation on the season's deals to date, but anyone signed this season will obviously not have inflation applied, as this is the current day. We will only have the 2017/18 figures at the end of January, so everyone signed in 2017/18 will see their figures in the tables (see later in the piece) remain the same, whereas everyone else's price will rise by, at a guess, 20-30%.
Romelu Lukaku will still be £90m, as he was signed this season, i.e. in the current market (in his case, £75m rising to £90m; we always use the highest possible figure, as with Alex Oxlade-Chamberlain being £40m and not £35m).
As you can see from the list below, Man United have a whole host of the most expensive Premier League-era signings who still play for their club, and below that, before the article continues, is the list of this season's £XI and squad values, and also, average ages. As you can see, for Mourinho to claim he needs more money is something of a joke, unless he wants to match what remains the most expensive side and squad in the 26-season history of the Premier League, when adjusted for inflation: his Chelsea, circa 2006.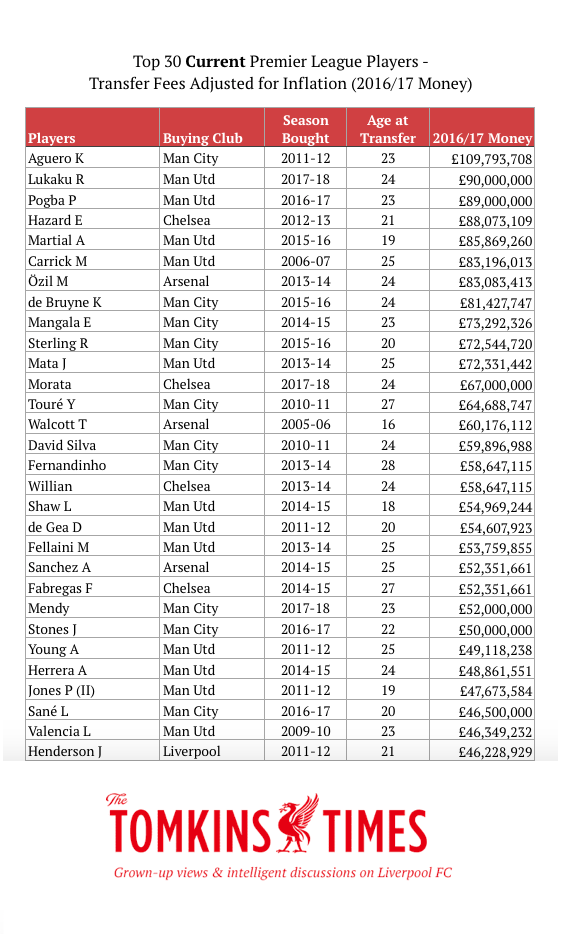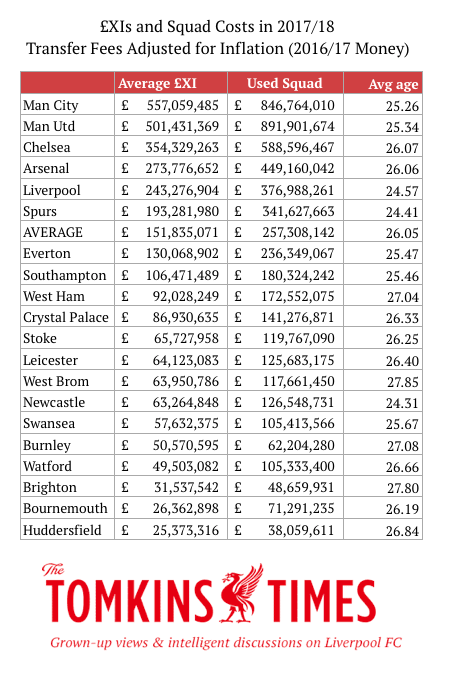 Of course, one of the drawbacks of our £XI system (which still picks out the correct top six, almost in the exact order) is that it does not take trainees and free transfers into account; but on average, these play less and less of a role at big teams.
That is, except at Man United.
Mourinho signed Zlatan Ibrahimovic, a "freebie" on £400,000-a-week wages last season. Man City have no such free superstar in their ranks, to skew the figures, although Ibrahimovic's latest deal may be much lower, and he's only just returned to playing. You can't say he's had much affect on this season, to be fair to Mourinho, but was a key factor last season.
You also have to say that Mourinho inherited youth "freebies", Marcus Rashford and Jesse Lingard (now 25), who have scored a fair percentage of United's goals this season, and are obviously worth far more than the zero they cost. For all Louis van Gaal's flaws, he gave Mourinho the advantage of having blooded some young players, which can see a dip in results at the time; something Pep Guardiola's predecessors never did for him, and something Mourinho himself isn't doing, beyond playing the ones the Dutchman had already given game time to. (And in addition, at the end of last season, throwing kids in when the season was effectively over. Which anyone can do.)
Because it's all about what you inherit, not net spends in a short space of time, which can always be fairly arbitrary. After all, did Mourinho need to buy a goalkeeper? No. So that affects his spending requirements.
United last won the league in 2013, but City – whose success feels much more recent – did so as far back as 2014, so both were fallen giants. United had lost their way since the retirement of Alex Ferguson, and gone through the David Moyes and van Gaal doldrums.
But they still kept spending big money, and they still had a core of what was young talent when Ferguson stepped down. United weren't getting the results of old but there were still players like Juan Mata and Anthony Martial knocking around. And even if you say that Mourinho was left an expensive dud like Marouane Fellaini, you can't then ignore that the Portuguese actually really likes the player. Mourinho hasn't got his money's worth with the supremely talented Henrikh Mkhitaryan, signed on his watch. Why not?
Mourinho inherited the best keeper in the world, who, with inflation, cost more than any of City's full-backs; whereas Guardiola inherited a has-been hair-product model between the sticks.
City were in slightly better shape when Guardiola turned up, but equally, they were a side that had fallen over the hill; they were a bunch of fading lights – a badly ageing side – and the Catalan has lowered the average age of the side significantly – by an astounding four years. Key players like Yaya Toure and Vincent Kompany had been ravaged by time and injuries, so he wasn't inheriting a title-winning spine.
The youngest team on average this season is Newcastle, followed by Spurs and Liverpool, all around 24.5yrs on average.
Then come City, then United, at 25.5yrs. City were up around the 30yrs-mark when Guardiola arrived.
So one key difference with City and United is that Guardiola had to lower the average age and Mourinho didn't. That also affects spending requirements.
Which isn't to say that Mourinho is doing a bad job, as I don't think he is; although his brand of football looks hugely dull in comparison with some of his rivals, even if United still bang in a fair few goals. No £500m side should ever have to park a bus, especially like United did at Anfield, when their team cost twice as much. And the idea that Man United are punished more than City in the transfer market (regarding prices) because they are a "more historical club", as Mourinho puts it, is ludicrous, because everyone knows Man City have a lot of money to spend as well. There isn't a premium just because you're Man. United.
Mourinho – like everyone else – is partly a victim of the incredible form of Man City. But the budget Mourinho is working from is much the same as Guardiola, and he has got far, far less bang for his buck, and barely a fraction of the elan. City's £XI this season is £557m, to United's £501m, but United's squad – only counting the players used in at least one league game – amounts to £892m, to City's £847m. These are very similar budgets. And as noted, City have no youth products (yet) while Mourinho inherited two key homegrown talents who skew their figures.
Liverpool sit well behind, with an £XI and squad value at less than half of the Mancunian über-rich elite, although the Reds have taken to using their money more smartly in the past couple of years, while Jürgen Klopp is improving a whole raft of players. Obviously the figures do not yet include £48m Naby Keita, who arrives next summer, and Liverpool tried to spend more money in the summer, but messed up the move for Virgil van Dijk. But United have twice the turnover of Liverpool, and it shows.
Obviously I'd rather see anyone but United win the league, but you have to doff your cap to the way City are blitzing it. Equally, I wouldn't swap Klopp for Mourinho; some Liverpool fans may crave a stouter defence, but even when the Reds are fairly dull (like yesterday) they can win 5-0. That Mourinho is already crying foul about money – given the mega budgets he has always had – shows that he is seriously feeling the pressure. Next to Guardiola right now he looks like an also-ran.
There's further bad news for Man United in Andrew Beasley's look at all teams' expected goals for this season here, which suggests they're even further behind City (and on that metric, Liverpool too); and my take on the Reds' Swansea demolition, also for subscribers only.