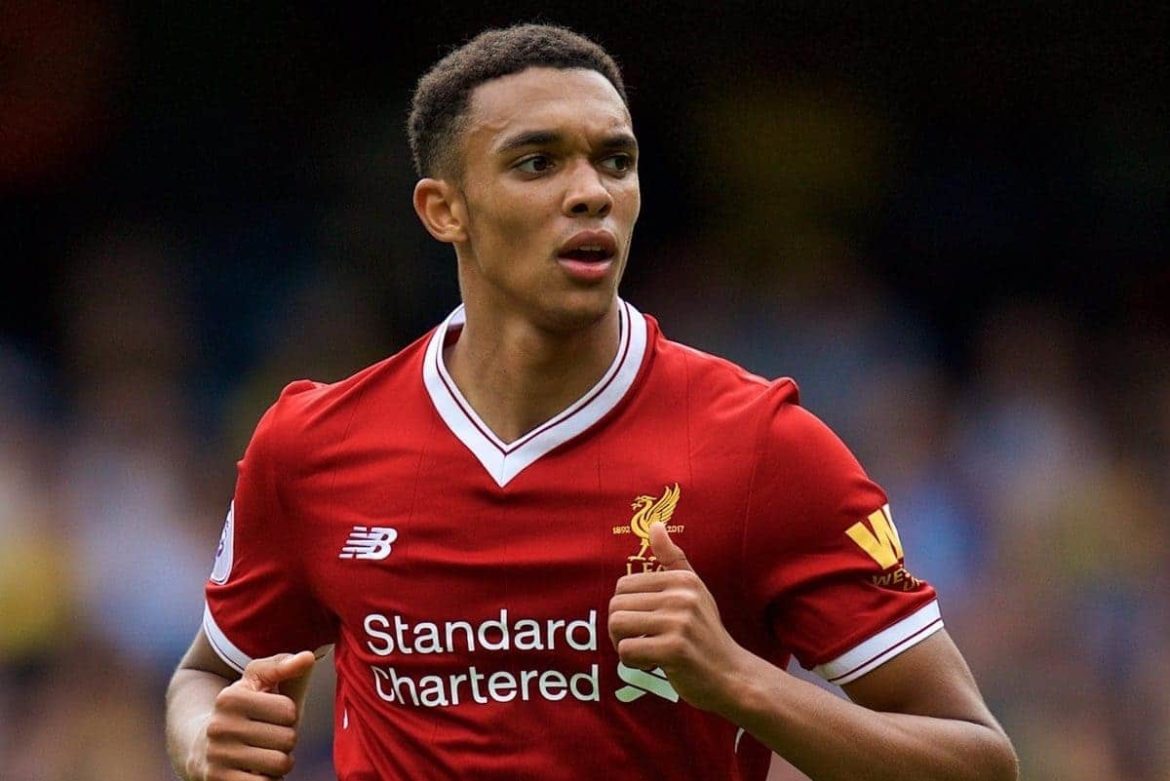 For the longest time it was one of the quietest, flattest displays – and atmospheres – at Anfield; the Kop apparently carrying over the stresses felt at Arsenal in the way that it did after that trauma-inducing three-goal shipping at Sevilla, when a kind of aftershock hung around the place days later. I'm still not sure Jürgen Klopp's men got out of 2nd gear against the Welsh side today, but the finishing made all the difference, and eventually Swansea crumbled.
Unlike the Everton game, or the West Brom game, it went to 2-0 and then the cushion was there to relax. Liverpool don't tend to throw big leads away at home, but some 1-0s have ended up 1-1s. Once there is breathing space, the small clubs cannot cope with the Reds' forceful play: 5-1 at Brighton, 4-0 at Bournemouth and now 5-0 at home to Swansea; more often than not, Liverpool are really punishing the cannon fodder, but there will always be games where the finishing is more erratic or luck goes against you (vs Everton and West Brom). Everyone said Liverpool have to win more of these types of games this season, and they are doing just that. But (unless you are Man City) you will always have days when it doesn't go your way.
At half-time Sky's "three brains cells in a sharp suit" said that "Liverpool need a Kane or Aguero", yet Liverpool are now the 3rd-top scoring side in Europe this season. Roberto Firmino has as many goals as Aguero (15), and yet only has one penalty to his name, whereas the little Argentine has almost half-a-dozen. Mo Salah had 21 goals at Christmas. Philippe Coutinho has 13. Who needs a "proper goalscorer"?
This article is for subscribers only, as are all articles for the rest of the season, and possibly beyond. Click on the banner below for details on how to subscribe.
[wcm_nonmember][ttt-subscribe-article][/wcm_nonmember][wcm_restrict]
A ton of goals is a ton of goals.
And yet, for 50 minutes the flatness of the atmosphere fed into the performance, and vice versa. I feared the worst, although at least the Reds had a lead to defend and there was no desperate need to add more. But maybe that removed the sense of urgency rather than the nerves. It was almost a non-performance.
It may be a case of "too many draws" this season but people said that in 2008/09 when the Reds lost just two all season. Well, it's also just two league defeats all season right now (plus none in Europe). As I said back then, surely the defeats are being turned into draws, and that's a good thing, right? Or does every draw mean you should actually have won? Every draw that isn't a defeat is a point gained, not two lost.
But no matter how the Reds play, the chances seem to come sooner or later. Liverpool's 'fab four' now have 3,789 goals this season. Think about that for a moment. I may even have miscounted, and it's actually 4,578. They could pass 6,000 at the weekend against Leicester.
I also have to praise Trent Alexander-Arnold, who had a poor first half and looked unable to impose himself on the game; indeed, his U23 performances last season were all about him absolutely dominating the living shit out of the right flank.
It will take him a year or two to even think about doing that in senior football, but there were glimpses in the second half of what he can become, when he fills out a bit and gets more defensive nous. He looks a big lad at U23 level, but fairly lightweight and of average height amongst the hoary old pros, but that's life at 19 for many players. (Jordan Henderson used to look pretty skinny at the same age.)
Joe Gomez has the full-grown-man physique and is a much better defender; he just uses his body and pace much more efficiently and generally reads danger better (bar a couple of far-post lapses this season). But in time – like 'TAA' – he will gain the experience to further improve; and in his case, move into the centre of the defence so that Alexander-Arnold can slot in at full-back.
At times TAA can try and read the play too aggressively at the back, and gets caught out, but what he did for his goal was the perfect example of how to gamble and make a ball yours; not least because it was in the final third. Once he's a bit stronger he can recover from such tactics at the back, as he can force his way back into possession if caught wrong-side – the way good full-backs ease the winger off the ball with their strength alone – but he's not there yet.
His crossing ability, however, has to already be up there with the best attacking full-backs in the game. He has pace, a fantastic attitude and a nice range of skills, and I'd be shocked if he doesn't end up a top international player with 2-3 years. But he's in that awkward transitional phase, part of which is purely physical. Luckily Gomez has meant he hasn't be relied upon, but given bonus games here and there. And he certainly offers a goalscoring threat when he gets the chance.
Otherwise, it was an odd game, but one where the Reds showed that they will still create at least two-goals' worth of chances, whether they score one, two, three, four or five, or indeed, zero (as luck sometimes has it). If you create 2-3 goals' worth of openings every game then you'll usually at least hit one, and often two, and maybe three. It didn't look likely after a poor first-half but that second goal was all-vital, and Firmino continues to prove his doubters wrong. Who gives a fuck if he's not a "proper" centre-forward?! And unlike plenty of strikers, he'll work hard, and create with cleverness too.
Dominic Solanke certainly is a proper centre-forward, if you want to stick to old ideas, and right now I think I want him to score more than I want Liverpool to win the league … Okay, not quite that much, but I love how, when he plays, he causes chaos and gets lots of half-chances. Of course, Bournemouth got a goal today from a touch off the striker's hand, when the young Reds' striker had one chalked off recently; and you have to feel that Solanke's luck will turn. That decision cost the Reds two points, as well as his first Liverpool goal, given it was so late in the game.
I also want to give some praise to Ragnar Klavan, who continues to impress, and looks much more suited to English football now; which is odd, given his age suggested he would be a very short-term fix. He's got experience, but also enough in his legs to still get about the pitch, without being particularly quick.
He seems physically stronger, and maybe that's just an illusion, but he seems better at dealing with the physical contact strikers hand out in England, and is not being bullied. I think he's been outstanding these past five games, and didn't really do much wrong at Arsenal in the 3-3 draw, when the defence had some shaky moments.
I said recently that Liverpool are never dull under Klopp. Yet today they pretty much were. And still won 5-0. That, I feel, shows how much this side is progressing.
[/wcm_restrict]