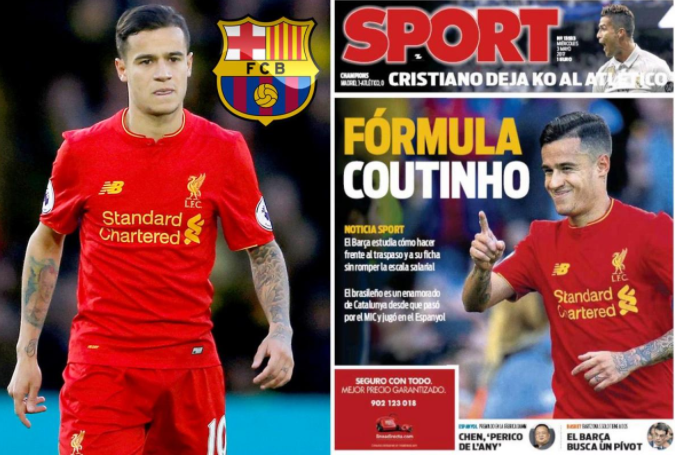 By Chris Rowland, Daniel Rhodes and Paul Tomkins
Here is our weekly round-up of five extracts from articles or comments that have appeared on the site during the past week.
This is just to provide a flavour of the debates our subscribers get involved in during the week. If you fancy a bit yourself, there's a Subscribe tab at the top. 
1 – Jeff on Barcelona's interest in Coutinho:
Every player knows that they have a short shelf life as a player and needs to look after themselves and their families. To say that he will never leave Liverpool no matter who comes in for them or how much more money they could make is just at least to me from the point of view of a player down right stupid. In addition, from the point of view of Liverpool if he said that he would never leave Liverpool is not in the interests of the club. It may well be that Klopp believes that selling him might bring in a fortune that could be employed bringing in the players that would lead to Liverpool winning the Premier League or that he is on the decline and someone wants to over pay for him and Liverpool have someone already on the books who would do a better job for the club.
I want Phil to look after his best interests as I want every player to look after their best interests. Is this staying in Liverpool or leaving I do not know. I want the club to look out after the club and if this means keeping him for another season which today I think is going to happen or keep him for a longer period of time or sell him I do not care. I remember the club selling Kevin Keegan and this brought in King Kenny and Bob Paisley came out ahead on the deal. This means to me that every player has a price that means it makes sense to sell them and simply selling a quality player can mean that a better player can come.
Loans don't seem to be a good career move anymore. And remember, even when they were, there's now the default cautionary tale of Ibe: turning heads whilst on loan at Derby; recalled half way through the season; reproduces form in cameo appearances for the first team; loses form along with team and shrinks when tasked with added responsibility; sold to Bournemouth;  continues shrinking.
The moral of the tale being that often young players don't really know how or why they do what they do – some are very spontaneous and others are good at responding to guidance, but when they get to a really high level these advantages are negated or become extremely marginal. At that point no one else can help you; you either sink or swim and for many the absolute horror of failure is overwhelming. Some can push through the difficult times until they find their feet again, but not many are able to recover from setbacks in the pressure cooker atmosphere propelled by millions of opining fans.
As I've said in previous articles, what has changed at LFC's academy over a period, extending back over quite a few years now but much accelerated since the arrival of Klopp and Lijnders, is that certain players have been mentored to be able to cope with this pressure from a really young age and to a certain extent have had places reserved for them in the hierarchy. It's not a straight-out meritocracy anymore because the club has seen fit to invest (match and coaching time) in these individuals.
Taken in the round, your assessment reminds us all of the high risk-reward game that these young men are playing. I must admit, I have huge admiration for all of them, whatever the future holds for each of them individually.
I know from personal experience that moving to a new city or a new country can be a big challenge …. imagine doing that at eighteen or nineteen years of age. Then imagine the Twatterati commenting on your every move when you are trying to create a career doing the thing you love most  – hopefully, for the club you love most.
I hope and believe that some of them will be successful with Liverpool, but, most of all, I hope they make a success of their lives. At a very  young age they are doing things that most of us can only dream about – for that they have my utmost respect.
Obviously Southampton FC are on the brink of new ownership, but what does the 'long-term vision of the Club mean?'.  Presumably a departure from that of the last 5 years:
Scout well
Develop players
Sell well (particularly to LFC)
Accept fixed revenues from limited supporter base/constrained stadium
Be good enough to retain PL status (and sometimes much better)
Churn managers until lucky enough to land on one that can make a 12-month impact beyond normal standard deviation
Owners hang-in there while asset appreciates on back of TV revenue rises and bidders emerge
Not really that different from Watford FC (the complexities and advantages of multi-club ownership aside).
5. TTT Player Poll Results
By Paul Tomkins.
While I hope there is a range of opinion on TTT, I always want it to be within certain parameters; for instance, anyone who thinks Jürgen Klopp is a "fraud" is best advised to stay on Twitter. (And anyone who thinks he is a frau needs lessons in German. Or gender.) We can debate exactly how good Klopp is, and the decisions he makes, but we have to start with the reality: that he's at worst a very good manager.
Overall, my marks out of 10 for 15 of the 16 players are not out by a single full 'point' from the voting, with the exception of Simon Mignolet, where I was more generous than the consensus; my 9 a full 1.13 more than the TTT average of 7.87. Otherwise, the marks are roughly in line with my own conclusions. Four players were out from my mark by the tiny margin of between 0.01 and 0.06. Indeed, the average difference was just 0.30, with my 7.4 a little above the overall 7.1.
I think anywhere between 7.1 and 7.4 accurately captures the nature of the season. Indeed, with the squad – which hasn't had the luxury of being built up for Champions League football – and with the various injuries, I'd actually say that 76 points and 4th place was closer to an 8 as an average, but the perceptions were altered by three three stages, especially with the scintillating part being in 2016, with the winter proving pretty dire, and the spring a case of grinding out results – albeit punctuated by individual brilliance at both ends to win matches.
The season actually proved that Liverpool can play sumptuous free-flowing football when everyone is fit, and also, perhaps more pertinently, dig out results against more physical teams when in the run-in, where victory is often all that counts.
People spoke of recency bias in the discussion on the players, and I think that Jordan Henderson certainly suffered from having his excellent form early in the season a little forgotten by the time voting came around. I thought that Henderson was actually on course for a 9, based on the time played – his defensive and passing stats were excellent – but missing the second half of the season made me lower it to an 8. This was almost a full point higher than the TTT consensus.
Had he played on with an injury and been terrible (like Philippe Coutinho was for a month or two when rushed back), then his mark might have suffered more, but an 8 seems fair to me based on what he did when available, and given that he didn't play often enough. Likewise, Sadio Mané's marks suffered only really by his absence at the ANC and the late-season injury. Even so, I think he is deservedly TTT's Player of the Year.
Similarly, Coutinho would have been a shoo-in for a 9 or maybe even a 10 had he not missed games with injury then had that aforementioned dip.
I was perhaps a little generous to Mignolet due to recency bias, too, with his end to the season a huge and pleasant surprise. But I felt there was just such a monumental improvement. I wasn't aware of how bad Mignolet's save percentage was earlier in the season (Dan Kennett reminded me after my article), but I don't recall the keeper doing much wrong. Were easy saves being missed or was he just not saving tough shots?
So anyway, below are the marks for players, as voted by those TTTers who chose to take part.

Articles Published this week:
Monday June 12th:
How was Their Season? No.16: Loris Karius by Chris Rowland.
How Was Their Season? No.17: Philippe Coutinho, by Daniel Rhodes.
Tuesday 13th:
2016/17 Season – The Stats Review, by Andrew Beasley.
Wednesday 14th:
How Was Their Season? Review of Liverpool FC's Young Players, by David Fitzgerald.