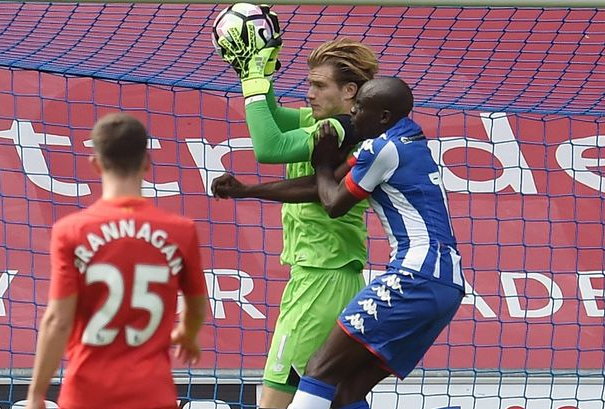 By Chris Rowland.
So, Karius then. Hmm, OK, strokes chin thoughtfully. What to say about his season-ette?
Well let's start with what we do know. When he was signed, he was (a) young (b) voted the second best keeper in the Bundesliga whilst with Klopp's old team Mainz 05, and (c) reputed to be the sort of sweeper keeper which Klopp's system demanded and which the current No 1 Simon Mignolet patently was not. He had also spent time at Man City's youth set up, learning off Joe Hart how to be quick off his line and make himself big. If you were to opt for the charitable view of the England keeper's assets…
In his scouting/welcome piece, Karius the Keeper, Can he Fix it?, Daniel Rhodes wrote (you can find all his pre-Liverpool stats there too):
Loris Karius is twenty-two, he's six foot two, and looks like a cross between the lead singer in  boy band, and Dolph Lundgren in Rocky IV. He wears sports tights to protect his knees, and is friends with Justin Bieber. How this didn't crop up in scouting meetings, I'll never know, but we all have flaws.
By turning down a place in Germany's Olympic squad in order to fight for a starting berth, Karius made the right noises. Would he be Klopp's first choice, we wondered? Would pre-season give us a clue?
It didn't, because Karius went and broke a hand in the game against Chelsea after a collision with Lovren during the pre-season US tour of the United States.  It required an operation. That injury was a hugely disruptive influence on his new career. A new club, new team mates a new country, a new league, all the playing aspects of his new life would have to be shelved,  along with any thoughts of challenging for the first choice role, as he would be out of action for at least two months.
Mignolet duly started the season in glove possession, with Karius not making his debut till September 20th, in the EFL Cup match at Derby County. He was barely tested. He then made his Anfield debut the following Saturday against Hull at Anfield, where again he as virtually a spectator as the Reds won 5-1. Early impressions were that we was more proactive than Mignolet in joining  the play,  and he seemed to want to distribute the ball quickly and accurately. As for making saves, well he barely had any to make in those first two games.
But Klopp's comments suggested the 23 year old German £4.7 million summer signing would have several weeks to establish himself as undisputed first choice.
This review is for Subscribers only.
[ttt-subscribe-article]