By Daniel Rhodes. 
You've never heard of Bob the Builder? You've never lived. He fixes things, and he has fun doing it. He brings people together to improve the structure and stability of broken stuff. By now, if you haven't grasped the tenuous link to our imminent new signing, you never will.
Our defence is broken, it has been for a while, and it needs fixing.
Loris Karius is twenty-two, he's six foot two, and looks like a cross between the lead singer in a boy band, and Dolph Lundgren in Rocky IV. He wears sports tights to protect his knees, and is friends with Justin Bieber. How this didn't crop up in scouting meetings, I'll never know, but we all have flaws.
Crucially though, can he fix it? Is he a starter? Is he the future? We'll take a look at his underlying stats, and some video clips of his various attributes and weaknesses.
He started at Manchester City, in their youth set up, and when watching him, you can see elements of Joe Hart in his speed off the line and the way he makes himself big. It didn't work out for him in England initially, and despite representing Germany at every age group growing up, his chances were severely limited at the City of Manchester Stadium, so he moved by to his native country, signing for Klopp's old team, Mainz 05.
Stats Profile:
In 2015/16, he conceded 44 goals, or 1.2 goals per 90 minutes. Here's where he conceded the goals.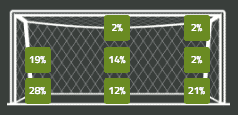 He made 75 saves during the season, or 2.1 saves per 90 minutes. He distributed the ball 1098 times during the season, with 82% of these attempts finding a teammate, however, this lumps short and long passes, plus throws and kicks together, so we'll need to dig deeper later on. That's the equivalent of 30 distributions per 90 minutes.
Dan Kennett looked at his full career data, and compared it with our current incumbent Simon Mignolet. First, he makes fewer errors, which is surely the biggest factor in fixing the stability of the defensive unit.
Karius' Career
8353 minutes, 10 errors, one every 835 minutes.
All Liverpool GKs since 2011/12
18008 minutes, 32 errors, every 563 minutes.
All Premier League GKs since 2011/12
360,861 minutes, 483 errors, every 747 minutes.
It is a vague and impossible thing to measure objectively, but surely having confidence in your goalkeeper is a fundamental factor in any successful defence? Reducing the amount of mistakes is part of that relationship. The defenders need to know Karius' individual tendencies; how often he comes off his line? Will he sweep up behind them? Is he a puncher or a catcher? Does he hand out instructions consistently?
He also had a look at the number of saves Karius has made compared to Mignolet.
Considering shot stopping is one of Mignolet's apparent strengths, and that he's twenty-eight years old, for Karius to save 75% of the shots he's faced, but also over a sample of 457 attempts, is very impressive. To have played so many minutes at this stage in his career is unusual for a goalkeeper.
Here's another table from Dan, this time looking at Non-Penalty Saves and Shots on Targets faced: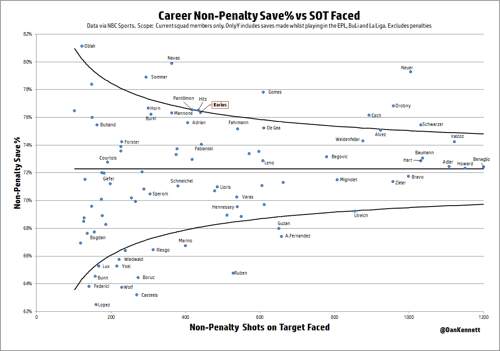 (Click on the image below for full detail)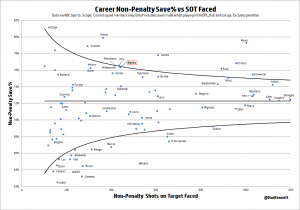 Our other resident statto, Andrew Beasley, looked at the number of expected goals he's conceded and whether this is over or under performance. The results were amazing. Below is the table posted by Beez, and he's also writing a blogpost on it, so I'll just upload the top and bottom of the expected goals conceded table:
Karius

Bottom of table

That's about as stark a contrast as you're likely to find, and of course includes Mignolet, Ward and Bogdan; nevertheless, fascinating and thought-provoking research as usual from Andrew.
The rest is for subscribers only, and includes video clips looking at the saves Karius has made, the goals he's conceded and his distribution.
[ttt-subscribe-article]