We asked our ever-growing panel to assess the performances this season of players in the first team group. Using the sweepstake method to allocate a player against a writer (and we were all delighted with our eventual allotted choice!), we now offer you this personal view of the players this season.
(NB – we will still be running our annual 'Should they stay or should they go?' series this summer, but that's about their future with the club rather than their past, like this one).
By Assif Hebs (TTT Subscriber Assif).
Roberto Firmino Barbosa de Oliveira. Or Bobby, as he is affectionately referred to in the fanbase.
I'll refer to him as Firmino, FUR-MI-NO for those of us who hate the lazy "inho" used by certain media pundits that won't be named!
Our latest Brazilian import, a full international, whose arrival was quick, slightly surprising and met with much excitement in the summer of 2015. This followed a none too shabby season in which his much feted 16 goals in 33 games for Hoffenheim in the 2013–14 Bundesliga season earned him the accolade of the league's "Breakthrough Player" and led LFC to make him a £22m signing (rising to £29m with add-ons).
A versatile player good enough to play anywhere across a front three attacking line, Firmino made his Liverpool debut in a pre-season friendly away to Swindon Town on 2nd August. His league debut followed a week later in a cameo performance off the bench in a 1–0 win at Stoke City.
After a slow start to life under Brendan Rodgers in English football, where perhaps he was stifled in a misfiring tactical set-up, Firmino really came to the fore scoring his first goal for Liverpool in that scintillating 4–1 victory over Manchester City at the Etihad. That was the moment when Firmino truly arrived in the Premier League, combining with Lallana and Coutinho in a stunning first half full of movement and trickery that left City's makeshift defence bamboozled and dizzy. It was a symbolic match, the true LFC we all imagined under Jurgen Klopp and the kind of impact we were hoping for when Firmino signed.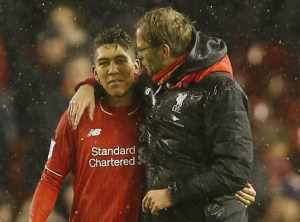 The rest of this post is for subscribers only. 
[ttt-subscribe-article]