It's getting to the stage where a big 'Fail' sign will be waved at Benítez, who turns 50 this week (still young for a manager), even though the club is within touching distance of a trophy.
I've said for ages that Benítez will never get a fair assessment from certain fans, and sloppy, or vindictive journalists. I've spent years countering the myths that surround the manager, and now is the time to draw a number of those points together, in short recaps that include links to the more detailed analysis.
Context
Prior to his arrival, Liverpool had qualified for the Champions League on just two occasions following its rebranding in 1992; a third time was secured around the time of the last game of Gérard Houllier's final season.
Of course, this (2003/04) was when Chelsea were only just gearing up (Ranieri was in charge, and £100m was about to be invested by new man Mourinho), and long before City assembled a £250m squad.
So strong were new Chelsea, they leapfrogged Liverpool and even all-conquering 'invincible' Arsenal in no time at all. It was now up from three to four places for qualifying, but one was effectively sewn up by Chelsea's unprecedented wealth.
It was also in the days before David Moores found the going too expensive, and before he sold up in order for fresh investment, only to see Liverpool quickly turn into a 'break even' club in the transfer market.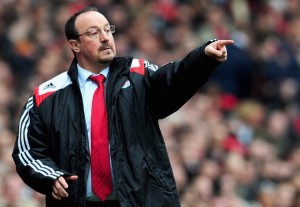 Benítez himself has overseen five consecutive further qualifications, the first having something to do with winning the actual thing.
Of course, that was suddenly seen as 'par for the course' by many pundits, even though, to be honest, it hadn't been the case for over 20 years.
They failed to note this progress, choosing to make out that Europe was all that mattered to the manager, even though two of his first five seasons clearly showed the Reds' domestic form to be far superior to that on the continent.
And, as he took the club time and time again into, and beyond, the group stages of the Champions League, "where's the silverware?" they said, including when the club posted a league points tally that no runner-ups had ever matched (86 points being a bit like running the 100m in last year's world-record time: it's still the mark of a fantastic athlete – a great achievement – but people say "so what?")
And yet with silverware a possibility going into the last few weeks of this season, it's "where's the top four finish?"
So it seems that when Liverpool are winning trophies, it's about being in Europe's premier competition; when Liverpool aren't winning trophies, it's about "winning trophies". And when Champions League finals were being reached, it was "ah, but the league is the bread and butter."
Critics also say "Sure, the owners might be bad, but Benítez is to blame for the season". Presumably they'd say the same if the owners sold everyone and replaced them with Yeovil Town reserves? Was Terry Venables to blame when Leeds got relegated after selling all their players, or Avram Grant for Portsmouth going down without a real fight in the Premiership? (Extreme examples, admittedly – Liverpool aren't a selling club yet; but they aren't a buying club either.)
Surely you can only judge a manager fairly if he has a stable situation to work with: the 'basic minimum' any boss deserves? Would you judge a top Formula One driver if he had flat tyres and an unstable steering mechanism? – the job surely becomes just keeping four wheels on the track.
Jose Mourinho did a great job at Chelsea until he had difficulties with Abramovich; then he was sacked, with them having made a mediocre start to the 2007/08 season. But people who say he'd definitely win the title at Liverpool, even with such unhelpful owners, seem to overlook the nature of his Chelsea demise.
You'll also know all about the hypocrisy, too.
By now, Rafa will be damned if he does, damned if he doesn't. People like Henry Winter will say that he blames everyone but himself, while excusing Alex Ferguson yet another tirade against a referee, and allowing Arsene Wenger to 'never see anything' if it involves his players doing wrong. David Moyes was (rightly) excused his injury crisis this season; Rafa was told to get on with it and stop moaning.
The same people who slated Rafa for 'guaranteeing' that the club would finish in the top four condemned him just days later, for refusing to 'guarantee' that his side would beat Portsmouth.
If he's positive and confident, trying to instil belief in his troops, he's arrogant; if he's cautious, he's negative.
Belief
Let me be clear: I do not have a misplaced loyalty to the manager. Given the abuse I get for defending him – people seem to blame me personally for any dropped points, which means I feel added responsibility – it would probably be a lot easier for me if someone new was in charge.
But I do not think that this would be the right thing for Liverpool Football Club, and that's where my loyalties lie. Yes, I like and respect Rafa, the man and the manager, but it goes beyond that. This is not about the easy way out.
One thing I really hate is the saying "In Rafa [or any other manager] We Trust", because it implies a faith borne of blind devotion, rather than, in my case at least, a belief borne of serious research, comparisons and realistic barometers; a belief in world-class managers, even when all is not going their way.
My reasons?
Well, there are plenty, all backed with strong evidence.
It's his team

While it's true that a new manager can inject fresh life into a team, it's also true, according to Soccernomics, that he will want money of his own to spend. The trouble is, a new man is in a situation of desperation; other clubs know that if he wants to reshuffle, he cannot expect full market value for the players.
This is a squad in Benítez's image, albeit without the finishing touches he craves to put on it, to make it something special. He has bought in players who fit the system, and got them to understand his way of working.
The same applies to Arsene Wenger at Arsenal. Last year, all we heard was that he was too stubborn, and that it's time to abandon his lofty ideals and get in some cloggers to toughen them up.
Very little has changed at The Emirates in terms of personnel, but a clean break over the summer meant that they could start again with a fresh slate.
This time, unlike last season, they didn't get off to a bad start. And getting off to a bad start only increases the pressure.
Indeed, Arsenal last year resemble Liverpool right now, and Arsenal right now resemble Liverpool last year. (Except Liverpool last season were a bit better than Arsenal are this – they won't reach 86 points – and Arsenal, by the end of last season, were a little bit better than the Reds – who are unlikely to finish 4th – are at present.)
Although it's his team, Benítez gets little credit for bringing in Torres, even though other clubs weren't convinced enough to part with the cash for a player yet to better 13 goals from open play in a season. But he was bought by Rafa, and he was improved: 33 goals in his debut season, and even 22 this season, despite missing almost half of it, and despite not taking a single penalty in all his time at the club.
(It's part of this media narrative that Benítez is not good in the transfer market. Ditto Javier Mascherano, who is also now seen as a no-brainer, when at the time he was in West Ham's reserves and looking ill-suited to English football. Similarly, Pepe Reina rarely gets mentioned as a good Benítez buy, when he might be his very best.)
Now all we hear is that Torres might leave. Or that Liverpool rely too heavily on him.
Well, according to Opta, "Arsenal have averaged 3.3 goals per game in 11 Premier League games with Robin van Persie playing this season, compared to 1.8 without him".
And we've all seen United struggle in recent weeks without Wayne Rooney – and that's with a £32m striker still in the team. That's the trouble with those rare talents: they're rare, and hard to replace.
Perhaps instead of one £20m striker, Benítez should have bought two £10m ones. But then the side, while theoretically stronger in terms of back-up, would never be capable of hitting the heights when the main striker was included.
Youth/reserves: on the up

This cannot be overlooked, or underestimated. With less money to spend than most rivals, it is vital that Liverpool go down the path seen at Arsenal at look to a strong youth system (even though Arsenal, over the past five years, have an arguably inferior record to Liverpool; like the Reds, it's been up-and-down in the league, and the same in Europe).
Of course, one part of emulating the Gunners' plan is in tatters; the new stadium hasn't arrived, to bring in double the match-day takings Anfield provides. In its place, however, is the debt that Arsenal accrued by building the Emirates, without any of the bonuses (such as: no need to spend on a new one, or renovations, for decades, and massive match-day income).
Equally, it takes time to bring players through after overhauling a youth system, and for Benítez, his control was very limited when he arrived in 2004; slightly less limited by the departure of Steve Heighway in 2007 (although Rick Parry appointed Piet Hamburg and Malcolm Elias); but only fully unlimited since the summer of 2009.
Therefore, anyone expecting youth team graduates within nine months is living in dreamland.
It is less than a year since Rololfo Borrell, the man who discovered Fabregas and who managed the youth team that also included Messi and Pique, was installed by Benítez as a man who finally shared his ethos (which dated back to his own successes with the Real Madrid system) in the development of young players.
The club appear to have stepped up its search for outstanding 15-year-olds; just as Arsenal did a decade ago, and United did so aggressively 20 years ago. (At the time, a young David Beckham was out of United's geographical range; but they still snared him.)
Meanwhile, the current England U17 team has three Liverpool defenders in its back four.
Plenty of the talent will fall by the wayside, as happens – kids fail to develop physically, or mentally, and pick up injuries (see the wonderfully talented Francisco Duran, making another comeback after a third cruciate knee injury in two and a half years) – but the more top-class kids you have, the greater the odds of one or two, or even three or four, coming through.
Point Of Difference

If you have less money, you need points of difference to distinguish yourself. In the case of Benítez, it is his tactical acumen. Even that, though, will only get you so far.
But there are other areas.
Appointing arguably the best Sport Scientist in the world is a big step in the right direction. As Liverpool's squad/wages investment is largely tied up in players like Torres and Gerrard, it's important that they play as often as is humanly possible (without them burning out).
If you have less money to invest in the squad, it's imperative that the best XI is available as often as possible, and rotated as part of the manager's plan, not due to long-term injuries and enforced changes. And if you have players with recurring or persisting injuries – Torres, Aurelio, Aquilani, Agger – then someone who can help limit absences would be more valuable than a new £50m player. (Of course, new players are still needed, too.)
And as noted above, a manager with limited resources has to bring in the best young players, before they are world-renowned stars who cost £35m.
But this also requires patience on the part of the fans, who are too quick to call for their inclusion when they impress in the reserves, and too hasty in writing them off after their first bad game or mistake.
Expectations
By rights, 5th is all Liverpool should have expected this season.
Like others, I felt the momentum of last season might take us to the very summit, but equally, I was fully aware (as detailed in my limited edition 2009 book, Red Race) that the club was not geared up for such honours. It was massively overachieving.
Liverpool are funded like a 5th-placed side: 5th-highest wage bill (behind Chelsea, United, City and Arsenal), with the 5th-costliest squad (at least £50m behind Spurs, and even further behind United, Chelsea and City).
Then there's the stadium, whose capacity currently also ranks 5th (behind Utd, City, Arsenal and Sunderland), and which will slip to 6th following the promotion of a certain barcoded Championship side.
Liverpool still have the best history, though.
But as the saying goes, that won't keep us warm at night, or put bread (and butter: aka the league title) on our table.
Expenditure
The massive Transfer Price Index © study was undertaken for TTT to help get a better idea of who spent what, and when – and how that outlay (or lack of) correlated with success. I had done something similar with my Relative Transfer System for Dynasty, which enabled me to compare spending between 1959 and 2009 on an even playing field, using the transfer record of each year by way of comparison. TPI takes that a little further, and is a bit more scientific.
While it deals with football inflation – how much a player in, say, 1995, or 2001, would cost in today's market – it also exists to work out the actual squad costs of clubs each season between 1992 and 2009. The database is immense: every player to play in the Premier League, and each is listed once for every season they featured, and calculations are even made on how many games they played in each given campaign (to see what value came from the investment).
One thing Graeme Riley and I looked at was what percentage of the Premier League's overall net spend each season each individual club was responsible for:
"Rafa's yearly totals register at 13.9% (including a £14.2m signing, Cissé, who was actually signed by Houllier), 6.9%, 6.3%, 12.5% and 1.6%, with the current season standing at a miniscule 0.2%. Indeed, strip out Cissé's fee and Benítez's total in his first season was yet again below the 7% mark.
"Even the one big outlay during his tenure – the season the Americans briefly looked like they might stump up the money that was required – the net figure (12.5%) still fell below those registered that year by Sunderland, Spurs and Manchester City."
The top 3 big spenders this season, in net terms? Manchester City, Chelsea and Birmingham – who just happen to be in better shape than last season (while Manchester United, who sold better players than they brought in, to make a net profit, are clearly not as strong.)
"The drop in overall spending has meant that City's 2009/10 outlay rockets by comparison – to a truly astonishing 113% of the Premier League's net spend. (This is due to the fact that, when combined, the other 19 teams in total had a Net INFLOW of £11.7m, mainly due to the sales of Ronaldo and Alonso to Spain, whereas City spent £99.5m, resulting in a net spend for the EPL of £87.8m.)
"At the other end of the scale, Chelsea, after two seasons of virtually insignificant Net spend [when they somewhat 'stagnated'], once again return to the top two, with a figure of 29.6%. City are clearly the new richest team on the block, but they also had a long way to go to catch up with Chelsea's previous squad investment.
"Behind Chelsea come Birmingham (27.6%), Aston Villa (22.9%), Sunderland (19%), Wolves (17.8%), Stoke (15.3%) and Everton (11%). Liverpool sit way back in 12th, with just 0.2%."
Progression/regression
Some people don't see a progression between 2004 and 2010, because they think a one-season backwards step is fatal, like falling off a cliff; when, in truth, it's just a backwards step, from which you can regain your poise and make a forward step. It's the panic-mongers who suggest there's a cliff right behind us.
(There is no cliff; however, consistent underfunding in the team will almost certainly see a gradual decline. Liverpool can still attract very big names, but it needs to be able to afford their fees and pay their wages.)
While there is no guarantee that Liverpool will bounce back with brilliance in 2010/11 – and certainly winning the league on the current budget needs to be returned to the 'pipe dream' file – it's essential that people realise the same arguments were made against Arsenal a year ago: Wenger had taken them as far as they could go; the squad needed overhauling ("get rid of Eboue, Bentdner, Gallas, Almunia, Denilson, Diaby, Walcott, et al").
Yet they lasted until this week – mid-April – with a realistic chance of the title, with those very players; indeed, they actually lost Toure and Adebayor, two of their most touted stars, and only really added Vermalen. (Oh, and 137-year-old Sol Campbell.)
With injury problems, perhaps the Gunners were undermined by a few squad weaknesses, and even though their wage bill is greater than Liverpool's, it still told me that they almost certainly wouldn't win the league. In other words, Wenger, like Benítez last season, has done exceptionally well to get this far in a title race.
These critics of Rafa and Liverpool also fail to see the progress of other clubs, whose resources allow for accelerated growth.
Liverpool's net investment, each season since 2007/08, has been virtually zero. By 2008, a lot of the expenditure had gone on first XI players (Reina, Torres, Mascherano, Agger, Alonso, Kuyt, Benayoun), with one or two exceptions (including Babel, even though he was originally bought for inclusion; he essentially swapped with Yossi).
But rather than strengthen the squad since then, there has been a one-out, one-in policy. Good players have come in, but only in place of good players going out.
The issue of squad depth has not been addressed, because the funds haven't stretched that far.
Anyone who says "Liverpool spent £40m" this season misses the point that out went Alonso, Arbeloa and Hyypia (plus Voronin and Dossena) for the same amount. Given that both Arbeloa and Hyypia left for below their actual worth (due to freedom of contract issues), Liverpool lost more than £40m worth of talent.
Manchester United have also clearly 'gone backwards' this season, with the loss of two top players. But as with Liverpool, that doesn't mean they are on a permanent downward spiral.
Ferguson has been here in the past (2003-2006), and he's always gone out and purchased a new crop of players. If he is given the money, he will do so again. The same applies to Benítez. The fascinating thing will be to see if either is backed in the market, given the debts placed on their respective clubs by American owners.
But while United and Liverpool have fallen away from last year's standard, and Chelsea have improved slightly, Arsenal have had an almost inexplicable bounce back to form (in that it wasn't precipitated by new players). Then there's Manchester City and Spurs, with their deep, expensive squads, now crashing the 4th-place party.
Had City been one year further ahead in their plans, it would probably have been Arsenal exiled from the Champions League last May. Had Ronaldo and Tevez left United a year earlier, it could have been Liverpool crowned champions for 2008/09.
But that's football: Holland in 1974 and 1978 were better than many of the greatest teams seen before or since; they won nothing. Greece will never be remembered as a truly great side, yet they won Euro 2004.
Timing is everything.
And the worst timing for Benítez was to arrive in England when City and Chelsea would elevate themselves with wealth (as Liverpool's finances ran dry), and when United had arguably their strongest-ever side. Even three-time title- and -multiple-cup winner (not to mention finishing in the top-two for nine consecutive years) Arsene Wenger has been starved of silverware – and anything better than a 3rd-placed league finish – in the same period.
Too Negative

Two seasons ago, Liverpool were the top scoring English team across all competitions.
Last season, Liverpool were the top scoring side in the Premier League.
This season, going into the Fulham game, the Reds were matching the free-scoring 1987/88 team of Barnes, Beardsley and Aldridge when it came to goals scored in home games by the same stage of that season, and had just gone 16 months since last drawing an Anfield blank.
Room for improvement? Definitely, especially away from home (although weirdly, the Reds had their best-ever season on the road in 2008/09). But with players like Peter Crouch and Robbie Keane leaving in search of regular first team football (but not necessarily getting it), and Bellamy leaving for the same reason – and, in part, funding the move for Torres – it's not been easy for Benítez to keep international strikers happy on the bench.
This is a two-fold problem: a) Any striker in the world knows he'll be behind Torres (if he is fit) in the pecking order, and may therefore steer clear of Liverpool; b) The Reds can't afford to pay reserve strikers £80,000 a week, as Chelsea do with Kalou, City do with some of their strikers, and United did between 2007 and 2009 with Tevez (not to mention Berbatov, who spends a fair amount of time in the dugout).
Involvement
Under Benítez, Liverpool have been involved in the hunt for silverware until at least April 29th, when this season's Europa League semi-finals conclude.
If the Reds beat Atletico Madrid, it will mean that only once did the season 'end', in terms of potential to win a trophy, before May: the Champions League semi-final defeat to Chelsea on 30th April 2008 (just an hour before May began).
This is purely about contesting trophies; nothing to do with Champions League qualification going to the wire.
Under previous Liverpool managers – in the post-Dalglish era – some seasons were effectively over by February or March. In Souness' case, even January.
The perfect example of 'evidence above instinct'
To end with, an example about counterintuitive thinking.
Apparently Liverpool are "crap at scoring from corners".
I hear this all the time.
And yet the universal average is a goal scored from every 30 taken; which means most teams see a very large number of them come to nothing.
This season, Liverpool have scored 10 league goals from 240 corners. So gut instinct – intuition – is wrong. The Reds have scored a goal with every 24 they've taken.
This isn't bad at all for a side lacking any real giants (and containing a few diminutive players: Mascherano, Benayoun, Lucas, Maxi, Insua), and when only really tall/set-piece specialist teams – City, Villa, Blackburn, Stoke, Sunderland and Portsmouth – have better conversion rates.
Chelsea, meanwhile, with Drogba, Terry, Ballack, Alex, Mikel and various other aerial menaces, have so far only scored a goal from every 38 corners. Incredibly, United have only managed a goal every 68 corners, and Burnley have yet to score in 140 attempts. Ouch!
So it turns out that Liverpool, while not outstanding, are rather good at corners – which is the perfect evidence that you really need to find the facts first, and speak after. Otherwise you are just perpetuating myths.
The same applies to rotation (truth: Ferguson does it more than anyone, usually with success); Liverpool's zonal marking, which still stacks up better than champions-elect Chelsea's man-marking this season; Gerrard in central midfield; Rafa's timing with substitutions; and so on.
I've never claimed that Benítez is perfect, or infallible. No manager is, and no manager is even close. It's impossible. All I've done is ask that criticisms be subjected to scrutiny; some may stand up, but the vast majority, in my experience, collapse like Didier Drogba on a particularly windy Wednesday.