Apparently, you only have to play Steven Gerrard in central midfield and all problems are solved. If that was the case, why was the Reds' worst league performance of the season at Wigan, with him in that very position?
Just as that result was down to a number of factors (poor passing from the team which wasn't helped by an iffy new pitch, no pace to the play, and Torres missing chances he'd usually bury), then the victory against Sunderland was because of pretty much the opposite: great passing on a lovely surface, lots of pace and zip, and Torres sticking a couple away.
It's flawed logic to say it was simply down to Gerrard being in the middle. Of course, that didn't stop the usual suspects from taking the opportunity to use it as definitive evidence. Let's face it: when on form, Gerrard can excel anywhere.
At Wigan, Gerrard had one of his worst games in a red shirt, conceding possession with simple passes. Against Sunderland he was electric, particularly in the first half. But just as we shouldn't say "Gerrard should never play CM" after the Wigan debacle, we shouldn't conclude that he only plays well there when he's on song.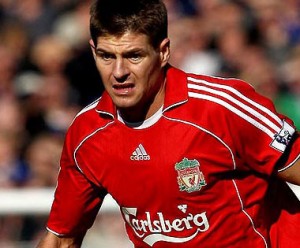 On 'The Last Word', Andy Gray could find little reason to explain why anyone would want to use Gerrard anywhere other than in the centre of midfield; ignoring that he was Footballer of the Year, scoring 24 goals, in a more advanced role last season. And he also scored 23 goals in 2005/06, when used mostly on the right.
(It's fascinating that no-one questions Capello for playing him on the left! Or the fact that Rooney spent two years out there for United.)
The key to Gerrard is not restricting him; and wherever he plays, he has licence to roam. Indeed, you could argue that he has more licence to roam in a more free role, and these are usually given to the world's best players (see Zidane and Messi).
With Richard Keys doing a pathetic job at challenging Gray (notice how he simply sets Gray up to give us his usual opinion, rather than actually probing the issue), the two Sky stalwarts played their usual game of implying that Rafa doesn't like the captain 'emptying the midfield'.
Maybe he does, maybe he doesn't. But that doesn't mean that the only reason he's played further up is because of fears over supposed tactical indiscipline; he's played there because he spent a lot of the previous two seasons terrorising defences.
The set narrative is that Rafa is negative, therefore any observations regarding Gerrard are placed into this predetermined mindset.
Jamie Redknapp – he of the increasingly bizarre analysis – also tells us that Gerrard wants to only play central midfield, although he may or may not be referring to a lad who was 21 the time they last played together.
Yes, this is the same Jamie Redknapp whose father played Robbie Keane on the left wing, week after week. Surely you don't get the best out of him there? But that's never the issue; it's up to the manager to pick a side that works, not look to please every individual.
Looking at Liverpool's last 20-or-so games, the following results and performances have been posted: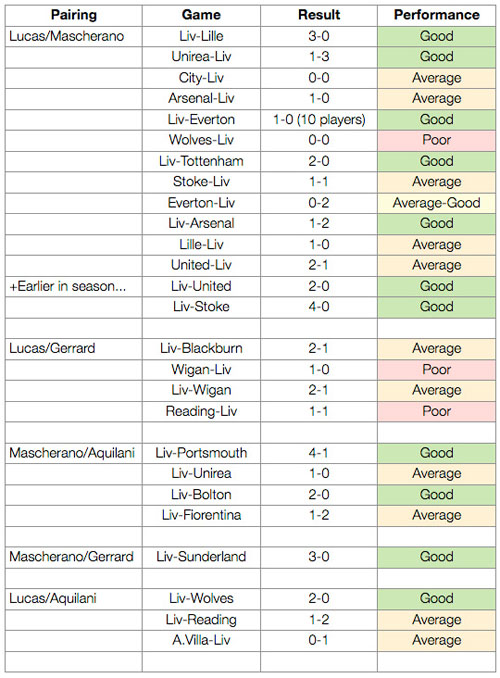 (Portsmouth away was Lucas and Mascherano, but the Argentine was sent off in the first half, making any comparisons null and void. And in some games, particularly away, it's hard to say if Gerrard was playing in a five-man midfield or closer to the main striker.)
But of course, as is the case with all these performances and results, there were other players around them, some of whom were only playing because of injuries to the main men. Then there was: the timing of the matches (United away came within a few days of two previous games); the form of the Reds going into the fixture; the failure to take chances… and so on. And that's before going into the quality and performance on the day of the opposition.
Then there's the fact that, early season, Mascherano was a shadow of his usual self, and that both Gerrard and Aquilani have not been fully fit during a number of their appearances.
So it's not an accurate science.
And if anything, that's the whole point of this piece: you cannot say play Gerrard there, or drop Lucas, and Liverpool play well and win.
As a member of this site said, Gerrard's best position is wherever is best for the team.
The following is for Subscribers only.
[ttt-subscribe-article]