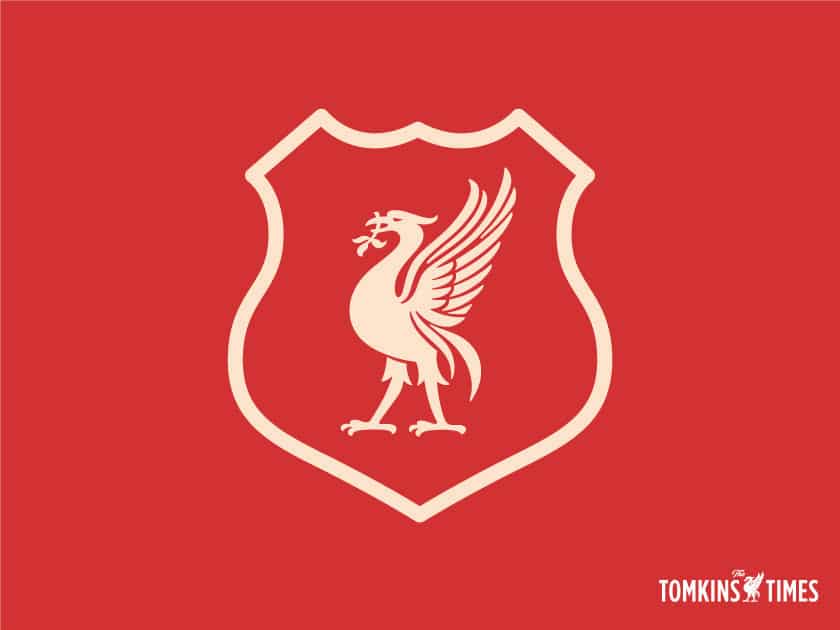 This is an article which premiered for members at the weekend; the issues discussed herein will be analysed in further depth in a series of pieces that will be available only to subscribers.
First of all, let me say that anything in life has its good and its bad sides. Nothing, and no-one, is perfect. Football is not exempt. Every good player will have bad games, and every system a manager deploys will work sometimes and fail on others. Football relies on skill, and judgement, but also luck, run of the ball, force majeure, and the many facets of cause and effect.
A player making a great overlapping run is instantly a fool if the ball to him is cut out. A striker can miss with a technically brilliant effort but score with his arse. A goalkeeper can make 15 brilliant saves but be written off upon his first slip up.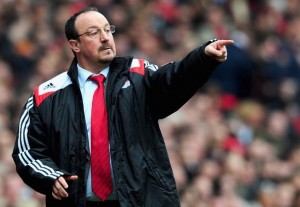 For anyone who paints my viewpoint as one in which Benítez can do no wrong, let me make it clear that this is bullshit.
However, he deserves to be judged like all managers and that clearly isn't the case with the British media, who seem to distrust his standoffishness (he's not their mate), his foreignness (he doesn't do things in the traditional way) and his intelligence (he uses technology, stats, etc).
Personally, I don't feel that the media is biased against Liverpool; big clubs are big news when they're doing well, and even bigger news when they're not.
But I do think that many of its more vociferous members are biased against Benítez. Andy Gray seems obsessed with questioning every Benítez method that he sees as failing, without praising the ones that work. Gray loves players like Gerrard and Carragher, but seems set against Benítez.
Henry Winter, who has written for the official Liverpool site and who is generally one of the better journalists, recently said that "Unlike Sir Alex Ferguson, Arsène Wenger, Mark Hughes, Martin O'Neill, Harry Redknapp, Carlo Ancelotti and David Moyes, Benítez is an incredibly difficult person to warm to. Too detached, too cold."
I found that stunning, but it did explain why journalists are rarely in a hurry to give him the benefit of the doubt.
Brian Reade, famous Liverpool fan, columnist and author, believes that there was an agenda against Benítez from the start. His face didn't fit.
So I've compiled a list of what I see as the myths used to malign the manager, and given my explanations as to why they are untrue. The aim is to eventually create more in-depth articles on each subject that link from those listed below, in the manner that the ones on Rafa's transfer record and zonal marking do.
Myth: Benítez rotates too much.
Truth: In 2008/09, Benítez rotated quite a bit less, on average, than Alex Ferguson: 115 changes compared with 141. The same applies as a whole between 2006 and 2009: 364 by Benítez to 376 by Ferguson.
Myth: Ah, but Benítez rotates his key players too much; United keep a settled core.
Truth: Again, the facts don't bear this out. Benítez has a core of players – Reina, Carragher and Gerrard – who start pretty much every league match when fit, and several others, including Kuyt and Johnson (Arbeloa before him), who are not far behind. Torres is also entering this category.
Myth: Ah, but Benítez rotates too much given that his squad isn't as strong as United's.
Truth: This season Liverpool are being accused of having a weaker squad (although admittedly when several big names have been injured), but then so too are Manchester United, having lost Ronaldo and Tevez. However, Ferguson has made six and seven changes respectively in games United lost away and drew at home. By comparison, Liverpool's team sheet has been more consistent.
Myth: Rotation simply doesn't work.
Truth: Rotation does work. United have won the league by making the most changes. However, simply making changes means nothing in itself (drop your striker for the tea lady?), and there are thousands of factors that go into any single result. Sometimes fresh legs and a desire to impress mean that more can be gained from squad players ahead of tired stars, while sometimes a changed side will look disjointed and miss its main match-winners. In these cases, wisdom is easy after the event.
What is true, however, is that most players cannot play every minute of every game, and if they do, they cannot maintain their highest standards throughout. Any sports scientist working within the game will tell you as much.
The top-six team that was rotated the least last season was Aston Villa's; also known as the team which collapsed in the run in like Mary Decker.
Myth: Liverpool are a two-man team, relying on Torres and Gerrard all the time.
Truth: No-one was saying that Xabi Alonso would not be missed when he left this summer, yet Liverpool were still a "two-man team" last season, when it suited pundits (even though those particular two men, Torres and Gerrard, only played 14 games together, and Liverpool had their best season in two decades).
Why is the league's best keeper, Pepe Reina (a Benítez signing) not considered worthy of addition to this "two man" team? Why is the league's best defensive midfielder, Javier Mascherano (a Benítez signing), not considered worthy of addition to this "two man" team? Why is Jamie Carragher, who so often has been heralded as someone Liverpool would be lost without, not considered worthy of addition to this "two man" team? (When just a couple of years ago, the two man team was him and Gerrard.)
Why is Dirk Kuyt (a Benítez signing), who scored 15 goals mostly from midfield last season, and who created countless others and worked like a dervish, not considered worthy of addition to this "two man" team? Why is Yossi Benayoun (a Benítez signing), who was arguably the best player in England in the final months of last season, not considered worthy of addition to this "two man" team? Why is Glen Johnson (a Benítez signing), who has already scored two and created several other goals, not considered worthy of addition to this "two man" team? And for me, a fully fit Daniel Agger (a Benítez signing) is as good as anyone in the world in his position, and certainly worthy of addition to this "two-man" team. (Also, Skrtel is a top-class defender, when he hasn't got a broken jaw.)
All last season, the general consensus was that Liverpool had a title-winning spine, but not quite enough in wide areas. While Alonso has left, the other six spine members are still present, with Johnson added to the wings (albeit from full-back). Yes, Torres and Gerrard are the best two players, but take the best two players out of any top side and of course they will lose something. It shouldn't take an IQ of above 50 to realise this. (Unfortunately, some ex-footballers fall below that mark.)
Myth: Zonal marking doesn't work.
Truth: Liverpool have finished top of the set-piece defending league under Benítez (2005/06) using zonal marking, and did very well again a season later.
The truth is that Liverpool are on average now over two inches shorter than in the days of Sissoko, Crouch, Hyypia, Traore, et al, and therefore will always be more susceptible to good delivery into the box. Insua is a far better player than Traore, but the latter was about eight inches taller. Riise was 6ft and good in the air defensively, but his form fell away in his final season. Insua is a better footballer, but the inclusion of such players will always come with a slight downside.
Experts who have used both methods (such as Gordon Strachan) can attest to the particular pros and cons of zonal and man-marking; neither is perfect, but you use what suits you. Such people agree that players "get a run" to attack the ball no matter which system is used. After all, has a man never lost his marker to win a free header?
It doesn't help that penalties are being included in figures damning Liverpool's set-piece defending this season. Who marks zonally from a spot kick? (Actually, everyone! – the keeper is the ultimate zone defender who doesn't mark up but positions himself to deal with the ball.)
For more on this myth, click here.
Myth: Benítez has spent £250m.
Truth: The current squad costs £140m, with four rival squads currently costing in excess of £200m. Benítez has spent a lot if you ignore how he's had to sell players to buy better ones, making profits on many of his signings to reinvest. Sissoko led to Mascherano, Bellamy to Torres, and Crouch, indirectly (due to transfer fees owed), to Johnson. Surely the only gauge is what the current squad costs, as a manager will almost always put every penny available to him into the set up.
Ronnie Whelan said on Irish TV last month that the Liverpool eleven sent out to face Debrecen cost £250m. How many people will believe that? Quite a few, unfortunately.
It actually cost £78m. In what other profession would an "expert" get away with such utter mindless bollocks? Great player, but a total fool of a pundit. It's a bit like a film critic claiming that a low budget indie film cost more to make than Titanic; he'd lose his job and credibility in an instant.
What's clearly true is that Benítez has never been able to get anywhere near the British transfer record, whereas someone like Alex Ferguson has smashed it several times.
What's also true is that the more Benítez has spent on a player, the better on average the signing has proven to be; but the majority of his signings have been due to a compromise of one kind or another, and many of his main targets were deemed too expensive, even though players like Alves and Simao would not have cost even half of the British transfer record (and both went on to be sold for far higher fees, suggesting they were the 'real deal'). There is no doubt that Chelsea and Manchester United could have afforded these two players, and that was a key difference; instead of Simao, Benítez only had enough money for Pennant.
Liverpool also lag seriously behind in terms of wage bill, and a club's wage bill heavily correlates to success; in other words, 90% of the time the biggest payers win the prizes. Transfer fees can be arbitrary, but only the richest clubs can afford to keep a large group of top players on the payroll.
Myth: Benítez has a poor record in the transfer market.
Truth: Well, if you only list a manager's flops, then of course that's the case. By my reckoning, if 50% of a manager's signings succeed to any degree, he'll be onto something. And only around 10-20% need to be very special indeed.
What's strange is how Benítez's flops get scrutinised, and yet those of Wenger, Ferguson (and Mourinho) get totally overlooked. Some of that is due to the success those managers have had, although often that success was stymied following some really dodgy signings. In truth, Ferguson could only excel from his 7th season onwards, Wenger has been unable to excel since the Premier League went über-rich, and Mourinho only succeeded with the help of a expenditure that puts Liverpool's in the shade.
For a full examination of this myth, click here.
Myth: Benítez's teams are too defensive.
Truth: They are attack-minded, and always have been, but not at the expense of balance. There's no point attacking too freely if your defence and midfield isn't yet capable of withstanding the counter-attacks. In his early big games, this was especially true.
A lack of enough goalscorers was also an initial problem, with Benítez struggling to find a centre-forward he could rely on prior to 2007 – he certainly didn't inherit one – but last season six players got into double figures, and that can easily be replicated this season.
The Reds finished last season as the league's top scorers, without Torres starting half of those games, and have already have an even better goals-per-game average this time around, moving up from 2 per game to almost 3.
Myth: Benítez prioritises Europe over the Premiership.
Truth: Undoubtedly the Spaniard struggled in his first season with English football. Obviously he was more comfortable with the Champions League, and winning that competition set in stone this particular myth, meaning that despite posting improved league showings, including the club's two highest points tallies for 20 years (plus its fewest ever defeats in a season!), and a to-be-expected levelling off in Europe (still regular semi-finalists, but winning again would have been the ultimate miracle), the belief still persists.
There have been times when he's rested players in the league ahead of a big European game, but there have been European games, such as Marseilles at home, when he did the opposite (and he got slaughtered for that, too!). Once the Champions League becomes a knockout competition, there is no margin for error, but league games are rarely the be-all-and-end-all. Most managers will field a stronger team against Barcelona, Inter Milan or Real Madrid than against Hull, Stoke or Wigan if there is not sufficient rest time. That's how football works at the top level. Doing the opposite would be suicide.
This is especially true when teams are out of contention for the league title; both Arsenal and Liverpool fielded reserve sides in the league at the Emirates days before the two met again in the Europe.
Benítez was also widely castigated by Neil Warnock for fielding a weakened team against Fulham when the Reds were focusing on Europe in 2006/07, yet Warnock had fielded a largely reserve side at Old Trafford earlier in the season, effectively "throwing" the game, to use his own logic.
The truth is that without the money generated by the club massively overachieving in Europe, even a 2nd-placed league finish would have been unthinkable. Liverpool generate far less money, and don't have the rich benefactors that other clubs rely on to buy players. Benítez must have generated approximately £100m in Champions League runs, when a UEFA Cup team would have had to perform miracles to get £10m in that time; and remember, for most of the decade prior to his arrival, Liverpool were a UEFA Cup team.
Without a master tactician in Europe, Liverpool would be screwed in the Premiership. This is the obviously logic that too many fail to grasp. One feeds the other, but unfortunately, in terms of the added games and the extra resources needed, it can hinder, too.
Myth: Benítez can't man-manage.
Truth: While he's not a cuddly, buddy manager, he has a way of working that separates the personal from the professional. That is his method.
While there may be some similarities with the goatie and the tubbiness, Benítez is no David Brent: "I've created an atmosphere where I'm a friend first, boss second. Probably entertainer third."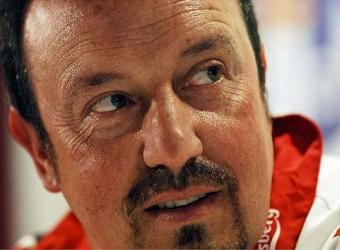 Ultimately, Rafa tries to keep the same distance from all players. That way there are no accusations of favouritism.
However, there have been plenty of occasions when he's given very public support to young players, or those under heavy flak from the press and fans, because they need extra protection.
To quote myself on this issue: "What's Benítez been doing with Lucas? How many times has he defended his own players in public only to be criticised for being blind to their faults? Can he not win? How many times did he stand by Ryan Babel, only to finally lose patience at the start of this season? And even then, he rehabilitated the Dutchman after an outburst when many people felt the player was heading for the exit. Since then, Babel has been ten times better. If Harry Redknapp had been as generous with playing time and compliments with misfiring strikers like Crouch and Keane, when each went what felt like a year without scoring, he'd have been knighted. Was that not great man-management by Benítez?"
I do get the impression that Benítez doesn't inflate the egos of the journalists who cover him, and has little time for pressing the flesh. His interpersonal skills, outside of those he trusts, may be lacking; especially as a man for whom English is not his native language, and who therefore has to be extra wary. He doesn't play the media in the perfect way Alex Ferguson does, which they lap up, even when he turns on them and calls them "fucking idiots".
Myth: Benítez manages by numbers/makes substitutions too late.
Truth: This is a dig at those who study the game, and use data to aid their decision making, such as Benítez (although Wenger, who does the same, is exonerated); indeed, it was a comment made by Andy Gray about Benítez only making substitutions around the 60-70 minute mark.
Against Chelsea, after 60 minutes, Gray notes that Rafa is right to not want to have changed things; two minutes later Chelsea score, and a couple of minutes later, after getting ready to come on and receiving his instructions, Benayoun enters the fray. Gray says "it's almost as if Benítez is managing by numbers". How can a manager be right one minute and a robot following data the next simply by reaction almost instantaneously to a goal?
Two things here. First, a half-time team-talk is a chance to motivate and instruct anyone under-performing in the first half. Giving someone 10-15 minutes to put in every last ounce of commitment or risk being hauled off upon no improvement is hardly revolutionary thinking.
Second, Liverpool have a brilliant record of scoring late goals and winning games in the dying stages, which suggests that the players Benítez has on the pitch, whether brought on or kept on, are generally the right ones.
Oh, and a third thing. Benítez changes tactics during a game, switching players, and so on. So it's not like the only way to change a game at half-time is to bring on a sub. But when someone is truly hopeless, such as Salif Diao at Fulham in 2004, he will make an alteration at the break.
Myth: Benítez doesn't trust British players.
Truth: Benítez can't afford British players. This started when he wanted to sign Jonathan Woodgate in 2004, but was priced out of the market. The same applied with Gareth Barry four years later.
When he did buy Crouch, Pennant, Keane and Johnson, he was mocked for paying over the odds. Meanwhile, the best English players (albeit in very small clusters), were already mostly at Chelsea, Arsenal and Manchester United, and therefore out of bounds (with Liverpool having their own untouchable pair in Carragher and Gerrard). Any England internationals at Everton will never head this way, either.
Clearly a manager knows a certain market best, and for Benítez in 2004 that was Spain; which also happened to be the world's best league at the time. Benítez has raided his homeland for its top talent, and internationals in the making – Alonso, Reina, Riera, Arbeloa and Torres – in the way Wenger did with France.
Unfortunately, the comparisons Benítez suffered with Houllier were not helpful; while his predecessor had success in other markets,unfortunately he raided France for also-rans.
Myth: Benítez doesn't trust youngsters, especially local kids.
Truth: The Academy simply hasn't produced the players; maybe the rare gems never existed on Merseyside in order to develop, just as there haven't been many Geordie or Mancunian sensations of late.
These days, a top four squad is full of internationals, and the first-team full of world-class players. So it's inevitably harder for a young player to break through. Only now does Benítez have full control of the Academy, after it produced good teams with a great attitude, but no special players.
It could be a long time before any overhaul bears fruit; when Dalglish did so in 1986, it wasn't until between 1993 and 1998 that the big stars emerged (with the exception of Steve McManaman in 1989). When Ferguson overhauled the United youth system, also in 1986, it was also around 1992/93 that the likes of Beckham, Scholes, Butt and Neville first started to emerge; only Giggs, a rare prodigy, broke through earlier.
Critics should ask themselves this: of any home-grown Liverpool players to emerge since 2004, who has gone on to look good enough for the first team? Nearly all have left, and aside from Stephen Warnock, which of them has looked even remotely worthy of a place in the match-day squad? Danny Guthrie has Premiership experience, but that's about it, and he played in the Reds' strongest area of the pitch. Instead, there are lots of good Championship players who will never get near the top four in the top league.
Therefore, would people rather have Neil Mellor, who will never be star, or a French 20 year old who, though far from the finished article, has internationally recognised talent for his age group? Some of Benítez's alternatives may not prove much better in the long run, but at least they have the potential to be. At 26, Stephen Warnock was called up by England; at 20, Emiliano Insua got his first full Argentina cap.
Myth: Benítez's goatee hasn't brought any luck.
Truth: Okay, I'll give you this one.