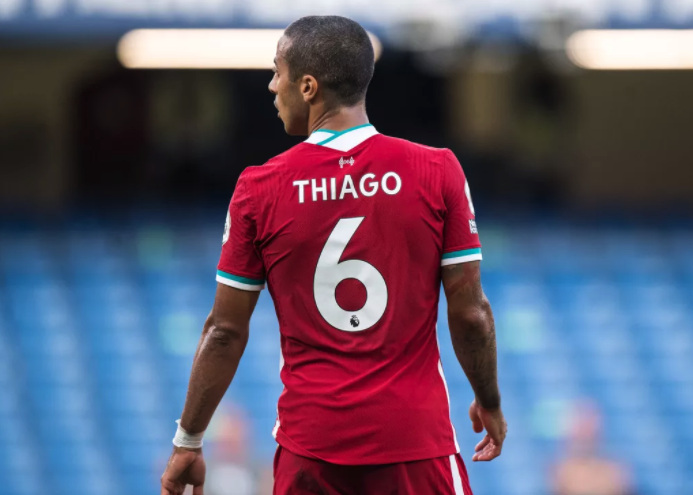 Best posts of the week, as chosen by Chris Rowland and Daniel Rhodes:
Here are some comments we've picked out this week:
1 – Andrew is full of praise for Thiago after the Chelsea match:
It seems I have inadvertently done the sanity squad thing as well! Just finished watching in Melbourne and thought I'd write a few words…
Could it have gone any better? In a footballing sense, of course. But in a narrative sense, I don't think so. The oft-maligned Hendo creating the key moment in the game. Fuming Frank paying the cost of paying no costs for defenders. Firmino getting an assist for his confidence. Mane kickstarting his campaign. Fabinho absolutely shutting down (or should I say, robustly tackling into submission) the debate about him being the fourth-choice CB. Alisson delightfully dismissing the most annoyingly effective penalty routine in football history.
And Thiago. What more do I say about my man on top of the full essay I've already written about him? A lot is the answer. Who could have scripted a better opportunity for him to make his debut – a one player advantage against a leaky defence with the team already on top in terms of energy and quality? It was perhaps fitting that Hendo came off for him – "I've done my job hunting, grafting and pinging, now it's over to you, my new maestro friend, to pick the locks and see us home." It was the symbolic handing over of the midfield baton. From where we've come – the powerful, dependable engine – to where we want to go – the expressive, subtle timepiece. If there were any lingering doubts about this transfer, they were well and truly quashed in a 15-minute spell of mastery. And let's be clear here – they were the first 15 minutes on the pitch for a man who has been at the club for two days. That he came onto the field and immediately starting spraying absurd passes to all corners is just outrageous. The confidence of the man is astounding. No little tap arounds to get himself going. No. He came onto the field as if he were playing match 28 in the Bundesliga against lowly Paderborn at the Allianz. Four main things stuck out to me. First, the completely different level of his passing. It is just out of this world. He may as well have come from another planet, his passing is that foreign to what we know at both Liverpool and in the EPL in general. He sees things so differently to others, and he then has the cultured right foot to execute his visions. The shapes his body creates as he goes through his array of passing styles is like your first time watching a fiery, flowing salsa performance when all you've ever known is fist pumps and head nods at rock concerts. The difference is as apparent in one of his wide-legged curlers out to Trent or no-look fizzers into Bobby as it is his more menial 10-yard punches through the midfield. Whereas you are pretty much certain you know where the next 10-yarder is going when Gini or Hendo are on the ball, Thiago just turns the mundane into the potentially incisive, both with his execution and imagination. While sometimes he will just play the simple pass, the way he plays it is telling – quick and undercut so that it slides rather than rolls, that it gets there just that bit faster and is that little bit easier for the recipient to control. But often he creates the unexpected when the expected seems predestined. Mane might roll him the ball off the left, and the whole football pitch reacts as the central midfielder is supposed to open up the play and find Trent, Salah or Gini in space on the right. Yet, instead of turning, he'll feign that turn, then hit a crisp return to Sadio in a seeming cul-de-sac of Chelsea players, but with an opportunity for incision. He not only trusts and invites Sadio to make something of it, he demands it. And everyone on the pitch has to recalibrate, has to stay the muscle memory of a shift to the the other side of the pitch and deal with the new problem the maestro has posed. But with a moment's less time, a yard's less room for error. It's these simple, crucial details that morph his exquisite skills from "lovely" to "devastating" in a way that many equally-skilled playmakers never have the privilege to transform.
And this brings me to my second point. He is as intelligent as he is skilled, and as commanding as he is performative. In short, he makes more of what he has than most others do. While many possess the exquisite tools that he does, there are few who wield them to their full potential like he. And an enormous part of that is his mentality. Again, one must remember that this is his first time on a pitch with his teammates, and potentially only the second or third time on any grass surface with them at all. Thus, to see him control the game as he did, to talk to the other players as he did, is quite extraordinary. Here he was offering Robertson both apology and explanation of why he had opened the play to Trent rather than a short through ball to him. There he was offering suggestions to van Dijk about how they transition the ball out of defence once the ball had moved on, or demanding the ball of James Milner. In a team full of national captains, natural leaders, EPL and CL winners, and some of the best footballers in the world, he had the audacity to take full command after just hours at the club and minutes on the pitch. If we think we appreciate what we have, we must think again. A polyglot with the words and wisdom, the credentials and cachet, to command a pitch and playing group like a general on the stand.
And what's more, they listened. Our team of superstars, they realised what they had. Like the cool new kid in the playground, they couldn't wait to befriend him. All seemed intent on being the one who most quickly and effectively delivered him the ball. He was like a magnet on a string, roving in a triangle between the back two and the top of the box, tapping a little one two with Salah there, a turn and a ping out to Robbo here. They all seemed ensorcelled by his stature and skill. And rightly so. Each time they fed him the ball, he created a new angle, framed a new vision for how the team could move forward. And if they were ensorcelled, I was fully mesmerised. To such an extent that the game seemed to fade into a canvas of artistic delight, and was only wrought back into footballers and grass by the generous adjudication of a penalty. To find that it was Thiago who had strayed, who had proffered Chelsea a lifeline back into the game, did not compute. Could our maestro be fallible? Of course not. Alisson would not allow that. As if the whole second half was built as a shrine to Thiago, our Brazilian guardian cleared the name of his demi-compatriot with a paw and a roar.
While fanciful and flowing are the discussion of these first three points, it's perhaps fitting to finish with one that is as technical and functionally effective as our midfield has been before his arrival. He is a virtuoso, an elite craftsman, but he pays homage to those who toil without his talent. Despite his superior skill, he does not shirk the labour that lays the foundation of his finesse. He thundered into challenges, and argued hotly when they went against him. I was amazed to see him leap over a taller opponent to win a midfield header he had no right to. He scrapped, he chased, he pressed. He did what needed to be done, in addition to what all wanted to see. An innocuous, meaningless moment in the wider landscape of the match perfectly encapsulated this. With 89 minutes gone, with his team 2-0 up and a man to the advantage, he closed down a directionless Kante with the fervour of a teenager in his first trial. Thiago wrestled with the sublime Frenchman, earned an opening, and nicked the ball onto Kante's own leg, sending it flying out for a Liverpool throw. The moment mattered not – Chelsea had folded, the attack was harmless. But having won the moment, Thiago bounded away, slapping a teammates' outstretched hand with passion, before pumping both of his fists in a celebration which would not be out of place for a winning goal in a big match. He cared. He cared that he gave everything, no matter the moment, no matter the context. And if this moment summarises the man, again, I think we need to rethink what we have at our hands.
Let me finish with this. Thiago is human. Just like all footballers, just like all people. He is not immune to error, and in fact there were several he committed during this match alone. Though these words paint a picture that might tend toward aesthetic over analysis, there can be no doubt that he is an incredible addition to our team. Though I clearly watch him through a Thiago-tinted telecast, though I clearly possess a crush of the man variety, this latest dataset can only confirm further the wisdom of the transfer, and the significant impact he can have in our quest to attack, not defend, the title. I couldn't stop smiling throughout the second half today as he imposed his will on the match – I'm sure they won't be the last smiles he brings this season.
2 – Andrew Beasley revealing the figures on our midfield pressing before and after lockdown:
I have thought of a way of measuring this (to an extent) and that's to look at how many pressures the team made, both in total and in the middle third of the pitch. There's no way to know how any changes were by design or due to fatigue, but they certainly back up the point.
The following table has the average per game for last season, last season before and after the winter break, and then the games so far this season.
| | | |
| --- | --- | --- |
| Period | Pressures Per Game | Middle 3rd Pressures Per Game |
| 2019/20 Season | 148 | 62 |
| Pre Winter Break | 165 | 70 |
| Post Winter Break | 116 | 46 |
| Leeds H | 174 | 64 |
| Chelsea A | 152 | 64 |
| 2020/21 | 163 | 64 |
After the winter break, pressures per game dropped by 30%, and midfield pressure by 34%. Things appear to be basically back to 'normal' which is great to see.
3 – Chris on the strength of the current squad compared to other vintages:
It is hard to argue against the central thrust of this argument. In terms of the size and quality of the squad, the all-bases-covered nature of it, the versatility, the peak stage in their careers of many of the key players, the years of togetherness, the co-travelling on a journey, the prevailing team ethic, the management and ownership team, the scouting and recruitment, there's a tick in every box. We LFC fans are fortunate to be living through an exceptional time for the club.
There have been other surges of prominence of course. Under Shankly, promotion as champions from Division 2 was closely followed by a league title, our first ever FA Cup then another league title, in the mid 60s. That period spanned 4 years, 1962-66. We had another 2 year burst from 72 -74, with another league title, our first European trophy (the UEFA Cup) and a second FA cup.
Paisley then presided over an unprecedented period of success in terms of longevity as well as trophies won. Between 1976 and 1983, 6 league titles, 3 European Cups, a UEFA Cup and 3 League Cups. Fagan followed the season after with the treble of European Cup, League title and League Cup. The achievements in that 9 season spell will probably prove to be unmatchable (15 major trophies), but that doesn't mean the squads were comparable, nor the opposition.
Dalglish would have had 3 league/FA Cup doubles in 4 seasons but for 2 exceptional matches – the FA Cup final defeat to Wimbledon and the last minute Michael Thomas goal. But what are we looking at now, and how far advanced is the story?
A Europa League final in Basel, 2016. Champions league finals in 2018 and 2019. A 97 point season with 1 defeat, followed by a title season with 99 points. A World Club Championship and a European Super Cup. At one point, champions of England, Europe and the World simultaneously. Domestically, we face unprecedented opposition in terms of their quality, their bankrolling and their sheer number. The old boys never had half a dozen monsters to contend with simultaneously.
We won't be able to judge this until the story is fully known. But at this juncture, to be at the incredible level we are for so long, for me makes this the finest crop we've ever had.
4 – Tony McKenna on a similar subject:
"Beyond doubt – Liverpool Now Have Their Strongest Squad Ever"
That title.  That title, alone.  I have read it repeatedly, to the point of obsession.  It's humbling. It's emotional.  It's astonishing.
All those years ago, when TTT was born, none of us could have dreamt of where Liverpool are today.  The Club was not only a deposed giant but one that had rumbled threateningly, on the cusp of bankruptcy.  Now, we have eclipsed not just United, (and god almighty, I had not anticipated seeing that in my lifetime), but we have surpassed the newer, financial powerhouses along the way.
By deft.  By smartness.  By being astute. And not by ill gotten gains.  Or by an entity, tainted by the sins of human abuse.  Success has not compromised our principles.  All intact.  All wholesome.  All within keeping of the Liverpool Way.  Our thanks to FSG.  To compensate for the thanklessness of those outside of this TTT parish:  thank you so much, we're glad you made it.
And a huge thank you to Paul for creating the wonderful vehicle that TTT is, (Paul's at the wheel :-)); and to all those who have helped to stay the distance on this remarkable journey.  So glad I jumped on board.  Through the bad times.  Through the good times.  It's all been worth it.  And has become a huge part of my life.
That title.  That title, alone.  I have read it repeatedly, to the point of obsession.  I'll read it again.
5 – Mobykidz's 'pit of the stomach' metric of measurement:
A route to a fan's heart is through his stomach
I measure the strength of our starting XI and now squad in the "pit of my stomach" sensation when we played.
My reference points start with the late 80s under Dalglish. It was a mild discomfort after 89. But it barely registered with arguably the best team I'd seen.
Then under Souness it went from a couple of butterflies to knots in a succession of bad signings. The stomach acid were like tidal waves.
When Evans took over the knots disappeared to be replaced by heart palpitations and a gradual acceptance of our inferiority versus Ferguson but we were a lovely side to watch if not good for my constitution.
In came (eventually) Houllier and like an Alka Seltzer the stomach acid that had been churning away at my guts receded and though the butterflies fluttered with the strength of a tornado it wasn't gut wrenching. I could digest my football again.
Then along came Rafa. If Houllier was an Alka Seltzer then Rafa was like a great Probiotic restoring those gut bacteria to once again digest wholeheartedly the concept of a league winning side. Unfortunately all that while I did not know two American ulcers were growing at pace that no CL win and near miss PL could steady. And steadily that gut wrenching pain returned.
When FSG came in things did not become easier at first as they tried an Old English tonic in the form of a Hodgson. Unfortunately the Hodgson made me belch, burp and smelly fart constantly as we were forced to swallow so much hot air everytime we played that the condition was given it's own name – Konchesky Disease.
After FSG came to their senses they surgically removed The Hodgson and replaced him (Edit: I want to preserve my memories of Dalglish as a good custodian / spoon of Gaviscon – though swallowing an Andy Carroll sounds as bad as it literally is) with a more modern and fibre-loaded diet in Brendan Rogers and his perfect dentures. Gone for now was the smelly fart to be replaced by the return of the stomach acids. Plenty of fibre kept those goals coming but a lack of that balanced diet eventually bought back the Evan's condition. At the end those smelly farts were back as Rogers dentures slipped and he swallowed more hot air. We needed major surgery to cure this condition.
So along came a diet created in Germany. Jurgen Klopp restored my good gut bacteria with a long term balanced diet that was as much about our behaviour as it was digesting his brand of wholesome and nutritious football. We not only needed to eat better we had to believe we could eat better. It is food for the soul.
On Sunday for the first time in a long time since the late-80s, gone were the butterflies, belches, stomach acid and knots. Eating Liverpool over a season is like a three star Michelin experience. Maybe what once was The Boot Room should now be called The Kitchen.
The squad has a healthy mix of local and exotic ingredients that our German chef and his "kitchen" continually use to conjure up world class menus.  Thiago is like Saffron. It is a pain getting but once you do there is plenty special you can do with it.  So this is the best squad I have seen in my lifetime not just because of its ingredients but what you do when you put it all together.  The pit of my stomach proves it.
The Big Red Kitchen™ cooks on.
YNWA.
Articles published since last Friday, with some excerpts:
Monday September 21st:
Post-Match Analysis: Chelsea 0-2 Liverpool, by Daniel Rhodes.
As ever on the post-match analysis, when considering team totals the preference is to ignore penalties in the totals. For example, we finished with 1.6 to 0.4 (average across all models) against Leeds last weekend. Even though our team total was often 3.0 on some models. Against Chelsea, we managed to win last season at Stamford Bridge, but that was a close game according to the shot and expected goal metrics. This one was the complete opposite: we absolutely hammered them, in a contrasting tactical style to that against Leeds the previous week. This was pure control in statistical terms: 18 shots to 5; 10 shots in the box to 3; three big chances to one (the pen); crucially though, the xG models had it: Chelsea 0.2 – 2.2 Liverpool. A shellacking. If we look at the models before the sending off it was a lot closer: 0.03 – 0.4. If we continue to concede so few shots of low quality, and create so many high quality chances ourselves we will win the league. No doubt. It's the perfect marriage of shot profiles…
The Case For The Defence: Analysing Liverpool's Recent Defensive Issues, by Andrew Beasley.
But as you'll have noticed from the graph, there was also a steep incline ahead of the recent drop off. Following the first game Liverpool played after their winter break – a 1-0 win at Norwich – their 14 match save percentage was the highest it has been in the last 12 years. A level of regression was inevitable, though it has to be concerning that it has been a steep decline rather than a gradual one.
It really has been a remarkable change in form. In the 14 games ahead of the winter break – a period which covers between home games with Manchester City and Southampton – Liverpool conceded just six goals from the 43 shots on target they allowed opposition teams.
The total of goal attempts testing Alisson has remained consistent in the period since – 42 in 14 games – but the 21 goals conceded is an ugly tally. In the final 12 league matches of 2019/20, only the three teams who would go on to be relegated let in more Premier League goals than the Reds. Yikes.
Clearly there have been mitigating factors in the seventh month period which covers Liverpool's previous 14 league games. They had effectively then actually won the league, ending the club's three decade title drought. That process carries an enormous psychological weight and then release, and a global pandemic has occurred since the winter break too, as you've probably noticed.
Tuesday September 22nd:
Book Review – The Lost Shankly Boy- George Scott's Anfield Journey, by George Scott with Jeff Goulding, by Chris Rowland.
This book is an account of life at a Liverpool FC before YNWA had even arrived and The Beatles had only just formed. It also tells of the precarious and fleeting nature of a footballer's life if he is not quite at the top grade – Scott himself didn't quite make the cut with the first team. In the days of no substitutes, the very success of the fast-emerging Liverpool made it hard for Scott, or anyone else, to break into that team, no matter how good they were and how hard they worked and trained. Scott explains how hard it can be to maintain your enthusiasm and positivity when you just cannot break through and are not given the chance, despite scoring 71 goals in 183 occasions in which he represented the club. But they were mostly in the Central League (the reserves league of yesteryear, one which Liverpool won almost as regularly as the first team won the title) and the Youth Cup.
Wednesday September 23rd:
2020/21 League Cup 3rd Round Preview | Lincoln City | LNER Stadium, by Gary Fulcher.
Lincoln have only made it to the 4th round of this competition once, back in the 1967-68 season, where they were eliminated by Derby County in a replay. I have a soft spot for Lincoln City from when I managed them in one of the football manager games on the Commodore 64 back in the 80s, en-route to taking over the Liverpool job where we won everything. Full circle and all that.
Beyond Doubt – Liverpool Now Have Their Strongest Squad Ever , by Paul Tomkins.
Despite what the media may report over some deals, I know from first-hand information that Liverpool have an unbreakable policy of insisting on buyback clauses for any young player sold, in addition to potential sell-on clauses. It applied to Dominic Solanke, and it will have applied to Ki-Jana Hoever, whose path to the first team was blocked by an excess of talented young British right-backs, and by perhaps not being tall enough for centre-back. His debut as 16-year-old against Wolves obviously caught their eye.
But for Liverpool, the buyback is the bigger deal. The same will apply if Brewster departs, so that these sales – which bring money in now, and which is needed for cashflow concerns due to the Covid-19 financial shortfall in football (which has just been extended due to the abandoning of plans to get fans to return to stadia) – could end up like 2-3 year quasi-loans, where the player develops his career in a stable environment, knowing that Liverpool are still monitoring them in much the same was as if they were on actual loans. If they don't develop as hoped, no harm; if they do, they can be bought back, if the player still wants to represent Liverpool, which is highly likely – and at the very least, the Reds therefore have first refusal. 
It would be insane to highly rate these players, as Klopp and co. do, then to sell them while they are still under contract to the club, and not to stipulate a buyback. Think about it. It's basic.
Thursday September 24th:
Scouting Thiago Alcántara: Mesmerising Maestro & Exquisite Passing Executioner by Daniel Rhodes
First of all, unlike David Moyes, Thiago is arguably the most bona-fide winner in football today. He's won the league every single season in his career, apart from 2011/12 by the looks if it. Of course he's played at Barcelona and Bayern who are always huge favourites for the title, particularly the latter. Nevertheless, have a look at this haul:
Friday September 25th:
Post-Match Analysis: Lincoln City 2-7 Liverpool (SEVEN) by Andrew Beasley
There isn't much that a team as wildly successful as Liverpool hasn't accomplished over the years. But winning 7-2 away from home was one such thing. Not any more.
It was always going to be a mostly shadow XI at the LNER Stadium (a.k.a. Sincil Bank), and the players certainly made the most of their rare opportunities to get some game time.
Xherdan Shaqiri made his first start since the Club World Cup, and opened the scoring with a brilliant free-kick. Takumi Minamino was next to find the net, and he later added another and provided the assist for the final goal of the night.
Curtis Jones then bagged a brace before half time to continue his impressive form. The young Scouser now has five goals and an assist for the first team, having only accumulated 8.7 per 90s.
Marko Grujic scored his first goal for the club – having not even made an appearance since December 2017 – before Divock Origi rounded things off by scoring during his first match of the campaign. Here are the match stats.