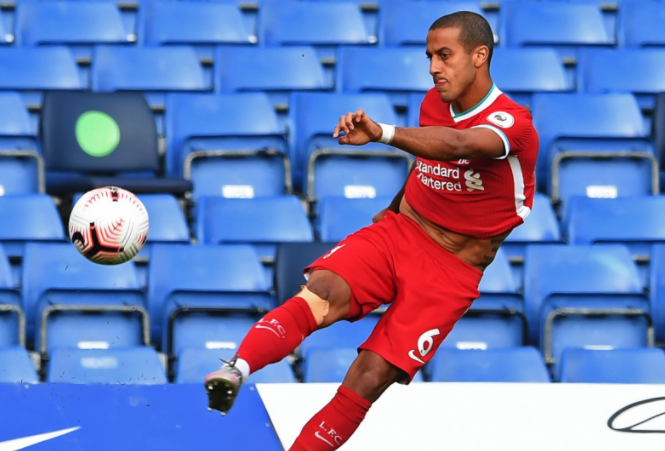 On The Tomkins Times, we've already had an excellent analysis of Thiago by Andrew, you can read it here: What Would Thiago Alcantara Bring to Liverpool FC?
It was written before we signed him as well, and with the kind of gusto shown by the man himself in his first forty-five minutes in the shirt, Andrew followed it up with an equally brilliant and effusive comment after the game. I'll quote some of the best bits, but click here to subscribe and get the full thing, including the best comments section around:
It was perhaps fitting that Hendo came off for him – "I've done my job hunting, grafting and pinging, now it's over to you, my new maestro friend, to pick the locks and see us home." It was the symbolic handing over of the midfield baton. From where we've come – the powerful, dependable engine – to where we want to go – the expressive, subtle timepiece.

…

The shapes his body creates as he goes through his array of passing styles is like your first time watching a fiery, flowing salsa performance when all you've ever known is fist pumps and head nods at rock concerts.

…

Thus, to see him control the game as he did, to talk to the other players as he did, is quite extraordinary. Here he was offering Robertson both apology and explanation of why he had opened the play to Trent rather than a short through ball to him. There he was offering suggestions to van Dijk about how they transition the ball out of defence once the ball had moved on, or demanding the ball of James Milner. In a team full of national captains, natural leaders, EPL and CL winners, and some of the best footballers in the world, he had the audacity to take full command after just hours at the club and minutes on the pitch.

…

An innocuous, meaningless moment in the wider landscape of the match perfectly encapsulated this. With 89 minutes gone, with his team 2-0 up and a man to the advantage, he closed down a directionless Kante with the fervour of a teenager in his first trial. Thiago wrestled with the sublime Frenchman, earned an opening, and nicked the ball onto Kante's own leg, sending it flying out for a Liverpool throw. The moment mattered not – Chelsea had folded, the attack was harmless. But having won the moment, Thiago bounded away, slapping a teammates' outstretched hand with passion, before pumping both of his fists in a celebration which would not be out of place for a winning goal in a big match. He cared. He cared that he gave everything, no matter the moment, no matter the context.
The rest of this article is for subscribers only, and includes individually tailored videos from Thiago's throughballs, progressive passing, pressing, goals and assists, as well as an in-depth scouting report from one of the world leading companies. Subscribe here.
[ttt-subscribe-article]