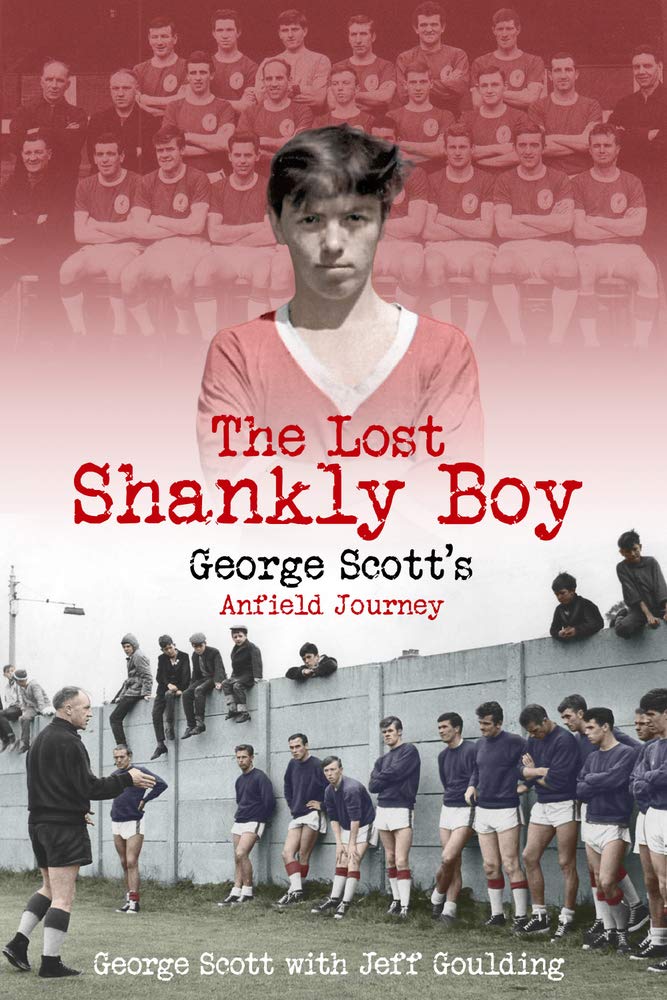 George Scott arrived at Anfield in 1960 as a 15 year-old poor boy from Aberdeen, just after Bill Shankly's arrival as manager in 1959, and as an attacking midfielder. Shankly would go on to have a massive and lasting impact on Scott's life and career both in and out of football. This is the fascinating story of that life and career, told by Jeff Goulding, writer, author and lifelong Liverpool supporter and season-ticket holder. There is a Foreword by Ian Callaghan, holder of Liverpool's all-time record number of 857 appearances and a contemporary of Scott's at Anfield.
It was Shankly who first persuaded young Scott that the move such a long way from home would be worth it.
After the young Scott had said "my granny doesn't even know where Liverpool is", Shankly said "Son, you go home and tell your granny that we are in the 2nd division at the moment but we will be in the 1st division next year. Soon, everyone will know where Liverpool is."
For football, music and popular culture reasons, he was right. Liverpool, the city and the club, was quite the place to be in the early 1960s.
Scott spent five years at Liverpool and witnessed the birth of a football dynasty, even if they didn't realise it at the time (though you suspect Shankly did), as the Shankly revolution gathered pace and the club was transformed under the messianic manager from one languishing in the 2nd division to 1st Division champions and FA Cup winners for the first time, from nobodies to heavyweights at the summit of the English and European game, in a blindingly short time span.
This book is an account of life at a Liverpool FC before YNWA had even arrived and The Beatles had only just formed. It also tells of the precarious and fleeting nature of a footballer's life if he is not quite at the top grade – Scott himself didn't quite make the cut with the first team. In the days of no substitutes, the very success of the fast-emerging Liverpool made it hard for Scott, or anyone else, to break into that team, no matter how good they were and how hard they worked and trained. Scott explains how hard it can be to maintain your enthusiasm and positivity when you just cannot break through and are not given the chance, despite scoring 71 goals in 183 occasions in which he represented the club. But they were mostly in the Central League (the reserves league of yesteryear, one which Liverpool won almost as regularly as the first team won the title) and the Youth Cup.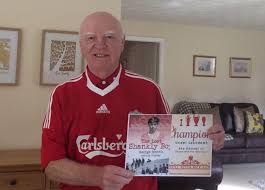 There is an account of Scott's friendship and comradeship with contemporaries and fellow Scots Bobby Graham and Gordon Wallace, both of whom did get first team opportunities – I personally saw many a goal scored by Bobby Graham, who scored 21 in all competitions in 1969/70, long after Scott had departed. At the same time some young local lads were also making their way in the game – Chris Lawler, Gerry Byrne, Tommy Smith and Ian Callaghan. They were to get rather further in their footballing careers.
Later Scott moved to digs with legendary Reds winger of the 1960s Peter Thompson. He tells of a party at Jimmy Tarbuck's house when Gerry Marsden turned up with the band's new single, played it and got the thumbs down from Thompson. "It's a bit slow" said the legend. "You wait and see, it's going to be big" said Marsden. And it was. Peter Thompson and George Scott were amongst the first to hear Gerry & The Pacemakers' version of the song from the musical 'Carousel', called 'You'll Never Walk Alone'.
Scott has plenty to say about Shankly's notoriously demanding training, and especially the brutal pre-season. Shanks wanted his team to be the fittest around – more echoes of Shankly in Klopp. He says they enjoyed it, but mostly the five a sides and the ball work, the gruelling physical demands not so much – including occasionally being made to run back from Melwood to Anfield rather than getting on the team coach! As Stuart Horsfield of These Football Times observes in the preface, "you can almost smell the dubbin on the boots."
Scott's is a tale of triumph over adversity – by no means limited to football- and hope amid despair, the pain of rejection and the rise back to grow stronger. Throughout, Scott admits to a nagging feeling of what might have been.
After leaving Liverpool he moved back to his native and beloved Aberdeen before a serious knee injury put paid to that. But Scott's driving desire to play football again took him to South Africa with Port Elizabeth City between 1966 and 1968. During this time Port Elizabeth won the league and his first child was born, but a terrifying brush with death with an armed burglar signalled that his time in the South African sun had come to to an end.
It was Shankly's intervention that helped Scott land another job in football, with Tranmere Rovers, persuading an initially reluctant Rovers boss to take a chance on an ageing and injury-affected player.
But the move didn't really work out, and soon Scott realised he would have to make his living outside football, perhaps with some semi-pro playing time to supplement what he could earn. The book tells of his interview for a sales role with Nestle, held in the Adelphi Hotel in Liverpool, and how he was so uncertain of his chances that he almost turned away and didn't go, but the mantra 'what would Shankly do?" came to his mind and he went in. The written character reference from Shankly which he took with him carried the day, and he got the job, with some semi-pro football too. Scott's sales career took off, he became sales manager, he moved on and tells of how this led to him meeting legends as diverse as Denis Law (who had played under Shankly at Huddersfield Town), Elizabeth Taylor, Henry Kissinger and most impressively for me, Brian Eno! In explaining his career success, which later included time as a manager in the care home sector and some after-dinner speaking, Scott cites another Shankly quote:
"You get nothing for sitting still. Nothing happens unless you make it happen."
Scott remembers:
Shankly brought fantastic self-belief, passion and enthusiasm to Liverpool Football and he demanded no less from the players. One of Shankly's oft-repeated mantras was "without enthusiasm you are nothing."
Scott makes the telling point that, of the club's 47 major trophies, five came in the 67 years before Shankly's arrival – all league titles – and 42 major trophies in the 61 years since!
One minor complaint – I found the sheer number of times where 'more of that story later'  occurs in the book mildly irksome, but nowhere near enough to deter me from enjoying this account of this remarkable story of the lost Shankly boy, a story of life with and after Liverpool as he, and they, rose from humble beginnings to heights unimagined.
The end of his time at Anfield perhaps captures best the Shankly effect.
Receiving a letter from the club at his digs, he opened it hoping to find the offer of a new contract but instead finding to his horror that the club was accepting an offer from Aberdeen for his transfer.
He sought out Shankly in the manager's office. Shankly came from round his desk, put his arm around Scott and said:
"George, I'll give you five good reasons why you should leave the club: Callaghan, Hunt, St John, Smith and Thompson. If you want to progress, it's time to go. But I want you to always remember that at this particular time you are the 12th best player in the world.  Now go back to Aberdeen and prove it.

"Son remember this; you were one of the first players to come here and sign for me. So I want you to think of yourself like the foundation stone at Liverpool Cathedral. Nobody ever sees it, but it has to be there otherwise the cathedral doesn't get built."
Scott had gone into the manager's room devastated and received confirmation of what he dreaded, yet had come out feeling ten feet tall.
The Shankly effect, right there.
George Scott has recently returned home after undergoing major heart bypass. We wish him every success, both with the book and his recovery. 
You can order The Lost Shankly Boy from Amazon UK here.