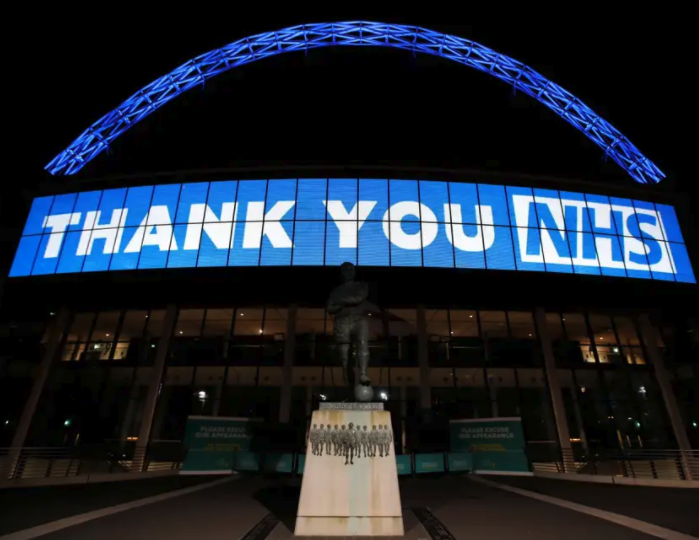 Best posts of the week, as chosen by Chris Rowland and Daniel Rhodes:
1 – Bob Pearce on how coronavirus may make permanent changes to how we live and think:
It feels like we could be living through a rapid and dramatic revolutionary change. It feels like Coronavirus has picked up human life on Earth and vigorously shaken it about. It seems highly likely that we will all be different people having lived through what happens in societies in the year 2020.
Many of us will be forced to make changes. These changes will not be ones that we have chosen to make. We will find ourselves having to try something different and often quite new. We will be having to change habits that may have been in place for many years. As it is not a choice, we will find this an uncomfortable experience. We will be having to learn different ways of behaving. We may not like them to begin with, often simply due to their unfamiliarity.
Given the timescales involved, it will be highly likely that these new behaviours and routines will become established as new habits. If our lives and 'selves' amount to a heap of intertwined habits, then we will all become different people to those we were before. Like characters we see in so many movies, people will have found out something about themselves.
As people find during wartime, there will be a need to step up, become active, show leadership, and take responsibility. Will they find that dealing with these tough times has given them a feeling that they may not have previously experienced? Feelings of achievement, community, selflessness, recognition and purpose. Will they want to continue with those feelings of 'satisfaction' in a 'post-war' world?
What was important to us will have changed. Our values will be realigned. If and when things come to settle down again we will find that we have a choice that was not there before. We will have experienced new possibilities and will able to choose between sticking with our 'new' 'selves' and going back to our old ways.
Once out of their bottles, genies have a reputation for not wanting to go back. In World War 2 soldiers returned home demanding a country 'fit for heroes', resulting in a NHS, free education, and so much more. On the home front women had been required to go to work in factories as part of the war effort, redefining their place in society.
With the need for rapid decision making in an attempt to respond to repercussions reverberating back and forth across these complex interlinking networks of societies, economies and cultures, what was previously unthinkable will become both possible and required. People's sense of what will be considered possible and impossible will have been changed. Our sense of how much and how quickly we and society can be expected to change will change.
People will see that when the worse came to the worst, capitalism was not king. It had to turn to government to socialise the costs. It required society – something one of our previous prime ministers had told us did not even exist.
While it looks like we may be cursed to live during interesting times, it could be fascinating to watch the norms as they are a changin'.
2 – L7 Kenny with some front line reporting of the current situation:
Strange and very worrying times at present. I truly feel for many people. I went to my local Tesco's last night. Like everywhere the shelves were bare. I queued up to talk to the staff at the counter to discover what plans this store had for the next few days and whilst there I heard people explain their challenges. This included an elderly lady using a walking stick who was very distressed and a lady who you could see had an NHS uniform on under her coat. This latter lady said she'd come off a long shift and only had this time to get her shopping as she was back in, in the morning. Both needed essentials and yet there was nothing.
I have seen so many crazy things these last few weeks. My colleague is a Great Grandmother who grand daughter gave birth prematurely after being beaten up by her partner (this low life has been arrested). Her granddaughter is still in hospital but the baby is able to come out. They needed general baby things such as baby milk, nappies etc. They couldn't find them and a look online saw prices such as £350 for a tub of baby milk that costs £8. She was eventually helped out by the local Sainsburys by where we work who had these items couriered to her and was just charged the cost of the products.
At the moment I despair at what some are doing and whilst these poor acts allow people to show and demonstrate wonderful acts, it is the masses who are doing the wrong things and it's left to a few people to do the right and good things at this time. This truly saddens me.
Btw, Tesco's took a list off both the two ladies in question and offered to deliver all these products to them.
3 – Mobykidz on The Tomkins Times (TTT) during these extraordinary times:
FIRST of all I would like to thank the TTT team and its members for the first class job in keeping us going through such a difficult period now and planning for tomorrow. I hope everybody is safe and well foremost.
The last month has felt never ending.  From a health crisis that began at the end of February and a number of hospital visits, completely unrelated to coronavirus, to the unravelling of my social fabric of living and working to a rapid return home to the UK it has been a stressful period.
How does one cope with the natural order of things in this unconventional of times? How does it coerce society and political actors to think differently? What does it mean in how we perceive time? Some hefty questions that lead me to evaluate what TTT means to me.
The phrase life goes on is a misnomer. During a difficult phase in one's life the continuity of social norms acts as a barometer of ones eventual return to friends, family and maybe work. Now life has come to a standstill.
The slowing down of time, which we are all experiencing collectively as a global society for this briefest moment in the Universe's history, will change us as a human race in a time where there are no real secrets in this digital age (unless you are in North Korea or Chipping Norton). Time now marches on for the whole human race – it's not life that goes on but the military-like march of time.  It is neither hastened or slowed for any of us.
So every second seems dual faceted.  On one hand counting down my hours I embraced time because the recovery of a loved one, albeit a slow one, allows my family to appreciate that we have a gift so precious that when time affords us a glimpse of a possible future so torrent with hurt the light at the other end makes everything brighter and better.
But time on the second hand moves on more rapidly like the nervous tick-tock in my head calculating the odds of this virulent and violent biological agent of human and nature (not human nature) acting as a bookie for life and death.
Yet as this biological bookie circumvents the globe, much like a tweet from Donald Trump, it leaves me conflicted. On one hand the happiness of seeing a loved in my family get better but on the other seeing our global family being shorn in a way akin to an invisible war. The odds are time will win but at what cost.
The ever decreasing circles from a personal crisis to a global pandemic brings me closer to your reality and my perception of time from hours now to seconds. There's so much data, information and living knowledge on this biological war raging inside and outside my extremities it scares me. Where do you start? Who do you trust?
Yet I hold out hope. That the last decade we have spent on fragmented paths to others agendas will rapidly with every second ticked convince a post-coronavirus world, just as it did a post-war one too, that only by acting together from a street to a district to a country to a region to international and multilateral bodies that solutions come from acting together – that the second hand always ticks and tocks the same for us all even if the hour hand does not.
I don't know what will happen. The potential for a second wave of infections is there. Could this virus mutate again? Unlike the financial crisis of 2007-8 you can't create firewalls in the system to limit social interaction on a permanent basis. The enemy is not bombing us at night. We don't live under threat from a lone wolf. This isn't terror in the terms we fully appreciate.
Yet its impact in the past month is so profound and complete some wonder how our elected (or not) leaders and institutions failed to have a plan in place. I think that's an unfair statement to make at this juncture but there is precedent for this but you feel yesterday's politics plays to the media gallery and not the public one. It seems no more.
Those in their twitter towers who spent the past decade debunking science and the very institutions they now come to rely on are themselves irrelevant. For them this biological bookie might start calling in bets on their digital lives. We shall see if the second hand is closer to midnight for them.  But any talk of political careers made or finished is one for the hour hand. I'm counting down the seconds to coming home and pray we all stay safe and well. At this moment you need community, whether physical or virtual, to get us through. A herd mentality rather than immunity.
TTT is a true community space. At least it is for me. Our fragmented paths lead us here and we share our data, information and living knowledge on something we love – Liverpool FC. It's an example of a digital society that can overcome some of the current (social) ills of a global one through kind words (99% of the time), honesty and high quality debate. It's not perfect by any means but both quantitative (for geeks) and qualitative (for philosophers or those not good at Maths and like to waffle on…and on…) it endures.
The past month TTT has coached, entertained, informed, comforted, scared, supported and cared for me. I urge you all to keep supporting this community. In tomorrow's world this digital forum is an example of how social distancing can be overcome through common endeavour and support. It's done that job for me in the past several years. It's brought to life my love for LFC and appreciation of how diverse and broad its fanbase is.
From the Mentality Monsters to the Liver Bird rising after our 30 year hiatus it's the story this TTT community needs to keep telling for generations to come.  Its vital that we don't get caught watching the second hand ticking away – this site is a long term fixture in our lives that we can't allow to disappear into a web archive. It's a living thing we can't let this virus defeat.  If we stick to the same approach TTT has had for years – we act as a community – we will be OK. I've just ordered my book and hope (if able) you can too.
Stay safe and well.
YNWA.
Bob if you were my professor for Steel Making class I would have become a proper metallurgist (I hold a degree in Material Sciences, and Metallurgy but thought the industry wasn't made for me). It took me a few months to understand the meaning of being metallurgist but that paragraph about Iron vs. Steel just stole the show.
What a brilliant article. This is thought provoking to an extent that I paused my dinner to reflect on the matter, and re-read.
5 – Bob reflecting on the applause for healthcare workers:
I live on a quiet road in a small town, but when we went outside at 8 pm to clap for all the NHS workers you could hear the sound echoing all around, like New Years Eve fireworks. The feeling of solidarity and community was very moving. As we came in doors again I thought about young children taking part in this tonight and how they will come to look back on how they lived through an extraordinary episode in human history. Much like the moon landing was for my generation.
6 – Allen on the same subject:
Spot on Bob. I came out of our house at 7.55 and I said to my wife, it looks like we are on our own.
At 7.58, I heard the sound of distant clapping, too early I thought but I started and suddenly the whole street was out, all clapping cheering, an outpouring of human warmth and just like Bob, I smiled to see the kids joining in. A night to remember.
I said the other day to a mate this feels like 1969 when the student riots took hold in Paris, the world began to shift. I know a different story a different time, but there's something in the air, in the public mood.
Suddenly problems are being solved, local shops doing home deliveries when the big supermarkets can't cope with the demand for on line shopping. My family's business looks after, amongst many other things, the homeless and rough sleepers and we were approached by a local restaurant owner who said I've got chefs we can't open how about us cooking food for all your residents and we'll only charge you for the food as otherwise our staff won't get the 80% government salary support. Human ingenuity and human warmth.
I have just watched the LFC 100 goals of the decade on LFCTV, do I feel better about life, too right!
7 – Mekokrasum with a wonderful story at the end of his post:
Stay safe everyone. Thank you for the excellent contributions. Do remember that the data that is released is often more than 24 hours behind the facts… We are just not able to feed the information fast enough as people are busy seeing patients; even the lab is not publishing the results in good time. Sometimes we receive calls from the lab or from managers before the result can even be seen on the computer system. Imagine how it is on a national level!  N.B. I successfully discharged a 99 yr old patient yesterday who survived COVID-19. It was incredible and showed a different side to the crisis.
https://fullfact.org/health/how-to-fact-check-coronavirus/
Articles published since last Friday, with excerpts:
Monday March 23rd:
Serialising "Mentality Monsters" on TTT – My Book on Liverpool's Rise From Lows of 2015 To 2019 European Champions, by Paul Tomkins.
Fireworks fizzed and popped and sprayed as the phalanx of scarlet coaches inched along the streets. Flares and smoke bombs spread a red mist across Merseyside, explosions of sparkling confetti shot again and again from an air cannon into the blue skies, as the best part of a million Liverpool fans thronged the route, sitting astride traffic lights and hanging out of windows, risking life and limb to get a glimpse of the returning heroes. Jürgen Klopp, lager bottle in hand, one leg slung over the back of the open-top bus – also apparently risking life and limb – beamed a grin that would send the Cheshire Cat to the dentist in shame, as his players – all wearing shirts with the number six on the back (as if it was some kind of bizarre Dejan Lovren convention) – took turns to lift the European Cup, or film the hundreds of thousands of fans gathered along the pavements and roads, who were of course filming them. The Liverpool manager looked at his clenched fists, then extended one finger, then two – until, one by one, he had counted to six. Another huge grin in the pyro glow, before, half-cut, he almost fell off the back of the bus.
Boom!
Liverpool Football Club, Champions of Europe. 
Wednesday March 25th:
Are All Awards Actually Absurd?, by Bob Pearce.
If we describe a team as an outstanding XI we'll barely be putting a scratch in the tip of the iceberg. We'll be missing out on so much more magic. We'll be failing to give credit for the consideration within a carefully crafted construction. When you describe them as a team of links and interplays you will begin appreciating the networks throughout an entire team and the judgements and guidance that have gone into making those work in a way in which all parts can make each other sparkle and shine.
We have way less ways to describe an interplaying mutuality of entangled players and how they become transformed for better or for worse. We are looking at both a plural individual and a singular collective. We are looking at a substance composed of two or more materials, intimately acquainted and entwined by their fusion. We looking at an alloy.
Who Are Liverpool's Top Creative Pairing? The Data Viz Knows by Andrew Beasley
When an article relies upon statistics, it can very quickly become out of date. More games are played, more goals are scored. The numbers move ever forward.
Unfortunately for all of us, the only moving numbers at the moment seem to relate to COVID 19. But with no football for the foreseeable future, we can at least take a look at the facts and figures which have brought Liverpool to the brink of their first league title for 30 years.
Since our last round up, in the first week of January, Liverpool have moved ever close to becoming champions of England, while exiting Europe prior to the final for the first time under Jürgen Klopp. We start, as ever, with a look at whether they got what they deserved. Let's begin the begin.