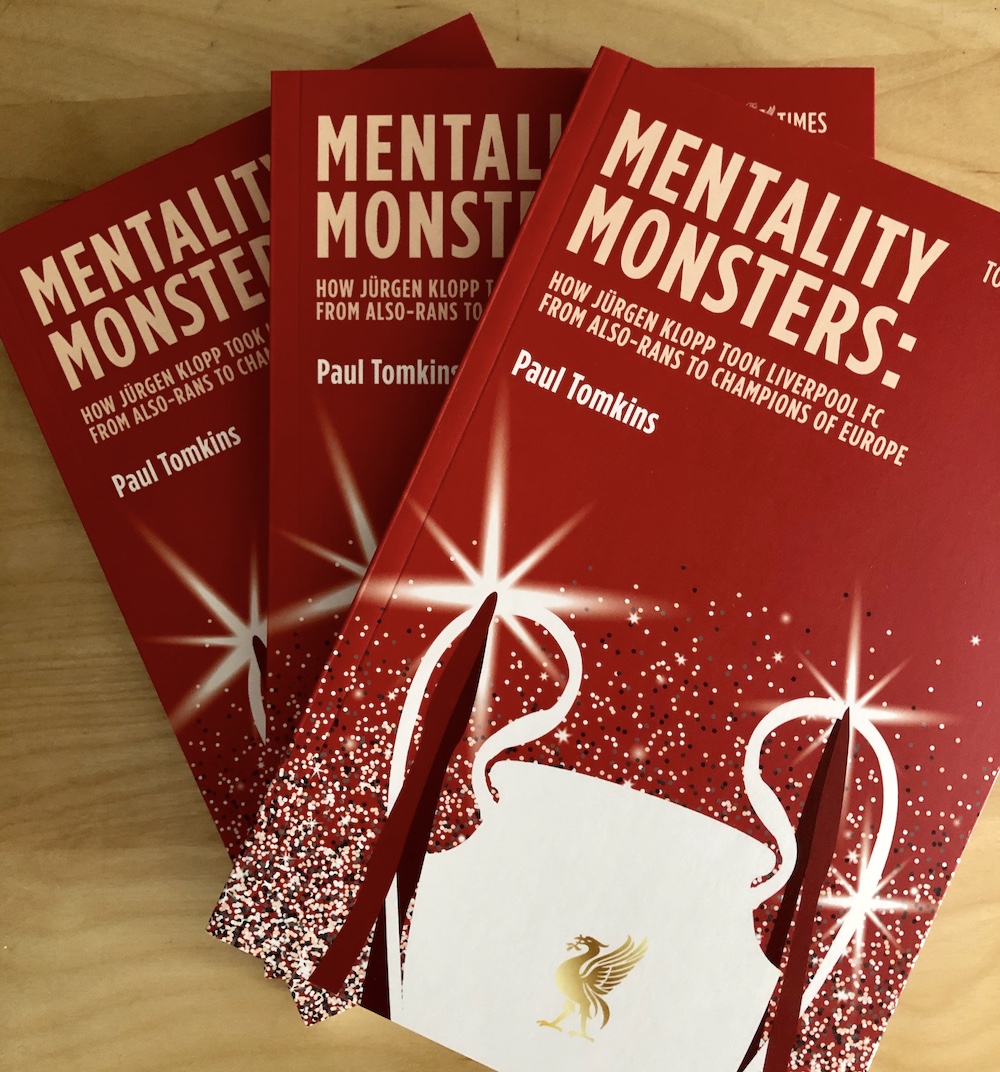 In the coming months, as more and more people go into various forms of isolation, I will be serialising a whole host of my books for subscribers, to keep those who pay (and who help keep the site functioning) something to read, in addition to the incredible discussion on Covid-19 that is already occurring on here, and the steady stream of new articles we will be writing.
Before getting onto the Foreword to "Mentality Monsters", which will be a free read (the rest will follow in due course and be behind the paywall), I thought I'd write a brief word on the current situation. I reiterate that any existing or past subscriber who cannot afford to use the site right now but wants to can have 6 months free access. Details are in last weeks' Site News, which also covered the new book I had written but which suddenly doesn't have an ending. That said, to those who have already preordered it via this site I will be emailing PDFs of several chapters of the book as it stands, before obviously later rewriting sections (or huge swathes!) depending on what occurs in the next nine months.
The consensus of the most trustworthy experts seem to think this pandemic will take at least until the latter part of 2020 to get on top of, so we'll look to find ways to keep paying customers entertained. The main thing, as I stated many weeks ago, is health before wealth; but of course, a lack of wealth often impacts your health. We need to work together and rely on proper experts (and thus more reputable media sources), and to do what we can as communities large and small. All of this is more important than the football returning. But in its absence, here's something to help us relive those distant heady times of 2019…
Foreword, June 2019
Fireworks fizzed and popped and sprayed as the phalanx of scarlet coaches inched along the streets. Flares and smoke bombs spread a red mist across Merseyside, explosions of sparkling confetti shot again and again from an air cannon into the blue skies, as the best part of a million Liverpool fans thronged the route, sitting astride traffic lights and hanging out of windows, risking life and limb to get a glimpse of the returning heroes. Jürgen Klopp, lager bottle in hand, one leg slung over the back of the open-top bus – also apparently risking life and limb – beamed a grin that would send the Cheshire Cat to the dentist in shame, as his players – all wearing shirts with the number six on the back (as if it was some kind of bizarre Dejan Lovren convention) – took turns to lift the European Cup, or film the hundreds of thousands of fans gathered along the pavements and roads, who were of course filming them. The Liverpool manager looked at his clenched fists, then extended one finger, then two – until, one by one, he had counted to six. Another huge grin in the pyro glow, before, half-cut, he almost fell off the back of the bus.
Boom!
Liverpool Football Club, Champions of Europe. 
For a sixth time.
In the build-up, Klopp faced the unthinkable hell of a seventh successive defeat in a cup final; Liverpool themselves facing their fifth, dating back to 2012, and a second in this very competition in 12 months. To lose would – paradoxically – be made all the worse after racking up the third-best points haul in English football league history and still only being runners-up; the agony due to being so brilliant and yet so unrewarded, in terms of silverware (if not love and respect, and of course, healthy remuneration). The pressure during the three-week lead-up to the game was intense, and so, a day after despatching Spurs 2-0 in a sweltering Madrid, the entire playing, coaching, fitness and analytics staff, as well as the owners, were on a bus weaving its way through a sea of onlookers and well-wishers, finally able to relax and, in Klopp's case, drink a crate of beer.
(As hundreds of thousands of Liverpool fans from all over the world poured into the city one could only imagine all the Everton fans streaming out. They must have some kind of evacuation procedure in place for these occasions over the past five decades.) 
It was only the third time a club had won a game against a team from each of Europe's big-five leagues in a single season in the competition, after Bayern Munich in 2012/13 and Rafa Benítez's Liverpool in 2004/05. Victory took Liverpool clear of Bayern and Barcelona – two teams the Reds happened to beat en route to Madrid – and, with six, ended the season behind only AC Milan and Real Madrid in the all-time standings. It also put the Reds one clear of Manchester United – 24 to 23 – when adding together the two really meaningful trophies: the league and the European Cup. 
But this is not a story of one-upmanship; this is not about bragging rights, but about a great journey, with the most satisfying of endings. (And if it shuts up a few snarky trolls and bitter rival fans, as well as those eager to label Klopp a failure and a fraud, then all well and good.)
The Long Journey
A late, late Divock Origi goal, hit from the inside-left position, the ball flying into the far corner of the net. Cometh the hour, cometh the Origi. The players in red – as one on the final whistle – saluted the Liverpool fans who had come to watch them play. 
But this was not the Wanda Metropolitano stadium in Madrid in 2019.
This was Anfield, the 13th of December, 2015 – when all this essentially all began. That day perhaps marked Ground Zero. Jürgen Klopp had been in charge for a couple of months, having inherited a mixed squad assembled with muddled thinking by factions within the club who were never going to see eye to eye. Going into the 96th minute, Liverpool were losing 2-1 at Anfield in the Premier League to lowly West Brom. But up stepped that man – Origi – to rescue a point. To general bewilderment, Klopp took the team, hand in hand, to the Kop to salute those who remained for their support; plenty of fans having filed out around the 80-minute mark (an issue Klopp would also address in his press conferences, in terms of making the football so good that they would not dare leave). Supporters of other clubs laughed and mocked; trolled and snarked. Some Liverpool fans cringed. "Is this what we've become? Celebrating a home draw against rubbish like West Brom?" But if you had even an ounce of imagination, you could see what the German was trying to do. 
And – to use his own parlance – fucking hell, did he do it. 
"Mentality monsters" is how he described his team three and a half years later, with the addition of the requisite Kloppian F-bomb. That was not the case in 2015, with a team and – let's face it, a fanbase (myself very much included) – that had become punch-drunk on mediocrity. Losing no longer hurt that much, because – well, it was just another defeat. 
His reign started two months earlier – against Spurs, of course. A lot has been made of the bench that day at White Hart Lane, but there were quite a few injuries, which meant some fringe squad players had to be called upon to fill in as subs. Even so, the team was Simon Mignolet, Nathaniel Clyne, Mamadou Sakho, Alberto Moreno, Martin Škrtel, Philippe Coutinho, James Milner, Adam Lallana, Lucas Leiva, Emre Can and Divock Origi; none of whom started in the 2019 Champions League final, with most sold or offloaded by the time this season rolled round. The subs were Ádám Bogdán, Kolo Touré, Connor Randall, Joe Allen, Jordon Ibe, João Carlos Teixeira and Jerome Sinclair – not one of whom were at the club the following season (they were loaned, sold or released). By stark contrast, the Spurs team that day included Hugo Lloris, Toby Alderweireld, Jan Vertonghen, Danny Rose, Christian Eriksen, Dele Alli and Harry Kane, who all began the match in Madrid less than four years later, while Erik Lamela, an eighth starter from that day, was on the bench in 2019; plus, Kieran Trippier and Harry Winks were on the bench for Spurs in Klopp's first game, and then starters in Madrid. Spurs, as a project, were already largely together in 2015; Liverpool at that point were merely ripe for ripping apart.
Players like Origi, skipper Jordan Henderson, and utility man James Milner, had emerged through years of criticism to come within a whisker of landing the league title for Liverpool … before – having to all intents and purposes been "knocked out" in the first leg of the semi-final in Catalonia – securing a sixth European Cup. They were amongst the few survivors. Perhaps the greatest moment from the whole weekend was Henderson, in tears, embracing his father, whom he nearly lost to cancer a few years earlier, as if neither dare let go. Anyone who didn't join them in crying must have had their tear ducts surgically sealed.
Klopp, on the back of six consecutive final defeats, including two in the Champions League – and fresh from yet another runners-up medal in the league, to add to a couple from Germany – was not about to become football's nearly man; seven years on from the second of his sensational Bundesliga successes with Borussia Dortmund, he had his third major honour, albeit his achievements with lowly Mainz prior to that perhaps the ones achieved against the steepest of odds. He probably deserved to have winners' medals from half those unhappy finals, but it was to prove lucky seven; and indeed, in terms of European finals with Liverpool (or Champions League finals with his two main clubs), third time lucky. Here is a manager who, three full European campaigns into his career with the Reds, possesses a record that reads: finalists, finalists, winners. He has still to lose a two-legged tie with the club, despite facing Manchester United, Dortmund, Manchester City, Bayern Munich, Roma, Barcelona and a whole host of others.
The point against Spurs that day in the dim, distant past – a 0-0 draw in which Origi went close, hitting the bar – took Liverpool up to the heady heights of 9th. That's how far off they were when he took over, for the ninth game of the league campaign. 
This book will chart the rise from the chaos of the final 15 months of Brendan Rodgers' tenure, and how a club divided became a club united. (Incidentally, while United became a club divided. How these things turn, and Liverpool are back on their European perch.) I will seek to explain, as best I can, how the club has transformed from, frankly, a bit of a shambles, to the most envied operation in the world game. 
And it certainly wasn't smooth sailing in Klopp's first two years; reaching two finals in his first season, but losing the Europa League, after leading 1-0 at half-time, to Sevilla; and before that, edged out by Man City in the League Cup final on penalties. But the league form was inconsistent: some big wins, and some heavy defeats. Two years in, Klopp's record was identical to that of Brendan Rodgers, although Rodgers' record in his final 50 league games was deteriorating rapidly, after a sensational run in the second half of 2013/14 had given him a fairly impressive win-percentage midway through his tenure. And yet by 2019, Klopp was absolutely streets ahead of Rodgers' overall record, having created a team on a whole different level.
In May, after landing the title, Pep Guardiola said: "You give credit for the titles and how huge our rival is. In my career as a manager, I played against incredible sides and there are two that were 'wow'. One is the Barcelona of Luis Enrique with Neymar, [Lionel] Messi and [Luis] Suárez in front. The other is this Liverpool. I think they're the best two sides I've faced as a manager."
By the time the Reds had lifted their sixth European Cup, the Elo Club rankings system had them listed – with beautiful symmetry – as the 6th-best team in European football history, based on the cumulative achievements of reaching the final in 2017/18, and racking up 97 points in what had, by the reckoning of the model, become the strongest league on the continent. So while it seemed that Guardiola was perhaps being a little disingenuous, it seems that he was utterly right. 
Ironically, the revival under Klopp seriously kicked in after a humbling 4-1 defeat to Spurs in October 2017; and since the start of 2018 Liverpool's form, domestically and in Europe, has largely been sensational: two Champions League finals – one won – and a 97-point league season. There could be no denying that Liverpool were now one of the best teams in Europe and, with a better record in the two biggest competitions than Man City (who edged Liverpool out by a point in the league but crashed out of Europe two rounds earlier), arguably the best.
Anyone who doesn't want to subscribe to The Tomkins Times but would like to buy the book, it is available exclusively through all Amazon online stores, mostly in Kindle format but also in paperback via the UK, USA and a few other regions. However, this availability and distribution may be affected by the coronavirus.