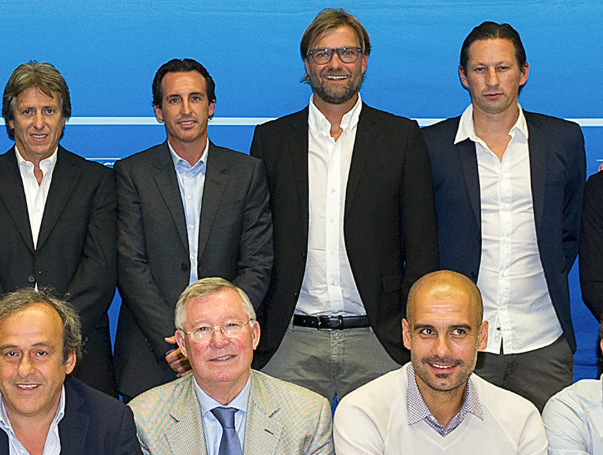 Best posts of the week, as chosen by Chris Rowland and Daniel Rhodes:
1 – RichieH on Klopp's win percentage:
I was playing around with some simple numbers from the premierleague.com website last night after MOTD mentioned Ancelotti's win percentage at Chelsea (63%). With the win over Bournemouth at the weekend, our fantastic bear-hugging, sense-talking, belief-generating manager got his 113th win from 173 games[1]. With a win percentage of 65.3%, he now has a better (Premier League, when football was invented, ahem!) win percentage than Alex Ferguson, who won 476 of 828 Premier League games, 65.2%[2].
Overtaking the most successful manager of this era I thought warranted a little nod.
The only two managers to have better records using the win percentage metric are Conte (51 from 76 games, 67.1%)[3] and Guardiola (105 from 142 games, 73.9%)[4].
However, whilst Klopp is 3rd on the win-percentage list, he's top of the win-or-draw-percentage list for all managers! In addition to the 113 PL wins, he has 39 draws, giving a win-or-draw-percentage rate of 87.9%. This is in comparison to Guardiola's 86.6%, Ferguson's 85.9%, Mourinho's 84.2%[5], Mancini's 82%[6], Wenger's 81.5%[7], and Conte's 80.3%.
Obviously this also means that Klopp's all-time loss-rate is (currently) lower than any other manager in Premier League history. He has lost 21 of his 173 PL games, 12.1%. This is better than Guardiola, who's lost only two fewer than Jürgen, whilst playing 21 fewer games (19 from 142) giving him a loss rate of 13.4%, better than Ferguson (14.1%), and better than Mourinho [5] (who has the fourth best loss rate at 15.8%, but whose overall win percentage is now 'only' 61.5%*).
In spite of having to rebuild the team from somewhat shaky foundations, meaning that Klopp is at a disadvantage in any 'all-PL games' comparisons when measuring against managers who took over teams that had already been experiencing significant league-winning successes (Chelsea and Man City), or had years of building a team (Ferguson in 1992), the Liverpool performances over the past 2 and a half seasons are now elevating Jürgen's numbers to challenge the all time best. The fact that this has been done in a sustainable, prudent manner, developing and improving both individuals and team, is a credit to the great man and his staff. We are incredibly lucky to have him at the helm.
—
*I thought it was of note that although his all-time numbers now put him towards the bottom of the elite group of managers using these metrics, Mourinho's win and loss percentages in his first period at Chelsea were pretty remarkable, although with the caveat that he inherited a very good team, and then invested an incredible amount of money. In his first three seasons (plus 6 games), before being sacked, he won 85 of 120 games (70.8%) and only lost 10 of those (8.3%).
Sources:
[1] https://www.premierleague.com/managers/5119/J%C3%BCrgen-Klopp/overview
[2] https://www.premierleague.com/managers/344/Alex-Ferguson/overview
[3] https://www.premierleague.com/managers/5556/Antonio-Conte/overview
[4] https://www.premierleague.com/managers/5285/Josep-Guardiola/overview
[5] https://www.premierleague.com/managers/2663/Jos%C3%A9-Mourinho/overview
[6] https://www.premierleague.com/managers/3916/Roberto-Mancini/overview
[7] https://www.premierleague.com/managers/1137/Ars%C3%A8ne-Wenger/overview
2 – Mobykidz assessing the Manchester clubs after yesterday's derby:
Positive United stories but the real story is how awful City have been because we have rammed that plane sing along down their throats this season by crushing them. But we need to finish the job at the Emptihad by being far more aggressive and laying down a marker for next season as City upgrade their weapon systems.
The puff pieces at the ready for the Manure gravy train. A scan of the papers and websites today with headlines of how incredibly better OGS is making them. I am delighted that Pochettino might be loosening his holiday pants a bit more.
But Manure are not even in the top four yet the gravy train journalists sing from the same cash cow hymn sheet.  The BBC will run story after story of how Manure are a couple of players away from competing for honours. They will monetise the result yesterday with analysis, MOTD clips and more editorials. Boring, boring and boring.
But in reality they're still a mediocre side (30% possession at home!) who have a new player going through a bounce that will inevitably dip when he gets targeted. Lots of hype. I watch Wan Bissaka and see Clyne. Going forward no real finesse but brilliant one on one. Let's see what happens when he gets an injury because he relies so much on his pace.
They have no settled left back because Shaw is their Aurelio. At centre back McGuire is nowhere near a rock…more like a lump. In midfield they look better (without Pogba) but Fred and Matic are not the dynamic duo.
Fernandes is good but once the opposition start biting him he'll fade. Up front Martial is excellent and shock horror thriving without Rashford.  But James is a flash in the pan and they don't have any guile or finesse rather inviting teams on and countering.
This is not a bad team but in reality it's not a good one. With the BBC writing nice things about their Manchester landlords spare a thought for Pep. The guy is a legend made by rich backers. But rewind back to the end of last season on the plane singing that song. 198 points out of 228. Everyone telling us they're the GOAT. Treble secured. Nothing could touch them.
But now they are 25 points behind us after playing just 28 games.  The real story was never OGS's redemption but what has gone so catastrophically wrong at City.  You can't pin it on Laporte's injury.  It runs deeper in that when they sang that song about us they let the mask slip enough to know we were in their heads badly.
And the story of this season has been how our football has absolutely ruined them game after game that they've buckled like the overpaid cowards who sang that disgraceful song. In the end these City players acted as untouchables after their successes but even when they lifted that PL trophy they were done for. They lost Kompany and spent gazillions on full backs. And this season will again be marked by puff piece trophies.
In the end the real story of the season is how Liverpool Football Club won the title by staying true to their values and identity. All I know of City is when they win anything they'll stick four fingers up and act stupid. Because in the end what else do they have beyond their trinkets?
During his Germany days Klopp once said he was fighting Bayern Munich with bows whilst they had bazookas. Last season we were fighting a City side with ramjet supersonic cruise missiles compared to our bazookas. Yet here we are destroying this City team both points wise and psychologically. Ruining them.
We may win the league at Goodison or Anfield. But that game at the Emptihad is a chance to ram(jet) down their throats the song they sang. I want us to focus on laying a marker down and bringing out a bit more nasty against them (showing the ability to adapt our behaviours depending on the situation when the opposition or refs try it on).
We are too nice at times but against City we need to get in their heads again and beat them in their own backyard as Champions by bullying them and becoming far more aggressive – so the whole PL knows that next season we want it just as much if not more!
3  – Manuel on the subject of the day, and every day …
reading post #7900 and the general discussion about the coronavirus on here I wanted to add my two cents and repeat some important points others have already made. Keep in mind that I'm not a specialist in this field but I have close relatives who work in hospitals and who are very much part of the preparation process for this outbreak. I've seen a post on another thread that explains it better than I can but unfortunately I can't find it right now. Anyway, here we go:
Death rates do not matter much at this point. It's futile to argue whether it is 4% or 0.5%, we just don't have accurate enough numbers yet. The fact of the matter is that a lot of people are/will be infected. Most healthcare systems are geared up to handle the yearly flu and whatever else they usually have to deal with. Now, hospitals are suddenly confronted with an increasing amount of corona patients on top of that. If only a small proportion of these patients need hospital care you're gonna stretch the system to the limit. You have to isolate them to protect other (most likely vulnerable) patients and the hospital personnel. You can't afford to lose 10% of your medical staff for two weeks in this situation. This all means a heavy increase in stress and workload on the system. (And that doesn't even include all the donkeys that clog the emergency rooms/phone connections because they have an itch in their throat or an Italian/Chinese in their neighborhood.)
The Italian government isn't shutting down the whole country because of some media hysteria (and neither did the Chinese). They are shitting bricks because they can't control the outbreak anymore. In northern Italy the association of intensive care physicians talks about having to implement an age limit for intensive care if the situation gets any worse. There's only a limited capacity for intensive care and you can't increase that in a few weeks by swinging a magic wand. That's why it is so important to keep the spike of infections as flat as possible and drag it on over a longer period. It buys you time and gives the health system some breathing room. As an example: A hospital can't handle 20 isolated intensive care patients that need respiratory equipment in one week. But it might over 4-5 weeks. (Numbers plucked out of thin air as an illustration)
Another aspect is the physical and mental exhaustion of the medical staff. In Lodi (south of Milan) these guys work in 12 hour shifts under rather critical conditions right now. Mistakes will be made and shortcuts will be taken (e.g. do we really need to transport this isolated patient through half the building for this scan? Probably not…). Some people will die from this virus and other people will die because the system is overloaded and they don't get the treatment they need.
As for the profit part (see post#7900). Literally nobody is profiting from this outbreak (actually, only the climate/environment might get a short breather from this). Have you followed the stock exchanges recently? Markets can be prone to hysteria but it can't be all down to some media hype right? There might be shortages for all sorts of things if this situation drags on for a few more weeks (e.g. antibiotics and other medication produced in China, various supply chains etc.). Italy's economy and finances have been dodgy for years to put it mildly. Shutting down the country won't help this at all. I guess it won't be too long until Italy needs financial backing. The Italian government doesn't do this because of some hysteria but because the situation is serious.
Now, nobody can say for sure what's exactly gonna happen. Not every region will be affected in the same way. But there's definitely a potential for a very, very shitty situation.
So, don't panic, wash your hands, stay at home if you feel sick and avoid larger gatherings of people if possible. And don't parade around claiming it's just a flu. It's a flu on top of the flu for which we have no medication or vaccine, no latent resistance in the population, nor the medical capacity to deal with a full-blown outbreak. The situation is grave and unprecedented, but in most places it is not out of control. And there's every reason to keep it that way.
Again, there's no reason to panic but be aware of the potential ramifications, take the situation seriously and act sensibly.
As a side-note: This is obviously speculation, but I don't expect this to be over by summer. Infection numbers will probably go down when it gets warmer, but we could be in for a rather interesting winter 2020/21.
4 – More on the potential impact of coronavirus on football by Mark Cohen:
On the discussion of the possibility of voiding the league title, I see this as extremely unlikely.
There are far too many variables in respect of qualification/relegation to and from leagues/competitions for there not to be a finite conclusion, even if it is an arbitrary cut off date.
Sure, if it stops Liverpool from winning the title, it would be theoretically hilarious to all of those fans who don't want us to win for the season to be voided, but then which four teams qualify for the Champions League, and which three are relegated?
If your answer is none, we just use last years league placings, then prepare for massive unending court cases, particularity from the likes of WAB, Leeds, Leicester and United, as it is they who would stand to lose the most financially from a year being summarily written off.
West Brom and Leeds will NOT achieve their deserved promotion to the Premier League, and the 200 million pounds that brings, and Leicester and United will likely miss out on CL, and the many millions they would earn from commercial, gate receipts, and TV revenues.
It seems far more likely and sensible for the season to be declared over at game 30, or game 34 or whatever, similarly to a match being hit by floodlight failure, once a certain amount of minutes is played, the game is on and the result at that minute stands.
The teams in CL places or relegation places will end there, and the world will continue with some semblance of fairness and normality prevailing.
Liverpool will win the title, deservedly. This is purely reasonable and will surely come to pass if the worst occurs.
5 – Peter Neall on the demands facing the players this season:
I am angry, and sad, but more angry. I have watched the building and development of a team that at its worst can be described as outstanding. I have watched a management team develop every player who comes under their charge and have watched a group of players dedicate themselves to a level of excellence we never before dreamed of. They make me proud and humble to simply support them.
So why my anger, I see that group of men and managers absolutely exhausted from their efforts, exhausted by the onset of constant niggling injuries received by the refusal of officials to honour the rules of the game they purport to judge judge. Exhausted by knowing they have to protect themselves from constant snide tackles, insults and 'accidents' that they cannot prepare for and which chisel away at their energy. Exhausted by demands no other team have had, robbed of one trophy attempt by the refusal of the governing bodies to work together to make a human schedule. Undermined by the demand to play for a TV schedule that changes the playing schedule almost every week, a schedule that does nothing for the human circadian rhythms, not even of us who simply occupy our sofas. If we treated our dogs and our horses like we treat our footballers we would be prosecuted.
When will we agree with the wise Chief Seattle and recognise the money is not everything. Is it even possible that we could get a season without silly additional fixtures and worthless trophies for the aggrandisement of sad old men and the destruction of the gladiators we are killing slowly because we can.
I honour this team, players and managers, and all they stand for, I despise the governing organisations who cannot see that their dedication to promoting the sport is killing the goose that is currently feeding them golden eggs.
6 – Fady and the unfortunate chain of events in the Madrid game:
Football is so unlike any other sport in the world for a whole bunch of reasons. I can't think of any other sport in which you can dominate in almost every facet of the game yet still lose. We all saw the same match and the statistics presented above support the argument that the better team lost. Liverpool could not have done much more other than convert a couple more of the chances that came their way. That Adrian made the mistake which became so crucial in the end is really just an unfortunate chain of events that could have been avoided had the many opportunities created ended up in the back of the net during regular time.
This is not to apportion any blame; merely to point out the fact that the team were so brilliant in many moments but lacked a little luck and perhaps some precision at crucial moments. Against a team of Atletico's undoubted defensive brilliance, those crucial moments are significantly amplified. They absolutely rode their luck and if not for their keeper would have convincingly lost the match in regular time. Rafa used to talk about small details in important matches; this was one where small details such as Robertson's header against the crossbar was the difference between progress or disappointment.
I would imagine that after the dust settles Klopp and the team will use the disappointment of their exit as motivation to push themselves even harder next season. This team is so brilliant right now that's it hard to see how they can improve any further. But you get the impression that Klopp and his coaches, as well as the players, simply won't be satisfied with whatever trophies they will have won come the end of the season. While I'm a little sad we won't be defending our European trophy, this is more than compensated by the excitement of how far this team can go over the coming seasons.
Articles published since last Friday, with excerpts:
Sunday March 8th:
Post-Match Analysis: Liverpool 2-1 Bournemouth, by Daniel Rhodes.
Context is key, and virtually all ex-officials, all pundits and most fans think it was a push on Gomez before the Bournemouth goal. According to the PGMOL – apparently – the ref saw the push, deemed it insufficient contact, and thus couldn't be overruled by Oliver under the 'clear and obvious' guidelines.
The reason I mention it is because the without the Wilson goal the team stats would look at lot different as over fifty per cent of their Understat xG total came from this one chance. However, it wasn't an isolated chance as they also attempted another two big chances in the match according to Opta (Ake & Fraser). Based on the fact they only managed six shots throughout the match, to have a big chance ratio of fifty per cent is a concern for the Reds' defence. We've now conceded 11 big chances in just three league matches against West Ham, Watford and Bournemouth!
And yet…
Monday March 9th:
My Day at the Match – Bournemouth(H), 7th March 2020, by Vinny Flynn.
What fantastic seats we had! Front row of the Annie Road Upper, great view of the pitch. Ke-Winn, Zhuang, Dad and I ensured that there was plenty of noise coming from our corner of the ground, joining in with all of the songs, and starting one or two ourselves. Being in the front row, we were able to bang on the barrier to help generate a bit of extra noise! I thought that the general atmosphere was not too shabby for an early game – I was certainly a little hoarse come the end of the match!
Tuesday March 10th:
19/20 Champions League Preview | Last 16 2nd Leg | Atlético Madrid | Anfield, by Gary Fulcher.
Liverpool have never lost a two-legged European knock-out tie under Jürgen Klopp but are up against it following the first leg defeat in Madrid.
Due to the away goal rule, the Reds will need to win by two clear goals if Diego Simeone's side score at Anfield and given that Alisson is absent through injury and that Liverpool haven't kept a clean sheet in any of the last five matches, we should be in for another classic European night at Anfield.
Los Rojiblancos are not quite as formidable on their travels as they are in their own stadium, suffering away defeats to Bayer Leverkusen (1-2) and Juventus (0-1) in the group stage this season.
Coronavirus to Derail Liverpool's Title? Football As A Matter of Life and Death, by Paul Tomkins.
For some of us, football even provides our living. While what I do may be in some way parasitic, in that I'm not a player in the arena but an observer (albeit I try to be constructive and helpful in my analysis), it has given me an income that I never thought possible after decades of chronic illness, and it has given me the chance to pay a small group of people (many of whom are also chronically ill or carers from the chronically ill) – as other "non-employable" people – to help run the site and write for it, too. It has also created a community of generally like-minded, intelligent folk, albeit from very different backgrounds, with divergent viewpoints away from the beautiful game itself.
Football brought us together, and while we are all Liverpool fans (bar one or two weirdos who support other clubs, but subscribe to read our work), we have also all been levelled, at times, by adversity, illness, depression and loss. We have displayed our passion and commitment and, after 11 years of the site, and 30 years of waiting for a league title, it all seemed to be coming together. This was the year!
Now we face the conundrum of still caring deeply about the football – and winning the league feeling like everything – whilst experiencing the nagging sensation that it could all crumble into nothingness. COVID-19 has, as you might expect, gone viral. 
Wednesday March 11th:
Catching Up On Lost Time: The Quest For Fan "Authenticity", by Amy Gaeta.
Rather than mourn what us newer fans can't ever know first hand, I've been trying to grasp this history in the making. One of the many reasons that the Barcelona 2nd leg will stick as a miraculous, iconic moment in club history is the newer generation of fans, making the club more popular than ever. Some of us weren't fans yet during Istanbul in 2005 (I was 12, oblivious to the name Steven Gerrard), so Barcelona was a miracle we could taste ourselves, experience in real-time. A unifying feeling swept over all us Reds, no matter where we were, and that sort of shared joy can never be replicated.
For every Barcelona, there's at least, if not more, "bad years." Have I suffered through the Liverpool of the early 2010s and the plight before the Fenway purchase? No. Am I fully aware that rough times and poor management will happen again? Yep. Football, it's reliable for its inconsistencies. This keeps us humble.
Thursday March 12th:
Post-Match Analysis: Liverpool 2 – 3 Athletico Madrid (aet) by Andrew Beasley
We've been here before, of course, in a number of ways. This isn't the first time Liverpool have been champions of Europe but beaten 1-0 away from home in the first leg of a last sixteen tie and then defeated at Anfield. Goals from Simão Sabrosa and Fabrizio Miccoli saw Benfica knock Rafa Benitez' defending champions out in 2006.
Prior to this latest tie, the Reds had played 14 second legs after losing 1-0 on the road in the opening match of a European tie, recovering to reach the next round nine times. Jürgen Klopp's only previous instance was against a Spanish side too, when Villarreal were beaten 3-0 in the 2016 Europa League semi-final.
But one of the five failures was against Atletico Madrid in 2010. Damn you, Eyjafjallajökull. And Diego Forlan. And Simão Sabrosa. Yeah. Him again.
The similarities between that match and this one are remarkable. Where Alberto Aquilani put Liverpool ahead in the 44th minute 10 years ago, Gini Wijnaldum opened the scoring two minutes before half time on Wednesday night.
New LFC 2019/20 Books – Subscribers Preorder Now! by Paul Tomkins
Okay, as I've been mentioning for some while – whilst also delaying somewhat, given the global developments – it's time for subscribers to preorder signed special edition copies of my new 2019/20 LFC book, along with another TTT book exclusive to this site's members.
I am still working on the premise that all football, and indeed all life, is not totally cancelled by the coronavirus. But…
… it seems that the spread – much more deadly than some of the blasé early reporting suggested – has now gone into overdrive (a 13-fold increase of cases outside China in two weeks), as happens with viruses, and that the football season is surely only getting closer to being postponed and/or cancelled.
(This is a very good article, full of data, on why we should be worried, even if panicking is not helpful.)
However, if the season is cancelled, I'm assuming that Liverpool would have to be awarded the title based on the unprecedented lead at the top of the table, and in that eventuality, the book will commemorate a 19th league title.
I'm also presuming that some people will still be interested in reading about football in the summer, given that there are far more pressing issues (but if we're all in quarantine, we might need something to read). Football is always a good way to take our minds off more serious matters, but obviously I fully understand if no one wants to read about it for the time being.