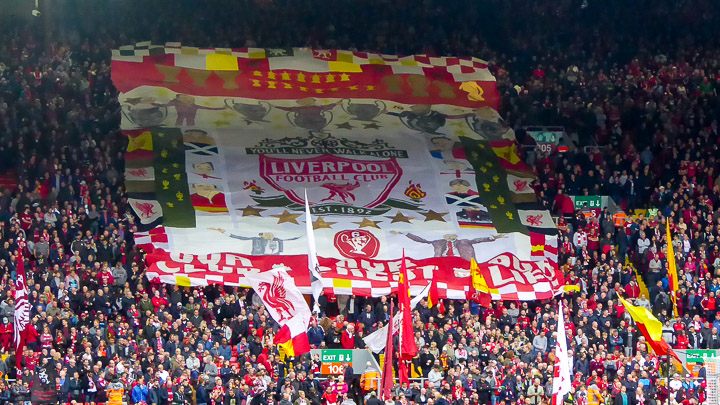 By Amy Gaeta.
"We've waited 30 years for this."
How many times in the past few months have we all heard or even said this line?
30 years since we've won the league, but what is confusing some of us is – who is the "we"?
I'm not even 30 years old, like many of us. Likewise, even some older fans have only been following Liverpool, or even football, for a few years. Sure, I haven't been waiting 30 years, and maybe this title does mean more to more seasoned fans. That's fine. An issue arises when we determine a fan's authenticity and right to celebrate this title win, or anything else, based on the length of support or knowledge of the club.
For as long as there've been football fans, there've been gatekeepers to ward off the bandwagon fans attracted to silverware and glory. Just as anything popular and successful, it attracts people for the wrong reasons. Winning the Champions League, the FIFA World Club Championship, acquiring more international players, and fancy kit deals from giants like Nike, are all going to continue to expose Liverpool to fans in a more global fashion than ever before, turning our beloved club into just a commodity for some. That's hard to overlook, but it can't be all we see. Now is the time to reflect on why we came to support Liverpool and what histories we're bringing with us.
Sports have been a part of my life, keeping it in balance, since childhood. It remains one of the few ways I can connect with my father despite our vast differences. When I started my doctorate degree in 2015, sports fell away as I was too caught up in professional goals and obligations. After some of the hardest events of my life, coloured by serious health issues, football came into my life in a prominent way through friends. Liverpool stuck with me, and I with it because I didn't detect arrogance in winning or pretentious celebrity egos. I saw a lot of talented, hard-working guys who loved football, and the people I watched with also reflected this attitude.
The rest of this article is for Subscribers. To join our troll-free community, there's a tab at the bottom of the page.
[ttt-subscribe-article]