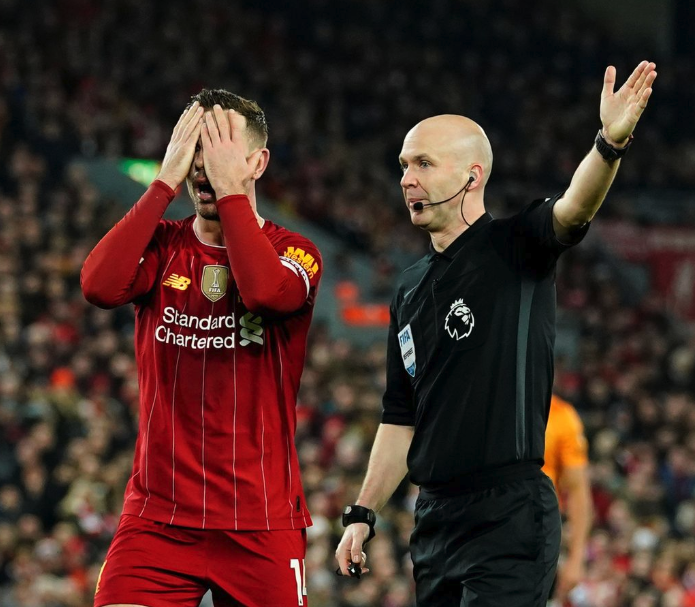 Best posts of the week, as chosen by Chris Rowland and Daniel Rhodes:
1 – Madchenkliop looking at the last game and the next:
I think overall I'm in agreement with Paul that Lovren's dual with Deeney set the tone and in some way seemed to be an element in most of our vulnerability. I thought I could detect some irritation between the other players and DL who were distracted by the Deeney dual and that was causing them to be distracted/ switch off a bit. TAA often looked a bit irate with Lovren and his decision to make that back pass looked to me like he was doing it partly because he was perturbed by the constant pressure of DL's failure to handle Watford's tactics. He wanted LfC to be more emphatic and take control of the situation. It's not really an excuse for the pass, but more an observation on what was causing the lax decision making.
On the other hand, I think there's not enough credit going to Deeney himself. I have to say I quite enjoyed his performance, when I just rewatched the match. There was a lot of subtlety to his play.  On top of all the sly tricks and brawny badgering of Lovren that Paul has described so well above, I think his movement and alertness for both his goal and the pass to release Sarr for the second were pretty sublime. Composed, yet incredibly switched on and cunning in disguising his intentions. The way he lured Robertson into his feeble challenge for that assist was sublime. If at had been Aguero everyone would be purring about it. He's a really wicked mix of bully and slick assassin. And before he'd played that pass it was him that had bludgeoned Fabinho into misplacing his header for the excellent Will Hughes to create his touchline twinkle toed action. There probably was an element of luck to quite how perfect the pass was for Sarr, but come on, let's be generous, that's the way it is when a team has really good tempo. Ours will come back too at some point.
Another thing that occurred to me was how similar that touchline assist was (in terms of last ditch unlikelihood) to the one Dacouré made for the first goal.  Had they spotted a weakness in the way we deal with touchline situations? Just the tiniest chink of opportunity where many lesser teams might make sure to put the ball out of play rather rely on their positioning to win throws or goal kicks? It's the kind of thing that Milner wouldn't leave to chance. Normally not Robertson either.
Anyway, we got Deenied! It's annoying but it could and has happened to many an excellent team. It's his speciality. And on this occasion, he also had the support of a rapier like Sarr who on second viewing looked a really high quality player to me.
Looking at the game in this light I'm not entirely confident that Gomez would have faired so much better or it's certainly possible that he could have had a ropey afternoon. It's really interesting to hear about both his and Henderson's improved aerial statistics though. Matip too. I hadn't really focused on it and was still somewhat assuming that they were all still a bit dodgy in the air.
About the pattern of the game as a whole, up until that first goal went in, I'm not sure that there was too much difference to the way we've played – and won – quite a few of our games this season, especially recently.  It was scrappy, but we were right in the game. We were also showing signs of picking up the tempo after half time. I think our players certainly didn't think they were in big trouble at that point. Even when that first goal went in it looked like they were expecting to switch into overdrive as usual. Then, they literally threaded the eye of a needle to get that second goal, which was a glorious effort and well deserved. I'm not sure it's worth over analysing in terms of our defensive deficiencies.
The real issue in the game for me was the midfield weren't able to get hold of the game, break the lines and get some decent service to the attackers. Ox looked like the right piece in the jigsaw, but he didn't have enough quality on the day to make it count and also the chemistry between him, Fab and Wij didn't seem to have that rhythm and tempo. Paul's addressed a lot of why that might be and it's also not surprising that they've missed the ever present Hendo who's been in such incredible form lately.
Talking about chemistry between midfield players, I've got to say I'm looking forward to the cup game on Tuesday and won't be surprised to see a few of the youngsters start. I noticed Chirivella chatting away to Milner in the crowd and it would be great to see him starting alongside maybe Lallana again, who looked in good nick. I think there's no doubt they will be raring to go, as will Curtis Jones. I could see a mix of youth and experience again.  Hopefully Milner's ok to play left back although I'd happily see him in midfield ahead of Adam Lewis.  Not sure whether Neco Williams is available either, but perhaps they will give Hoever a chance at RB. I thought Minamino looked really sharp and would like to see him alongside Origi in attack. I'm not sure if JK might include one or more of the front 3, perhaps Mané? Also, will Keita be fit? It's genuinely quite an unpredictable line up. I think they might take Chelsea unawares – there's more quality and appetite than you think in the reserves!
2 – SurfingRed on Man City's insecurity:
"….has made City a "big, big club"."
There's the tell. City are insecure.
Not solely because they know they have broken spending rules but also because they know they lack the international respect, the stories, the depth of personalities, the organic fan culture, the intersections with-  and contributions to- popular culture and changing societal trends, the dramatic story arc, the national supporter cultures, the depth of affection amongst fans and the depths of loathing from others…as well as all the damn trophies to be a 'big, big club'.
Chet Baker's 'Do It The Hard Way' comes to mind…
Do it the hard way and it's easy sailing
Do it the hard way and it's hard to lose
Only the soft way has a chance of failing
You have to choose
City's owners, soft with easy privilege and lack of opposition and adversity, but full of impatience and entitlement chose the soft way.
3 – Jeff on the problems with officiating in the Premier League:
I am well aware football and football authorities as a rule put their heads in the sand and ignore reality however sometimes reality intrudes and they have to do something.
Therefore, we have had a season where in match after match there are controversies about poor officiating and problems with VAR. Will the powers that be in football keep their head in the sand or will they do something? If they do something will they make it better or will they make it worse? Do they have any idea of what needs to be done to make it better or will be be just a public relations exercise?
To me the first act of the English FA and the Premier League must be to confront Mike Riley and the PGMOL and lay much of the blame for the many problems with officiating and VAR at Rileys and the PGMOL's feet. In my opinion, Riley has to go and this organisation has to reform itself in such a way that is believes its job is to see that there is quality officiating and not protecting incompetent or worse officials.
To me the second is to look at some of the stupidity in the rules. A defender trips a forward and the forwards arm touches the ball in the penalty area and his team scores a goal and the goal is disallowed is just plain madness. Simply put, reform the games rules so they make common sense.
Everyone makes mistakes but I have earned my daily crust of bread for 50 years by not making too many mistakes. The time has come to honestly evaluate officials and officials who are not up to the mark are removed from the list of officials who work matches.
Finally, no one has a monopoly on good ideas or on the best way to do something. Other countries have found far better ways to employ VAR and other countries have found it useful to employ younger and fitter employees. I cannot run anymore and my attempts to run are merely me walking a a fast clip. This being said, I believe over 100 yards or over 90 minutes I could beat Jon Moss and there are too many officials in the Premier League who simply are not physically up to the job and need to go.
I have put forward a few ideas and I am curious what others think. Will the English FA and the Premier League act or will they keep their heads in the sand and officiating in England will continue to decline and believe it or not make next year's problems in this area worse than this year's problems.
4 – Anthony with a brilliant look at the relative strength of this current Liverpool side:
I've seen claims for a while now that various past Premier League champions would "wipe the floor" with this Liverpool team and idly wondered how we could compare the teams to try to judge quality of this team against these past champions. Paul has mentioned the Clubelo rankings at various stages over the past few months, so I decided to see how the figures stack up.
I chose the following teams as I had either heard or read of them being directly compared to the current Liverpool team or have been assembled using tanker loads of cash:
Man Utd 1998/99
Arsenal 2003/04
Chelsea 2004/05
Chelsea 2005/06
Man Utd 2010/11
Man City 2017/18
To generate comparable data across all seasons, I checked I took values from the dates of the 1st EPL match (so as to ignore the charity/community shield) and just after the CL final as this is later than the FA Cup and then used a spreadsheet to calculate the Average, Median, Maximum & Minimum points values for each team. AS the season is ongoing, for the current Liverpool team data is up to March 1st 2020. The results and dates used are captured in the table: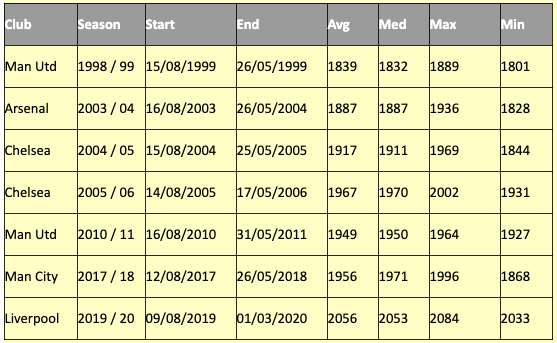 At first glance it's fairly clear that this Liverpool team is head and shoulders above pretty much any of the past champions, with only the absolute best rankings of the Chelsea 05/06 and City 17/18 teams coming within 40 ELO points of the current Liverpool's worst level to date this season. To put that in context, ELO rates "home advantage" at around 50 points for the English Leagues. It should also be pointed out that it's no coincidence that the two teams that "challenge" this Liverpool team are two of the most expensive teams under TPI.
The other claim often made in attempts to belittle this team is that this season is particularly weak, presumably as the "big six are under-performing. So then I got the relative current ranking points from the Premier League (also correct to March 1st) to see how the past champions they fare? Since the lowest "minimum" value is 1801 points, I chose the next lowest value as the cutoff (current league position in brackets).
Liverpool (1) – 2048
Man City (2) – 1993
Man Utd (5) – 1827
Chelsea (4) – 1816
Spurs (7) – 1808
Arsenal (10) & Leicester (3) – 1799
Some notable data points from this:
City (currently 1993 points) are nearing their peak value from 2017/18 of 1996
The lowest scores of each of these past champions is comparable current (mid season) "big 6" rankings
Man Utd's treble team is only rated as about as good as the 2020 edition of Spurs, Arsenal & Leicester
The highest scores would see each of these past champions challenging City's current performance (and presumably league position) – the averages see them fall off the pace a bit
The 05/06 Chelsea team would have a better chance of getting close to Liverpool than this season's City squad
My main takeaway from this exercise is that the overall strength of the 2019/20 Premier League, as assessed relative to full season performance of some of its illustrious past champions, is none too shabby and claims that this season is "poor" should be challenged
5 – Chris and then Paul react to the suggestion this current Liverpool side don't compare with Manchester United's treble winners:
Typical Utd guff and bluster, all light passing through their distorted prism.
Of our 6 defeats:
1 CL group stage defeat which had no impact on us still topping our group
1 CL away leg loss whose impact we (or Utd fans) are not aware of at the point of posting
1 League Cup defeat with a bunch of kids
1 FA Cup defeat at Chelsea
1 – fucking 1 – League defeat at Watford
So if they reckon 6, they must also be counting a Community Shield loss to City on pens. Which is the sort of pointless, desperate chicanery they require and so often use in order for them to cling to their futile claims to ancient supremacy. Are they really that desperate that they'll include a pre-season one-off showpiece defeat on penalties, and to their local rivals at that? Fuck me they're laughable, and also worthy of pity.
Speaking of which, wasn't it always us who were supposed to be living in the past all the time? When did they suddenly turn into us then? 🙂
…
United finished with 79 points that season. They won just 22 league games; we've already won 26. We already have 79 points and it's just March 😉
They failed to win 16 of their league games. We've failed to win 2.
SIXTEEN! They dropped points in SIXTEEN league games!
They won just two of their group games in the CL, both against Brondby.
Articles published since last Friday, with excerpts:
Sunday March 1st:
Liverpool Physically Well Off Their Game At Watford In Bruising Defeat, by Paul Tomkins.
Lovren has had some superb games for Liverpool, and generally improved under Klopp. But starting with his debut in 2014, he still frequently shows a frenzied desire to win the ball when it's not there to be won, and then takes himself out of the game in the process. While I want to cut Lovren some slack, in that most players coming in from the cold are rusty (and the same applies to all of the Reds' centre-backs when they have been out of the team for a while), the fact that he kept falling into Watford's trap – and making life harder for himself in the process – was hugely frustrating. A mistake can happen, as can being beaten for pace (especially if not match sharp), but the constant repeating of the mistake is what's galling. Being rusty is one thing; poor thinking is another. 
Post-Match Analysis: Watford 3 – 0 Liverpool, by Daniel Rhodes.
The worst football match Liverpool have played under Klopp. And the only other match that comes close was a five-nil defeat when we had a man sent off. The basic stats, the underlying stats, the advanced stats are all in united conclusion that this was as bad it gets for the Reds. It was the first time we've failed to score this season in the league; the end of the 18 game winning streak meaning we failed to break the record; the end of the unbeaten league record meaning Arsenal fans all enjoyed their favourite moment of the season; but really, it was only one defeat, and 99% of league champions lose a game at some point, so while the next few sections might be painful, we've had quite the run and there's something cathartic about crashing back down to reality. Because for about 18 months I've felt we've been riding some sort of machine-like football dream ride.
Monday March 2nd: 
19/20 FA Cup Preview | Fifth Round | Chelsea | Stamford Bridge, by Gary Fulcher.
The Stamford Bridge outfit have won this competition eight times (ranked third) with five of those trophies lifted post-Abramovich takeover: 2007, 2009, 2010, 2012 and 2018.
Liverpool's last final appearance came in 2012 against Chelsea, with our last FA Cup winning campaign coming in 2006 when we defeated West Ham on penalties to the lift the trophy for the 7th time (ranked 5th).
Tuesday March 3rd:
Does Size Matter? The Impact Of Varying Pitch Dimensions on Liverpool's Performances, by Mizgan Masani.
Since they are so obsessed in having a tight structural defensive shape, leaving no space in between the lines – the defensive line is quite high all the time, more so this season.
While the space between the last line and the goalkeeper is manageable at pitches of a size similar to Anfield, it does get tougher when the length of it is greater.
For example, the length of the Anfield pitch is 110 yards, while the likes of Old Trafford, St.James Park and Emirates Stadium have around 115 to 116 yards.
That is quite a significant difference, considering how Liverpool magnify their game for each spatial section, especially defensively (or in general, off the ball).
No wonder in bigger grounds, their goal concession rate is more than one per game. It means there is always a chance to score against them in these grounds.
Wednesday March 4th:
TTT Player of the Month for February 2020: Andy Robertson, by Andrew Beasley.
But as is so often the case on TTT, a thought provoking comment below an article sparks excellent replies. Here's a summary of once such exchange on the previous piece which pondered if opposition teams are getting better at stopping Robertson from crossing with his left foot (and you can read the full comment thread here):
PT: I've always said Robertson's weakness is how his body shape means he seems to get "squared up", and if he can't go outside he usually won't dart infield. It looks to me that if you slow him down, he can either try and go outside from a standing start, or pass the ball backwards or sideways. His crossing has also seemed poor for a few months.

Jeff: I believe that the tandem of Robertson and Mane is a major reason why he is not crossing the ball as much as he did in the past and why he is positioning himself on the pitch.