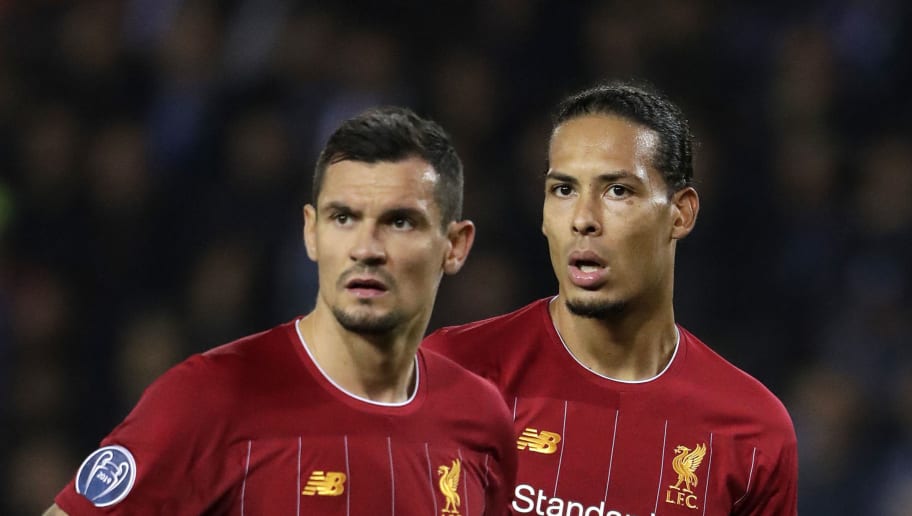 One thing that occurred to me a few weeks ago was just how long it was since Liverpool were two goals behind in a league game; indeed, Andrew Beasley confirmed it had been years. As seems to be the case with all interesting statistics that get dredged up, that run came to a swift end this weekend. After getting up towards 100 games, that is now reset to zero.
At Vicarage Road it felt to me as if there were a number of physical problems, that were exemplified by how a rusty Dejan Lovren, as is his wont, tried to make it a physical battle with a forward and, when losing, tried even harder; which, as ever, included being dragged deep and wide – when stepping away, to focus on the space behind, and the second balls, would have been far wiser. There seems to be some kind of machismo with him, when the smarter defender thinks of another way to solve the problem.
Whereas the super-quick Virgil van Dijk and Joe Gomez can follow their striker into deeper or wider areas and still get back, the much slower Lovren can get drawn out of position and remain isolated. Gomez and van Dijk also seem more judicious regarding when they track their man into deeper areas, whereas Lovren sees the ball as a red rag, and he's the bull. (After an early game I described him as a bull in a china shop, and he still looks like that at times.)
While Lovren was not the only bad performer on the day – and he won all three of his tackles, and played two of the game's best forward passes – his problems with Deeney set the tone, and disrupted Liverpool's shape.    
Lovren has had some superb games for Liverpool, and generally improved under Klopp. But starting with his debut in 2014, he still frequently shows a frenzied desire to win the ball when it's not there to be won, and then takes himself out of the game in the process. While I want to cut Lovren some slack, in that most players coming in from the cold are rusty (and the same applies to all of the Reds' centre-backs when they have been out of the team for a while), the fact that he kept falling into Watford's trap – and making life harder for himself in the process – was hugely frustrating. A mistake can happen, as can being beaten for pace (especially if not match sharp), but the constant repeating of the mistake is what's galling. Being rusty is one thing; poor thinking is another. 
As he did with Martin Škrtel a few years ago, Deeney got under his skin, and into his mind. The harder Lovren tried to grapple with Deeney, the more Deeney invited it on; such as when he took Lovren under the ball for the long throw that led to the first goal. Lovren could have let go of Deeney, dropped a yard and headed the ball, instead of letting it bounce behind him in the box as he remained like a limpet on the Watford striker. 
What Deeney said after the game was spot-on. "You try and pick on the weaker of the two, no disrespect to Lovren. He tried to fight me and wasn't even watching the ball and it worked out perfectly."
The "not watching the ball part" is the one that struck me as the problem throughout the game.
Lovren was constantly grappling with Deeney out wide, or 50 yards from goal, and Deeney was just riding the contact, and either taking the deserved free-kick, or just letting his teammates swarm at van Dijk, who was suddenly overloaded. As quick as van Dijk is, Ismaïla Sarr is an absolute speedster. (Indeed, Sarr's air-shot at Anfield helped Liverpool win the points that day, but here he showed why he's so highly rated, and a big move surely awaits.)
It was the Reds' second game running against a physically imposing Brit-managed team who, in each of the first halves, put in at least two really bad launched "followthrough" tackles, that the referees did not punish with yellow cards; the kind of tackles James Milner put in on Wilfried Zaha at Anfield last season, when rightly sent off. Such lungeing tackles – even with no intent to injury – are quite rare these days, with most managers preferring to 'coach' interceptions and blocks, with flying into challenges often causing more harm than good. 
Indeed, it should have seen West Ham and Watford players booked, for what were "orange" card offences (worse than most things worthy of a yellow, and where you could defend the decision of a red card if it was given, but where it's not one of the worst red-card offences). Both those opposition teams put in fighting displays, which at times crossed into excessive force.
In reply, with no help from the refs – who seemed to treat the games like it was still the 1980s – there was no Milner or Jordan Henderson to leave something in return. Football has moved on from the era of constant "reducers", and tackling is rightfully a less common part of the game; but this week I've seen Liverpool look a little rattled by some forceful tackles/fouls, whilst recognising that even in the recent past, a thumping challenge from someone in red has shifted the tempo of a game, and sent opponents into their shells.
In the past few years, since being bullied at Watford in a 3-0 defeat in 2015, Liverpool under Jürgen Klopp have been – if not bulletproof – then at least bully-proof. For the first time in eons, Liverpool looked a bit of a soft touch. Even an enforcer, like Fabinho, hasn't looked right since returning from injury. 
While height isn't everything, aerial duels – which I'm particularly interested in – is one area where Liverpool were the worst in the Premier League when Klopp arrived, and it's now generally a strength.
However, Watford had eight outfield players at 6'0" and taller, while Liverpool had just three. Had Joël Matip – who has barely featured since September – been fitter then he may have played instead of Lovren, given that Matip was the man in possession of the jersey in 2019. Matip has won 89% of his aerial duels in the league this season – the most for any Premier League player who has played over 500 minutes and contested at least 20 aerial challenges – compared to 69% for Lovren. (Stats correct up to matchweek 26, although Lovren's stats will have taken a bit of damage from Vicarage Road.) 
Without Gomez's pace, some extra height may have helped (certainly in hindsight), especially as Lovren was getting dragged into battles he could not win. Matip could just lean on Deeney and head the ball clear, rather than trying to outmuscle him.
Lovren has hovered around the average 63-69% success rate in aerial duels for centre-backs in every season I've checked. Because they are facing the play, and there's often two of them against one striker, a 6'2" centre-back should be winning at least two-thirds of his aerial duels. (Centre-backs below 6'2", like Man City's Fernandinho and Nicolas Otamendi, average 60%.) And Lovren consistently hits that mark; but never betters it. 
By contrast, a tall striker like Sébastien Haller at West Ham has contested over 300 aerial duels, winning "just" 50%. Everton's Dominic Calvert-Lewin has contested over 250, winning 44%. Joelinton at Newcastle has contested 300, winning 45%. Chris Wood of Burnley has contested nearly 250, winning 40%. And our friend Mr Deeney, had contested almost 300 despite missing ten games, winning 41%. So the odds favour the centre-backs. 
Only Peter Crouch pops up near the top of any list of those players who contest a high number of aerial duels; in 2016/17 he had contested 190, and won 73%. But he is 6'7", a good four inches taller than almost all of the other target-men I've mentioned.
So strikers don't tend to win a lot of aerial duels, but a team like Watford will play long to Deeney because he just makes life hard. He contested no fewer than 20 against Liverpool (which is his usual rate), and won 40%, so more-or-less his average success rate too. But while van Dijk won all four of his headers in the game, Lovren won only 46% of the 13 he contested. (You only had to listen to Deeney in the past to know he was going to avoid van Dijk at all costs.)
Basically, Deeney reduced Lovren's usual aerial effectiveness by a third, and that's ignoring the times neither won the ball, but it went beyond the Liverpool centre-back, who had been drawn out of position.
Gomez, who used to have a really below-average aerial success rate (as is common for younger defenders), had risen to a 56% success rate in 2018/19, but it included games at full-back where he'd be expected to win more duels, as wingers don't tend to be as tall as centre-forwards. However, this was still up on his earlier stats, as a powerful 6'2" kid who didn't know how to use his body properly against gnarly old pros. It's a common theme. 
Indeed, while I'd make height the most important factor in winning aerial duels (and it correlates to such a degree that, on average, for every inch added over 5'9", players will win an increasing percentage of headers), factors such as strength, leap and experience are still part of the equation. At just 5'9", James Milner is always between 45-50% in aerial duels because he's strong and experienced.
Now 22, Gomez has won 71% of his aerial duels in 2019/20, to rank 16th out of the 259 players who qualify. He's been as good in the air, on average, as Harry Maguire, although Maguire contests a lot more aerial balls, just as van Dijk does for Liverpool – they are the ones whose job is to get to the crosses, providing they are within their 'zone'.
So, not only do Liverpool concede far fewer goals with Gomez in the team (the goals against column when he partners van Dijk is stunningly low, the win percentage stunningly high), but his individual stats – in supposedly his weakest area – are now excellent. He is a phenomenal young defender, and clearly the best partner for van Dijk. Indeed, his ability to sprint out with the ball and play accurate zipped passes into midfield and the forwards is another under-appreciated side to Gomez, and bringing the ball out of defence is something all the centre-backs bar Lovren can do.
Jordan Henderson is another who was weak in the air, certainly for his height as a midfielder; every season averaging around 50% of aerial duels won. But having ranked 129th after 25 games last season, and 115th back in 2016/17 when I ran the figures at roughly the same stage, he has risen to 27th out of the 269, to currently rank as even better than most Premier League centre-backs in the air. He's now in the 90th percentile.
And in keeping with having not looked his best in terms of imposing himself physically on games since missing two months with an injury, Fabinho has fallen from a top-30 ranking last season to outside the top 100 this time around.
While this switch of rankings with Henderson (one falling 100 places, the other rising 100 places) is perhaps due to their changing roles, Fabinho has dropped from winning two-thirds of his aerial duels to winning just half. 
That said, the Brazilian won four of his five aerials against Watford, but the issue was that between them, van Dijk and Fabinho contested just nine, and Lovren alone contested 13, many of them poorly. Four players in the game won 100% of their aerial duels, and only one was in red.
Perhaps this metric is prone to radical shifts, particularly for those who aren't contesting hundreds each season, but as this is the third time in the last four seasons that I've run the figures at the two-thirds mark of the season, I generally see a lot of the same players near the top; and Virgil van Dijk has been in the top ten every time. 
That said, Matip – initially poor in the air when he arrived – narrowly overtook him last season, and this season Matip is way ahead of any other Premier League player, albeit from just seven league games. As of matchweek 25, Liverpool had two players in the top 10, and five in the top 30. But three of those were absent at Watford.
Aerial duels is just one aspect of the game, and Liverpool are a much better side aerially than when Klopp arrived. Andy Robertson is another addition who tends to win 50% of his aerial duels, which is more than some of the Reds' midfielders, and way up on the full-backs inherited (both Alberto Moreno and Nathaniel Clyne were terrible in the air; Trent Alexander-Arnold is still quite poor in the air, but improving with age and experience: up from 21% to 36%). 
However, two of Liverpool's absent midfielders (Henderson and Milner) have better aerial records than two of the trio who started at Vicarage Road, and this season, Lovren has the worst aerial success rate from the quartet of centre-backs. Meanwhile, Fabinho, in general, is struggling on this front. 
And unlike a lot of other teams, Liverpool have no forwards who are even average in the air. If 40-45% is the successful range for target-men, Liverpool have no one in their regular front three who gets even close.
That said, Divock Origi, who is by far the tallest, wins a fine 41% (up from 23% when he was still a kid) – but his all-round game is not quite good enough to force his way into the side, and he has to play cameos here and there. He's a very handy squad player, and will go down in history for the important goals he has scored, but he hasn't quite gone on to the level his potential suggested was possible. You don't necessarily want to buy big strikers to help in this regard, or to have a Plan B, as Christian Benteke showed. But if Liverpool's Plan A – generally so successful – has a flaw, it's that none of the strikers will help much in this regard.
Roberto Firmino wins some vital headers in his own six-yard box as part of the zonal line, but overall he still wins only 30% of his duels. Sadio Mané and Mo Salah can score goals with headers if they get the right delivery, and get across their man (or are in space), but if the ball is pinging about in the air they won't win many battles. Yesterday they each contested four aerial duels, with Salah winning none and Mané just one. Salah ranks 252nd out of the 269 players to contest at least 20 and play at least 500 minutes, which shows the difference between being a good header of the ball (and like Mané, he is) and being 5'9" contesting aerials. 
Manchester City have a similar problem. Indeed, it's one of the areas where Liverpool are clearly better than the team in 2nd place. Overall, City are more easily physically bullied than Liverpool. Liverpool score more headers than City, and City concede more headed goals than Liverpool. Indeed, City have only had one consistently excellent arial duellist in recent seasons, and Vincent Kompany left in the summer.
But the game at Watford saw Liverpool without its best defensive aerial dueller (Matip) and its best midfielder on that front, too (Henderson). Maybe it didn't help Klopp's men impose themselves in another stormy weekend, allied to the lack of Gomez's pace, and the leadership qualities of the captain and vice captain. On the day, Liverpool's superior players didn't earn the right to play, and Henderson is someone who usually sets the tone to make sure the battle is taken to the opposition. 
West Ham scored on Monday by keeping their corners away from van Dijk, and Watford troubled Liverpool by having Troy Deeney toy with Lovren. The Reds have so few weaknesses, but against a team of powerful giants, in an away game where Michael Oliver, the usually reliable referee, was strangely lenient, there seemed a lack of gnarliness to stop the game slipping out of reach.
(Edit: This was the third consecutive league game Liverpool played in the midst of a named storm, and as at Everton last season, the wind can wreak havoc and play into the hands of taller sides; aerial football being more effective in the winter, when the ball carries more on the wind. While Liverpool themselves use the long ball – albeit nowhere near as often as people make out – it's more about accurate longer passes, and this is harder in the wind, as the Reds found with little success yesterday. But just launching long balls up to big strikers, as part of the "percentage game", is helped by unpredictable elements. It may not just be the post-break malaise, but also the period of the season when the weather is more of a leveller.)
In both the first-halves this past week, I felt that a combination of swirling wind and overzealous challenges spooked the Liverpool players. Perhaps with such a big lead in the table they also felt no need to risk leg-breakers, especially with the business end of the season heaving into view; and in a couple of instances I don't blame them for pulling out of tackles, lest they ended up in hospital. If Liverpool had desperately needed to win at Watford then they might have got stuck in, but, with a 22 point lead, it looked like they tried to get the result without the maximum effort – and that can come back to bite you. 
In games last season against supposedly superior technical teams like PSG and Barcelona – with their flamboyant superstars – it still needed Milner and Hendo to put in the kind of blood-curdling tackles that made those opponents think "how much do really we need this?". Andy Robertson was leaving something in on Lionel Messi, and while that may not have intimidated the great man, it gave Anfield a boost.
This week it has seemed like Liverpool were more like PSG and Barça in being intimidated by the rougher tactics, and not wanting to pick up injuries (at the point of the campaign where there's no time to recover for the big finale, and maybe some big finals too.) 
I also don't think you can be "on it" every week, and while Liverpool have perhaps won two or three games this season that should have been draws, this was the first time they looked distinctly beatable for pretty much every minute of the match. Watford could have scored more, and Liverpool registered no meaningful attempts, bar a long-range shot from Adam Lallana that hit the post.
With an unbalanced bench due to half a dozen absentees, Klopp threw on more and more attacking players, but it backfired in the way that it sometimes can: you simply no longer have anyone in midfield to supply them. 
The midwinter break is a great idea, but maybe the Reds have lost their rhythm, as they did with two warm-weather breaks last season, albeit one of those trips resulted in an outbreak of illness. Liverpool were able to finish the season with nine league wins in a row, plus beat Bayern away, Barcelona at home and Spurs in the Champions League final thanks in part to those breaks, but rather than it being "momentum" (where people think good results lead to more good results), the Reds were just in peak "machine" mode.
Liverpool probably needed a winter break this season like AC Milan needed half-time in Istanbul. Any break – for 15 minutes, or for two weeks – can disrupt the tempo of a team. But the benefits are usually seen later down the track.
Still, to have won 35 of the previous 36 league games was utterly sensational; but all it meant that, in terms of probability, a defeat had to come along at some point. 
For Liverpool to need just three wins (plus three draws) from the final ten games is an insanely good position to be in. Even two wins and six draws would do it; or one win and six draws, if the win is at the Etihad. And that's assuming City win all of their other games. While they're in good form now, it's not easy to focus on the league when you have Champions League quarter-finals and semi-finals to contend with; that's historically the point where most top Premier League teams see their league form damaged. 
Talk of going the season unbeaten can now be dispelled, and focus can return to winning the damned league, lest coronavirus take care of that. Three weeks ago I speculated on the comments section of this site that the league could end up being cancelled, before the outbreak had even left China. If memes can go "viral" in no time at all, think how quickly actual viruses can spread.
While the health of the world is far more important than football, football is one of the things we live for; and as Liverpool fans, the league title is the one thing we still crave. It could end up that the title is contested in empty stadia, which would be heartbreaking, but that's better than a cancelled season. (I say all this as someone with a chronic immune-related illness, as well as asthma, so I'm in the firing line!)
Records can still be broken – the Reds can now finish with "only" 109 points – but this is a good reminder to the players of how much losing hurts, and the need to bounce back with hunger and anger. Klopp's Liverpool always bounce back. That said, I can perhaps foresee a couple more defeats, but it just needs the Reds to go on just two runs of winning consecutive league games to secure the title.
And now being slight underdogs in the Champions League may help there, too. Atletico Madrid are the masters of the underdog mentality, but the game is theirs to lose next week, and Liverpool should be full of the force for that one.