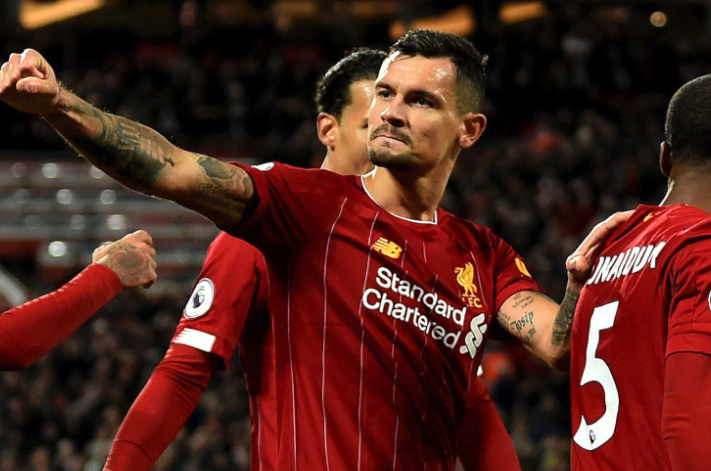 Best posts of the week, as chosen by Chris Rowland and Daniel Rhodes:
1 – Ernie in a debate about naming rights for stands and stadia, Dec. 2nd:
It seems to me that Liverpool F.C is its own brand now. And the Kop and Anfield are huge assets for a club wanting to sell itself on the international arena/gather international support.
Keeping those assets instead of capitalising on them is important, a sale will leave the club with cash in hand, but with a brand reduced in value. It is not free money.
Probably not a totally equivalent situation, but you don't see Coca Cola subletting parts of their products to bring in cash.
«This bottle of Sprite is brought to you in association with HP Printers»
»Fanta is proudly supported by Shenzen Electronics Co»
They probably could get some cash for it, but at what cost.
Liverpool have something other plastic clubs would die for, but ultimately probably destroy if they had. City did not feel their connection with Maine Road was worth keeping. I'm not sure renovation was ever possible there, though if it was – do they regret not keeping it?
You can't buy history for money. A rich and vibrant connection to the past makes for a more meaningful and stronger bond between supporters and the club, which in turn increases the faithfulness of the international fanbase. They realise that following Liverpool give them so much more than just banter rights and three points at weekends.
In fact, I'll go so far as to say the history is more important than some titles. I'd rather have the history and an occasional title than a plastic club with occasional titles x 2. Being brought up on the Liverpool of the eighties, it is easy to get the measuring stick for success wrong. That kind of dominance over two decades probably is a thing of the past. There are too many competitors. A PL title every 3-4 ish year with 80-90% participation in CL at a win rate of 10-20% should be seen as a huge success. Which means that there will be many seasons without silverware – and this needs to be accepted as long as the club is run the right way. Otherwise, you run the risk of making too many panic appointments, panic business decisions and ultimately ruining your established position – see United, Manchester. United have failed as an organisation, but kept their history. City have become plastic, but have success. In the end, I think United's position is the best of the two. United's is the more easy to fix, City will struggle to be more than Oil Money. And when the wells dry up (literally), they will fade.
How fitting then, that the main ingredient of plastic is oil.
2 – Paul Tomkins on speculation linking Liverpool with a move for Jadon Sancho from Dortmund, Dec. 2nd:
Reasons we might be able to get him: if he's unhappy and Dortmund want to cash in while his value has taken a slight dent (as they're struggling and he was late back from international duty, I believe), plus Klopp's relationship with his old club might make them happier to do business. But equally, Klopp might know more from them as to further issues with Sancho, if there are any, beyond some immaturity.
Also, he left City so they're unlikely to buy him for a big fee having lost him on the cheap. He could go to United who'd pay him bigger wages, but why the fuck would he want to go there?! If he moves purely for the money, he's not the kind we want.
He knows Brewster from the England U17s, where Sancho first caught my eye as a phenomenal talent. But like Brewster, would he get in our starting XI? (And would Brewster "sell" LFC to him if it essentially means he'd be further down the pecking order.) One way would be to drop Bobby back to AM, and play Mo through the middle. Equally, we could have four elite attackers and play 3 every game, resting a different one each time.
We didn't spend anything this season so we may have the coffers for a £100m player now. But then again, we may not, as it's not always that simple!
Personally I see it as unlikely, and would worry that it might upset the apple cart, but equally, he could really add to our title push. As ever these days, I trust the club to know what they're doing on transfers.
3 –  Andrew Beasley on that Brighton free kick goal and VAR, Dec. 3rd:
"It's a terrible, terrible oversight by both the ref and VAR; yet again, the officials don't even seem to know the rules."
The interesting thing here is that it's also not great when people don't know what the VAR can intervene in! And I include myself in this, as I only learned yesterday that VAR can't intervene in matters like the Brighton free-kick issue of their players being close to our wall. Which to me is madness, but if that's the case then we can't blame VAR for the goal being allowed to stand. It's yet another example of the ham-fisted implementation of VAR we're having to live through at the moment.
And while it should've been disallowed, I do like the attacking teams being able to take things quickly at least. If you couldn't take corners quickly, maybe we wouldn't be European champions… Liverpool understandably dealt with the situation badly – a GK having to come on with no chance to warm up on a freezing day – but I'm not sure Brighton players being near the wall made much difference, Adrian was clearly flat footed. Credit to Brighton; a clusterfuck all round otherwise!
4 – Jeff on the Merseyside Derby:
When I think about yesterday's match I have to give a big shout out to Liverpool's scout, talent evaluators, and the transfer committee. If you wrote a novel about a keeper who was unemployed who was signed at the late minute by a major football club and he plays in 9 matches and they win them all, the critics would simply say this story is just not believable. Well, this is the story of Adrian and his time so far in Liverpool. I seriously doubt anyone expected him to play in the Premier League in any matches this season and no one thought he would win every match he played it but we all know he has been a sub in 2 matches and a starter in 7 matches and Liverpool have won all 9.
Sometimes in this world there is talent out there that is flat out under valued and who can come to Liverpool and become a monster player. I thought Mane was a nice player when he came to Liverpool and I thought the fee for him was a bit on the high side. Well, the scouts saw something in the lad, the coaches worked with the lad, and the lad worked and worked and today he is a force in world football. What I just wrote about Mane applies to any number of lads that have come to Liverpool.
Sometimes in this world misfortune comes in and severely derails a footballer's career or ends a footballer's career. I thought after the Everton lad badly injured Divock Origi and time passed that this lad's time in Liverpool had come and gone and one of the most promising lads to come out of Belgium would never have the career he was widely predicted he would have. Furthermore, two summers ago I thought his time in Liverpool had come and gone and it saddened me. However, Klopp and Liverpool kept him around which I thought was a nice gesture and then we have the Everton match. VVD miskicks the ball and I thought the match was over but lo and behold Origi follows up as he should and next think I know the Everton keeper gifts him the ball, he scores and Liverpool walk away winners. He comes in against Barcelona and scores two goals and in the European Championship final he scores the goal that clinches the win and as we all saw yesterday he scored two quality goals. Again, you could not make up what Divock Origi has done in Liverpool the past year. Credit has to be given to the lad for overcoming adversity and credit has to be given to Jurgen Klopp for sticking with the lad. It is not an overstatement to say that in the last 3 matches against Everton Origi has gotten pay back in the most meaningful manner. He has scored 5 goals.
A decade or so ago Shaqiri was predicted to be one of the top players in Europe and it has never happened. Furthermore, last year he missed massive amounts of time and this year he is just starting to get into match shape. Yesterday, he showed as he showed in the Barcelona match last season what a talented lad he is and I for one am thankful that he is in Liverpool.
I have in any number of posts talked about how the world of Liverpool has changed since FSG came to Liverpool and how Liverpool has changed since Jurgen Klopp came to Liverpool. Whether we are talking about the scouts, talent evaluators, the transfer committee, or Jurgen Klopp and his coaches Liverpool are top drawer in the organization. As for the lads who come to Liverpool. they are all quality people whose sole aim is to win and they win and win and win.
I know everyone talks about players in terms of technical ability or in terms of physical ability but to me this Liverpool team is built on character that sees a player such as Mane work to become a better and better player or a player such as Origi overcome a horrible injury or a player such as Shaqiri simply find a place where he can produce the quality he has or a player such as Adrian who shows that he can do the job when no one thought he could. Character matters.
5 – Mobykids on Naby Keita:
Poor Eddie Howe! And Finding Naby.
On the whole I have enjoyed our games on the South Coast bar the abbhoration of you know what. All of a sudden the Everton game throws open the door to a range of options. My sympathy is for Eddie Howe. How in Robbie Fowler's name does he prepare for this one?
If I am a Cherries full back they'll be eaten alive by Mane or Salah or Div or Ox. In midfield its almost scary – Henderson and Ox are rested midweek to play with Milner likely to get another start. Or you could rest Trent, play Joe, and go for almost a three centre back flexi-model with Milner and Hendo patrolling with Ox or Naby or Shaq marauding with Div or Sadio. And we haven't even mentioned the Lallana project as deployed at Villa. My head spins.
Allison comes in. VvD and Lovren start. And my growing respect for Andy Robertson who epitomizes everything you want from a Liverpool player and surely has scouse blood coursing through those tartan veins. Watch his shithousery and its exactly what you need(le) in our players.
Its a case of Naby being the only one out of all these players who might be lagging behind. Even Shaq has come back with a bang. But the ace in the pack is this kid. I'm not going to pretend – its been difficult and there are legitimate doubts. But Klopp waited for him. And there's something in my gut, something about Naby that wants to give him time. If we get the Naby project right this kid will be something. I almost regret signing him last season because its almost as if the system wasn't ready for a Keita style player as much as Naby wasn't as ready too. This is what he's said in the past of the type of player he wants to be:
As a kid we used to play in the streets wearing a Liverpool shirt. He [Keita's father] had that love of Liverpool back then when I was 11 or 12 years old. Because I'm a midfielder and Steven Gerrard was always the boss of the team I couldn't be anyone else but Steven Gerrard when I played.

"My overall favourite player would be Iniesta. It is his final ball, obviously, his skill and his ability. I know he is not known for his aggression but that is something I have added to my game, even if it is not one of his traits. I think as a midfielder you need to have that aggression as part of your game. But I always admired Deco too. It was funny because my dad loved Deco as a player. He started calling me Deco as a nickname around the house.
For me that is exactly what Klopp is looking for. I love Ox and Shaq but if I had a choice for a midfielder it would be the pace and passing of an Iniesta and Deco with the aggression of a Henderson or Milner. Its just that Keita is not there yet but Klopp and Bundesliga watchers will tell you its in him as Keita says:
I am someone who has a real winning mentality. I have a huge desire to win. That is why I am aggressive in a positive sense on the field. My first mindset when I am out on the field is to defend well and not concede. As a midfielder, when you have sealed things up at the back, my job is to provide the ammunition for the strikers and forwards, to create opportunities for them.
Words and actions seem far apart. But he's not a quitter. He's a kid striving to play at the highest level and has been unlucky with form and fitness. But he's not one to give up:
I am a team player. My long-term aim has always been to play football at the highest level I possibly could for a big club. When that is in your mind you don't give up, you constantly fight and battle to make that happen. But that isn't to say that now I am at a massive club I am going to relax and to stop fighting and battling. I am still going to be the same.
For me the two biggest influences in Keita's career apart from his family are Klopp and Sadio Mane. He is definitely not alone there and for me its reassuring that Naby has his "big brother" just as they crossed paths in RB Salzburg:
I think Sadio is like a brother to me, he's someone who motivates me and who is always with me. I like him because I could see someone who was ambitious and who wanted to succeed. When I met up with him I said to myself 'Yes i think I've found the sort of friend that I need'. When he left I said to him 'Big brother one day we will meet again'. Each time he scored he'd say to me 'Come on little one, you've got to score this weekend too'. He said he'd helped his team to victory and I had to do the same. He was someone who was always there like a brother for me and who would motivate me.
And that is a massive thing. Naby's big brother has turned into an absolute monster of a player. Mane is world-class. And from their (relatively short) RB Salzburg days there's a definite path for Naby to follow but unlike Mane, who honed his style in the Premier League, Naby played in Germany. But having such a terrific role model or "big brother" in addition to Klopp and the support I am sure he gets from the wider club tells me he's not short of support or talent but maybe of confidence as Klopp said last season:
I spoke to Naby. Everything is fine. I am completely happy with Naby but could he be a bit more confident in the games? Yes. Is he exactly the player in his best time at Leipzig? No. He is still adapting, that's how it is. […] a little injury here, a little injury there, and it was kind of a little setback but he is a fantastic player and I am really happy to have him here. It is so good and I am looking forward to our common future. You see it every day, wow, there is so much to come and there is so much influence he can have on each game. That is all good. There was no reason, just other boys were in a good shape as well, a bit was positioning, the system, all that stuff, and that's how football decisions are. There is really no doubt about the boy, he is an outstanding player.
I have no doubt Keita can recapture that RBL form. But can he do it consistently in such a competitive squad? I hope so and am sure most of us do too.
This is more a piece to remind us in the middle of the title race storm that Finding Naby is a journey worth making. And with the RB Salzburg game maybe playing with his "big brother" could be a turning point. Though Klopp doesn't do nostalgia when it comes to picking his team I hope Naby gets a chance to shape a critical game and deliver. There's such a massive upside of this kid for the next 5-7 years for this team.
Maybe I'm too hopeful and not pragmatic enough. But there's something about this quiet, shy kid with so much talent that just wants him to succeed.
6 – Cvt on the requirements for each to finish the season on 90 points:
What does it take for a club to reach 90 points this season?
Firstly, Arsenal and Tottenham cannot. Man Utd can if they win all their games (so no). Likewise, Wolves can if they win all their games bar one, which they need to draw (so no).
For Chelsea, they are on 1.93 points per game (PPG) and this will need to increase to 2.65, an increase of 37%.
For Man City, they are on 2.13 PPG and this will need to increase to 2.52, an increase of 18% (!)
For Leicester, they are 2.33 PPG and this will need to increase to 2.39, so basically they have to keep their form for the next 23 games….
For Liverpool, we are on 2.87 ppg and to hit 90 points, it would need to decrease to 2.04 PPG, which is -29%.
That is ridiculous. We can 'slow down' by 28% and still hit 90 points while everyone else has to improve their form to get to 90 points!
For Chelsea to reach 90 points, their form needs to be the same as a 101 point season.
For Man City to reach 90 points, their form needs to be the same as a 96 point season. While this seems a stretch, they played at this level for 42% of the time in the 2017/18 and 2018/19 season…
For Leicester to reach 90 points, their form needs to be the same as a 91 point season.
For Liverpool to reach 90 points, our form needs to be the same as 78 point season.
Articles published since last Friday, with excerpts:
Saturday November 30th:
Torrid 2nd Half As Martin Atkinson Again Shafts Liverpool – But Reds Roll On, by Paul Tomkins.
I like to write pieces that delve into the bigger issues, but for the past two years under Jürgen Klopp the games have come so thick and fast it feels like the focus must be the latest game.
And it can feel repetitive at times. It's often just a question of when Liverpool will get the winner, and who will get the winner. Injuries to Alisson, Joel Matip, Mo Salah, Naby Keita and Fabinho (plus back-up Xherdan Shaqiri) haven't cost the Reds any league points, with perhaps the exception of a draw at Old Trafford without Salah – but with Atkinson in opposition, obviously.
Sunday December 1st:
Post-Match Analysis: Liverpool 2 – 1 Brighton, by Daniel Rhodes.
Liverpool had more shots (15-12), and at one point were leading the count nine-nil after a sumptuous opening thirty minutes of attacking play. The trend continues with shots inside the box, with the Reds dominating (12-5). And yet, once again, the highest quality chances (according to Opta) were in favour of Brighton (1-2) (later upgraded to 2-2). Mane was the only supposed big chance we had, which I find tough to believe, whereas The Seagulls attempted two (Dunk and Trossard).
Monday December 2nd:
A Double My Day at the Match – Brighton (H), Nov.30th 2019, by Lubo Merkov and Nari Singh.
The game starts and it's spine tingling and quite emotional singing Justice for the 96 for the first six minutes. It's a real class response to the verdict I feel, and shows our support for the families of the 96. Everyone around us is hoping we put up a bit of a score after going two up, but it doesn't happen. Annoyingly I missed the incident of Alisson's handball as someone was walking past me to go to the toilet, but I see Dunk roll the ball into the net whilst Adrian is organising the wall. No one really protests to Atkinson, the players just get on with it, probably knowing that Atkinson will never change his egotistical mind. I thought the support from the crowd from there on in was excellent, we were doing all we could to get the lads over the line, there was no negativity at all.
Tuesday December 3rd:
19/20 Premier League Preview | Matchweek 15 | Everton | Anfield, by Gary Fulcher.
Liverpool equalled their club record for most consecutive leagues games unbeaten (31) with the 2-1 win over Brighton, equalling the record set by Kenny Dalglish's phenomenal 1987/88 side (31 games from May 1987 to March 1988) and coincidentally it was Everton that ended that sequence at 31, with a 1-0 win at Goodison Park.
Given Everton's current struggles in the Premier League and the fact they haven't recorded a league win at Anfield since September 1999 – or a league win of any kind since October 2010 – it would be a bit of shock if a new club record isn't set. However, the footballing Gods can be spiteful, as can Martin Atknson, who just happens to be in charge of  VAR for this match, and it wouldn't be that surprising if Everton ended their long wait for a win at Anfield and at the same time prevented Liverpool from setting a new club record. Not that I'm cynical. At all.
Why Neutrals Ignore How Superb This Liverpool Side Really Is, by Paul Tomkins.
"Well, it was a stunning move" says the commentator on the Sky live feed that's run on Game of the Day. "The buildup is fabulous" says co-commentator Davie Provan, who adds after the replay has concluded: "A lovely bit of football".
The half-time whistle goes shortly after what would have arguably been Liverpool's goal of the season; certainly a contender. Yet this wonderful passage of play didn't even make the highlights on BBC's Match of the Day – even though it was outstanding, but also very easy to edit, as it was, after all, at the very end of the half. But no, it was lost on the cutting room floor, not to even be dragged up in the post-match "analysis" as sometimes happens to other strangely ignored bits of play in the highlights (inverted commas are needed in comparison to many other football programmes; Match of the Day really has some of the worst punditry out there these days).
Wednesday December 4th:
TTT Player Of The Month for November 2019: Trent Alexander-Arnold, by Andrew Beasley.
He has had nine league appearances in his career where he has created at least four chances; only one of them was during November (at Crystal Palace), but five of them have occurred this season and seven in 2019. Perhaps sticking around at the elite creative level of three chances per match isn't beyond him after all. Put it this way: Alexander-Arnold has already created as many league chances in 2019/20 as he did last season. It's not even December (at the time of writing), never mind half way through the season.