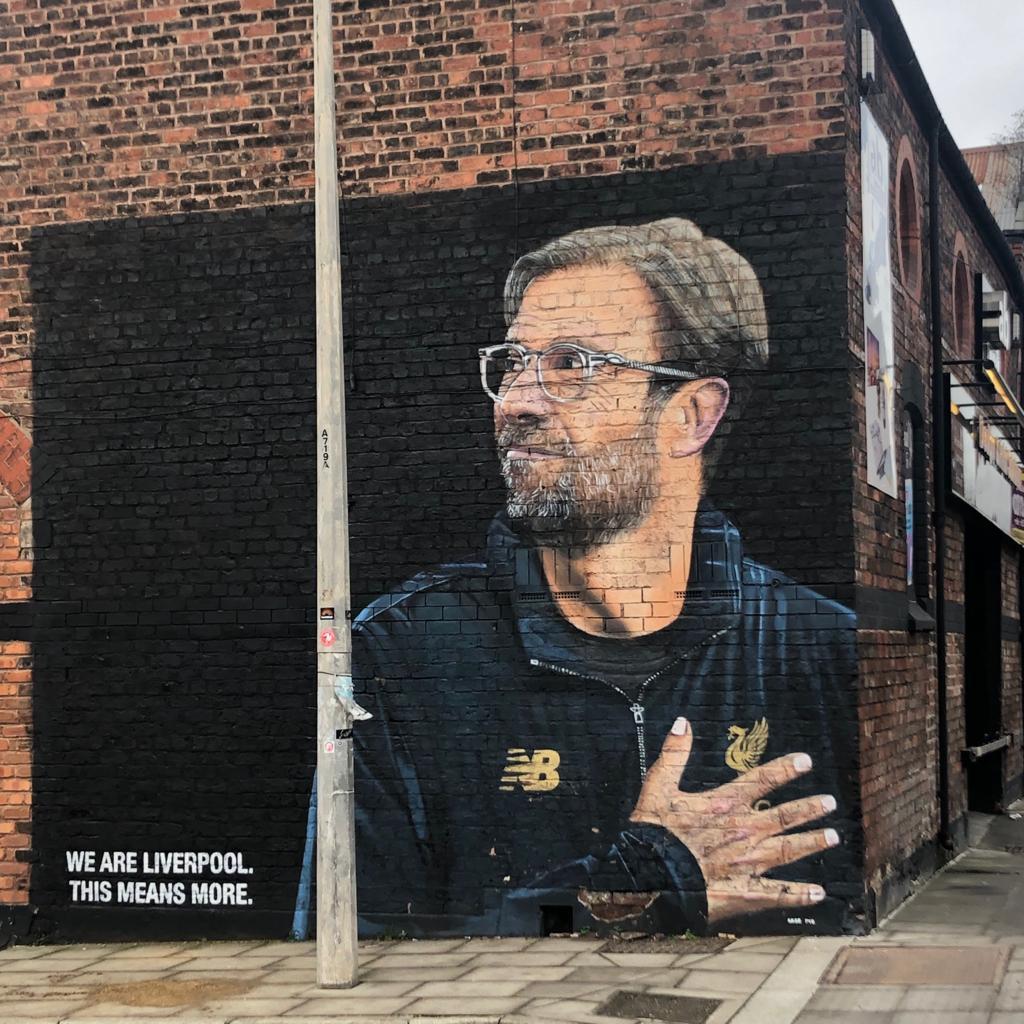 Andy Robertson and Gini Wijnaldum neatly exchange passes on the edge of their own area under some pressure from the Brighton pressers, before Robertson plays a ball down the line to Mané, who, with great skill and acceleration, spins past his marker just before the halfway line.
Davy Pröpper, the Brighton midfielder, pulls him, but Mané keeps going. Pröpper then trips Mané with a cynical cut across his thighs, but Mané keeps running whilst trying to maintain his balance, which he successfully regains a few yards later after looking like he might stumble flat on his face; proof that players can stay upright if they want to, but had Pröpper been quicker, Mané would have lost the advantage by trying to keep playing (which is why players go down in the box when fouled, as refs ignores any split-second advantage lost). Mané then faces up the right-back, but cuts the ball inside to Roberto Firmino. At this stage it's a three on five, nearing the Brighton box, with Firmino passing the ball to the only other Liverpool player on break, Mo Salah.
But bombing forward from midfield is Alex Oxlade-Chamberlain, and Salah lays off the deftest first-touch pass into his path. Ox shoots towards the top corner but doesn't quite get the power he wants, and the keeper, reading the intent, pulls off a smart save. From defending to almost scoring in a handful of beautiful movements across almost 80 yards of pitch.
"Well, it was a stunning move" says the commentator on the Sky live feed that's run on Game of the Day. "The buildup is fabulous" says co-commentator Davie Provan, who adds after the replay has concluded: "A lovely bit of football".
The half-time whistle goes shortly after what would have arguably been Liverpool's goal of the season; certainly a contender. Yet this wonderful passage of play didn't even make the highlights on BBC's Match of the Day – even though it was outstanding, but also very easy to edit, as it was, after all, at the very end of the half. But no, it was lost on the cutting room floor, not to even be dragged up in the post-match "analysis" as sometimes happens to other strangely ignored bits of play in the highlights (inverted commas are needed in comparison to many other football programmes; Match of the Day really has some of the worst punditry out there these days).
However, they did show Salah running onto a difficult through-ball in the second half, which Lewis Dunk cleared, complete with not one but two replays. It was largely a non-event; utterly baffling, until you realise the narrative.
The narrative was all about how well Dunk played (and he did indeed play well) and not about an honest appraisal of the game, its balance, nor its best moment. It was a horrible distortion, an irresponsible piece of reporting, if you take your football seriously and purport to be showing the "highlights".
As the game was not shown live, then mostly only Liverpool fans would have seen it. No wonder the Reds don't get the credit they deserve from neutrals.
In some senses I'm not overly bothered what people think as long as Liverpool win. But I am also driven by a sense of fairness, and credit where it's due. We live in an age where most fans just want to discredit rivals by any means possible, but there also has to be a sense of fair and honest reporting in the media. Narratives can help us understand things, but also, often the wrong things; focusing only on that which fits the narrative and ignoring all evidence to the contrary, which is why the world's political systems, and the quality of reporting, is so utterly fucked up. (While I am utterly biased I don't pretend to be unbiased, and I don't work for supposedly neutral national media companies.)
I don't care if the Match of the Day pundits fawn over Liverpool, or agree with all the decisions by the referees, but not showing the best move of a match seems utterly bizarre. Not talking about bad refereeing that goes against the Reds – but which one of England's most senior ex-referees takes the time to point out – also seems a bit one-sided.
I personally never visit any websites of rival teams and their fans. I don't spend much time on social media anymore, but when I do briefly log in, I don't go looking at what rival fans are saying (just as I never did), unless they end up tweeted onto my timeline. I don't engage in banter. I'm a miserable middle-aged bald wanker who doesn't have the time.
But someone on TTT shared this from an infamous Man United site, and it's perfect to share, in that it sums up just about every misconception about Liverpool right now:
"Firmino and Salah are woefully out of form lately. Mane's form has tailed off noticeably, too. In their last two games, they've only scored set-piece goals from their centre-halves. That isn't sustainable. Their bum-rush midfield doesn't create a jot and teams are becoming wise to their Moyes-esque penchant from launching (pretty much) aimless balls into the box from the wide areas in the hope a ball will inevitably pinball to the feet of an attacker, who'll duly scuff a goal. Absolutely shite football but somehow – inexplicably – gets lauded.They may have a case to deserve being top of the table this season thus far, but to be that far clear is preposterous. Their run of good fortune is nigh-on two seasons long now. It truly is remarkable and unprecedented in the sport."
Of course I don't expect logic, fairness and an unbiased approach from a Man United fan on a Man United forum. And what an idiot says on the internet isn't important. But it's indicative of the way narratives around Liverpool have been allowed to play out. Man City are "silky". Liverpool are "lucky".
Yet look at Liverpool's 44 wins and only one defeat in the last 53 league games, whilst in that time playing two Champions League finals and becoming the Champions Of Europe, and you can't write any of it off as luck. Even just comparing Liverpool's luck with Man United's on one big metric makes an absolute mockery of that, and United – once great – are pretty rubbish these days.
Man United won a scarcely believable 12 league penalties last season, which was almost twice as many as Liverpool won, despite Liverpool doing a ton more attacking. Penalties are hugely influenced by luck because you have to rely on the subjective decision-making of a neutral. Not all penalties that are given should be penalties and not all fouls that should be penalties are given. And the inconsistency of VAR application this season has made that clear.
(And in Europe, Liverpool conceded a game-changing penalty at Napoli where Andy Robertson pulled his foot away and Dries Mertens dived into him. The ref asked the VAR "was there contact?", missing the obvious point about who made the contact. Yet more luck for the Reds.)
This season United have won literally twice as many penalties as anyone else in the Premier League (six, to three). That's ludicrous, especially considering their paltry attacking output. Eighteen league penalties in less than a season and a half must be some kind of record.
Also, to state that Liverpool only scored from set-pieces against Brighton is to ignore moves like the one at the start of this piece; but of course, that was written out of the weekend's history. Which is why I find it so irresponsible of the BBC.
Scoring goals in the 83rd or 87th minute has suddenly become "Jürgy time" or "Kloppage time" even though a game has always lasted at least 90 minutes, and these are almost all incidents of goals – listed in articles and rants about the Reds' fortunes – not scored in any additional time at all, but well within the legal minimum amount. How lucky are Liverpool that the referee has to allow play for at least 45 minutes each half? Wasn't "Fergie time" all about injury-time goals? – when the ref added 2 minutes and played 17? (I jest, of course.)
As I've been noting for nearly three seasons, Liverpool have a shocking time from referees. They wind me up like never before, not least because when you point it out you get called a biased twat; but then an independent study backs up what you've been saying (although in fairness I still am a biased twat). At times I feel I'm disappearing down a rabbit hole of conspiracy theories but mostly I think it's rank incompetence, institutional biases, petty egos, false narratives and other issues that have harmed the Reds in several areas.
Two seasons ago the Bath University study on Luck in the Premier League found the Reds by far the most harshly treated by refs. This season, any time anything goes Liverpool's way it gets addressed on shows like Match of the Day, but anything that goes against Liverpool mostly gets ignored; the narrative being that it's more interesting when a plucky underdog is hard done to, and when the big team is badly treated by the ref, who cares?
I don't think this is an anti-Liverpool bias per se, just the usual narrative traps of sport broadcasting; although the BBC's relocation to Manchester probably suggests that all is not entirely fair. Imagine if the BBC was based in Liverpool, and Mike Dean refereed Liverpool games against Mancunian sides? Man City and Man United fans would self-combust!
Just this weekend there was nothing made in the UK media by pretty much anyone beyond Liverpool fans about Martin Atkinson's third consecutive terrible decision against the Reds in a matter of weeks; this was a two-for, as he upped his game as the ultimate gobshite of English refereeing. Norwegian TV described his decision to blow his whistle when Adrian had just come on as a substitute keeper as "unsporting".
But it was also totally illegal. Yes, Atkinson was within his rights – by the letter of the law – to blow his whistle once the wall was correctly organised; but the wall wasn't correctly organised! There was a blatant infringement, and that's before taking into account the unsporting nature of a referee blowing his whistle when the new keeper was still getting his bearings as he tried to organise a wall when also a player light.
And it took Keith Hackett, one of the most experienced referees England has ever seen and a former leader of the refereeing body (before the toadyish Mike Riley took charge), to come out and point out the reason the goal should have been disallowed, which, one can presume, was only allowed in Atkinson's haste to "punish" Liverpool.
The rules went out the window, just as any fair sporting intent was set aside by the odious Atkinson (who seems to do VAR or ref Liverpool every week right now).
As the Liverpool Echo pointed out: "The rule states that when three or more players are in a wall for a free-kick, no players from the opposition can get amongst it, distract players or open create space for a shot on goal. Opposition players must stand at least one yard away from the defending wall.
"Keith Hackett, former referee and Professional Game Match Officials Limited chief, took to Twitter to give his take.

KEITH HACKETT @HACKETTREF

The Brighton goal should have been disallowed. The Liverpool wall was formed with 3 or more players. Brighton's attackers were in the wall not one yard away"
This will largely go unnoticed, and when Liverpool get a decision go their way it will be confirmation bias aplenty with "lucky Liverpool!"
It's a terrible, terrible oversight by both the ref and VAR; yet again, the officials don't even seem to know the rules.
Look at the Spurs players in their wall against Bournemouth in the photo below (and compare it with Liverpool's wall), pointing out to the ref that the player shouldn't be there – and it's far, far less egregious an infringement than the Brighton incident. Spurs players seem to know the rules better than Atkinson.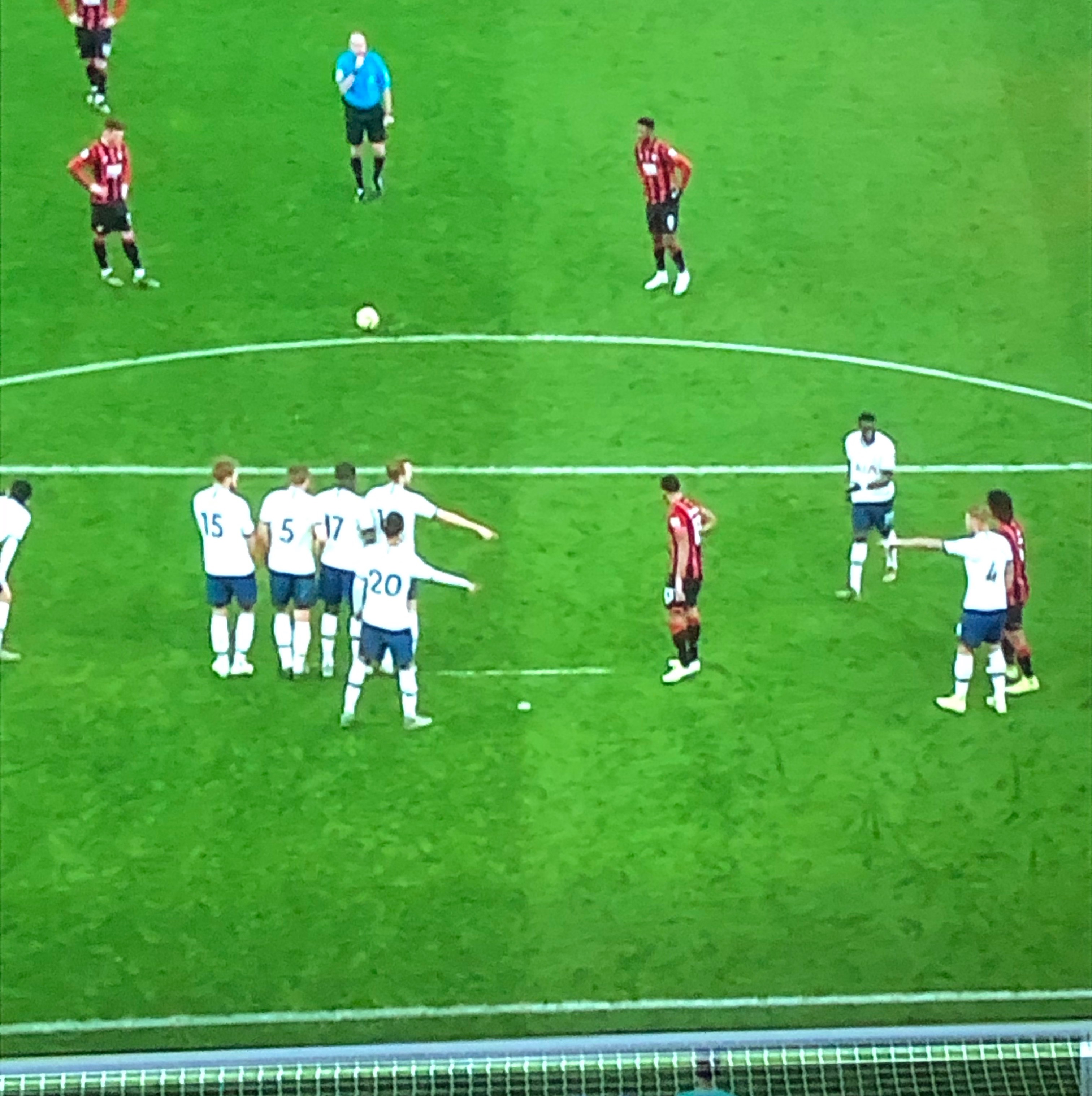 Now compare that with the free-kick Liverpool faced, which obviously had the additional complication of a new goalkeeper entering the pitch: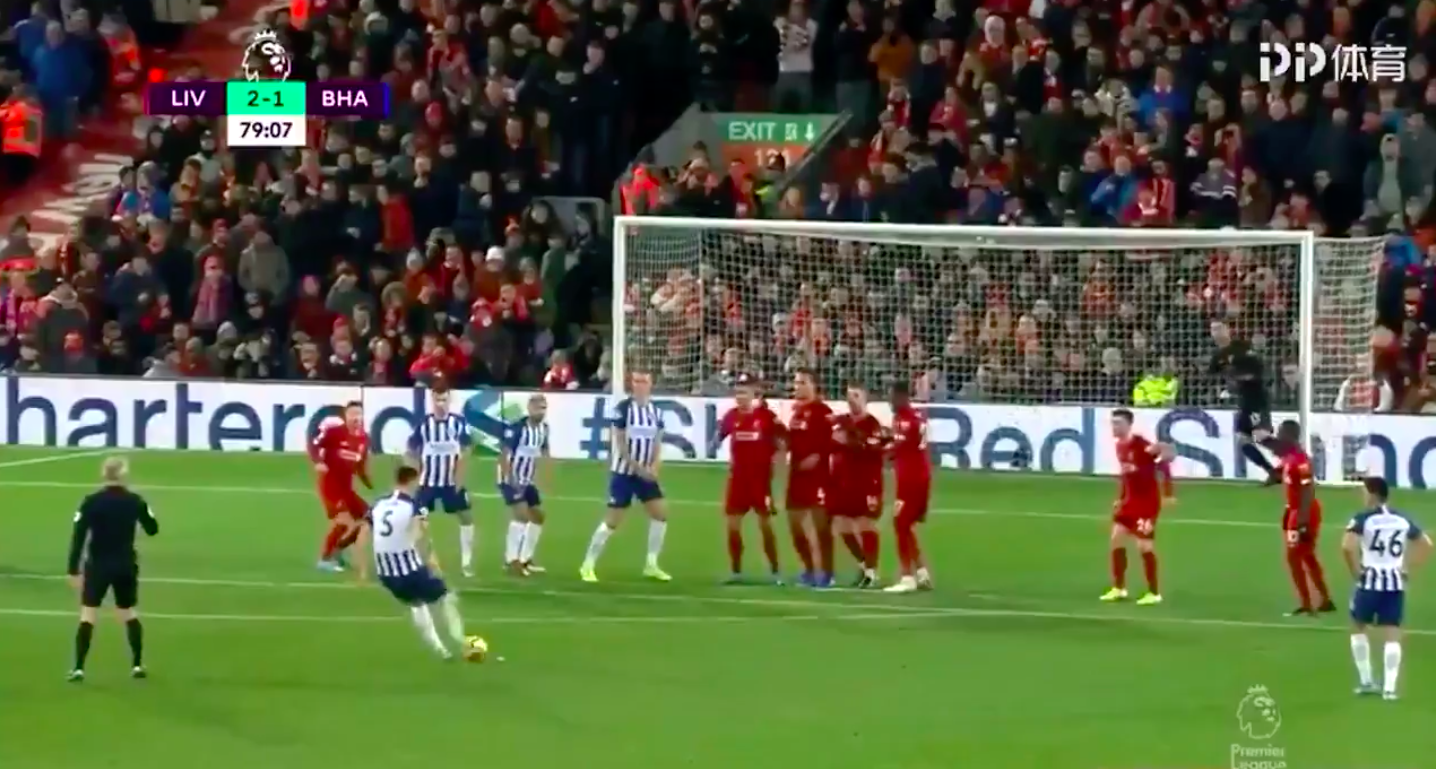 I would argue that Atkinson – because he is a petty man – was just far too eager to shaft Liverpool, just as he rejigged the lines on Roberto Firmino's armpit until the striker went from onside to offside, and when he ignored the clear foul on Divock Origi when Man United broke and scored. The evidence is not so much mounting as mountainous.
I may be paranoid, and yes, I do now wear a tinfoil hat, but at times you're right when you smell a rat. The world is full of shady deals, quid pro quos, corrupt officials. People abuse power all the time; it's often more of a shock when they don't. And corruption can just be applying obvious biases and preferential outcomes. Atkinson seems to hate Liverpool; therefore, perhaps he actually does?
I'll get onto some of the supposed "luck" in Liverpool's play, but part of the narrative of "lucky Liverpool" is all the decisions the Reds supposedly get.
Fair Play
Despite almost always being top of the fair play charts under Klopp, and despite being far better than pretty much everyone they play – and despite having fast forwards who get fouled a lot (unless, bizarrely, they are in the box) – Liverpool weirdly have more players sent off than the opposition. Sadio Mané, James Milner and Alisson have been sent off in the past two and a bit years in the league, with only Aaron Wan-Bissaka sent off against the Reds in pretty much the same time period. Milner's two yellow cards last season were justified, as was Alisson's red this weekend.
But we have yet another anomaly here. I've got screenshots of at least a dozen players with their feet raised far higher than Sadio Mané's when he tried to control a high ball without realising that Ederson had rushed out of his area and stooped to head it; literal kung-fu kicks in Premier League games with both feet off the ground have not seen red cards. As with Son recently being sent off for Spurs at Everton, Mané was punished for the outcome (injury to an opponent), not the offence, which was a yellow card as his boot wasn't even outrageously high; the collision in part because Ederson stooped. (There was no overturning of it, unlike Son's.) There's nothing in the rules about outcome, and the Premier League had to backtrack on that over their statement about Son, initially saying that the ref had to take the outcome into account. This was spurious, and the decision was overturned.
The referee was Jonathan Moss, like Atkinson now almost 50, and out of shape. Against Spurs at Anfield two seasons ago he broke the rules by asking the fourth official what the video had shown, yet he continues to referee. He and Atkinson are two of the worst referees this country has ever produced and the sooner the next generation take over the better. (That said, as others have noted, England has a terribly small pool of refs, and the average age of refs compared to other European countries is staggeringly old.)
Vincent Kompany should, without question, have been sent off in the next clash at the Etihad that effectively allowed Man City to win the title, against Liverpool with a referee from Manchester! It was one of the worst "tackles" of the season, and far more reckless than Mané's two seasons earlier.
So yes, lucky Liverpool. Ditto Jamal Lascelles hacking Mo Salah down when the Egyptian was in on goal at the Kop end; the officials didn't even give a foul, even though it was a cynical trip/hack that left the commentators dumfounded. I still can't recall many more surreal moments in 40 years watching football; it took me back to the Clive Allen goal circa 1980, when the ball clearly hit the stanchion at the back of the net and bounced out, and no one seemed to pay any attention.
Or Hamza Choudhury of Leicester, who also took out Salah with a cynical challenge designed to stop him in full flight, which injured the Liverpool player's ankle to the point where he missed games and hasn't looked the same since (lucky Liverpool!) and where the offence was at least two yellows rolled into one: cynical foul, plus dangerous foul; he could have got the same yellow card for just pulling Salah's jersey, which physically harms no one. But make a cynical foul with a dangerous tackle and surely the offence is more serious than a mere yellow?
Of course, Liverpool haven't been awarded a handball penalty in the Premier League since the spring of 2017. Lucky, Lucky Liverpool!
And of course, even with a recent Kop-end penalty (wahoo!), it's still only two in the league at that end of Anfield since May 2017; as I like to point out, level now with Spurs at Anfield from their three visits in that time.
When Sadio Mané was kicked against Leicester, he "dived"; yet when British players dive where there's no contact they are almost always said to be "taking evasive action".
When Gary Lineker said on Match of the Day that not even Liverpool fans would disagree with Mané being booked for diving against Aston Villa, at least some national media/independent podcasts (including The Second Captains if memory serves) pointed out that Mané's foot was actually trodden on, as still images from the incident clearly showed. Such images were not shown on Match of the Day . All that video tech, and hours to get their show together, and yet somehow they couldn't even see that; perhaps as they're not looking, as they couldn't give a shit.
Of course we are all more sensitive about decisions that harm our team than those that benefit them, but bar the occasional real-time meltdown I think I'm generally pretty fair on this stuff. I remember Robbie Fowler and Djibril Cissé combining for a goal in 2006 when one (clearly offside) dummied it for the other to score, and it was a preposterous application of the offside rule, and I said so at the time.
This season, Liverpool had a possible beneficial call against Man City, although that was also complicated by the original infringement being a handball by Bernardo Silva in the box, which, as with Mané scoring at Old Trafford, would rule out any goal or goalscoring opportunity. Plus, the referees guidelines state they will not consider handballs that result from deflections, and the deflection from Silva to Alexander-Arnold was clear, and unlike a shot, totally unreadable. So it was actually the correct decision, even if you can see why people may ignore the ricochet aspect, because they're not aware of it.
There was also an arm in the back of Raheem Sterling in the box, and had it been a penalty I would have had no complaints; although as with Dominic Calvert-Lewin at that end a couple of seasons ago, it looked the merest of touches. If those get given, you can see why; and if they don't, you can see why. These are clearly borderline offences.
Liverpool benefitted from a Chelsea goal being ruled out by VAR for offside, but while close, it was several inches offside; none of this armpit nonsense. Little was made of Joel Matip being headlocked to the ground six yards out against Newcastle when about to score. Liverpool have ended up winning almost every game where they've had bad decisions, but have not been "lucky".
When there's a clear double-push on Dejan Lovren to stop him defending Crystal Palace's corner it becomes "controversial" to rule it out, and is analysed as a super-soft decision that has gone Liverpool's way yet again; some kind of outrageous fortune. But Jordan Ayew made not one but two attempts to push Lovren, the second time with both hands.
Well, you can't go around forcefully pushing players over in the box! – especially when they're in the path of the flight of the ball (whether or not they'd get to it), but even if it's totally off the ball it's a foul. When Lovren made the slightest of pushes on Dominic Calvert-Lewin two seasons ago Alan Shearer said it was a clear foul; yet this far more blatant and forceful push somehow wasn't. Why? I didn't think the Calvert-Lewin one should have stood, but if it did, then that becomes the standard for penalties, and Mo Salah should have at least one a game for the times he's headlocked by defenders. (I suggest any neutral go watch the footage of all Liverpool games, if they can stomach it, to see this clear trend.)
A few years ago Martin Skrtel got away with a handful of absolutely ludicrous fouls at corners, but referees should have punished him at the time; you can't punish Liverpool now for what happened years ago (which seems to be the attitude to Kop-end penalties: Liverpool got too many in the 1970s and 1980s, now they must get no more than one every 12 months). Every week I'd watch thinking "you fucking idiot Skrtel, stop that!" and I'd have had no complaints had he been penalised every single time. If VAR was around, he would have been; although he would have had to change the way he defended, hopefully, as a result.
Sadio Mané was fouled in the box for penalties that were penalties, even if his life was never at risk from brute force. But a trip is a trip. Equally, he was kicked in the foot after releasing the ball in the box against Sheffield United yet it was totally ignored. Liverpool were lucky because their keeper fumbled a shot, but the Reds should have had a penalty before that.
In the last two seasons Liverpool haven't had a single player booked more than once for diving. Yet for others the tallies stand at: Wilfried Zaha 4, Dele Alli 4, Raheem Sterling 3, Leroy Sane 3, Dan James 2 (in 3 games) and Shkodran Mustafi 2.
Mo Salah was rightly yellow-carded for a dive outside the box at Chelsea two seasons ago – the only time I've seen him go down without contact – but most of the time when he goes down in the box it's when being pulled, held around the neck or tripped, and mostly it gets ignored.
When he tries to stay on his feet and the defender nicks the ball away in the moment the Egyptian is off balance, it's a case of "tough shit". When Salah is grabbed with both hands round the neck by a defender and thinks of going to ground the commentators will say "look at him, he goes to ground too easily" even though he has stayed on his feet – but can't move as judo moves are suddenly allowed.
If referees had any balls and any idea about the game they would penalise snidey fouls where the striker stays on his feet. Players have to exaggerate contact as a result, and to me, a dive is only where no contact is made. "Going over too easily" is often a case of a striker being impeded, although some do hang a leg out in order to win penalties – Jamie Vardy is an expert at kicking the goalkeeper and throwing himself theatrically into the air. (Even then, some of these are still penalties, if the keeper gets nowhere near the ball and is going to impede Vardy anyway.)
Again, as I've stated many times, all the regular Premier League penalty winners are British born or British raised players; foreigners who moved here much later in life get given very few, and that applies to someone like Leroy Sané too.
Liverpool are clearly lucky here, that Salah, plus Mané, plus Firmino, will win about as many penalties combined as some individual English players (Sterling, Vardy, Zaha). It's all in the data, and the data almost always shows the big picture.
Lucky Narratives
Liverpool have faced cup games almost exclusively against excellent sides for the past two years now. In the domestic cups I believe it's one game against non-Premier League opposition. When Klopp's men drew Porto in the quarter-finals they were called "lucky", having just had Napoli and PSG in the group, and Bayern Munich in the last 16; Barcelona followed in the semis. Yes, lucky Liverpool.
Funnily enough, I wrote most of this piece yesterday, before I even realised the FA Cup draw was taking place. The draw – made by ex-Man City player who kept saying "lovely!" when he just happened to give City's rivals tough draws and City yet another doozy (how's that for integrity?) – put Liverpool against Everton yet again; and no matter how good Everton are at the time, it's another battle.
Since 2017 in the domestic cups that's now Everton twice, Chelsea, Arsenal, Leicester, Wolves and Aston Villa [edit: I initially forgot to include them]. That's basically seven extra Premier League games. Only MK Dons have been easy on paper, a ratio of seven tough games to one easier one. One of the only tough games City have played in the domestic cups was Chelsea, and that was because it was the final – and therefore no draw could be made. (Had a draw been possible, my money was on them getting Aldershot FC, who were dissolved and disbanded in 1992.)
City's cup fixtures since the start of last season have been "Champions League: Lyon, Hoffenheim, Shakhtar x2, Schalke, Tottenham, Dinamo Zagreb, Atalanta … FA Cup: Rotherham, Burnley, Newport, Swansea, Brighton, Watford … League Cup: Oxford, Fulham, Leicester, Burton Albion, Chelsea, PNE, Southampton and Oxford".
You can now add Port Vale to the list, near the bottom of the lowest division, to make for as many cup games against lower division opposition as Premier League opposition – 1:1 – since the start of last season, with no massive derbies and only once facing a big Premier League club (Chelsea).
Again, I feel it's tinfoil hat territory to suggest some kind of fix – and personally I no longer give a shit about the domestic cups – but it was recently admitted that the draws to World Cups have been fixed. It feels slightly dodgier when it's a City player "loving it" as he makes the draw. While I don't see why or how the draw could be fixed, at the very least get someone impartial to do the damned thing.
And while it probably is just "the luck of the draw", let's stop pretending that Liverpool are lucky in everything they do.
Too Reliant
Liverpool are then labelled as a one/two/three-man team, although the key players probably rises to at least eight if you count fairly, and that's being unfair on several other players.
For a team that relies on a couple of specific players who Liverpool couldn't cope without, those players are then ignored when Liverpool do indeed cope without them; Alisson having missed most of the season, Salah missing games and playing with a strapped ankle.
Liverpool have already had sixteen different goalscorers this season, and a staggering ten players who have at least two goals. Sharing the goals around is a great thing: the midfield and the defence are weighing in. Yet this, apparently, is a bad thing; a lucky, unsustainable thing.
Liverpool's midfield is much maligned, yet they've all scored vital goals lately, and all have assists, some – like Jordan Henderson's against Man City – from the top drawer in a chest of drawers the size of Chester.
Equally, both full-backs are more creative than most creative midfielders, and effectively play as wide creative midfielders anyway, so Liverpool don't need three more creative midfielders.
That said, if Gini Wijnaldum is a "dull" midfielder (as part of the "bum-rush midfield doesn't create a jot"), then how many dull midfielders have 120 career goals and were raised as elite dribblers, and who has almost as many international goals this season as the much-hyped (and clearly talented) Marcus Rashford has in 38 caps for his country?
That Wijnaldum doesn't spend Liverpool games shooting and dribbling is not because he cannot, but because his job is to feed the front three; and if they're not there, as against Barcelona, he may do the job. I mean, how many more vital Champions League semi-final goals can a player get in 12 months? I make it three. Because it's almost as if Liverpool have skilled, versatile players who can alter their games when required.
Does Roberto Firmino score enough goals? The answer is always: does the team with him in win enough games? And as such, the answer is yes. He runs more than any other striker in the league and creates space for others. He's a magician, with guts and balls and legs.
Liverpool are now labelled a lucky set-piece team, but the football to win those free-kicks is often superb: fast, intricate, and creating last-ditch defensive panic.
Sometimes the Reds go long from the back with Virgil van Dijk and Trent Alexander-Arnold, but when Joel Matip is in the team then the entire back four and keeper can pass like midfielders, and two of the back four pass like Glenn Hoddle. Matip is arguably the best dribbler at the club, and easily the best dribbling centre-back in the league.
Jürgen Klopp inherited the worst set-piece team in England. That's where Liverpool were in 2015, as detailed at the time by me on here, but also revisited in "Mentality Monsters: How Jürgen Klopp Took Liverpool FC From Also-Rans To Champions of Europe". Liverpool were a tiny side full of mediocre players, who won the fewest headers in the top division. Even the taller defenders were terrible in the air.
Without turning Liverpool into Man United under Jose Mourinho (who fielded a midfield trio with the smallest being 6'3″), Klopp has transformed Liverpool to score 50% more headed goals than any other team since the start of last season, and 33% more set-piece goals. This, despite only having three outfield six-foot-plus players in the team: van Dijk, Fabinho and either Matip or Lovren. Pretty much everyone else is under 6'0″.
Liverpool have fast, skilful, small strikers, but they score headers due to timing and the delivery. At set-pieces, it's often van Dijk who dominates, as you can't regularly dominate set-pieces if you're 5'9″ (but you may occasionally win a header with a good jump as long as the taller opponent doesn't also make a good jump). Van Dijk and Matip also happen to be the two most skilful centre-backs in England.
Equally, as good as xG is as a tool, you can't say that Liverpool's two goals against Brighton were only usually worth a tenth of a goal when combined, when the crosser is Alexander-Arnold (so the ball has more pace and whip than a model can factor in) and when the headers are by Virgil van Dijk. Defenders and the keeper couldn't even get close. If it was any other player crossing to any other centre-back in the league, maybe the xG could be so low.
Having two of the best crossers in world football is key to all this, although the Man United fan mentioned at the outset sees it as just a lucky lumping of the ball into the box; where was he when David Beckham was doing the same? Beckham was an outstanding crosser of the ball; ditto Robertson and Alexander-Arnold. Beckham never had to beat a man, just curl it past the full-back; ditto Robertson and Alexander-Arnold.
If you can't admire world-class crossing and liken it to a David Moyes side – that won very few games – lumping in 70+ hopeful balls in a game they couldn't win then you are too biased to be allowed an opinion.
On league fixtures, Liverpool have played more Big Six games this season than anyone else, and have also faced Leicester. By mid-January the Reds will have played Leicester, Spurs and Man United twice, and have very few "big clash" games left. While it's good in one sense to get those games out of the way, by playing so many so soon in a season would normally see you well off the pace.
Klopp's men have had the Super Cup in Turkey three days before a Premier League away game, and soon have to go to Qatar for the Club World Cup. This lead is not, to pardon the pun, misleading. For all the talk of goal difference and xG, Liverpool have not played 80 minutes against 10 men or faced Watford at home; both of which account for near 10-goal swings in single games by Leicester and Man City. (By the time Liverpool finally face the worst team in the league they'll be on their third manager of the season, and may have finally found some mojo.)
Plus, I believe VAR has meant more teams have offside "chances" against Liverpool that go into the stats but which would be ruled out if they resulted in a goal; because linesmen are now told not to flag as readily. This probably affects Liverpool more than other teams as Liverpool have the best offside trap, but it's not getting the correct calls when it does its job properly, due to hesitancy from the officials.
This, below, sees Zaha slightly offside, but it went down in the record as a big chance Liverpool conceded. Equally, apart from Tomkins (the other one) on the far side of the box, the four players under the flight of the cross should all be given offside, as they are all affecting the play (although I accept that this is not how the laws are currently applied).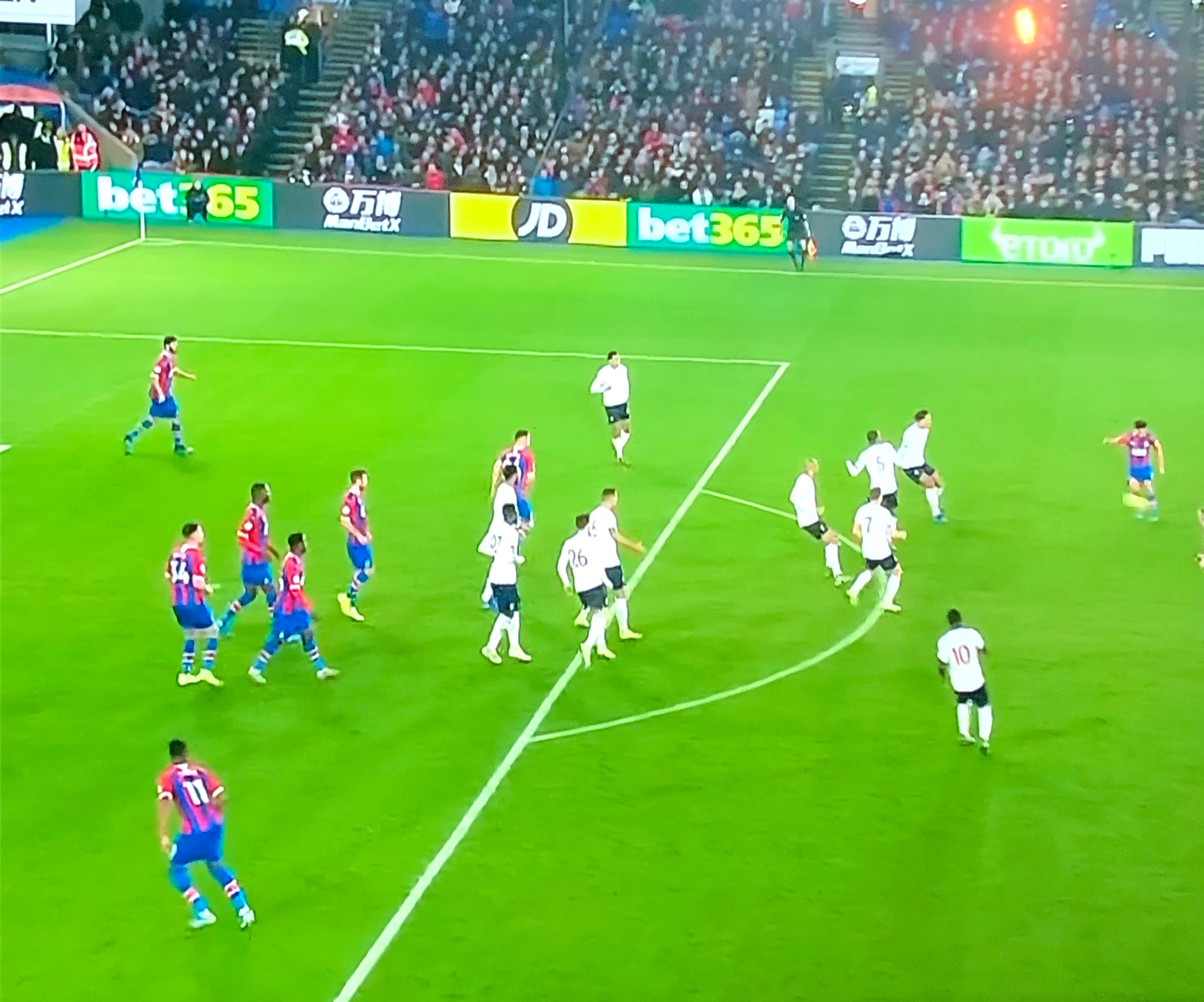 The one against Brighton on Saturday (below) was even worse. Yves Bissouma is a full 10 yards offside, in the centre of the goal. While this should be considered offside regardless, the law is only applied if he touches the ball or attempts to touch the ball. Here he runs back and goes to take a shot before leaving it to Dunk. It's an utter joke of a decision not to give offside, and the rules need to be altered so that anyone even chasing a ball is considered active. I had considered that Dunk might have been offside, but looking again he may have been level (although the angle of his head could render him slightly off) – but Bissouma is clearly affecting the way Alisson can react to the situation. As with the Cissé/Fowler example I gave earlier, this is not a club bias thing, but a common sense issue.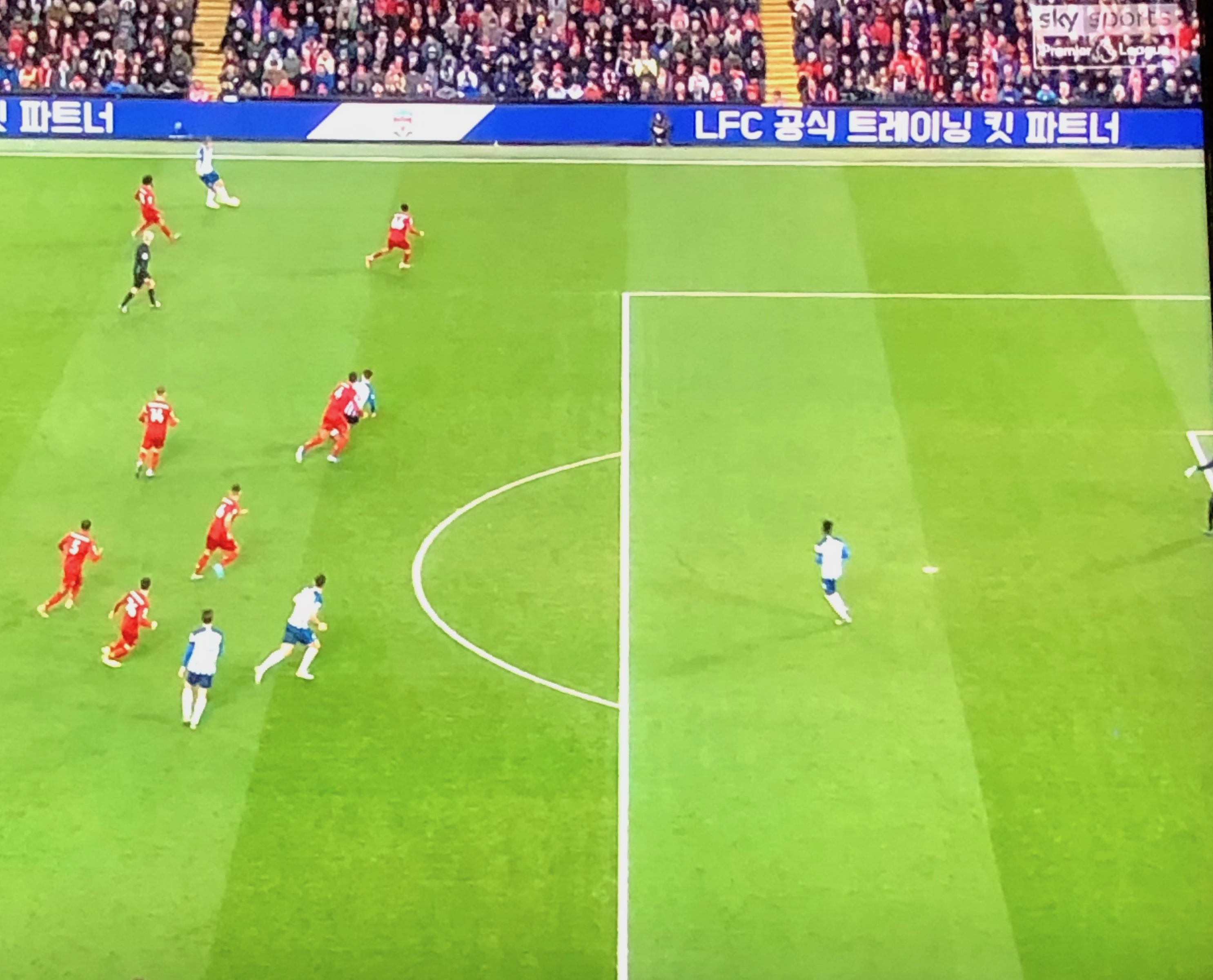 Tough Luck
Liverpool have faced a much tougher set of fixtures up to this point, certainly than Man City. And City's squad is obviously bigger as it cost far more, especially with inflation taken into account. City have had some bad injuries, but it's not Liverpool's fault they let their leader and best centre-back go last summer and didn't replace him; but bought yet another £50m+ full-back.
Liverpool aren't keeping clean sheets, admittedly, but it's irrelevant if you're winning, and not giving up tons of chances.
Liverpool have indeed had some "luck" with bad opposition goalkeeping in the past year – against Everton, Crystal Palace and Sheffield United in particular (although are goalkeepers always faultless against other clubs?) – but few neutrals said Liverpool were "unlucky" despite outplaying Real Madrid with almost ten shots in the opening 30 minutes (until Salah was assaulted by Sergio Pig's Heart Ramos), when Loris Karius presented them with two goals, nor was any sympathy given to Karius for the idea that he might have been slightly concussed by Ramos' elbow to his temple. Even the slightest double vision or mental fog could have caused those errors, and while he should have asked to be subbed if so, who would actually do that, and was he himself aware? (Just as you don't always notice when you pass from tipsy to drunk.) Maybe it was just bad goalkeeping, but still, few people were saying "bad luck". Equally, no one said it was bad luck for the Reds every time Simon Mignolet made an error.
Late goals and late keeping errors can be the result of pressure. Luck is not equal in its distribution over a short time span but you make at least some of your own fortune.
And going back to injuries, Liverpool's absentees never seem to be mentioned.
The Reds have been incredibly lucky with Naby Keita, a midfield dynamo who hasn't had a single injury (insert sarcasm smiley). They were so lucky to lose Oxlade-Chamberlain for a year, although you'd never hear it mentioned last season while he was out. Alisson – whom Liverpool "cannot cope without" – has missed most of this season, and Joel Matip got injured many games ago, when on top form. Xherdan Shaqiri – an excellent option from the bench – has been injured pretty much all season, with a lot of these happening on or after international duty or from bad tackles, rather than the muscle injuries that you can get from bad preparation by shoddy physios. Fabinho is now injured after a Napoli player fell awkwardly onto his ankle.
Last season Liverpool had to play Fabinho in defence after Matip and Gomez had bones broken by opposition players, yet there was little respect shown for the position the Reds were in. This season, Liverpool bought Adrian, a mocked West Ham reserve keeper, and he's played nine league games for the Reds and Liverpool have won them all. City missed Ederson for a game and a half, and they drew one and lost the other.
Have Liverpool been lucky at times? Of course! All teams have to be. Have they also been unlucky at times? Of course! Any run of fixtures will give you a mix of fortune. If anything, Liverpool are yet again suffering more bad decisions than good, as they did in 2017/18.
But if you don't pay close attention you will miss the great play, the supreme organisation and fitness, and all the big decisions that go against Liverpool, when they aren't even discussed on the nation's premier free-to-air football show.
As I said, it's no wonder neutrals don't realise – or just refuse to accept – how good this Liverpool team is.